The Serenitea Pot allows you to deck out your Realm with furniture straight from Teyvat. But getting your Trust Rank up to unlock various perks requires a bit of handiwork on your end. So rather than buying from a limited selection of pre-made Furnishings, craft them!
When crafting, some of the most common ingredients you'll need are Red, Blue, and Yellow Dyes. Here's how you can get them.
Speak to Tubby and select Create Furnishing to open the crafting menu. There, you'll find a list of all the Furniture Blueprints that you have learned. On the upper side of the screen, you'll find icons of a hammer and a potion. Simply click the potion icon to open the Dye creation page.
Related: How to increase Serenitea Pot Trust Rank in Genshin Impact
You can create Red Dye with Sunsietta, Yellow Dye with Berry, and Blue Dye with Mint by default. But if you're lacking these ingredients, select the Conversion button (circled in the image below) to see the material alternatives.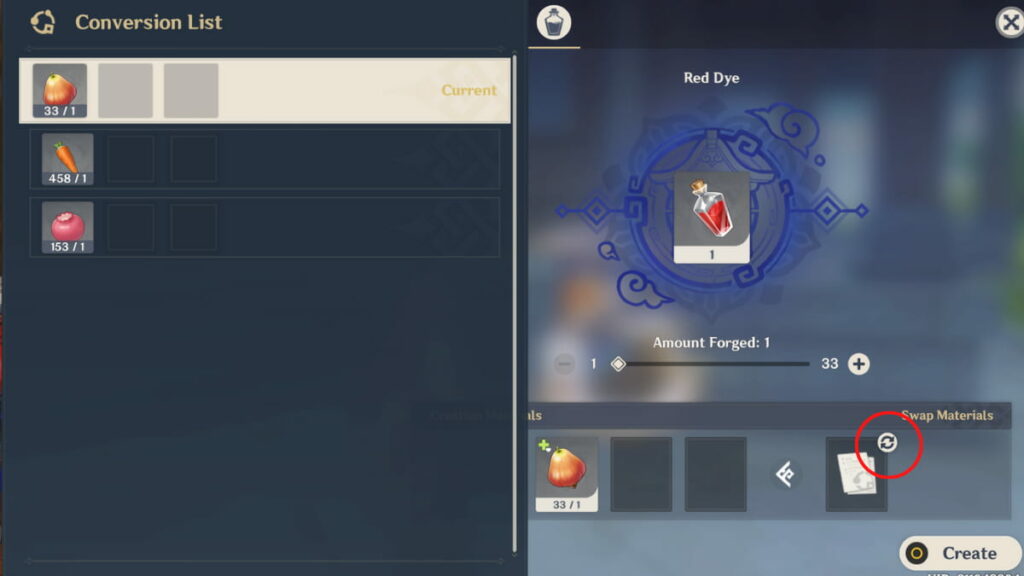 You can create Dyes with these materials:
Red Dye: x1 Sunsettia, x1 Carrot, or x1 Valberry
Yellow Dye: x1 Berry or x1 Cor Lapis
Blue Dye: x1 Mint or x1 Wolfhook
You can find these materials while exploring Teyvat—so don't forget to pick them up when you encounter them!
Now that you can craft plenty of Furnishings, check out our guide on How to get more Serenitea Pot Adeptal Energy in Genshin Impact to optimize your early-game crafting.