Genshin Impact can credit its vast player appeal to all kinds of features, from an open, gorgeous world, to an intriguing storyline, to frequent updates. No one can deny, however, that one of the absolute greatest aspects of playing Genshin Impact is unlocking cool new characters from the game's intricate gacha system.
In order to pull Mona (or any character, but who doesn't want Mona?), you'll need plenty of primogems to convert into Fates. Primogems are easy to earn in-game, but collecting enough of them to cast consecutive Wishes can be a difficult task. That's why Genshin Impact codes are so important!
How to Redeem Codes in Genshin Impact (PC, Mobile)
If you're a PC or mobile device user, you have the option of redeeming codes straight from the Genshin Impact website. Once there, follow these next steps:
Click on REDEEM CODE, found near the top center of your screen
Make sure you're signed into the account that you want to use these codes on
Click on the right server (very important!)
Enter the code into the Redemption Code slot under Character Nickname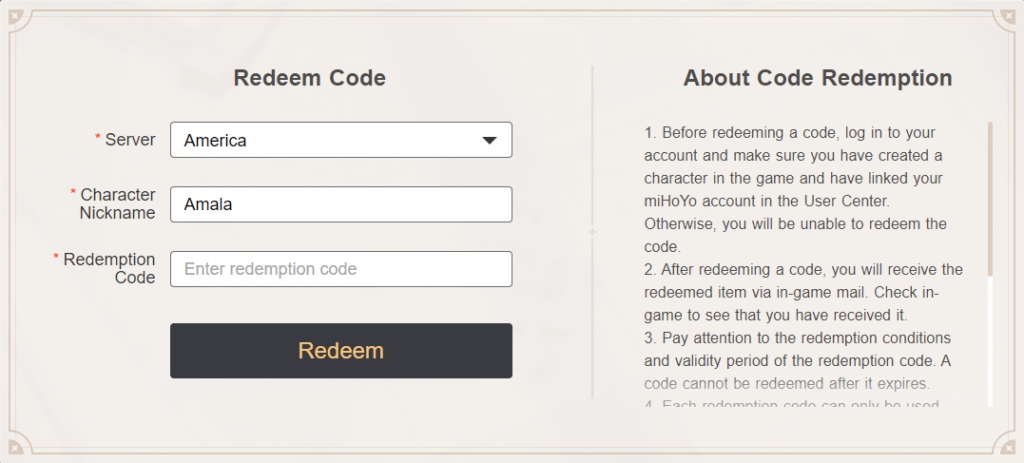 If the code is still active, you'll receive a confirmation message reminding you to claim your rewards in-game. Next time you log in, you'll find your goodies waiting for you in your mailbox, which you can access from the Paimon main menu (Esc key, or toggle over the Paimon portrait on the side of your screen).
Note: You'll need to have actually created a character and linked your miHoYo account in the User Center before you can start redeeming codes.
Related: How to Farm for Primogems
How to Redeem Codes In-Game (PS4/PS5, PC, Mobile)
This method works across all platforms, but it's the only one available to Playstation users. You can redeem codes from directly inside the game, just follow the steps outlined below:
Open the Paimon menu
Click on Settings
Go to Account
Click on Redeem Now in the Redeem bar
Enter the code
Click Exchange
Next, just open up your mailbox and claim the rewards waiting for you there. Easy!
Act Fast! Redeem Codes ASAP
Never delay redeeming any available codes, because you might run the risk of losing out on free primogems—and nobody wants that! The duration of active Genshin Impact codes can be pretty unpredictable. Certain codes expire quickly, sometimes even on the very day they're made available (like the three codes released alongside the 1.4 livestream), so act quickly to avoid missing your chance for some goodies.
Keep checking back for more information on the Genshin Impact 1.4 Leaks to find out which characters and events are coming soon! We'll also keep you in the know on upcoming banners and Genshin Impact code updates.