While exploring Sumeru, you'll encounter floating Dendro objects, which are puzzles that can be solved with the help of Dendrogranum. If you manage to shoot all of the floating objects in the right order, you'll obtain a Chest reward.
How to solve Sumeru Dendrograna floating object puzzles in Genshin Impact
When you find floating Dendro objects, there's likely a source of Dendrograna somewhere nearby. Interact with the Auspicious Branches (pictured below) to summon three Dendrograna that will float around you. These will disappear upon attacking an object or enemy, or naturally over time. You can tell that the Dendrograna are active when they're swirling around you.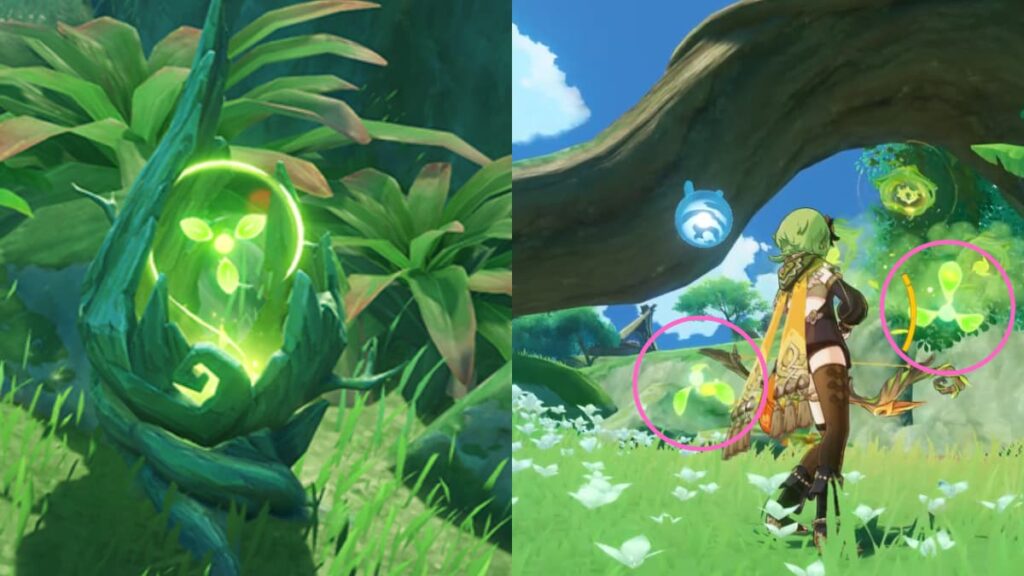 Once you've picked up Dendrograna, you can shoot the floating Dendro objects with a green circle at their center. This indicates that the object has not yet been hit previously. Once it's been hit, the green circle will be replaced by a Dendro symbol.
Related: How to use Stamina restoring flowers in Sumeru in Genshin Impact
Keep in mind that Dendrograna does not directly attack its target the moment you shoot it with a bow. Shooting will target the object, and after a slight delay, a Dendrogranum projectile will attack from the right side. Because of this delay, you might have a little trouble with moving floating objects, as you need to nail the timing between shooting and actually hitting the object with the Dendrogranum.
After successfully hitting a floating Dendro object, a few more may appear. And once you've attacked all of them with Dendrograna, a Chest reward will appear for you to loot.
Check out our guide on How to use Four-Leaf Sigils to explore Sumeru in Genshin Impact to master the region's hook shot mechanic.