Between the Apam Woods and Devantaka Mountain lives a Domain called the Dark Valley. It's surrounded by a Dendro Monument puzzle that you can solve to get a Chest reward. Before starting, make sure you have a Dendro character, such as Collei or Tighnari, in your party.
Once you're ready, head to the area circled pink in the image below to find the puzzle. You don't need to unlock or enter the Domain to proceed.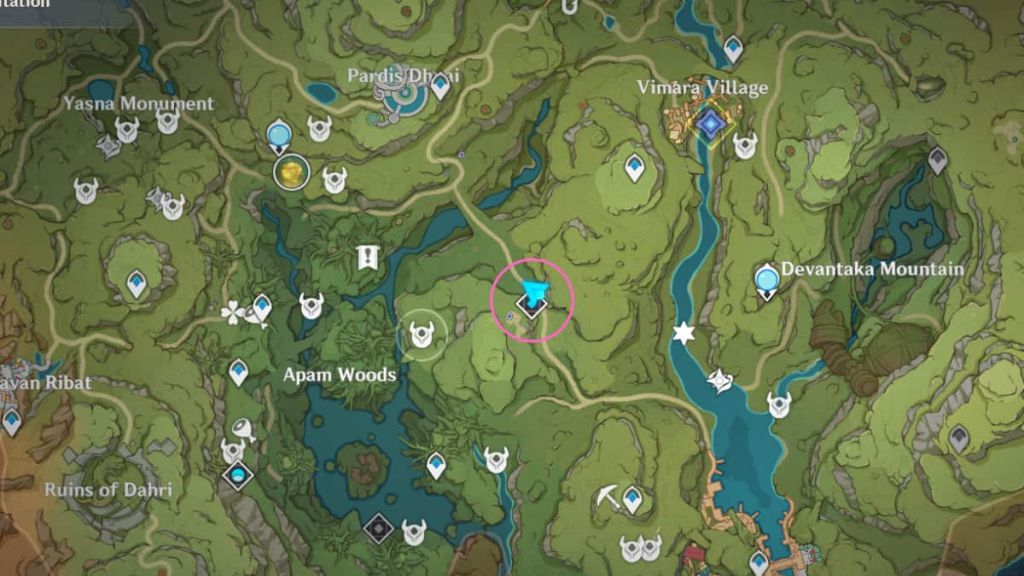 Related: How to solve Sumeru Dendrograna archery puzzles in Genshin Impact
How to solve the Dendro Monument puzzle beside the Dark Valley Domain in Genshin Impact
You'll notice that each of the Dendro Monuments surrounding the Domain has a symbol above it. This indicates the order of activating the Monuments.
On that note, you need to activate the Dendro Monument with one symbol beside it first, then the Monument with two symbols beside it, and so on. If you make a mistake, you can activate the rest of the Monuments randomly or relog to reset the puzzle.
First Dendro Monument—located to the left of the Domain.
Second Dendro Monument—located in front of the Domain.
Third Dendro Monument—located to the right of the Domain.
Fourth Dendro Monument—located in front of the third Monument.
After lighting up the Dendro Monuments as prescribed above, you'll be rewarded with a Common Chest.
Check out our guide on How to unseal Ruin Guards & Ruin Graders in Sumeru in Genshin Impact to solve more puzzles in Sumeru.