The Three Realms Gateway Offering is a 40-day event that runs from Feb. 17, 2022, to Mar. 30, 2022. Within this limited-time version of Enkanomiya, you can play through an array of new puzzles unique to the Three Realms Gateway Offering.
After completing the two-part Guiding Light Mirror puzzle in the northeast of the Three Realms Gateway Offering (where the Evernight Temple would normally be), the gate on the ground will open, revealing an underground entrance. Jump down and switch into a Cryo applicator—archers are the easiest to use.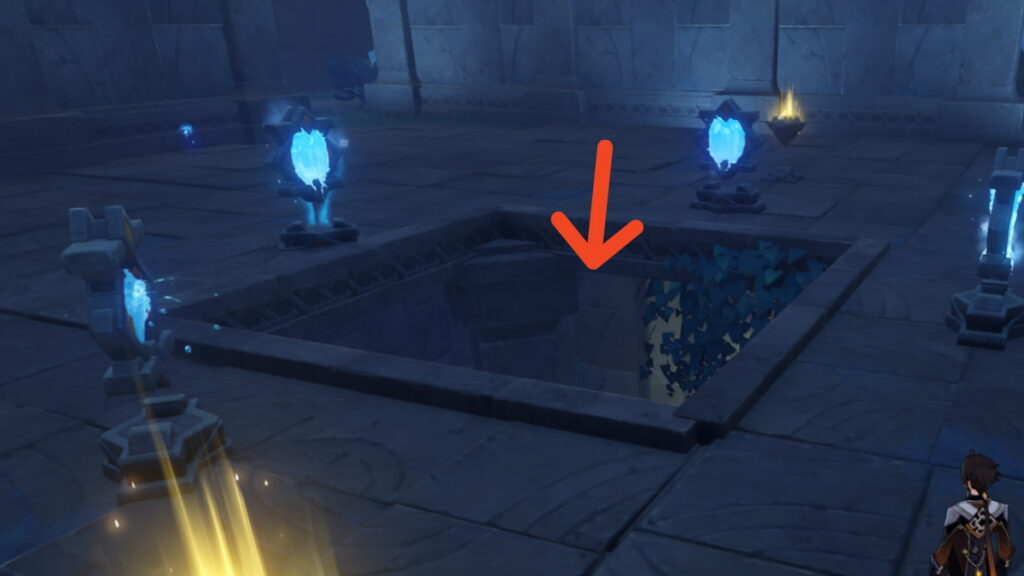 The goal of this Guiding Light Mirror puzzle is similar to the first. You need to guide the light toward the floating stone by manipulating the positions and states of the Mirrors.
Related: How to obtain the Mudra of the Malefic General, Tears of the Calamitous God, and The Meaning of Aeons Talent Level-Up Materials in Genshin Impact
Assuming that the puzzle has not been touched, solve it by following the steps below, which can be done in any order. Reference the image above for the Mirror labels:
Step one: Apply Cryo to Mirror #1.
Step two: Apply Cryo to Mirror #3.
Step three: Rotate Mirror #3 once.
Step four: Rotate Mirror #4 once. It's not pictured in the image above, but it's hiding behind the pillar.
Step five: Apply Cryo to Mirror #5.
Once that's done, activate the Bokuso Box beside the glowing mechanism to guide the light to the floating stone, completing the puzzle. You'll be rewarded with a Precious Chest.
The gate behind the glowing mechanism will also open. Inside, you'll find a Common Chest that can be unlocked by activating the Bokuso Box. It's highly recommended that you loot it to reveal a Damaged Stone Slate, which you should collect to progress in The Bunkoku Enigma Event Quest. There's another Damaged Stone Slate in the pool of water on the left.
Check out our guide on How does the Corrosion mechanic work in the Genshin Impact Three Realms Gateway Offering Event to help you navigate through the void-filled Enkanomiya.