The Three Realms Gateway Offering is a 40-day event that runs from Feb. 17, 2022, to Mar. 30, 2022. Within this limited-time version of Enkanomiya cloaked in darkness, you can play through an array of new puzzles unique to the Three Realms Gateway Offering.
On the cliff west of what would normally be The Narrows, you'll find a Guiding Light Mirror puzzle, where you must guide a beam of light to its destination with the help of Hydro and Cryo Mirrors. Start by heading to the area circled below to find the puzzle. Make sure to bring a character that can apply Cryo.
Related: Where to farm Light Realm Sigils in Genshin Impact — Three Realms Gateway Offering Event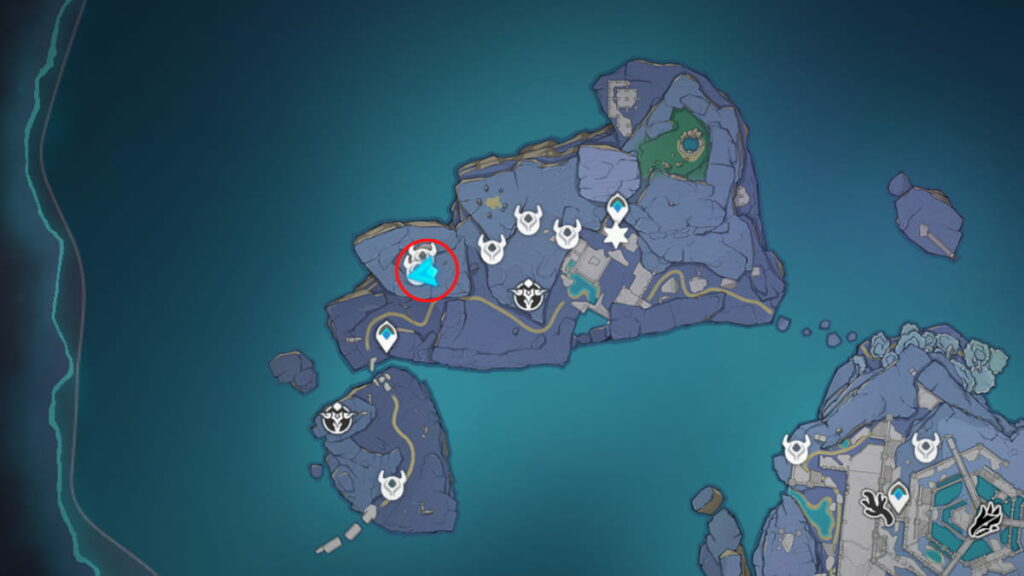 You'll find a three-Mirror Guiding Light puzzle. If you already started tinkering with it, reference the image below of what the final puzzle should look like (assuming that the glowing mechanism is behind you). Otherwise, read on to find out how to solve it from scratch.
Assuming that nothing had been moved, follow the steps below to solve the puzzle. They can be done in any order.
Step one: Rotate Mirror #1 three times.
Step two: Apply Cryo to Mirror #3.
Once the Mirrors have been altered as prescribed above, use the Bokuso Box beside the glowing mechanism. It will shoot a beam of light, which the Mirrors will guide to the floating stone on the left. You'll be rewarded with a Precious Chest for solving the puzzle.
Check out our guide on How to solve the Guiding Light Mirror puzzle southeast of The Narrows in the Three Realms Gateway Offering in Genshin Impact to complete a similar puzzle nearby.