Of Ballads and Brews is a Genshin Impact event that celebrates one of Monstadt's most important holidays: Weinlesefest. Set in the lively Springvale, this event celebrates the region's tradition of wine-making, bringing plenty of activities for you and Paimon to enjoy. The event runs from September 29, 2022, to October 17, 2022, while you can exchange Festive Fever rewards until October 24, 2022.
Prerequisites for the Genshin Impact Of Ballads and Brews Weinlesefest event
The Of Ballads and Brews event is open to all players who meet the following requirements:
Reach Adventure Rank 21 or above
Complete the Archon Quest Prologue: Act III - Song of the Dragon and Freedom
Complete Razor's Story Quest, the Lupus Minor Chapter: Act I - The Meaning of Lupical
Once you've met all of the above, you'll automatically unlock the Event Quest called Of Ballads and Brews: Act I - Sounds From Afar.
Related: Genshin Impact Lost in the Sands World Quest guide – Golden Slumber
Genshin Impact Sounds From Afar Weinlesefest Event Quest guide
Upon initiating the Sounds From Afar Event Quest, you'll be asked to speak to Katheryne in Monstadt. Kaeya will appear to invite you to head to the Knights of Favonius Headquarters to listen to Mika deliver a letter from Grand Master Varka. After listening to his speech, head to Jean's office to speak with her and Lisa. You'll be informed that the Grand Master left a little box connected to Razor's parents.
Follow the quest marker to Springvale, then use Elemental Sight to follow the purple Electro traces, which will lead you to Razor's location. After speaking with Razor and Draff, head back to the Knights of Favonius Headquarters to speak with Lisa.
Once that's done, you need to change the in-game time to two days later (two rotations), then fast forward to anytime between 8:00 to 10:00. Then, teleport to Springvale where the Weinlesefest is taking place. After listening to Jean, speak with Venti to complete the Event Quest.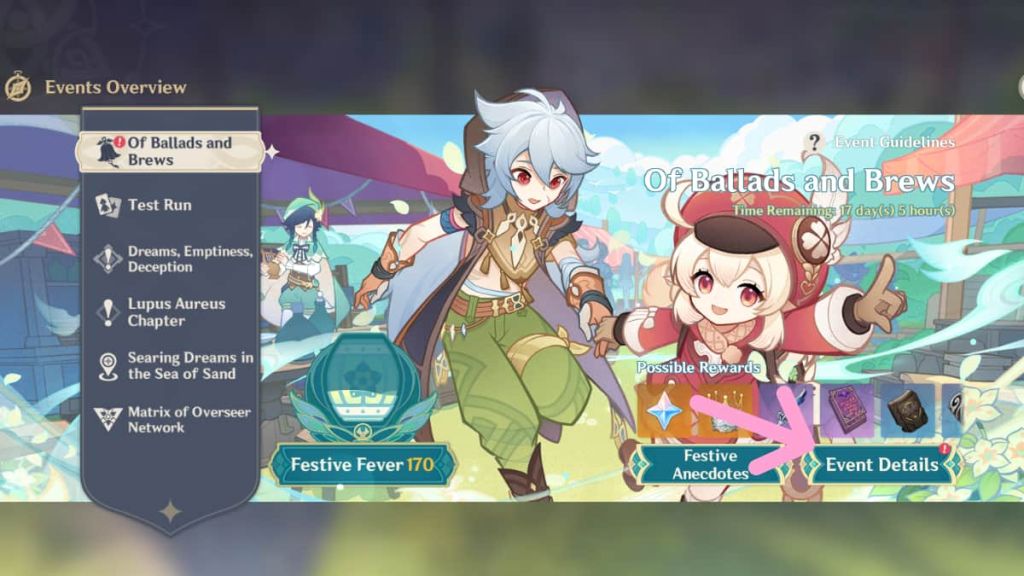 Completing Sounds From Afar will unlock all of the festivities, which you can access by clicking on the Event Details. The event will gradually unlock over time and will include two more Festive Anecdotes that continue the event story.
Check out our Genshin Impact Hidden Civilizations HoYoLAB web event guide to complete a web event in conjunction with Weinlesefest.