There are thousands of stories to be told in the bustling Teyvat beyond the major events that the Traveler is constantly and unwillingly roped into. Character stories make up a significant part of Genshin Impact's lore, giving players a rare opportunity to get to know their favorite characters—as well as a thing or two about the overarching affairs in Teyvat.
Players Adventure Rank 26 and above can access Story Keys, which is a currency used to unlock character stories. These are obtainable through Daily Commissions.
Head to the Quest menu and look toward the bottom left, where you'll find the Story Quests section. This page contains all the character stories that you have yet to complete. And on the bottom left, you'll see a counter for the number of Daily Commissions you need to complete to receive a Story Key.
Completing eight Daily Commissions will merit you one Story Key. This is not an automatic feature, which means you need to go back to the Story Quests menu to claim your Key as soon as you hit the eight-Commission requirement. A Claim button will appear on the bottom right once you're eligible to do so. You can only hold three Story Keys at a time.
Important: The counter will count Daily Commissions individually and not in groups of four. So make sure to claim the Story Key after completing exactly eight Commissions, as the Story Key counter doesn't overflow (i.e. even if you complete 10 Commissions without claiming a Key, only eight will be counted).
Story Quest Cost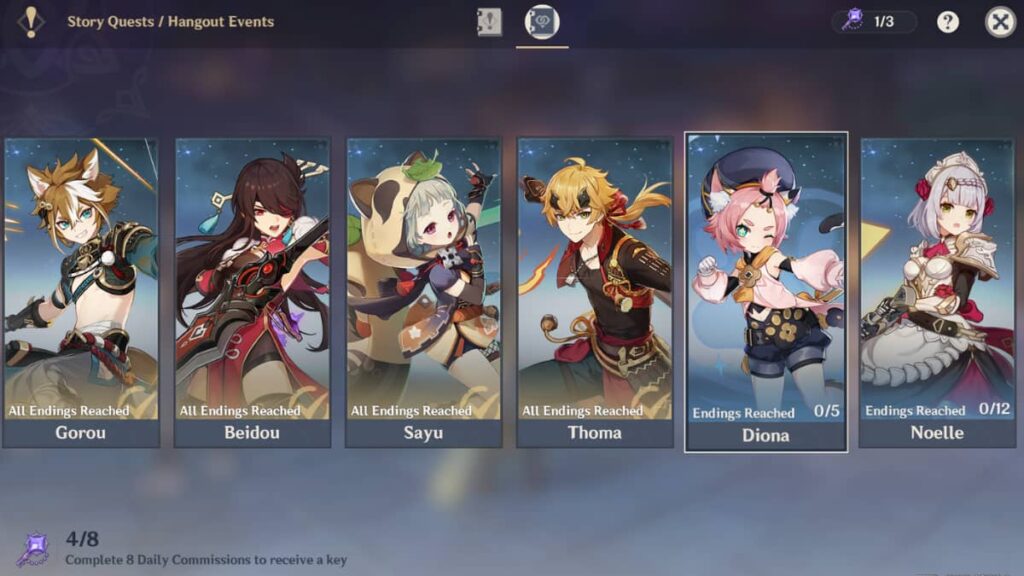 Five-star character stories cost one Story Key each. Meanwhile, four-star character stories run in the form of Hangout Events with multiple endings, but you only have to surrender two Story Keys once to unlock all endings.
Some character stories unlock before Adventure Rank 26, so they can be accessed for free. These include:
Kaeya
Amber
Xiangling
Lisa
Diluc
Razor
But you need to shell out Story Keys for each Act, so if an above character's Act II has an Adventure Rank requirement above 26, it will cost one Story Key to unlock.
Check out our Genshin Impact Hangout Event: Beidou Guide to explore Liyue with the Uncrowned Lord of the Ocean, or check our Genshin Impact Hangout Event: Sayu Guide to procrastinate with Inazuma's adorable Mujina Ninja.