Players Adventure Rank 31 and above who complete the Tianqiu Treasure Trail World Quest from Lan in Liyue Harbor will obtain a Parametric Transformer, a handy Gadget that allows you to recycle excess monster drops for Ascension materials.
How to Use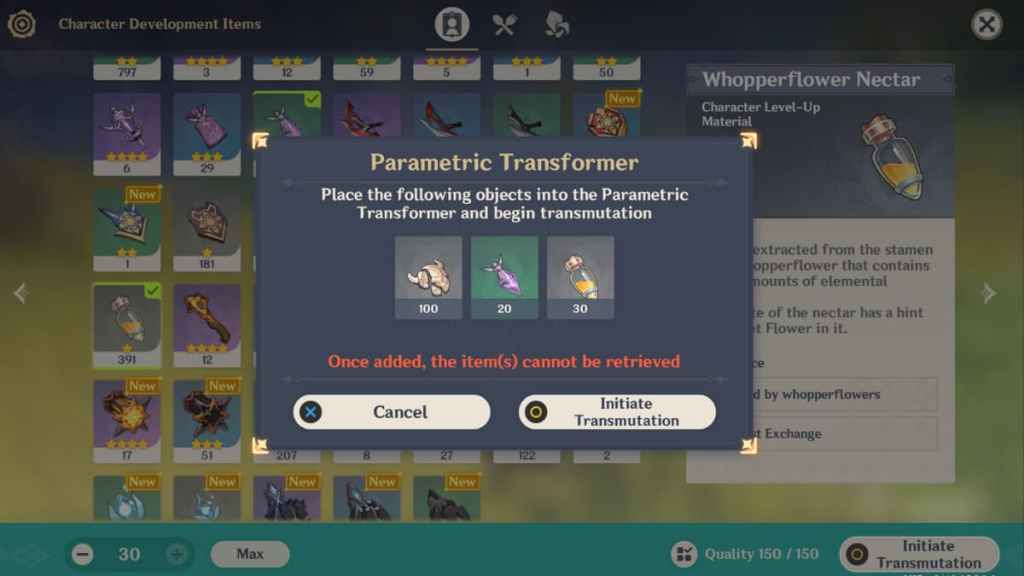 Equip the Parametric Transformer from your Gadget Inventory and use the appropriate Gadget control to activate it. The Parametric Transformer will appear in front of you—interact with it to open the Character Development Items menu.
At the bottom-right of the screen, you will find a Quality value, which indicates the Quality of items that you input into the Gadget. Simply add more materials (input on the bottom left of the screen) to reach the 150 Quality minimum to Initiate Transmutation.
Higher-tier items give more Quality so you need to use less, but inputting lower-tier items is totally fine too! The items will be fed to the Gadget, so don't input materials you still need.
Gauge Meter
After clicking Initiate Transmutation, a fueled Parametric Transformer will appear in front of you. Attack it with Elemental Attacks until it's filled up to 100 percent. After, you'll receive the converted materials.
There's a seven-day cooldown before you can use the Parametric Transformer again.
Rewards
You can obtain the following rewards randomly from the Parametric Transformer:
Mora (20,000 to 100,000)
Adventurer's EXP and Hero's Wit
Weapon Enhancement Materials
Weapon Ascension Materials (Tiers 1 and 2)
Character Ascension Materials (Slivers and Fragments)
Talent Level-Up Materials (Tiers 1 and 2)
Check out our guide on How to eat food without opening the Inventory in Genshin Impact to discover another useful Gadget to help your Teyvat exploration.