Kaedehara Kazuha is a Five Star Anemo character in Genshin Impact who has returned for Update 2.8. He is a very strong Support and Sub DPS character and can fit into most teams very comfortably. Even with no Constellations, Kazuha is exceptionally powerful and can do many other Anemo characters' jobs while still doing lots of damage himself. This is everything players will need to know about whether Kaedehara Kazuha is worth pulling for in Genshin Impact.
Kaedehara Kazuha Strengths and Weakness in Genshin Impact
Leveling Kaedehara Kazuha will require players to farm Maguu Kenki, a boss found in Inazuma. This can be fully explored once players beat Chapter 2 - Act 2, Stillness, The Sublimation Of Shadow Archon Quest. As an Anemo character, Kazuha's main source of damage is through Swirl, meaning that much of the damage comes from Elementary Master and Level. Kazuha can help teams continue to proc Reactions and increase the Elemental Damage of his teammates in the process. Even if players have an Anemo character they use, Kazuha can still find a role in nearly any team.
In terms of weaknesses, the main struggle new players will have with him is progressing through the story to get to his boss. Additionally, because most of his Support capabilities come from his Swirl damage, leveling him is necessary to increase his maximum potential. The Viridescent Venerer Set is fantastic on Kazuha and requires a lot of Resin to farm effectively. Getting Elemental Mastery on his main stats requires a lot of time that casual players may not have time for.
Related: Genshin Impact: Should you pull for Freedom-Sworn or Lost Prayer to the Sacred Winds?
Genshin Impact Current and Upcoming Banners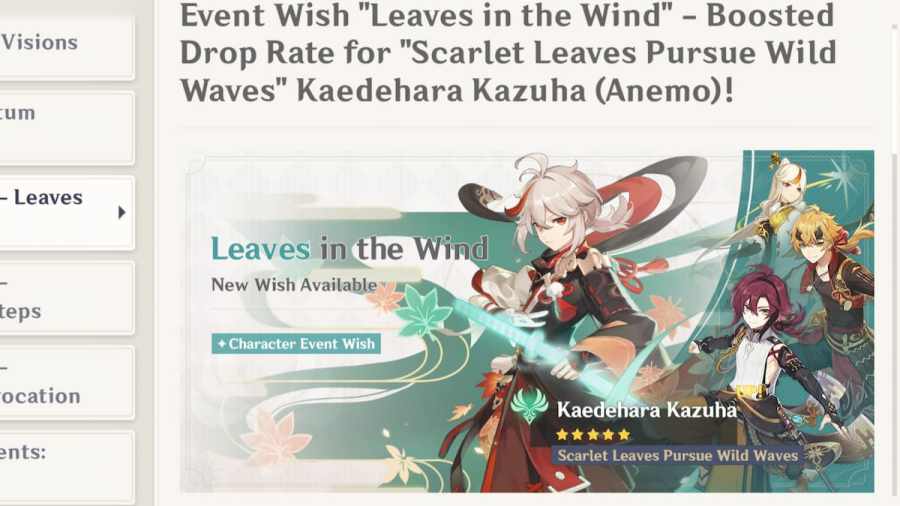 The 2.8 Banners feature Kazuha and Klee as the two Five Star characters with Heizou, Ningguang, and Thoma as the Four Star characters. Both Kazuha and Klee have a 50% chance of being the Five Star that players can pull, nearly guaranteeing that players can get either one of these characters with their hard earned primos, and you can earn free primogems with our Genshin Impact codes.
The next Genshin Impact Banner, Tapestry of Golden Flames, goes live on August 2nd and features Yoimiya. There is no confirmation that they will be on the Banner after, but Dori, Collei, and Tighnari have all been officially announced. These characters may be part of Genshin's 2.9 Update but it is also likely for them to come out when the new Region comes out for version 3.0.
For more Genshin Impact guides, check out Dendro Archon's possible other name and other Sumeru characters are revealed in Genshin Impact leaks on Pro Game Guides.