The Ocean-Hued Clam is a dreamy Artifact Set that brings in an extra level of utility for healers who can heal massive amounts of HP, such as Kokomi and Qiqi. It addresses the issue of overflow healing, allowing you to convert the wasted heal values into actual Damage output.
Stats
Two-Piece Set: Healing Bonus +15 percent
Four-Piece Set: When the character equipping this Artifact Set heals a character in the party, a Sea-Dyed Foam will appear for three seconds, accumulating the amount of HP recovered from healing (including overflow healing). At the end of the duration, the Sea-Dyed Foam will explode, dealing Damage to nearby opponents based on 90 percent of the accumulated healing.
Note: This Damage is calculated similarly to Reactions such as Electro-Charged and Superconduct, but it is not affected by Elemental Mastery, Character Levels, or Reaction Damage Bonuses.
Only one Sea-Dyed Foam can be produced every 3.5 seconds. Each Sea-Dyed Foam can accumulate up to 30,000 HP (including overflow healing). There can be no more than one Sea-Dyed Foam active at any given time. This effect can still be triggered even when the character who is using this artifact set is not on the field.
Related: Best Kokomi Builds in Genshin Impact
Passive Explanation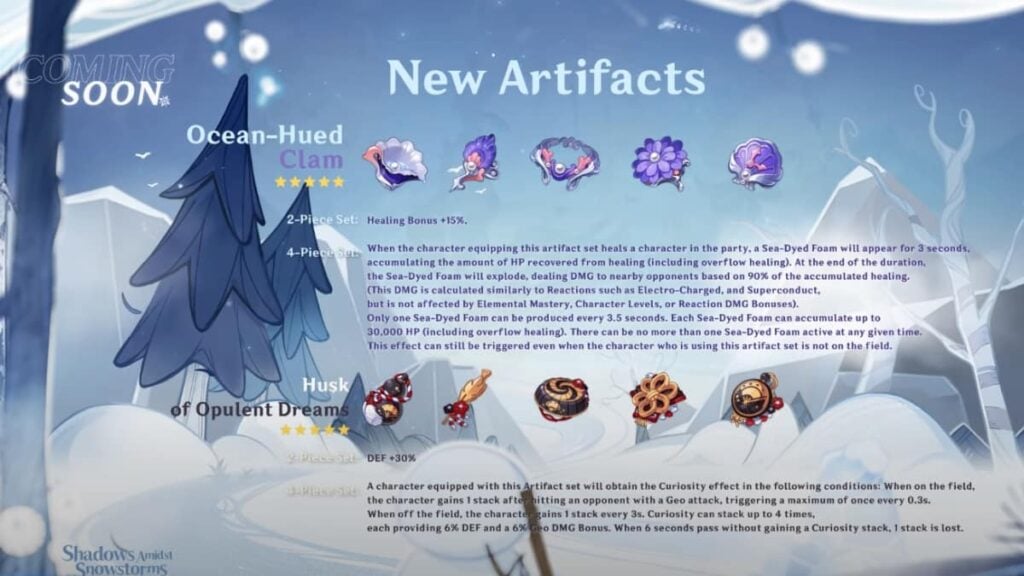 Using Qiqi as an example, if you were to use her Elemental Burst, the opponent will be marked with a Talisman. Characters that hit the marked opponent will be healed by a certain amount of HP based on their Damage.
So if you proc Qiqi's Skill before switching to a DPS character to heal them, the latter will quickly gain back their lost HP, while wasting excess healing (a.k.a. overflow healing) as their high Damage means they can fully heal after a second or so.
The Ocean-Hued Clam offers two benefits:
Healers can proc their healing skill, go off-field, and still dish out some DPS from accumulated healing.
Healers prone to overflow healing can maximize the Artifact Set's highest-possible Damage output.
The maximum HP the Artifact Set can accumulate is 30,000, and only 90 percent will register as Damage. This means that your healer can deal up to 27,000 Damage every 3.5 seconds as long as they proc their healing Skill.
How to Get
The Ocean-Hued Clam can be farmed from the Slumbering Court, an Artifact Domain located in Seirai Island in Inazuma. Players must gain access to the nation before they can begin farming for these Artifacts. It costs 20 Original Resin or one Condensed Resin (for two rounds in one) to claim rewards.
Who Can Use Ocean-Hued Clam
The Ocean-Hued Clam is great for healers who are solely dedicated to helping your party survive, such as Qiqi and Kokomi. Their high heal amounts (plus off-field heals) that can proc frequently are great for maximizing the Artifact Set's passive. It also has potential use for Barbara, but you'll need to invest a bit more in her stats to obtain the maximum Damage output.
While characters like Jean, Bennett, and Sayu can also heal, they bring more utility to the table, so their Damage output can be maximized using more versatile Artifact Sets.
Check out our guide on How does the Artifact Strongbox work in Genshin Impact to learn about the game's Artifact conversion system.