In the Genshin Impact v.2.0 update, which goes live on July 21, 2021, Travelers will finally get to explore Inazuma and the dark mysteries that engulf the isolated region. The story will propel Genshin Impact players into an intricate narrative of politics and factions, and we'll be meeting characters from both sides of the ongoing war, such as Sara—the General of the Tenryou Commission.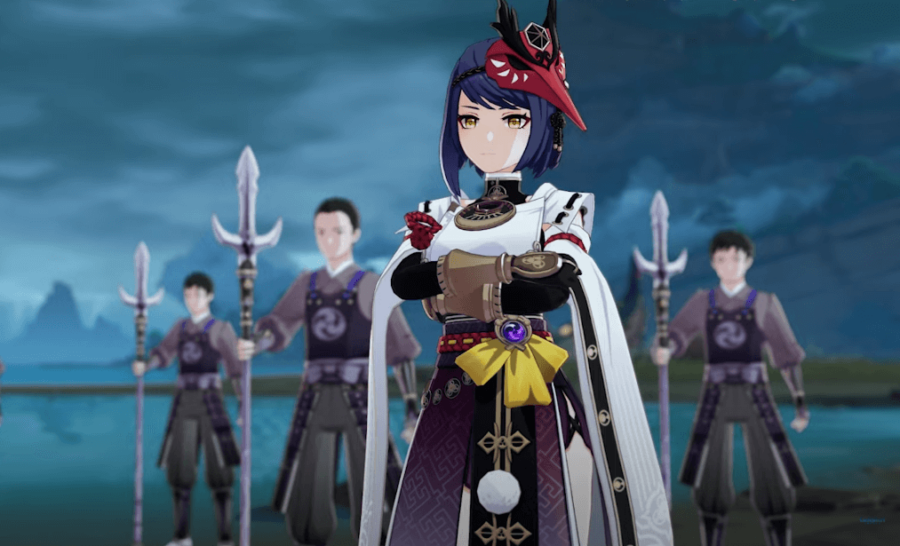 Kujou Sara is the adopted daughter of the Kujou Clan of the Tenryou Commission. She serves the Raiden Shogun, to whom she is loyal, and carries out her duties with the utmost care. According to Sukuna on Twitter, Sara will likely be a 4-star character.
Genshin Impact's Head of Creative Concept and Writing Team, Xiao Luohao, had this to say about Sara's character:
Kujou Sara is a tengu warrior and has wings as dark as a raven. She is a very prominent character, even among the many capable individuals in the Tri-Commission. She is loyal to the Raiden Shogun and to her duty, and is a very charismatic general.
The Tri-Commission upholds the oppressive will of the Raiden Shogun, or Electro Archon, so it will be interesting to discover what exactly Sara believes about the Vision Hunt Decree and other issues plaguing Inazuma.
Opposing the Tri-Commission is the Sangonomiya Resistance, led by Kokomi. Travelers will likely get to see these characters face off in the upcoming Genshin Impact Version 2.0 expansion.
For more information on all upcoming Genshin Impact content, check out Genshin Impact 2.0 Leaks, New Characters, Release Date. We've also got you covered on free in-game codes and where to find all time trial locations.