Since its September 2020 debut, Genshin Impact has quickly become one of the most popular and recognizable titles in today's gaming world. MiHoYo continues to keep the content flowing with major updates every six weeks, so there's always plenty to explore in the game.
We've compiled all of the known and leaked information from a variety of sources. Right now, we're pretty confident that the majority of this is right, but some things may change by the time the update is released. As always, take leaks with a pinch of salt.
A big thank you to Genshin_Intel, Project Celestia, AE Entropy, Honey Impact, abc64, Sukuna, Uncle Truly, TZ, Lumie, Uncle Dumplings, and the Genshin Impact community.
Genshin Impact 2.0 Release Date
Genshin Impact version 2.0 update is scheduled for July 21, 2021. This is subject to change, but from miHoYo's own official post from the production team, they are trying to organize a consistent update schedule every six weeks.
This is our road map of when the updates should be released. However, anything after 1.3 is purely guesswork based on the six week update period.
Version Update 2.0—Scheduled for July 21, 2021
Version Update 2.1—Scheduled for Sep. 1, 2021
Version Update 2.2—Scheduled for Oct. 13, 2021
Fans speculate that the release of Inazuma—the next major region to be unveiled in Genshin Impact—will herald a new phase of the game, launching us straight into version 2.0.
Leaks
New Characters
All of the following characters have been confirmed to appear in Genshin Impact's Version 2.0 Archon Quests.
Ayaka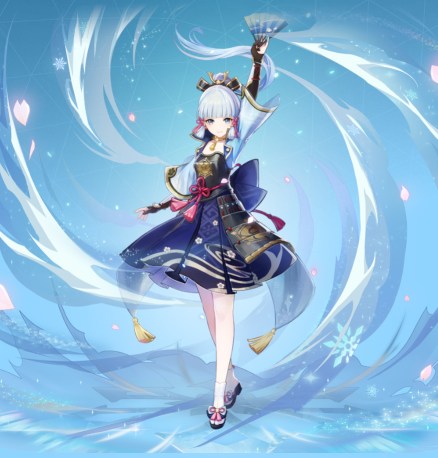 Five-Star Cryo Sword User
The princess of the Kamisato House. She occasionally practices swordsmanship to pass time by slicing every falling snowflake floating around her on a snowy day.
For all character information such as Skills, Constellations, and Ascension Materials, we've got you covered: Ayaka
Yoimiya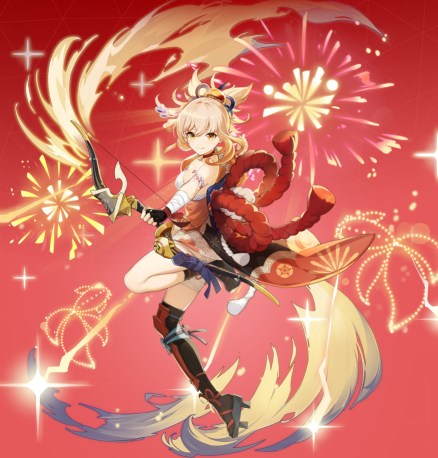 Five-Star Pyro Bow User
A talented pyrotechnician, Yoimiya is the current owner of Naganohara Fireworks and is known as the "Queen of the Summer Festival." She is a household name in Inazuma.
For all character information such as Skills, Constellations, and Ascension Materials, we've got you covered: Yoimiya
Sayu
Four-Star Anemo Claymore User
Sayu is a small, pint-sized ninja associated with the Shiyuumatsu-Ban. She is the master of disguise and cat naps, and her greatest aspiration is to someday grow taller.
For all character information such as Skills, Constellations, and Ascension Materials, we've got you covered: Sayu
Yae Miko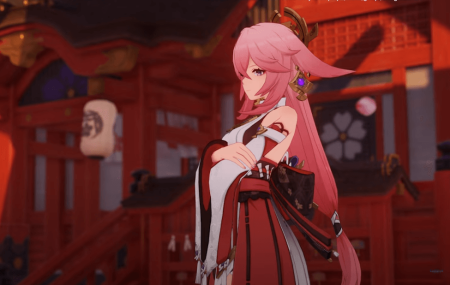 Electro Catalyst User
As the priestess of the Grand Narukami Shrine in Inazuma, we can probably expect to meet Yae sooner rather than later. Her character was also teased in the Genshin Impact version 1.5 Chinese livestream. Elegant and cunning, Yae is unpredictable in her manner since she has her own principles and methods of doing things.
Thoma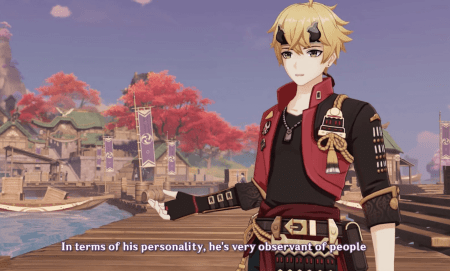 Pyro Polearm User
Thoma is the chief retainer of the Kamisato Clan, and as such, is associated with the Kamisato siblings. He's described as being a mature person who is very observant of others.
Kujou Sara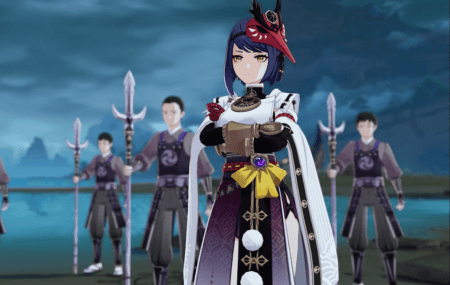 Electro Bow User
Sara is an unyielding general in the Raiden Shogun's army (the Tenryou Commission). She is a tengu warrior and is loyal to the Shogun and her duties, and is noted for being a charismatic leader.
Sangonomiya Kokomi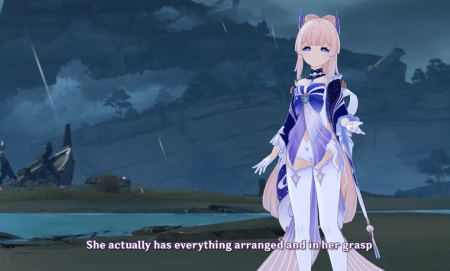 Hydro Catalyst User
Don't be fooled by Kokomi's cute appearance—she's actually the brains of the entire resistance operation. She leads the Sangonomiya Resistance and is greatly respected for being a wise and resourceful military advisor.
Gorou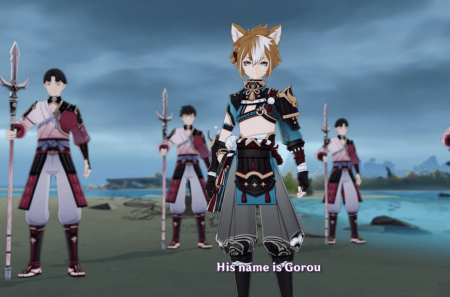 Geo Bow User
Gorou is a general of the Sangonomiya Resistance, and he's said to be a force of nature on the battlefield. He's extremely dependable in critical moments.
Raiden Shogun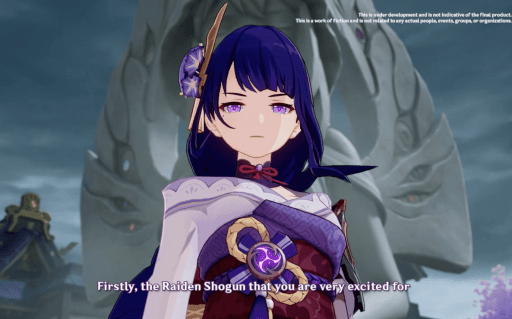 Travelers will be able to meet the Electro Archon herself in Version 2.0, which is full of quests that explore the Raiden Shogun's contradictory pursuit of Eternity and what it is exactly that's been guarding.
Electro Traveler
After gaining the elements of Anemo and Geo, Travelers will now be able to attune to the Electro Archon's Statues of the Seven and wield Electro powers.
Traveler's new Electro abilities have not yet been confirmed, so anything datamined could be changed or removed completely. But we do have some information from the beta: Traveler (Electro)
Inazuma Map
Below is the full Inazuma map, courtesy of the Wangsheng Funeral Parlor Discord group: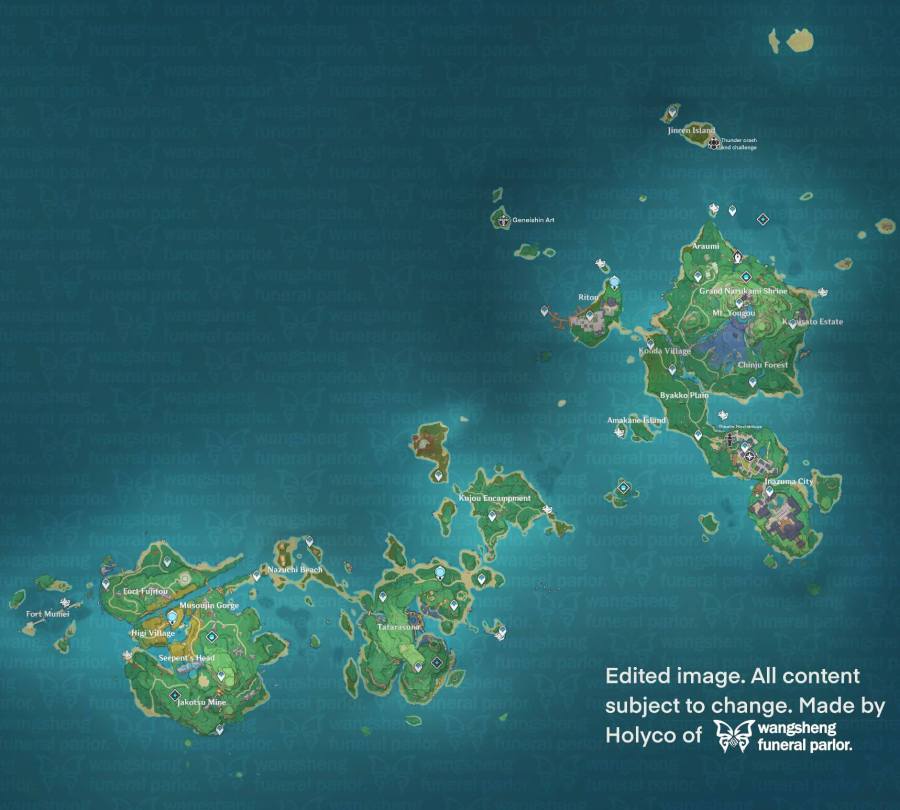 Next, we have more in-depth shots that pinpoint two important locations in Inazuma.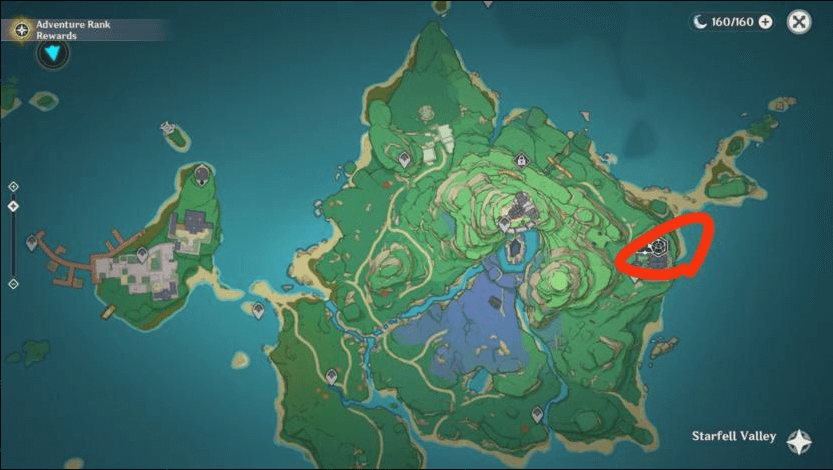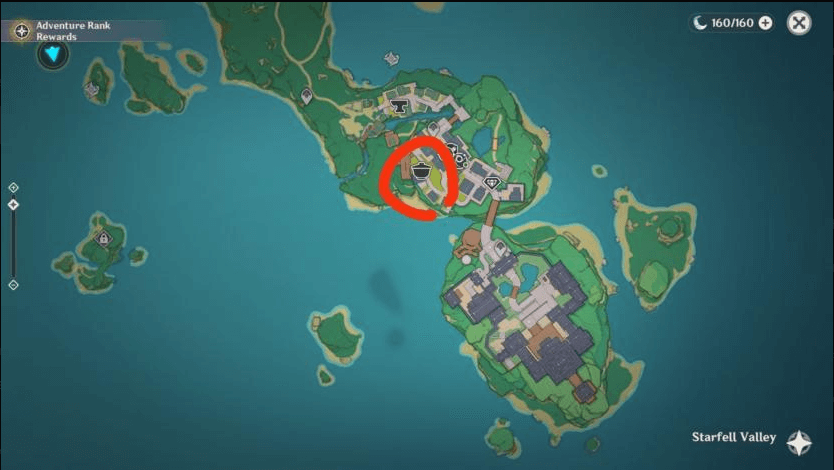 The first map screenshot indicates where the Kamisato House (Ayaka's house) can be found. Apparently, you can enter the Kamisato House.
The second screenshot marks the Inazuma Tea House.
Only three Inazuma areas will be accessible in the next major game update: Narukami Island, Kannazuka, and Yashiori Island. It will be impossible to reach Inazuma by exploiting Kaeya's ice bridge, since getting too close to the region (outside of the main story quest) will cause players to be automatically teleported back.
Sacred Sakura Tree
Similar to the Frostbearing Tree in Dragonspine, Inazuma will have its own Sakura Tree at the Grand Narukami Shrine. This tree will offer rewards and perks upon leveling up via Electro Sigils. For each level of the tree will cost 25 Electro Sigils, and there is a maximum of 50 levels, which means there are 1,250 Sigils to be found.
Here are some of the rewards you can get:
Crown of Insight x5
Acquainted Fates x20
Intertwined Fates x10
For a closer look at the Sacred Sakura Tree's leveling rewards, check out this tweet from Project Celestia:
You can likely acquire Electro Sigils by opening treasure chests within Inazuma.
Inazuma Glider
Every region gets its own exclusive glider skin, and Inazuma is no exception.
Inazuma Events
These are the events appearing in the next game update:
Thunder Sojourn (time trials), redeem currencies for a free Beidou
Phantom Flow (combat event similar to Contending Tides)
Ley Line Overflow
Stage of Wonders: Theater Mechanicus rerun
Lost Riches rerun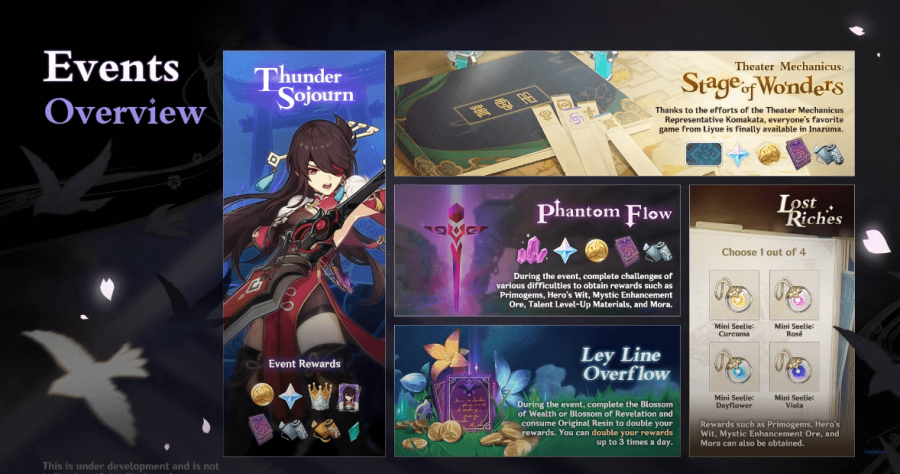 Serenitea Pot Upgrades
Gardening
Players will be able to collect a seed box from Madame Ping and start cultivating seeds with the right local ingredients or foods. You will need to purchase a plot to plant, and each plot can hold four seeds. Seeds will grow after a three day period.
Teleport Waypoints
Getting around inside the Serenitea Pot is about to become a lot more convenient. Players should be able to place up to ten teleport waypoints anywhere inside their teapot to decrease travel time.
Artifacts in Genshin Impact 2.0
So far, three brand new artifact sets have been revealed: Glacier and Snowfield (which will be perfect for Ayaka), Shimenawa's Reminiscence, and Emblem of Severed Fate.

Mystic Offering
"Mystic Offering" is a new feature of the Crafting Bench, where Travelers can sacrifice three 5-star artifacts to obtain an Artifact Strongbox, which contains a random artifact. There are four types of artifacts in the Artifact Strongbox, and Travelers can choose which one they want during creation.
New Weapons in 2.0 Update
New Enemies
Electro Whopperflower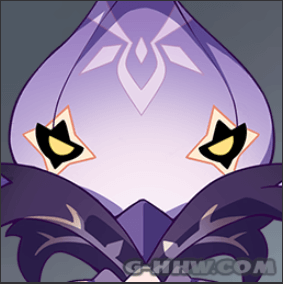 Ruin Defender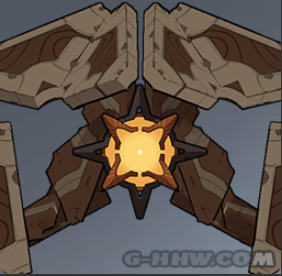 Ruin Destroyer
Crackling Axe Mitachurl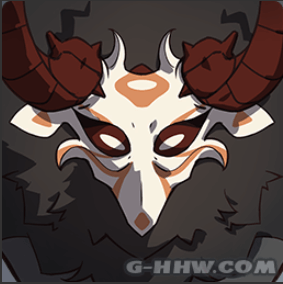 Thunderhelm Lawachurl
Ruin Cruiser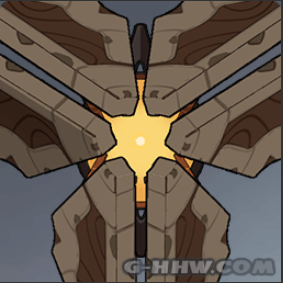 Ruin Scout's Charge Cannon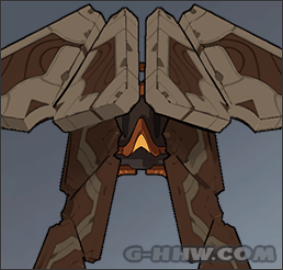 Kairagi: Dancing Thunder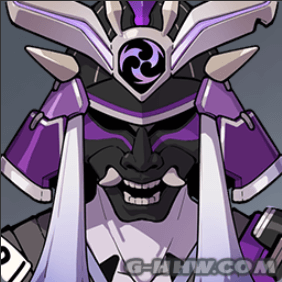 Abyss Lector: Violet Lightning
Samurai Kairagi/Ronin
New Bosses
Fatui Mirror Maiden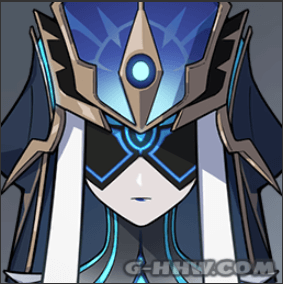 Pyro Hypostasis
Pyro Hypostasis will drop a Elemental Stone for Yoimiya—the name of this stone is still unknown.
Mechanical Hypostasis
Next Region After Inazuma
According to rumors, the region going to unlock after Inazuma might be teased during the Inazuma questline—and it looks like Sumeru is the next land Genshin Impact players will get to explore!
Cyno, who was shown briefly in miHoYo's "Teyvat Chapter Storyline Preview: Travail" trailer, will be introduced along with the Sumeru region.
Stay up to date on all upcoming Genshin Impact banners, or redeem codes for in-game freebies! While you're here, don't forget to check out our Genshin Impact: All Upcoming Characters list.