Along with highly-anticipated character Kazuha, Genshin Impact's latest update introduces the new Archon Quest, Chapter II: Prologue - Autumn Winds, Scarlet Leaves. Check out our guide for details on what this quest involves and how to complete it for quick, easy rewards.
Note: To unlock "Autumn Winds, Scarlet Leaves," you must meet the following prerequisites:
Adventure Rank 36 or above
Complete the Archon Quest Chapter I: Act IV - We Will Be Reunited
The beginning of your quest will lead you to the Teleport Waypoint overlooking Liyue Harbor, where Traveler and Paimon discuss the next stage of the journey: tracking down the Electro Archon. Paimon suggests speaking with Atsuko, an Inazuma native, in the harbor about how to travel to the region.
Atsuko will provide a description of Inazuma's oppressive state, detailing the rigorous identity checks and Vision Hunt Decree. Finally, Atsuko will encourage you to meet with Beidou. You can find the Crux Captain on her ship, which is stationed in Guyun Stone Forest, to the east of Liyue Harbor. Teleport to the Domain of Guyun and reach the Crux by using one of the following methods:
Utilize Kaeya's ice bridge
Climb the mountain under which the domain sits. Note that there are three Abyss Mages near the top—one Hydro, one Pyro, and one Cyro. Defeating them unlocks a chest, and you can enjoy a King Arthur moment by obtaining the Skyrider Greatsword from the nearby rock.
On the ship, you'll meet both Beidou and Kazuha and will be persuaded to join The Crux Clash—a new martial-arts tournament.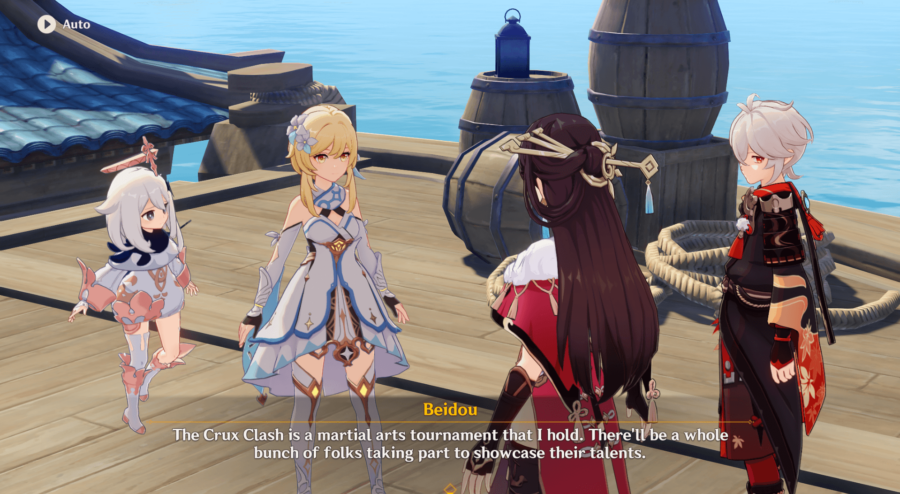 This tournament takes place in Guyun Stone Forest, where you'll defeat two easy opponents and advance to the finals. Kazuha will request a demonstration of your skills, which involves defeating a few Slimes, before you return for the final match—which is unable to commence, since your opponent has run off with the Masterless Vision grand prize!
You'll need to complete a short series of gliding challenges with the wind currents that Kazuha summons. After defeating the thief, Fei the Flyer, Kazuha will explain the importance of the prized Vision: it once belonged to his dear friend, who was punished for challenging the Raider Shogun.
At the end of the quest, you are announced the champion of the tournament, and Kazuha promises that Beidou will ensure your trip to Inazuma. Now all we can do is wait eagerly for the mysterious region to finally be unveiled!
Quest Rewards:
60 primogems
Guide to Prosperity (2)
Guide to Diligence (2)
Guide to Gold (2)
Hero's Wit (3)
34,705 Mora
Crux Clash Champion Medal
Quest Achievements:
The Gathering Storm (5 primogems)
Ready, Fight! (5 primogems)
Autumn Winds, Scarlet Leaves (10 primogems)
Want more Genshin Impact? Take our quizzes to find out what weapon you would use and what your Genshin Impact Vision would be. For upcoming game news, check out Genshin Impact 1.7/2.0 Leaks, New Characters, Release Date.