Layered armor is a special type of armor that only changes the appearance of a crafted armor, and to find and change what layered armor is currently available to you, you will need to find a special option in Monster Hunter Rise.
How to change Layered Armor in Monster Hunter Rise
To equip layered armor, you will need to first get a set of layered armor through either quests or events; after this point, you can find all layered armor and change them through the item box. The item box will have an option called layered armor settings, and through this option, you will be able to change and equip layered armor and change and unequip new sets.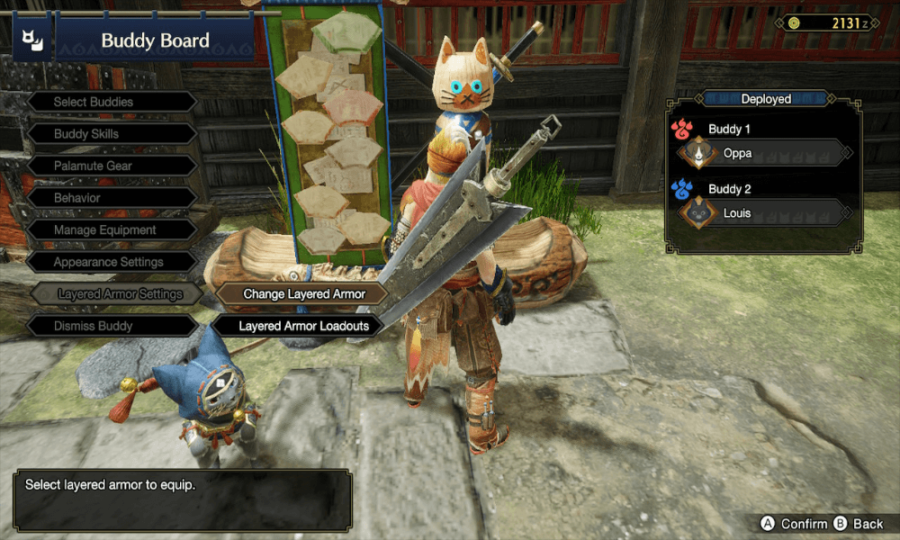 You can also change the layered armor of both your palamute and palico; to do this, you will need to interact with a buddy board and select the layered armor settings option. After this, you will then need to select change layered armor and then pick which of your buddies you wish to equip layered armor on.
Related: How to play Multiplayer Co-op in Monster Hunter Rise
However, chances are you don't have any layered armor just yet unless you preordered the game; if this is the case, you will need to redeem your pre order items. You can do this by visiting Senri the Mailman and selecting the option to redeem add-on content. Clicking this option will have the game check for any unredeemed content and then present you with a list of content to redeem. Then once redeemed, the items will show up under layered armor in the game.
For more on Monster Hunter Rise, we at PGG have you covered with guides like How to play and download the Monster Hunter Rise Demo and What time will Monster Hunter Rise be playable?