The Stranger Things: Starcourt Mall experience in Roblox is available for players to explore the iconic mall as seen in the Netflix Original Series Stranger Things season three. There are four mini-games to play and four Avatar items to earn in the experience, three of which are available from the Accessory Shop. But, this shop isn't immediately open upon starting the game.
To open the Accessory Shop, you must play all four of the mini-games in the Stranger Things: Starcourt Mall experience. After playing all four of the mini-games, return to Mike (located near the mall entrance) to redeem a reward for your participation. Mike will then tell you the shop is open, and you will be able to purchase the three available items.
Related: Roblox Stranger Things: Starcourt Mall Event Guide | Eleven's Headgear, Walkie-Talkie, Starcourt Badge
Note: While playing the minigame, our star coins said Loading... where it should have displayed the total amount. The Loading... text went away after we completed all of the minigames and talked to Mike.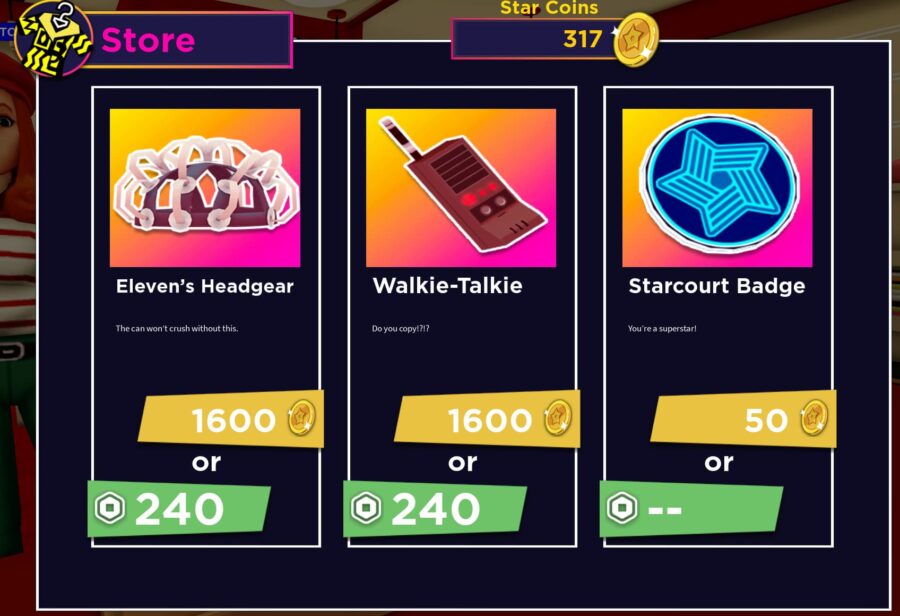 The three items in the shop are all themed from images in the show:
Eleven's Headgear: 1,600 Coins or 250 Robux

Description: The can won't crush without this.

Walkie-Talkie: 1,600 Coins or 240 Robux

Description: Do you copy!?!?

Starcourt Badge: 50 Coins

Description: You're a superstar!
If you don't want to pay for the items with Robux, earning these shop items will take some grinding and playing through the mini-games multiple times.
Players can also get the fourth Avatar item, Dustin's Hat head accessory, simply by launching the game for the very first time. For more free Roblox rewards, check out our Roblox Promo Codes List for free Avatar items and Roblox Game Codes for in-game codes, on Pro Game Guides.