Hogwarts Legacy is chock full of gear that you can collect on your quest to become the most powerful witch or wizard. All gear is divided into five tiers, but only Superb, Extraordinary, and Legendary tier items can be upgraded at the Enchanted Loom and be equipped with Traits. Traits can add a plethora of unique buffs that may grant bonus damage to certain spells, increase your Ancient Magic refill rate, and more. You may also collect a rare gear with a Trait already equipped on it. This begs the question—can you remove a Trait from gear? Read on to find out how you can acquire, equip, and remove Traits from gear in Hogwarts Legacy.
Can Traits be removed from gear in Hogwarts Legacy?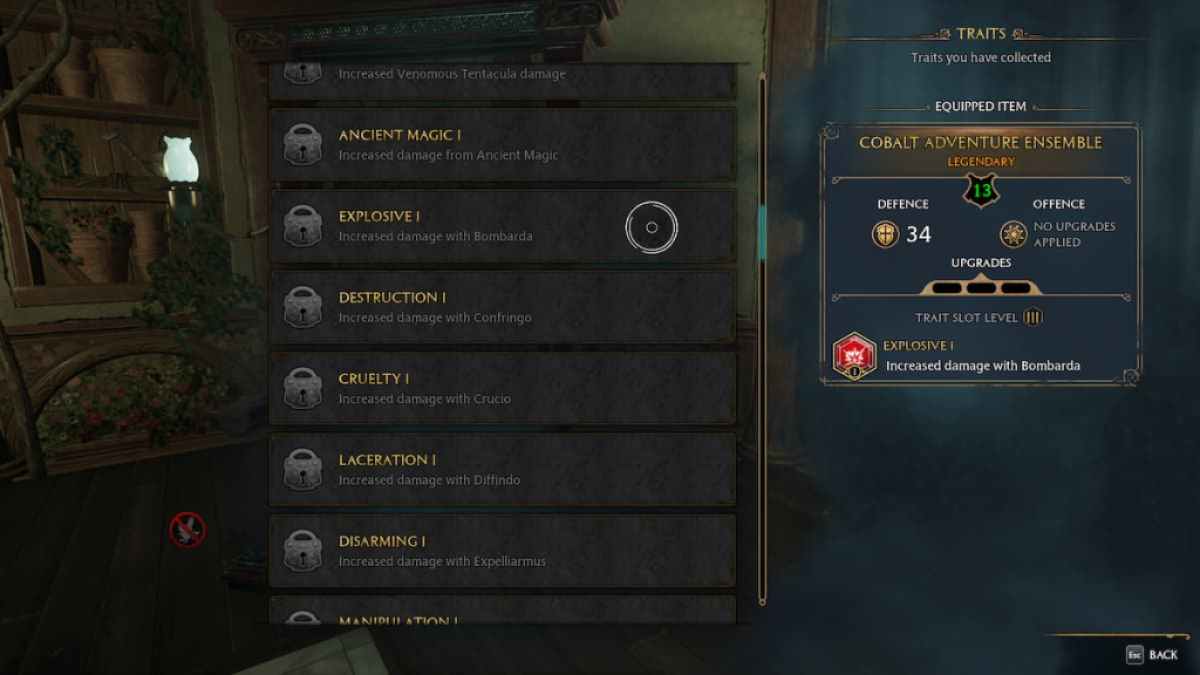 Traits cannot be removed from gear once it has been applied, but they can be replaced. Traits are not acquired as items, but instead as discoverable recipes which you can then craft at your Enchanted Loom in the Room of Requirement by using resources you gather from beasts.
As mentioned prior, you may sometimes loot a piece of Superb, Extraordinary, or Legendary gear with a Trait already equipped on it. This pre-equipped Trait might even be a Trait you have not discovered yet. However, in such a case, you can only replace that Trait with another Trait that you have already discovered. Keep in mind, once you apply a Trait, it cannot be removed. However, if you have already discovered that Trait, you can use the required beast resources to craft it again.
Related: Can you automatically feed and brush pets in Hogwarts Legacy?
How to get and equip traits in Hogwarts Legacy
Traits can be acquired from completing certain Combat feats included within the Challenges menu. However, as described in-game, the best way to acquire Traits is by clearing out Bandit Camps that you will find around the map. Bandit Camps do not appear on the map by default, but will show up with an exclusive logo once you find one. These camps have Collection Chests which are guaranteed to drop one Trait each time you open one.
Once you have acquired a Trait recipe, you can craft it at the Enchantment Loom in the Room of Requirement and apply it onto any gear that is Superb, Extraordinary, or Legendary. Traits are also categorized into three tiers, with tier three Traits providing the biggest buffs, or debuffs. The following are the crafting requirements for each tier of Traits in Hogwarts Legacy:
Tier I: 1 Puffskein Fur
Tier II: Diricawl Feather
Tier III: Kneazle Fur
Looking for more Beast resources to craft Traits? Check out Where to get Diricawl and Diricawl Feathers in Hogwarts Legacy, right here on Pro Game Guides.