Hogwarts Legacy has stunning character creation that allows you to personalize your witch or wizard the way you like, from their hair to their voice. However, if you're not happy with what you initially created at the start of the game, you can always change things up once in a while. You can change your hairstyle and extra facial features whenever you like; you'll just have to make a quick trip to Hogsmeade.
How to change your hairstyle and features in Hogwarts Legacy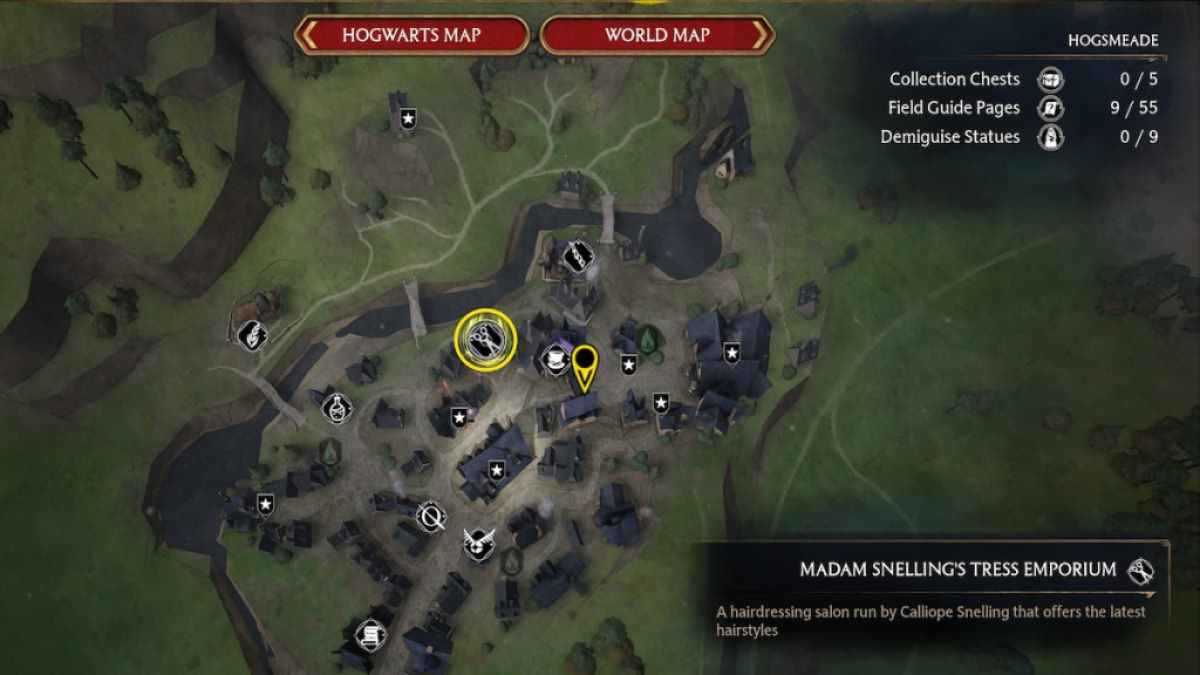 Hogsmeade has all kinds of shops filled with essential items like potions, wands, scrolls, tomes, and more, including a cozy little hair salon. You can find Madame Snelling's Tress Emporium at the upper northwest corner of the village, symbolized by the scissors icon on your map and compass. Entering the salon and talking to Madame Snelling will allow you to customize your appearance.
You will have most options that you did at the start of the game when creating your characters, such as all the same hairstyles and facial accessories like scars, freckles, moles, and eyebrows options. You can also recolor your hair and eyebrows again to a fresh shade. The only things you can't change are your overall face shape and presets. Keep in mind Madame Snelling doesn't offer these services for free and will require you to pay some gold to save any changes that you made.
Related: Can you customize your wand again in Hogwarts Legacy?
When do you unlock new hairstyles in Hogwarts Legacy?
The best way to unlock new features for your character is by completing challenges. Challenges have all kinds of appearance rewards, such as gear styles and appearances. You can earn some by completing various challenge types across the castle, such as field guides, exploration, relationship quests, and more. If you're hoping to change the appearance of your gear at any time, you can hover over the item in your Gear menu and hold X or Square to see your options. However, hairstyles can only be changed at the Emporium. Though there is plenty of gear acquired through challenges, it isn't clear whether there will be new hairstyle options included, but we'll update this page again accordingly.
Taking a trip to Madame Snelling's Emporium every once in a while will help you keep your witch or wizard looking fresh. This is currently the only available option to change your character's appearance, but with magic involved, who knows what other surprises might arise. Keep checking back to stay updated.
Looking for more Pro Game Guides Hogwarts Legacy content? Check out our guides on How to increase gear slots in Hogwarts Legacy or Which Wand Core should you choose in Hogwarts Legacy?