There are tons of side quests to complete in Hogwarts Legacy, and to get that 100%, you'll need to travel far and wide to locate all of them and complete the tasks. Though it may seem a bit of a crazy mission, these side quests are totally worthwhile for the loot and unique stories behind each one. There are three quests in particular that may be hard to locate, and in case you may be missing them, we've listed them below, along with how to quickly complete them.
Where to find the last three side quests in Hogwarts Legacy
The last three side quests that are easily missable are "Sacking Selwyn," "Tangled Web," and "Well, Well, Well." Since they require you to wander outside to some various hamlets, they may not be as obvious as some of the others. But here is where you can find them and complete them to get that 100% completion:
"Sacking Selwyn"
To begin the "Sacking Selwyn" quest, you'll want to travel all the way to Cragcroft in the very southern region of the World Map. Just north of the hamlet is a character Hyacinth Olivier who you must speak with to begin the quest. They will ask you to take down the boss Silvanus Selwyn.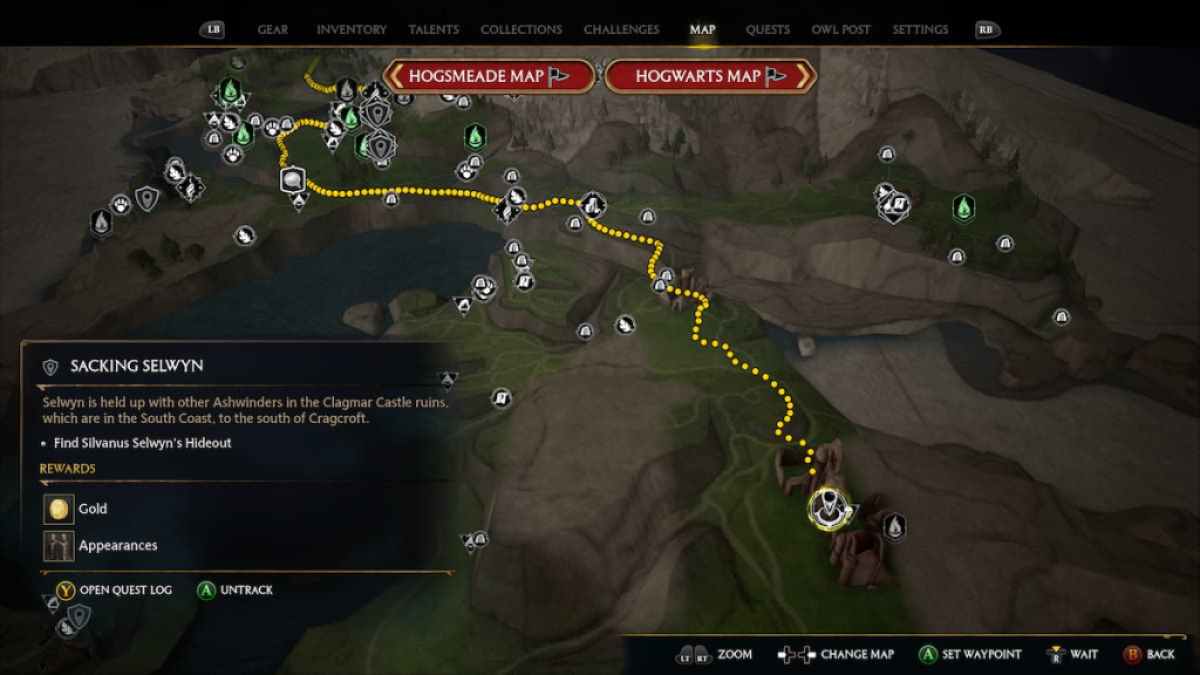 You can find Silvanus Selwyn's Hideout just south of Cragcroft in the Clagmar Castle ruins. He is held up with a bunch of Ashwinders, so expect to fight multiple enemies as well as this boss. This is a level 37 suggested quest, which means it won't be an easy task. Stock up on some Wiggenwelds and prepare to battle. Once you defeat him, head back to Hyacinth to complete the quest.
Related: How to follow the trail of coins in Hogwarts Legacy (A Thief in the Night)
"Tangled Web"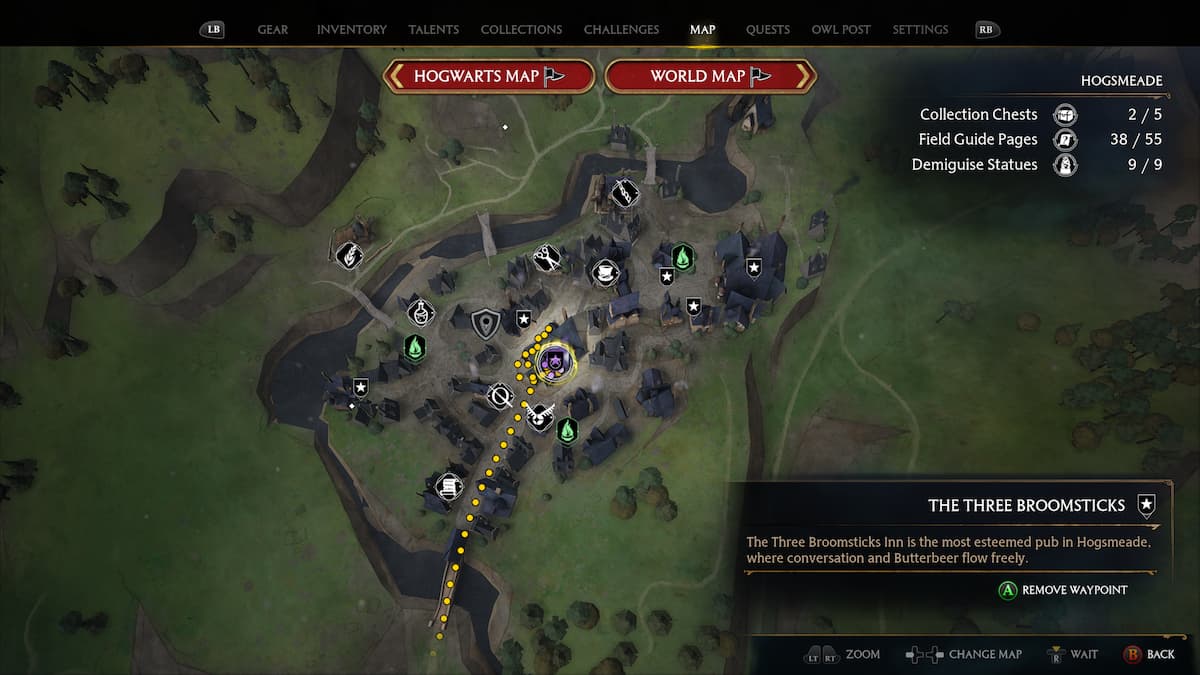 This side quest is not the best for my fellow spider haters and can be easily missable if you haven't completed the quest "Absconder Encounter." Once you complete that quest, head to The Three Broomsticks in Hogsmeade and speak to Crispin Dunne. He'll be standing directly in front of the fireplace. He'll ask you to head to Aranshire and check on his friend Mary since he hears there has been a spider infestation in that hamlet.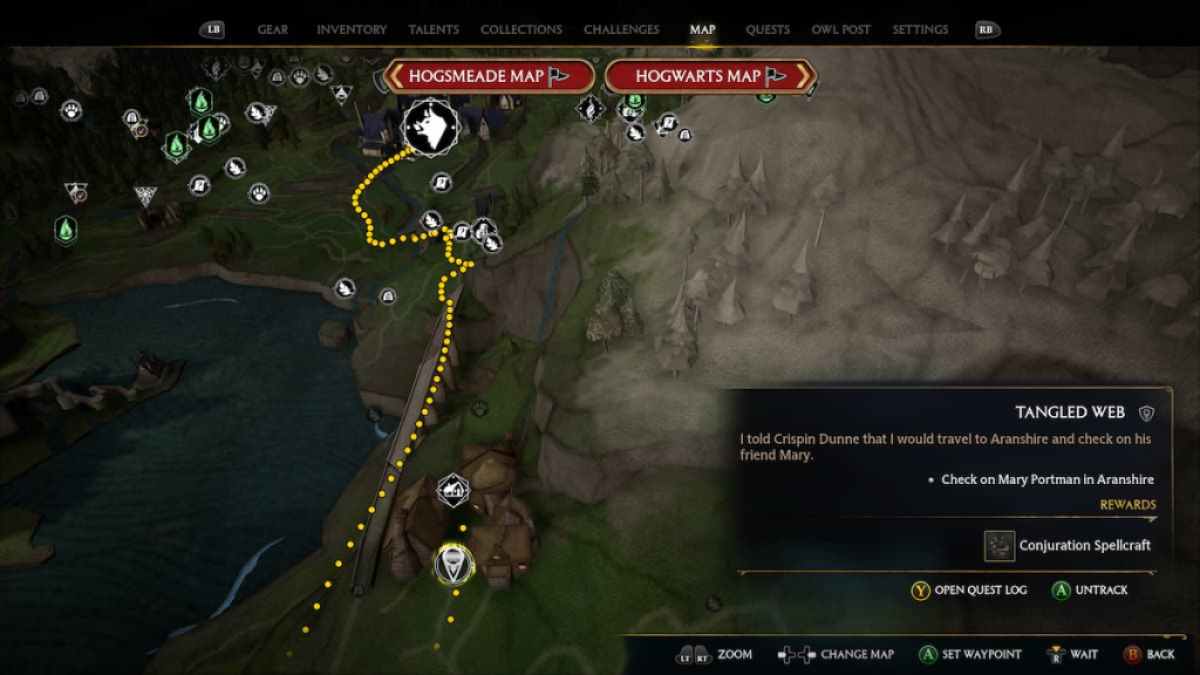 You can teleport directly to the Aranshire Floo Flame to begin completing this quest. It is just east of Hogwarts. As soon as you get there, you'll need to take out all the spiders that have overrun the hamlet. Then follow your quest marker to Mary's house. You'll need Alohomora to unlock the door. Once inside the house, you'll find Mary all webbed up and a letter explaining what happened. Head into the basement and begin clearing out the spider nests. You'll need to defeat a spider boss, and then you can return to Crispin to complete the quest.
Related: Hogwarts Legacy – Minding Your Own Business Walkthrough
"Well, Well, Well"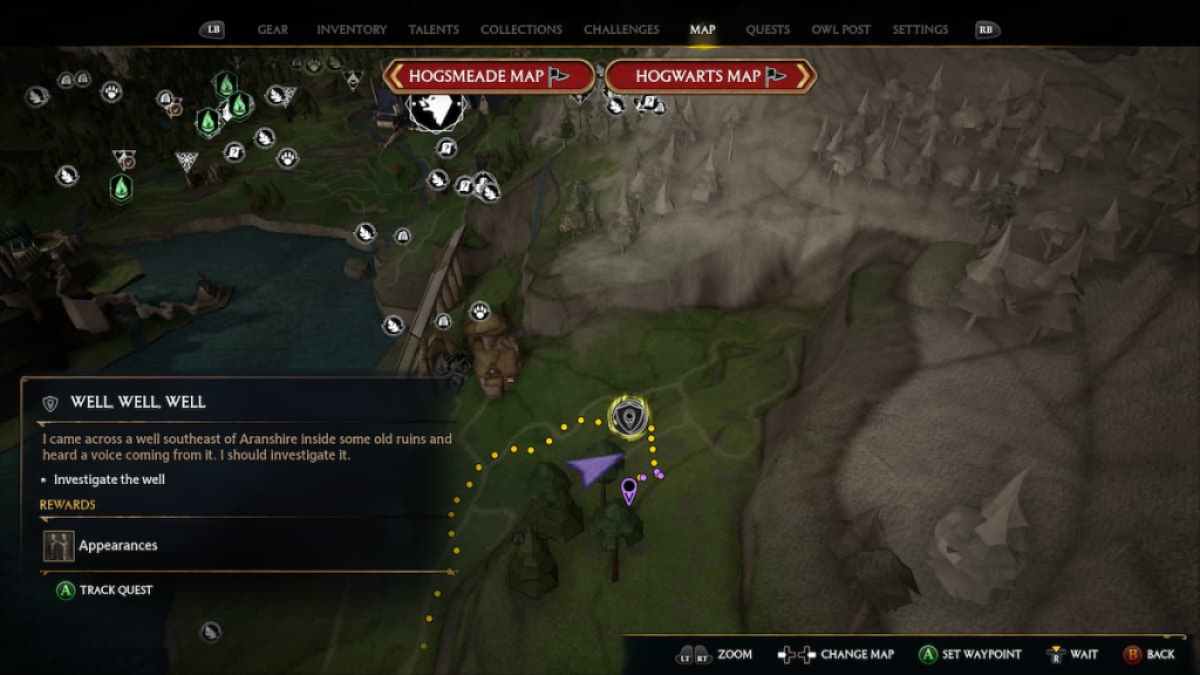 This quest is specifically easy to miss because you won't need to speak to any NPC to begin it. Instead, you'll speak directly to an enchanted well. You can find this well just outside of Aranshire to the southeast. As soon as you get near it, it will initiate the conversation. Interact with it to continue. It will give you a treasure map to follow.
The treasure map will reveal the general location of the treasure, as well as how to get it. However, the map can be a bit hard to read, so we placed some photos above to help you find them. It will be in the ruins directly to the south of Irondale. There you will need to find a particular tree that you can interact with. As shown on the map, you'll need to use Levioso to lift up the tree and spot the chest dangling on its roots. Once you have the treasure, you'll complete the quest.
We hope this helped you complete all those side quests. There are so many out there, so keep your eyes peeled for that gray arrow marker on your map. Sometimes they won't pop up until you complete another quest. Keep working through them to get that 100% game completion.
Looking for more Pro Game Guides Hogwarts Legacy content? Check out our guides on Where to find the butterflies in the forbidden forest in Hogwarts Legacy (Follow the Butterflies) or The Man Behind The Moons Quest Walkthrough – Hogwarts Legacy!