Honkai: Star Rail's turn-based combat system may be familiar to JRPG lovers, but there are a few quirks in the mechanics that could be extremely useful to know. Whether you're a seasoned turn-based player or are new to these mechanics, here's everything you need to know about defeating enemies in Star Rail.
Honkai Star Rail combat system, explained
Honkai: Star Rail's combat system can be quite complex to digest if you aren't used to turn-based mechanics. Below, we break down every aspect of the combat system from entering a battle to completing it.
Before Combat: Technique & Weakness
When you encounter an enemy, you can see their Elemental weaknesses. Use any character of the given Elements to manually attack the enemy, allowing you to exploit their weakness and get a headstart in battle. You can either use a Basic ATK by clicking on the left mouse button or an attack-based Technique by clicking the E button.
Techniques are skills that can be used in the open world. They can be anything from buffs, and healing, to directly attacking an enemy.
If you manage to attack en enemy first, Weakness will show up on the screen. If the enemy attacks you first, Ambush will show up instead. If you're Ambushed, the enemy will get the first turn in combat.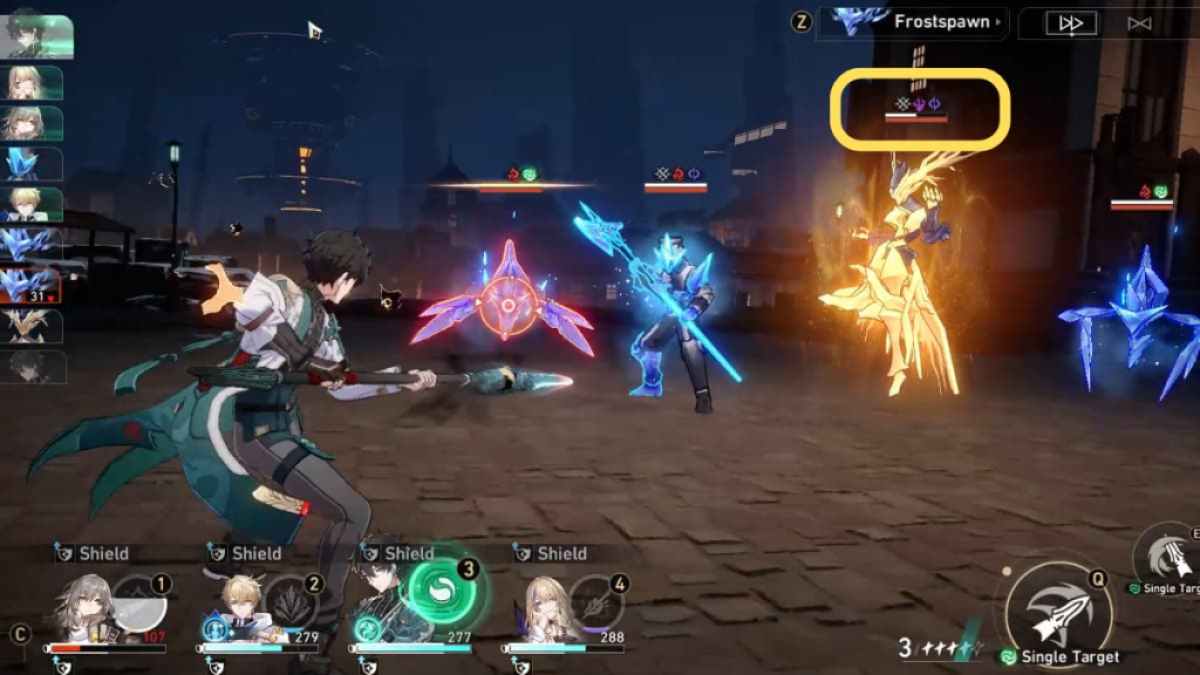 When you manage to attack the enemy first and trigger Weakness Break, all enemies weak to the Element you used will have part of their shield depleted. In the example above, we used Serval (Lightning) to attack an enemy with a Lightning weakness. When the battle started, all enemies with a Lightning weakness had half their shields depleted.
Related: Honkai Star Rail Cavern of Corrosion Guides, All Locations, Team Comps, and more!
Weakness Break will also trigger the following effects.
| Element | Weakness Break Effect |
| --- | --- |
| Fire | Deal Fire DMG and apply the Burn effect, dealing Fire damage over time. |
| Physical | Deal Physical DMG and apply the Bleed effect, dealing Physical damage over time. |
| Ice | Deal Ice DMG and Freeze the target, immobilizing the enemy and dealing Additional Ice DMG. |
| Lightning | Deal Lightning DMG and apply the Shock effect, dealing Lightning damage over time. |
| Wind | Deal Wind DMG and apply the Wind Shear effect, dealing Wind damage over time. |
| Quantum | Deal Quantum DMG and cause Entanglement, delaying the enemy's action and dealing Additional Quantum DMG to the affected enemy at the start of the next turn. When the enemy is hit, this extra DMG will increase. |
| Imaginary | Deal Imaginary DMG and additionally inflict Imprisonment. Imprisoned enemies suffer from delayed actions and SPD reduction. |
Action Order, Turn, & Combat Cycle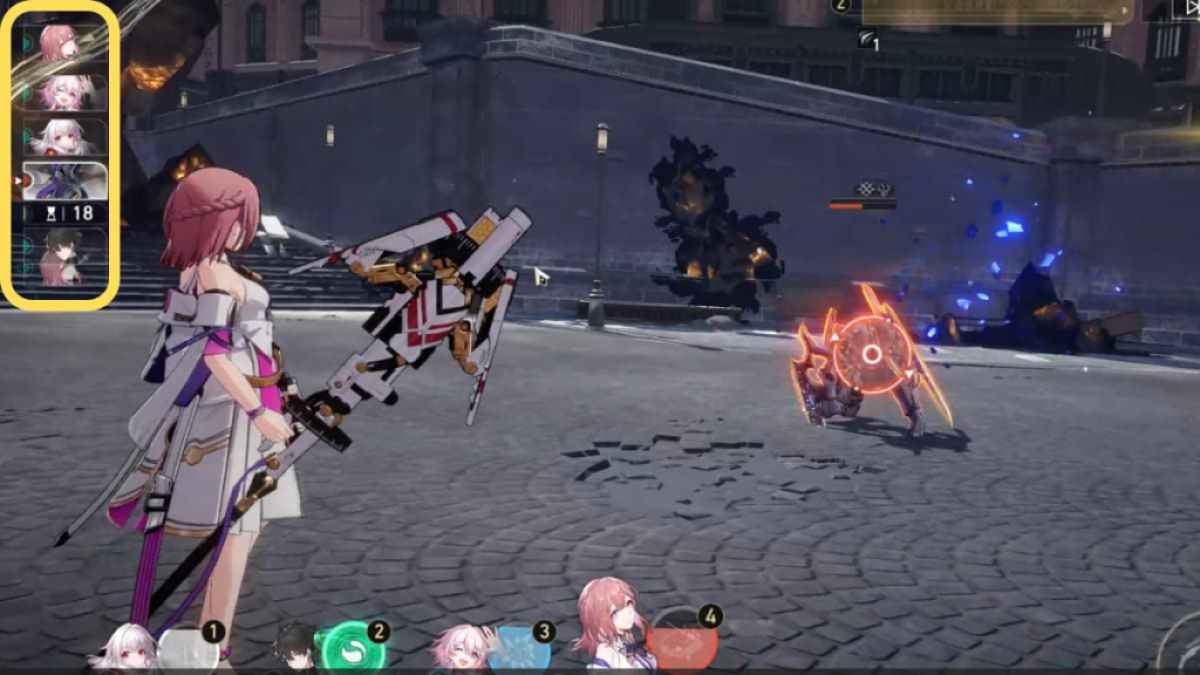 The Action Order determines who moves first in battle. If you attack an enemy first, you will get the first turn. If the enemy Ambushes you, the enemy gets the first turn. You can view the Action Order on the lefthand panel of the combat screen.
In the example above, the Action Order is Asta > March 7th > Clara > enemy. After everyone in the Cycle has finished their turn, a new Cycle will start. Cycles only matter in the Forgotten Hall, so this is the only game mode where you can track the remaining number of Cycles.
Combat Visual Guideline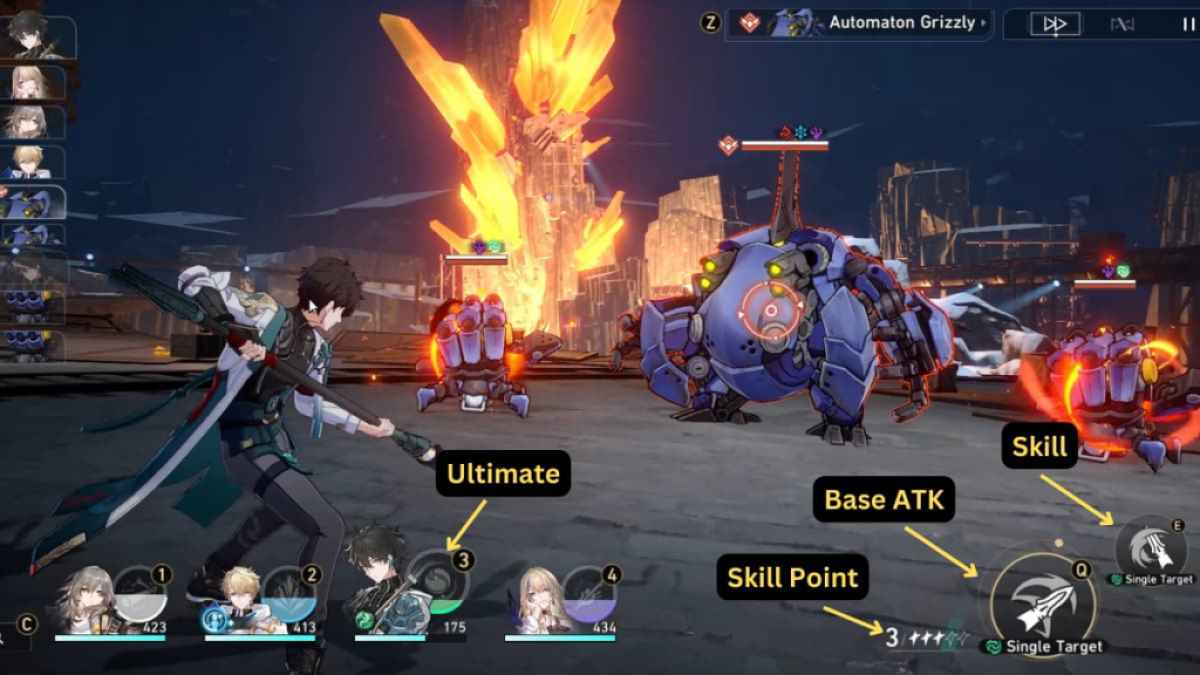 Above is a visual guideline of all the important parts of the combat UI. In Honkai: Star Rail, you can assemble a team of four to battle enemies. You can switch between characters by clicking on them on mobile or by clicking their corresponding numbers on PC.
Basic ATK, Skill, Skill Point, Counter
A Basic ATK is, as its name suggests, what you could consider a "normal attack." It recovers one Skill Point. The Skill Point can be used to cast a Skill, which costs one Skill Point for every use. Each battle starts with three Skill Points, and you can recover more by using Basic ATKs. However, you can only hold five Skill Points at a time.
Sometimes, a character will Counter after certain criteria are met. Counters are extra attacks that can be tracked by checking for an extra turn in the Action Order. These cost no Skill Points but also don't generate any.
Related: Honkai Star Rail Stagnant Shadow Guides, All Locations, Team Comps, and more!
Ultimate, Energy Cost, & Energy Generation
Ultimates cost Energy to cast. These can be obtained by the following means:
Getting attacked by enemies. Each time a character is hit, a little Energy is generated.
Attacking enemies. Each time a character does a hit, a little Energy is generated.
The number of hits depends on the actual number of hits in an attack and not the number of times a character is hit. For example, Asta's Basic ATK deals one hit, while her Skill deals five hits. As a result, she can generate Energy much more quickly by using her Skill.
Once the Energy gauge is filled, you can interrupt the battle by casting the Ultimate any time—even if it's not the character's turn.
Can you cancel an ultimate attack in Honkai: Star Rail?
No, you cannot cancel an ultimate attack in Honkai Star Rail. The second you click/press that ultimate button for your character, you are locked in, and there is no way out. We've tried! Sure, you can leave the battle, but if your ultimate stays is another question!
Can you auto-battle in Honkai: Star Rail?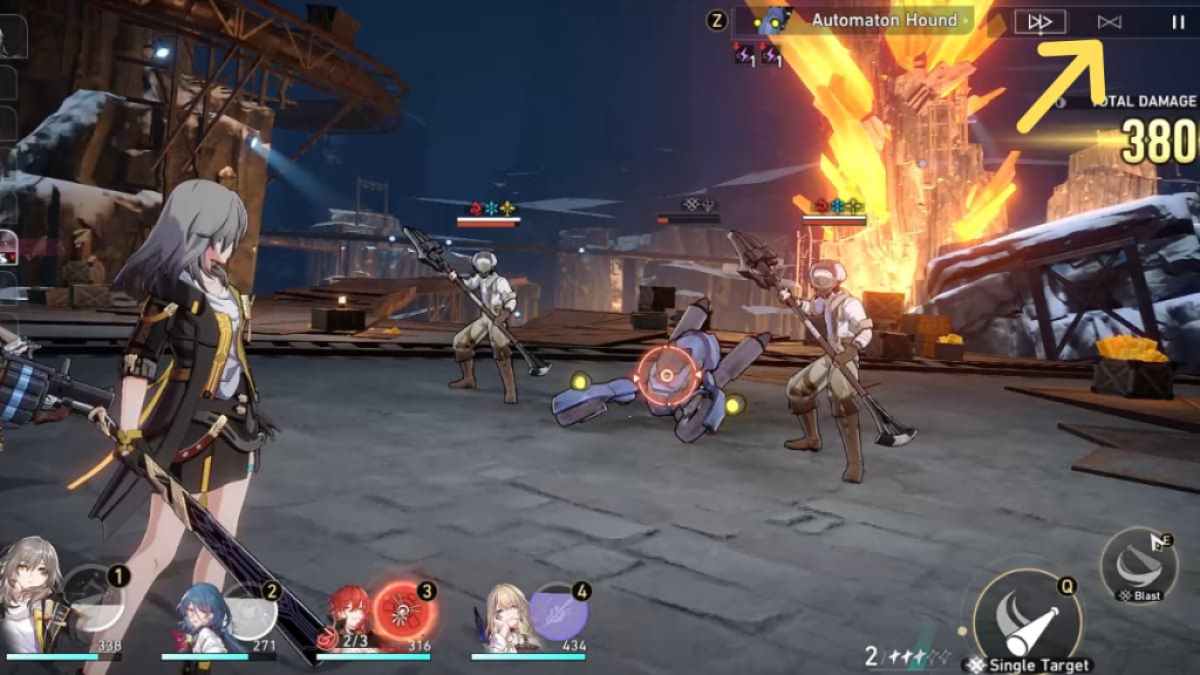 Yes, it's possible to auto-battle in Honkai: Star Rail. You will unlock this feature during the first Simulated Universe quest in Herta Space Station. On the upper right corner of the screen, you'll fine three controls:
Double speed

Auto-battle
Pause
Keep in mind that auto-battle is only useable in non-story mode battles. When you're doing the story section of a quest, you need to control the combat manually.
Can you use food in battle?
It's not possible to use food and other Consumables in battle. As a result, we recommend using Consumables to buff or heal before engaging with an enemy. It's also a good idea to always have a healer (Abundance Path) or shielder (Preservation Path) to help with the team's survivability, as a lot of enemies deal massive amounts of damage.
To farm resources, check out our Honkai Star Rail Crimson Calyx Guides, All Locations, Team Comps, and more! here on Pro Game Guides.