In Hunt: Showdown, it can be frustrating to invest in an expensive loadout, then die and lose several hundred Hunt Dollars. While the appeal of the Nitro Express and Dolch 96 loadout is undeniably strong, when you only have a few Hunt Dollars in your account, it's better to opt for cheaper loadouts. Save your prestige for another day and try out some of the best budget loadouts in Hunt: Showdown.
Cheap Loadouts in Hunt Showdown
Hunting Bow and Nagant M1895 - $195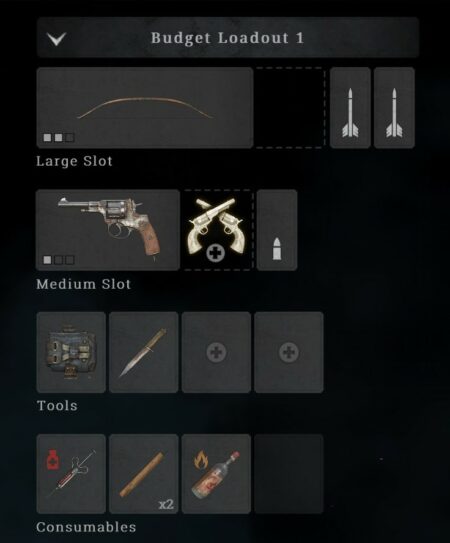 This loadout is both cost-efficient and practical. The Hunting Bow is excellent for long-range engagements, but can also one-shot at short range. The Nagant M1895 is a decent all-around gun, and with 91 damage each shot, it can easily be used to take down enemy players. The dynamite sticks and fire bomb also provide backup damage, as well as area denial. At the cost of 195 Hunt Dollars, this loadout is quite the bargain.
Romero 77 and Hand Crossbow - $184
This loadout is excellent for players who enjoy close combat but want to avoid breaking the bank if the fight starts going downhill. The Romero 77 inflicts 200 damage per shot and is lethal in short-range engagements. The Hand Crossbow is efficient at killing zombies and bosses quietly and is a one-shot when players are in close proximity. At the cost of only 184 Hunt Dollars, this loadout is perfect for players who seek out fights and aren't afraid to get close to their enemies.
Crossbow and Scottfield Model 3 - $208
This loadout is perfect for players who only want the necessities when it comes to weapons but enjoy disorienting the enemy with decoys and chaos bombs. The crossbow is a solid budget weapon, as it causes heavy bleeding and is quite effective at long range. It is also virtually silent, so it can be used to kill bosses while remaining under the radar. The Scottfield Model 3 is a cheap but deadly pistol that inflicts 107 damage each shot. At the price of only 208 Hunt Dollars, this loadout is perfect for players in a financial bind.
Related: Best Loadouts in Escape from Tarkov
Nagant M1895 Precision and Romero 77 Handcannon - $151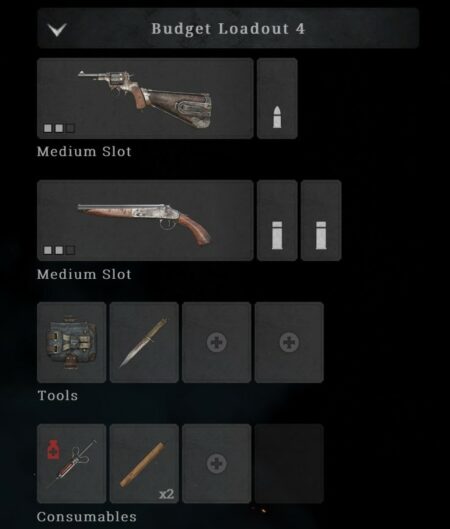 With the long-range capacity of a precision pistol and the short-range stopping power of a hand cannon, this loadout is lethal. The Nagant M1895 Precision is an excellent weapon that combines the scope of a rifle with the cost efficiency of a pistol. The Romero 77 Handcannon may only cost 26 Hunt Dollars, but don't underestimate the 140 damage it inflicts. At the low cost of 151 Hunt Dollars, budget loadouts really don't get better than this.
Caldwell Conversion Pistol and Combat Axe - $81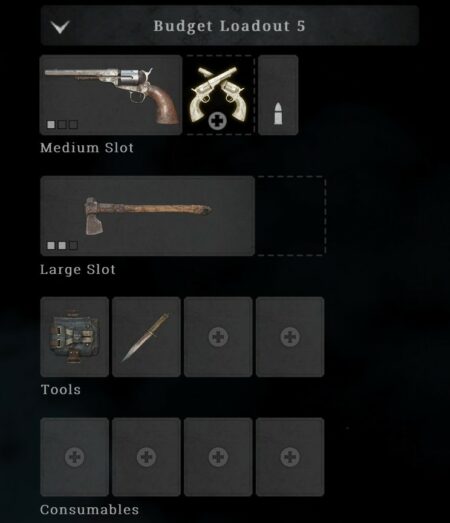 You are at your lowest point. Your friends have told you to prestige, but you don't want to start from scratch. You have less than 100 Hunt Dollars in your virtual bank account and are trying to decide whether you even want to bring a gun at all. This loadout is for you. The Caldwell Conversion Pistol is a reliable weapon at the low cost of 26 Hunt Dollars, inflicting 104 damage each shot. The Combat Axe is excellent at killing zombies and fighting bosses quietly. At this point, you can't even afford consumables. With the price tag of only 81 Hunt Dollars, this is the perfect loadout for players struggling with financial responsibility.
For more Hunt Showdown guides, come check out How to Prestige in Hunt: Showdown here on Pro Game Guides.