Indian Bikes Driving 3D is one of the most popular open-world driving games on Google Playstore. Unlike other racing games, there is no particular objective in the game; you just hop inside the map and ride fancy vehicles. If you are bored, blow up various building infrastructures using weapons and create havoc in the city. Overall, it is a fun game that thrives on the chaos you make.
While everything was fun and engaging initially, I was bored of using the old vehicles to drive after a while, making me lose interest in the game. But, thanks to the cheat codes provided by the developers, I am driving a fancy automobile every day in the game. So, if you want such posh vehicles in your game, keep reading this guide until the end. Also, if you love mobile games like Indian Bikes Driving 3D, please check our other code articles for Brown Dust 2 Codes and Call of Duty Mobile Codes.
All Indian Bike Driving 3D Cheat Codes List
Indian Bike Driving 3D Cheat Codes (Working)
2000—Unlock a Rolls Royce
3333—Unlock a Lamborghini
800—Unlock a Bugatti v2
4444—Unlock a Bugatti Chiron
8888—Unlock a Duke 1290
7777—Unlock a Duke 200
8000—Unlock a Helicopter
0015—Unlock a Yamaha R15
999—Unlock a Yamaha Vmax
888—Unlock a Yamaha FZ10
1211—Unlock a Pulsar
5000—Unlock a Pulsar Rs200

1190—Unlock a New KTM
1210—Unlock a KTM
9000—Unlock a Splendor
400—Unlock a Zx10r bike
2222—Unlock an ATV
6000—Unlock a Tron Bike
666—Unlock a Benelli TNT
500—Unlock an Audi
5555—Unlock a Ghost Rider Bike
9090—Unlock a Thar
9999—Unlock a Royal Enfield Bullet
555—Unlock a Plane

6666—Unlock a Range Rover
1111—Unlock a Cycle
900—Unlock a Koeigness
7000—Unlock a Hayabhusa
333—Unlock a Scorpio Classic
444—Unlock a Scorpio S11
777—Unlock a Ducati Diavel
3000—Unlock a Kawasaki Ninja H2r
0000—Unlock an Activa Scooty
1000—Unlock a Fortuner
2222—Unlock a New Car
1190—Unlock a Wagonr Car

4215—Unlock a KMD Duck
9129—Get Infinite Health
0—Get a Gas Tank
1215—Perform a Super Jump
1216—Perform an Ultra Super jump
1120—Perform a Skyfall
1112—Activate Slow Motion Mode
7112—Activate Moon Gravity
2—Spawn a Girl
1—Spawn a Boy
200—Spawn a Bag
002—Get a Tatoo Skin
Indian Bike Driving 3D Cheat Codes (Expired)
There are no expired codes for Indian Bike Driving 3D.
How to redeem cheat codes in Indian Bike Driving 3D
To activate Indian Bike Driving 3D cheat codes, follow the steps below.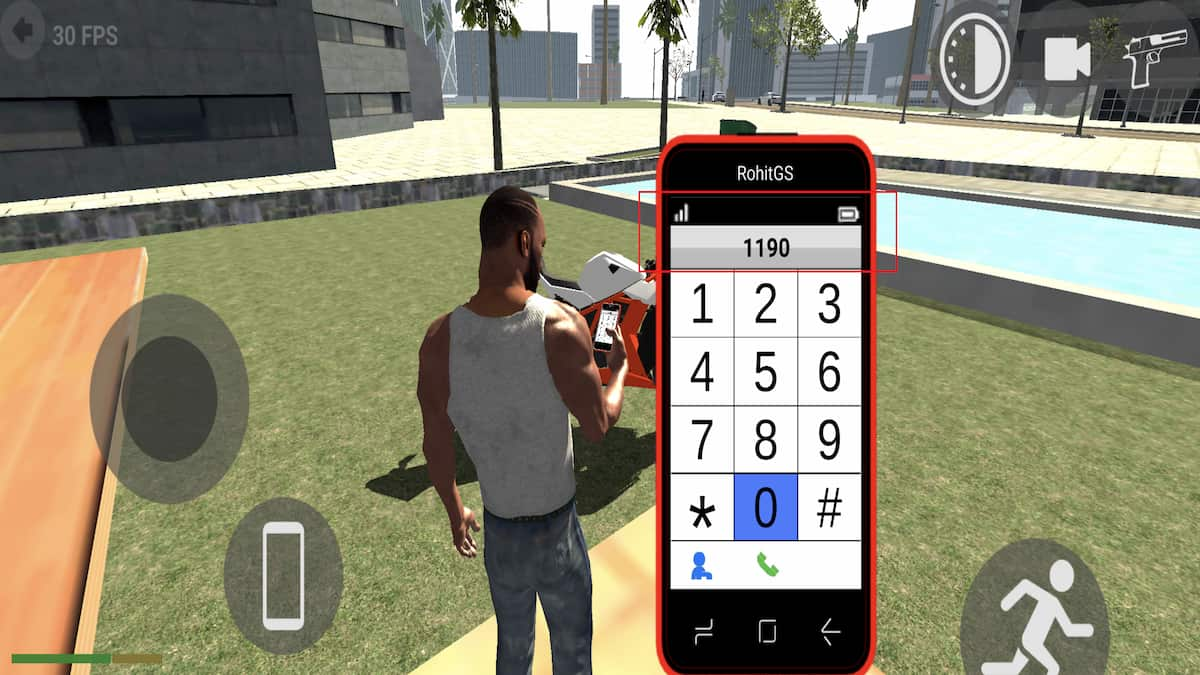 Open the game and press the play button.
Click on the Cellphone icon on the main menu.
Select the Contact option and open the Keypad.
Type any one of the cheat codes and hit the dial button to activate it.
How can you get more Indian Bikes Driving 3D cheat codes?
Apart from this page, you can get cheat codes or updates for Indian Bikes Driving 3D from the game's official YouTube channel and Google Play Store description. Still, I highly recommend bookmarking our page as we test each code and update the page regularly.
Why are my Indian Bikes Driving 3D Cheat Codes not working?
There may be two reasons why your Indian Bikes Driving 3D codes not be working. Firstly, the cheat codes are case-sensitive, so input the correct codes by checking the spelling. Secondly, they might be expired! Copy and input the ones given in the Active section, then the expired ones.
Other ways to get free rewards in Indian Bikes Driving 3D
Apart from these cheat codes, you can always get free cars, planes, and bikes inside the map by exploring the city. If you find any attractive automobile, ride adjacent to it and use the interact button to take it out for a spin.
What is Indian Bikes Driving 3D?
Indian Bikes Driving 3D is an open-world racing game on the Android platform with more than 100 million downloads. Drive around the map with world-class vehicles produced by manufacturers like Rolls Royce, Lamborghini, and Yahama. Along with driving, you can select any weapons from your arms inventory and destroy the flaky infrastructure of the city.
If you're looking for codes for other games, we have many in our Roblox Game Codes post! You can also get a bunch of free stuff via our Roblox Promo Codes page.