Ekko, The Boy Who Shattered Time, has arrived in Wild Rift and brought along his roster of time-altering gadgetry. Ekko is an assassin champion who deals heavy amounts of magic damage to enemies. Although squishy in the early game, he quickly becomes a playmaker like no other by the mid to late stages of the match.
Ekko is a champion with a very high skill ceiling, and players uninitiated with his skills and abilities will have a hard time mastering his playstyle. However, when played to his strengths, he can deal a lot of burst damage and move around the map with ease. Before we phase dive into his items, builds, and combos, let's get familiar with his skills.
Ekko's Skills
Passive: Z-Drive Resonance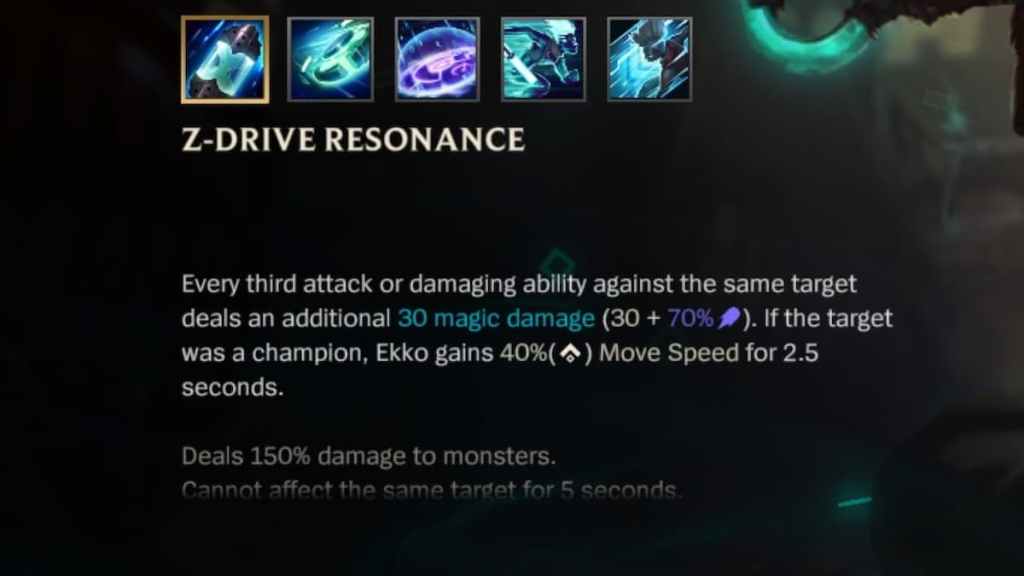 Every third attack, or damaging ability, will deal bonus damage to the target. If the target is an enemy champion, Ekko also gains bonus movement speed for 2.5 seconds. This cannot affect the same target for the next five seconds. The easiest way to proc this passive is to make sure you hit the enemy twice with his Timewinder ability.
Ability 1: Timewinder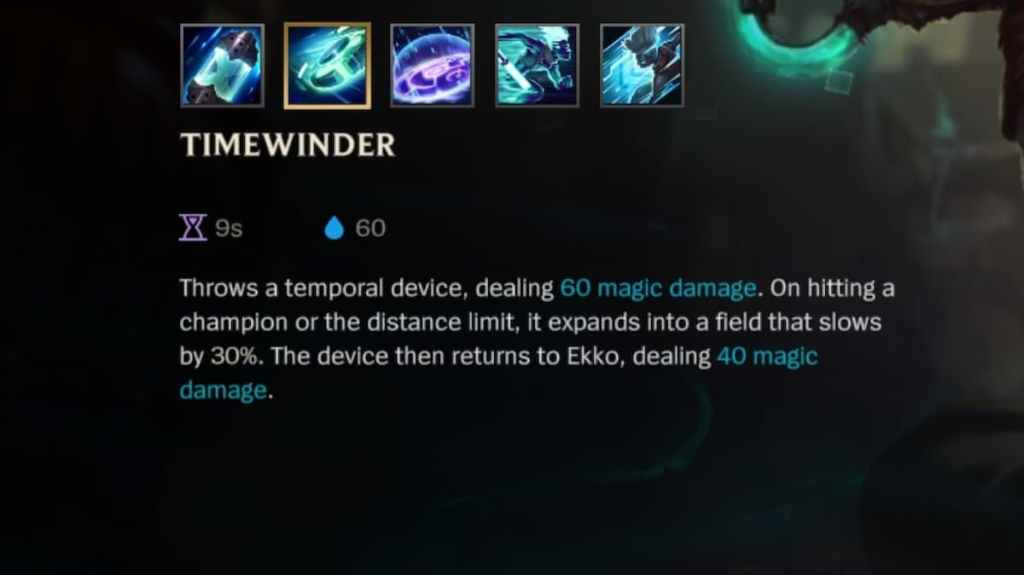 Ekko throws a projectile in the target direction. Upon hitting an enemy or reaching the distance limit, it deals magic damage and slows enemies in an AoE. Then, it returns to Ekko, dealing damage on it's return.
Related: Teemo Build Guide – LoL Wild Rift
Ability 2: Parallel Convergence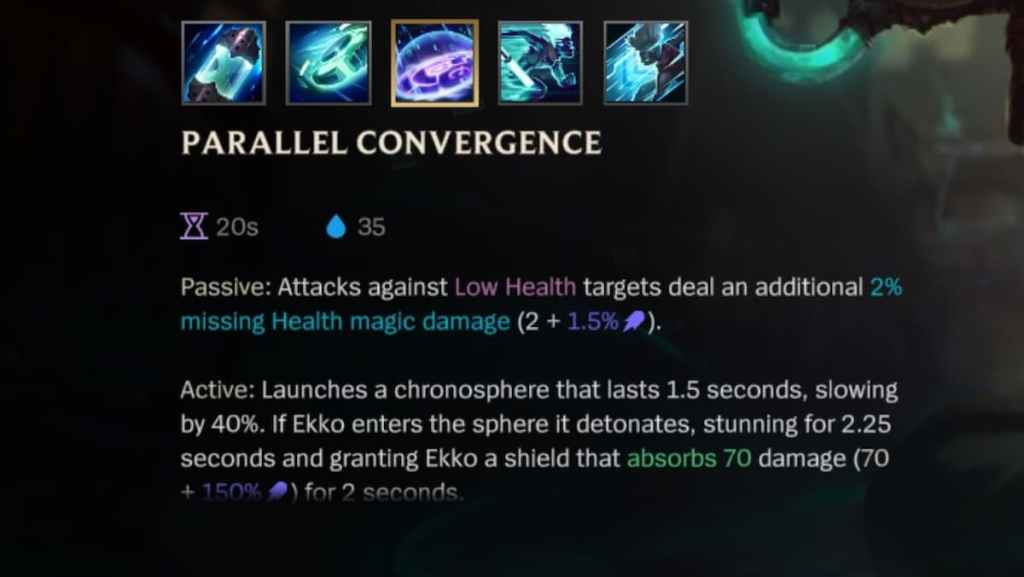 Passive: Ekko's attacks against targets with low health deal bonus damage which scales with the target's missing health.
Active: Ekko launches a chronosphere in a target location, which lasts for 1.5 seconds and slows enemies caught within by 40%. If Ekko enters the sphere, it detonates and stuns enemies within it for 2.25 seconds and grants him a shield that absorbs damage for two seconds. Note that enemies cannot see the sphere's location until it detonates.
Ability 3: Phase Dive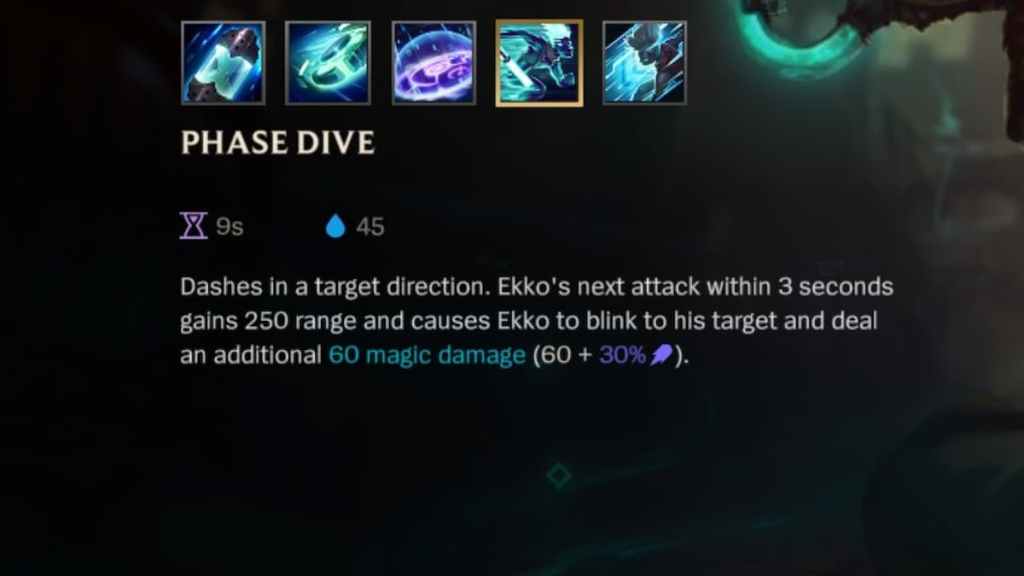 Ekko dashes in a target direction. His next attack with the next three seconds causes him to blink to his target and deal bonus magic damage. This ability is great for movement, as Ekko can dash and blink through walls. He can also target vision wards to blink away from or toward enemies.
Ultimate: Chronobreak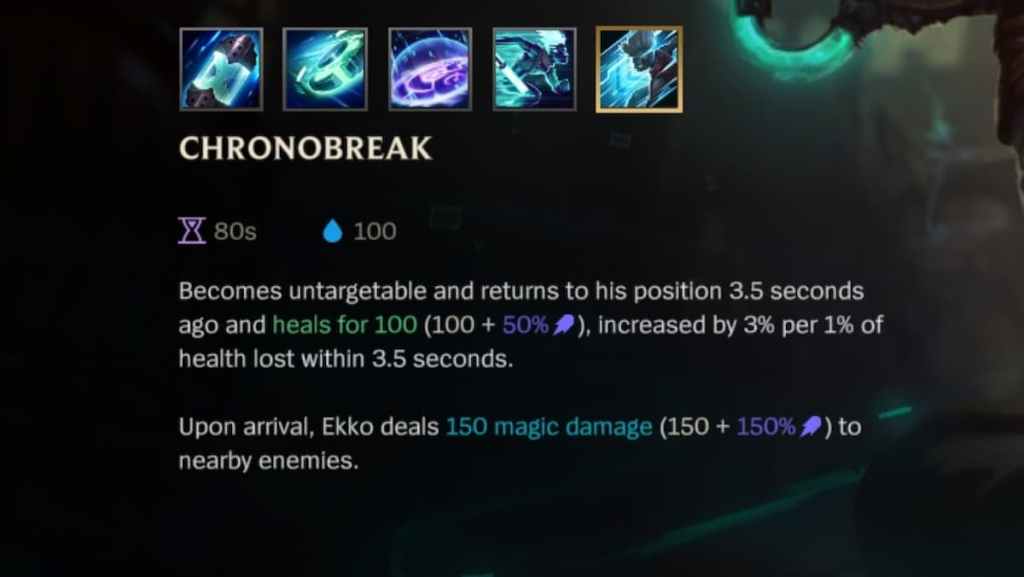 Ekko leaves a shadow of himself that trails him wherever he goes. Every player on the map can see this shadow. The shadow that he leaves behind is Ekko's position from 3.5 seconds ago. When hitting his ultimate, Ekko becomes untargetable, heals a part of his missing health, and returns to the position of the shadow. Upon arrival, he deals magic damage to nearby enemies.
Best Ekko Combo
Ability 2 (Parallel Convergence) > Ability 3 (Phase Dive) > Ability 1 (Timewinder) > Ability 3 (Phase Dive) > Basic Attack
The best way to make the most out of Ekko is to proc his passive ability to constantly deal bonus magic damage to enemies. Use Parallel Convergence over enemies, then use Phase Dive to quickly enter the sphere. As it explodes, it will stun the enemies caught within. Then, use Timewinder to damage and slow enemies, and follow up with another Phase Dive to keep up with fleeing opponents.
Related: LoL Wild Rift Fiora build guide – Best runes, skills, combos, & items
Best Ekko Item Build
Ekko benefits from AP items. Luden's Echo is a good item to build first, as it helps with his wave-clearing abilities, boosts his magic damage, and grants cooldown. Follow it up with Lich Bane, as the passive from this item pairs well with Ekko's Phase Dive. For the rest, go for a heavy AP build with items like Rabadon's Deathcap and Void Staff. For boots, pick up Ionian Boots of Lucidity for extra ability cooldown, then buy the Stasis Enchant.
Best Runes for Ekko
Best Spells for Ekko
Flash: Flash is a great spell for almost any champion. With Ekko, use it in conjunction with his Phase Dive to quickly close the gap between enemies.
Ignite: Ignite is a great choice for a magic-damage assassin like Ekko. He can use it frequently in a 1v1 situation to deal extra damage and reduce enemy healing.
Smite (for Jungle only): If playing Ekko in the jungler role, be sure to swap out Ignite for Smite to capture objectives with certainty.
Facing high ping issues in Wild Rift? Check out How to fix high ping in League of Legends Wild Rift here on Pro Game Guides.