There are a ton of collectible items scattered across Termina, and they're all worth your while to pick up. You can use various milks and potions to restore health, while items such as Gold Dust and Big Poe Souls are required to complete a couple of side quests. You'll need something to store these collectibles in, however, and one type of item, in particular, happens to be perfect for the job—Empty Bottles. Here are all six Bottle locations in The Legend of Zelda: Majora's Mask (N64/Switch version).
All six Bottle locations
Koume and Koutake Bottle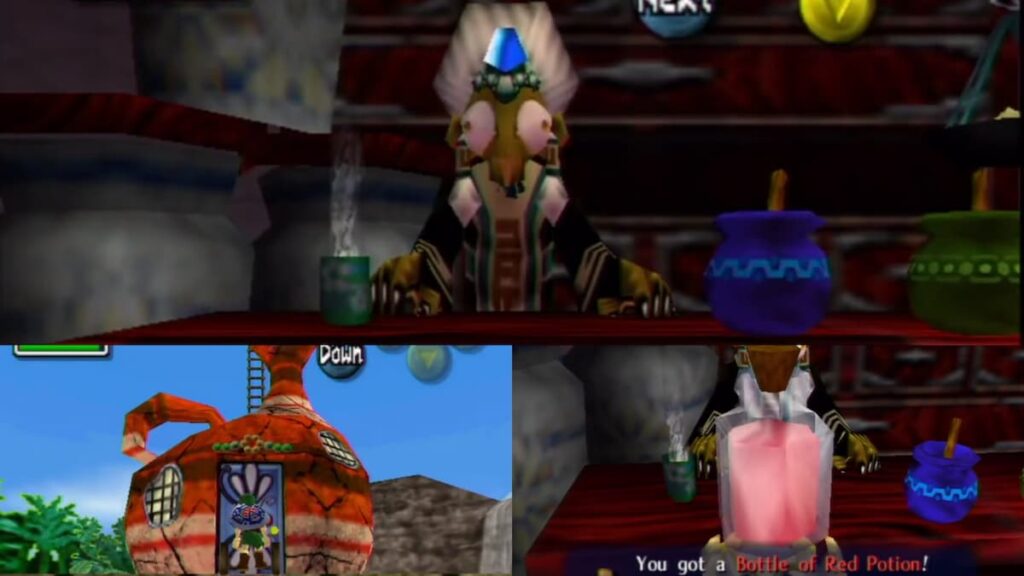 The first bottle you'll come across on your journey can be found in the Southern Swamp. While following the little monkeys through the Woods of Mystery, you'll eventually come across an injured witch named Koume. She was attacked by the Skull Kid and needs help getting back on her feet, so make your way over to the Magic Hags' Potion Shop to speak with her sister, Kotake.
Kotake can only be found in the shop on the First Day and will make her way to the Woods of Mystery on the Second or Third Day. Upon informing her of Koume's plight, Kotake will provide you with a Bottle of Red Potion to give her ailing sister. Make your way back over to Woods of Mystery, then use the potion to restore Koume to her former glory and complete this quest.
Related: How to obtain the Stone Mask - The Legend of Zelda: Majora's Mask (N64/Switch version)
Goron Race Bottle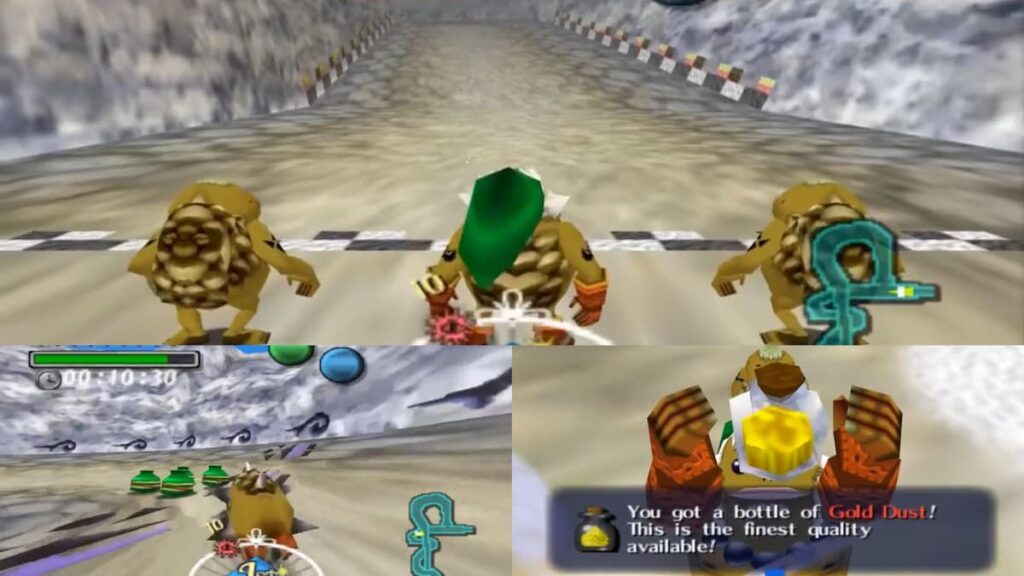 To add the second Bottle to your collection, first, make sure you've obtained the Powder Keg item and completed Snowhead Temple. Once this is done, make your way back over to Goron Village, then speak with the Big Goron to purchase a Powder Keg or two. After heading back out to the village, use your newly acquired explosive to clear the path leading Goron Village's Racetrack.
Now that you have access you the racetrack, it's time to show all of the other Gorons what you're made of. Enter the race, and, upon successfully reaching the finish line first, you'll be rewarded with a Bottle of Gold Dust for your efforts.
Romani Ranch Bottle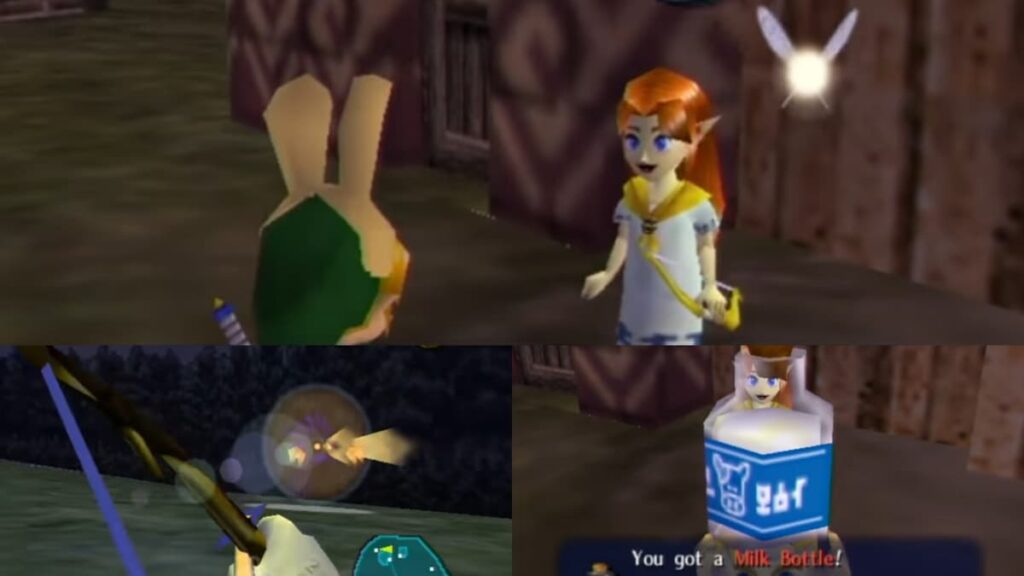 Like the second Bottle, you'll need access to the Powder Keg item to collect the third Bottle. After purchasing one from the Bomb Shop during the First Day, make your way over to Milk Road in Termina Field. Use the Powder Keg to destroy the boulder blocking the road, then head on into Romani Ranch.
Speak with Romani to learn of a cosmic threat plaguing the ranch bovine residents, then agree to help her defend Romani Ranch from the dastardly space invaders. A horde of aliens will appear on the First Night starting at 2am, and it's your job to repel their advances until 6am. Upon successfully protecting all of the ranch's cows, you'll be rewarded with a Bottle of Chateau Romani milk.
Gravestone Bottle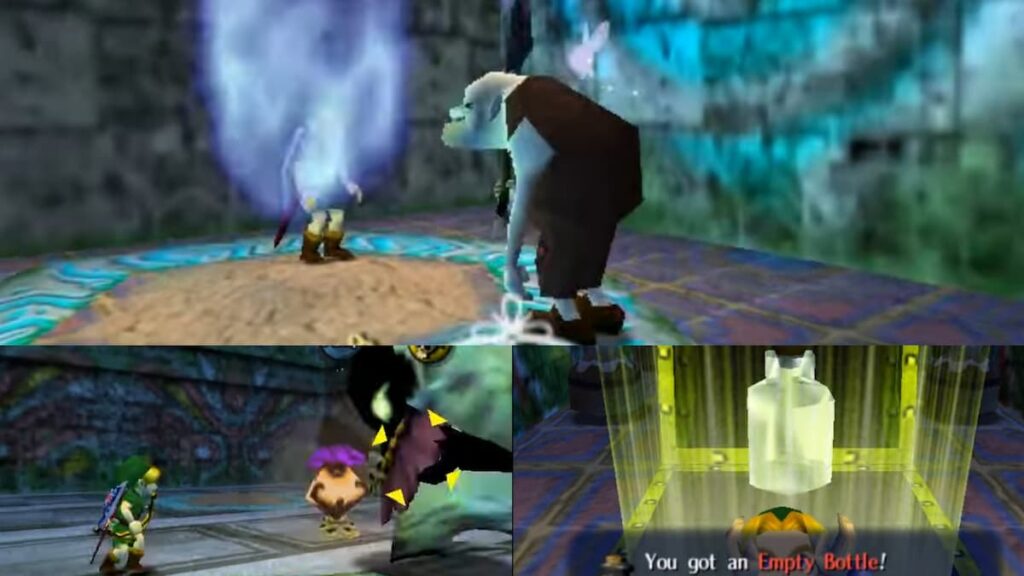 Before claiming the fourth Bottle, first, make sure you've obtained both the Lens of Truth and the Captain's Hat mask. Once these requirements have been met, make your way over to Ikana Graveyard on the Final Night. Use the Captain's Hat to talk the local Ikana Warriors into opening up a gravestone or two, revealing hidden passages that lead below the graveyard.
Ikana Graveyard's gravekeeper, Dampé, can be found lurking within one of these passages. He moonlights as a treasure hunter, and he wants your help in digging up the Royal Family's prized possessions. Once you've helped him check each plot of soil, however, a vengeful Big Poe will appear to prevent you from leaving with the goods. Defeating the ethereal enemy will cause a chest to appear, inside of which you'll find an Empty Bottle.
Related: How to obtain the Great Fairy Sword in The Legend of Zelda: Majora's Mask (N64/Switch version)
Beaver Race Bottle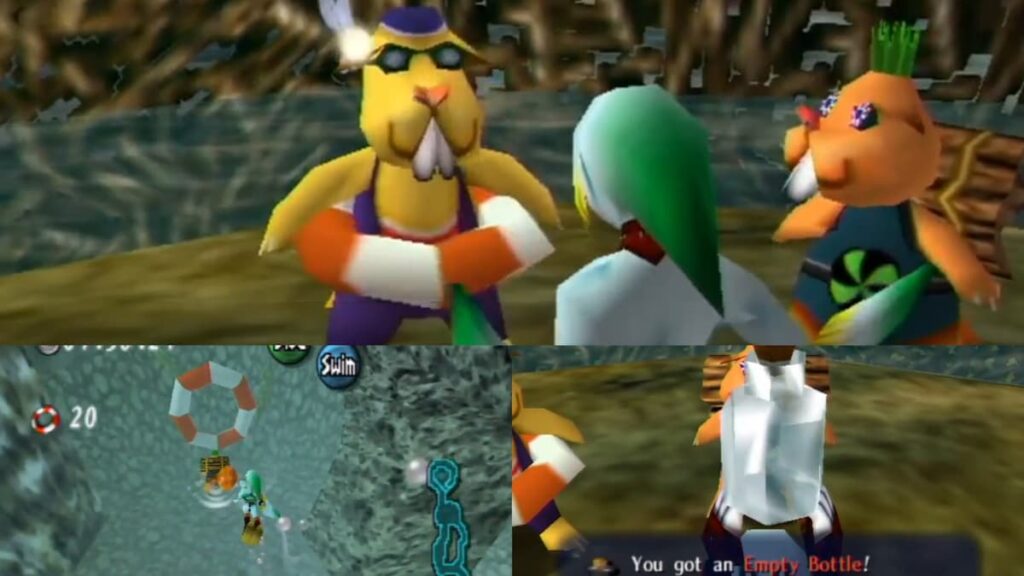 The fifth Bottle is in possession of two beaver brothers, atop the Great Bay waterfall. To acquire it for yourself, first, you'll need to make sure you've obtained the Hookshot and Zora Mask. Head to the top of the waterfall, Hookshotting the palm trees to make your way up, and head into the cave near the waterfall's mouth.
Inside you'll find a lone beaver swimming in a large pool of water. Simply equip the Zora Mask and speak with him to learn he has an Empty Bottle up for grabs, though you'll have to complete a couple of challenges before claiming the Bottle for yourself. You'll need to swim through 20 rings in under two minutes in the first challenge. The second challenge ramps up the difficulty a bit, increasing the number to 25 rings in under two minutes. Clear both of these time trials to acquire the fifth Bottle.
Milk Bar Bottle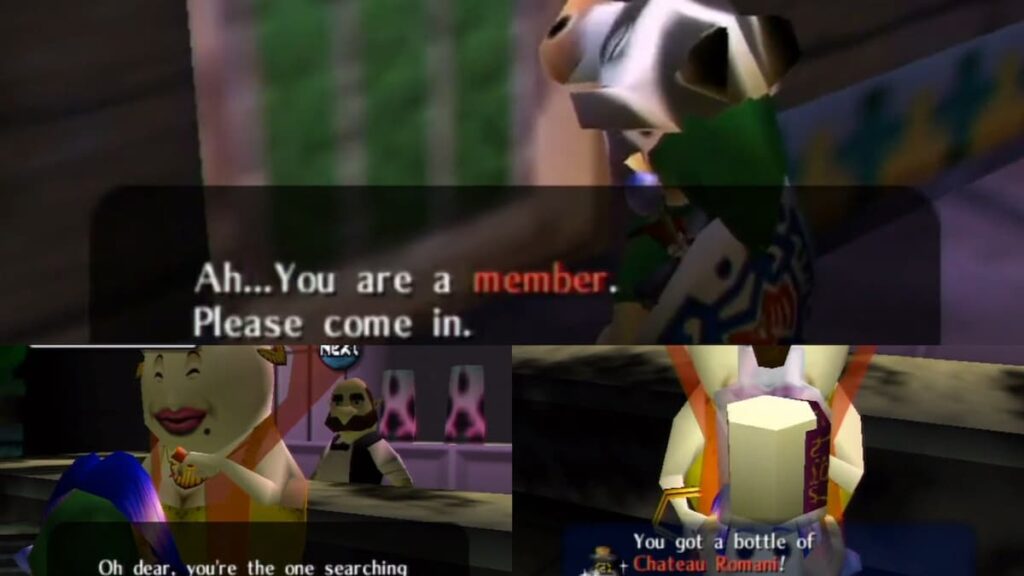 First, make sure you've obtained both Romani's Mask, Kafei's Mask, and Special Delivery Letter item to obtain the final Bottle. Once you have both, make your way over to East Clocktown at 6pm on the Final Day. Equip Romani's Mask for entry into the Milk Bar, then swap it to Kafei's Mask and speak with the woman seated at the bar. Simply give her the Special Delivery Letter to be awarded a Bottle of Chateau Romani as thanks, earning you the sixth Bottle.
Now you have all six Bottles, so get out there and start collecting things to store in them! Looking for more great The Legend of Zelda: Majora's Mask content? Be sure to check out Where to find Red Potions in The Legend of Zelda: Majora's Mask (N64/Switch version) here at Pro Game Guides.