We've got a full list of all the Epic Games Store Exclusives for you in this post! There's a ton of games available in the store, and a lot more are being added each week. While some people dislike the forced exclusivity, it's hard to deny the benefits the store is giving game developers.
How Does the Exclusivity Work?
So far, it appears that when most games sign up for exclusivity with the Epic Games Store they will be in it for one full year. After that, you will likely be able to purchase it on Steam if that's where you'd prefer. If they game comes out on multiple platforms, you don't have to worry as much because the store doesn't change how it is released on console.
Why are Game Companies Going Exclusive With Epic Games?
The revenue split with Epic Games is too hard for game developers to pass up. If you check out the chart below, you can see the difference when compared to Steam.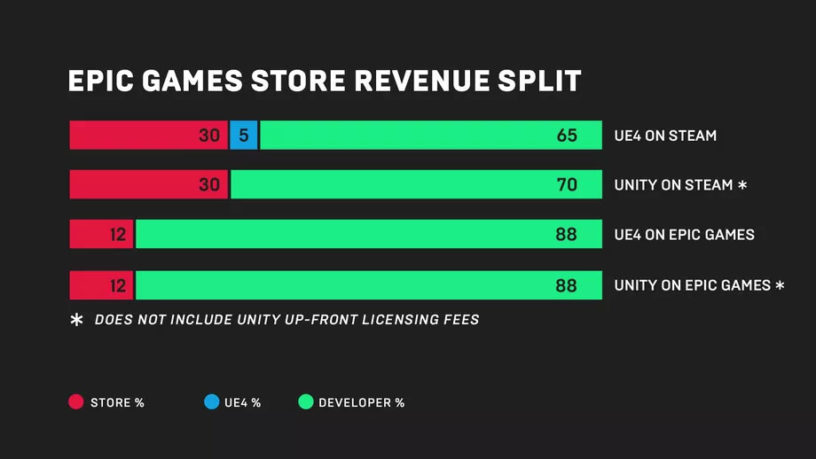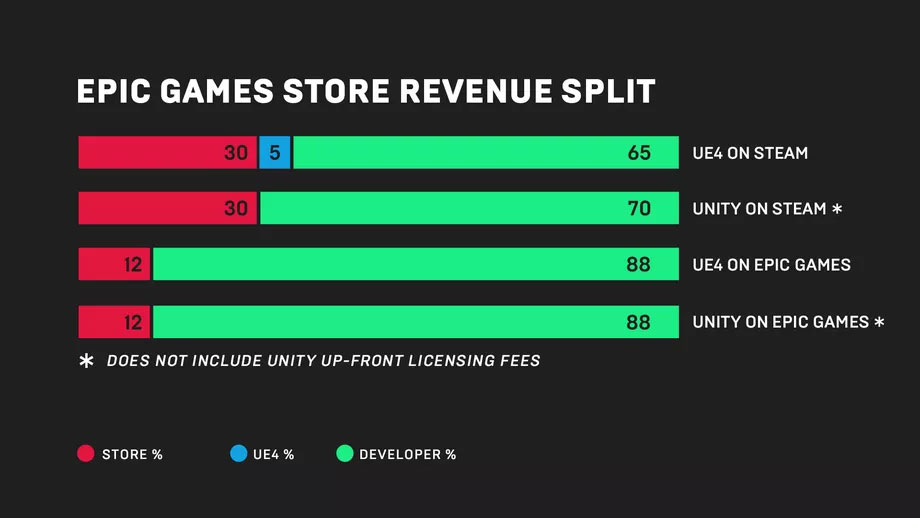 Current List of Epic Games Store Exclusives
If you end up purchasing some of these games, please consider using our Creator Code: ProGameGs (Using this codes gives us a portion of the sale!)
Ancestors: The Humankind Odyssey
Release Date: Coming Soon
Embark on the incredible odyssey of human evolution and begin your journey 10 million years ago in this new adventure from the creator of Assassin's Creed.
Afterparty
Release Date: Coming Soon
In Afterparty, you are Milo and Lola, recently deceased best buds who suddenly find themselves staring down an eternity in Hell. But there's a loophole: outdrink Satan and he'll grant you re-entry to Earth.
Ashen
Release Date: Released
Ashen is an action RPG about a wanderer in search of a place to call home. This is a world where nothing lasts, no matter how tightly you cling to it.
Borderlands 3
Release Date: September 13th, 2019
The original shooter-looter returns, packing bazillions of guns and a mayhem-fueled adventure! Blast through new worlds and enemies as one of four new Vault Hunters. Play solo or with friends to take on insane enemies, score loads of loot and save your home from the most ruthless cult leaders in the galaxy.
Close to the Sun
Release Date: Coming Soon
It's 1897. Deep in international waters, the Helios stands still. Dark clouds loom overhead as unforgiving waves crash against the hull. Colossal effigies of gold, decorated with magnificent finery, stretch as far as the eye can see.
Dangerous Driving
Release Date: Coming Soon
From the creative talent behind the genre-defining Burnout series, Dangerous Driving puts aggression back into the racing genre, recapturing the spirit of the past and taking it to a new place. Dangerous Driving is a game about real driving. The sort of driving you want to do when no one else is looking. The sort of driving you'd love to do if only everyone else would get OUT OF THE DAMN WAY!
Dauntless
Release Date: Coming Soon
Battle for survival at the edge of the world. As a Slayer, it's up to you to hunt down the boss-sized Behemoths that are devouring the land. Team up with millions of players as you master challenging co-op battles, craft deadly weapons and powerful armor, and forge your legend as a Slayer of Ramsgate.
Fortnite
Release Date: Released
Fortnite Battle Royale is the FREE 100-player PvP mode in Fortnite. One giant map. A battle bus. Fortnite building skills and destructible environments combined with intense PvP combat. The last one standing wins. Available on PC, PlayStation 4, Xbox One, Nintendo Switch, Android, iOS & Mac.
Genesis Alpha One
Release Date: Released
Explore a vast universe in this roguelike, ship building, FPS. Genesis Alpha One mixes thrilling roguelike mechanics with a deep ship builder and fast first-person action, putting you in the role of an interstellar pioneer.
Hades
Release Date: Released
Defy the god of death as you hack and slash your way out of the Underworld in this rogue-like dungeon crawler from the creators of Bastion and Transistor.
Hello Neighbor: Hide and Seek
Release Date: Coming Soon
Hello Neighbor: Hide and Seek follows the tragic story of the Neighbor's family in this dramatic prequel to Hello Neighbor. Experience playing a game of hide-and-seek with your brother as you both deal with a loss of a family member. The game explains events that lead up to the original Stealth Horror hit Hello Neighbor.
Industries of Titan
Release Date: Coming Soon
Industries of Titan is an industrial city building sim/strategy game, set on Saturn's moon Titan. Create a sprawling industrial city, design powerful factories, and compete with other Great Houses to stake your claim to the Industries of Titan!
Journey
Release Date: Coming Soon
Explore the ancient, mysterious world of Journey as you soar above ruins and glide across sands to discover its secrets. Play alone or in the company of a fellow traveler and explore its vast world together. Featuring stunning visuals and a Grammy-nominated musical score, Journey delivers a breathtaking experience like no other.
Journey to the Savage Planet
Release Date: Coming Soon
Welcome to the Pioneer Program! In this upbeat & colorful, first-person adventure game you play as the newest recruit to Kindred Aerospace, which proudly touts its rating as the 4th Best interstellar exploration company.
Kine
Release Date: Coming Soon
KINE is a 3D puzzle platformer about three daring machines that aspire to be musicians. Embark across a theatrical dreamscape by solving a wide variety of increasingly difficult 3D puzzles. Guide Euler, Quat, and Roo as they struggle to form a band, build bonds, and find their big break!
Maneater
Release Date: Coming Soon
Experience the ultimate power fantasy as the apex predator of the seas - a giant Shark! Terrorize the coastal waterways. Tear swimmers and divers limb from limb, give the humans a reason to fear you!
Metro Exodus
Release Date: Released
Metro Exodus is an epic, story-driven first person shooter from 4A Games that blends deadly combat and stealth with exploration and survival horror in one of the most immersive game worlds ever created.
Operencia: The Stolen Sun
Release Date: Coming Soon
Operencia: The Stolen Sun embraces everything you love about classic first-person dungeon-crawlers, enhancing the old-school turn-based RPG experience with modern sensibilities. Gather your team of memorable characters and guide them through a world inspired by Central European mythology, where history meets legend. Unreal Engine 4 powers breathtaking environments, from traditional tombs and dungeons to enchanted castles and a forest made of copper.
Phoenix Point
Release Date: Coming Soon
Phoenix Point is the new strategy game from the creator of the original X-COM series. It features turn based tactics and world based strategy in a fight against a terrifying, alien menace. Your enemy will mutate and evolve in response to your tactics, creating a huge variety of challenges and surprises for you on the battlefield.
Rebel Galaxy Outlaw
Release Date: Coming Soon
Out of cash, out of luck, out on the fringe. Juno Markev has a killer to tail, a debt to pay, and more trouble headed her way. Rebel Galaxy Outlaw takes place in a greasy, blue-collar world of outlaws, truckers, cops and thieves.
RollerCoaster Tycoon Adventures
Release Date: Coming Soon
Casual, user-friendly park simulation and a cheery new visual style let players of all ages create the theme park of their dreams!
Satisfactory
Release Date: Released
Satisfactory is a first-person open-world factory building game with a dash of exploration and combat. Pioneering for FICSIT Incorporated means charting and exploiting an alien planet, battling alien lifeforms, creating multi-story factories, entering conveyor belt heaven, automating vehicles, and researching new technologies.
Shakedown Hawaii
Release Date: Coming Soon
Shakedown: Hawaii fuses open world action and empire building. Build a "legitimate" corporation by completing open world missions, acquiring businesses, sabotaging competitors, "re-zoning" land, and shaking down shops for protection money. You are the CEO, and questionable subsidiaries, hidden service fees, misleading ads, and fine print are your super power.
Spellbreak
Release Date: Coming Soon, Sign-up for Alpha
Spellbreak is a new battle royale RPG featuring epic magic combat. Weave spectacular spell combinations and craft strategic builds in your quest for survival.
Super Meat Boy Forever
Release Date: Coming Soon
It seems like only yesterday Meat Boy and Bandage Girl were escaping from an exploding laboratory in the sky. Now it's the current year, and they've welcomed their daughter Nugget into the world. Their days enjoying life as a family came to an abrupt end when Dr. Fetus beat the snot out of them with a rusty shovel, and kidnapped Nugget! Now it's up to Meat Boy and Bandage Girl to rescue their daughter from a lunatic fetus in a jar that can only be described as an incel version of Nikola Tesla.
The Cycle
Release Date: Coming Soon, Sign-up for Alpha
The Cycle is a competitive match-based first person quester. Be on the frontier of human civilization and explore the rich planet of Fortuna III, land of beauty matched only by its imminent dangers.
The Division 2
Release Date: Released
In Tom Clancy's The Division®2, the fate of the free world is on the line. Lead a team of elite agents into a post-pandemic Washington DC to restore order and prevent the collapse of the city.
The Outer Worlds
Release Date: Coming Soon
The Outer Worlds is a new single-player first-person sci-fi RPG from Obsidian Entertainment and Private Division. Lost in transit while on a colonist ship bound for the furthest edge of the galaxy, you awake decades later only to find yourself in the midst of a deep conspiracy threatening to destroy the Halcyon colony. As you explore the furthest reaches of space and encounter various factions, all vying for power, the character you decide to become will determine how this player-driven story unfolds. In the corporate equation for the colony, you are the unplanned variable.
The Sinking City
Release Date: Coming Soon
The Sinking City is an adventure and investigation game inspired by the works of H.P. Lovecraft, the master of horror. Step in the shoes of a 1920s investigator, a tortured truth seeker sucked into an adventure that goes beyond his personal goals and beliefs.
Unreal Tournament
Release Date: Released
This is an early version of the Unreal Tournament experience, featuring new content and returning classics. There's still a lot of work to be done, but you're able to participate, today, and earn in-game rewards available only to Pre-Alpha participants. Come check out the progress we've made, and let us know what you think.
World War Z
Release Date: Coming Soon
World War Z is a heart-pounding four-player cooperative third-person shooter featuring massive swarms of zombies that recklessly rush their living prey.