Our Epic Games Store Free Games List features each and every free game that has been available in Epic's new store! We've got the full date ranges, as well as taking a look at some of the most frequently asked questions about the store, including whether or not the games are free forever, if you need to install the game, and how often free games are released! We'll be updating this list whenever a new game is release or announced.
To help promote Epic's new store they've started releasing free games to the public. They started it off with a bang by releasing the very popular Subnautica to users of their platform, and they've continued to release some impressive games along the way.
Epic Games Store Free Games List
If you find our content or this list helpful, please consider entering our Epic Creator Code before you make a purchase through the Epic Games Launcher!
Creator Code: ProGameGs (Using this code gives us a portion of the sale!)
We tweet every new free game release, so if you don't want to miss one be sure to follow us on Twitter!
Upcoming Free Game: Sherlock Holmes Crimes & Punishments
Free Period: April 9th - 16th, 2020
Become the most celebrated detective of all time: Sherlock Holmes! Use your impressive talents as a detective to solve six thrilling and varied cases.
Current Free Games: Drawful 2, Gone Home & Hob

Free Period: April 2nd - 9th, 2020
You can also get the game Totally Reliable Delivery Service for free until April 8th, 2020!
Gone Home
June 7th, 1995. 1:15 AM. You arrive home after a year abroad. You expect your family to greet you, but the house is empty. Something's not right. Where is everyone? And what's happened here? Unravel the mystery for yourself in Gone Home.
Hob
Hob is a vibrant, suspenseful action-adventure game set on a stunning and brutal world in disarray. As players delve into the mysteries around them, they discover a planet in peril. Can it be mended, or will the world fall further into chaos?
Drawful 2
The team behind the hit party games Fibbage, Quiplash, and YOU DON'T KNOW JACK presents Drawful 2, the game of terrible drawings and hilariously wrong answers!
Figment, Tormentor x Punisher, Drawful 2, & World War Z
Free Period: March 26th - April 2nd, 2020
Figment
Figment is an action-adventure game that invites you to explore a unique surreal universe filled with music, humor and multi layered narrative.
Tormentor x Punisher
Everything in Tormentor x Punisher can be killed in one hit, from bosses to yourself. Bosses conjure traps to make the arena hellish. Demons adjust to your play style and punish you. Perform combos on enemies and gain cool upgrades. Reload your machine gun by firing your shotgun.
Drawful 2
The team behind the hit party games Fibbage, Quiplash, and YOU DON'T KNOW JACK presents Drawful 2, the game of terrible drawings and hilariously wrong answers!
World War Z
World War Z is a heart-pounding four-player cooperative third-person shooter featuring massive swarms of zombies that recklessly rush their living prey.
The Stanley Parable & Watch Dogs
Free Period: March 19th - 26th, 2020
The Stanley Parable
The Stanley Parable is a first person exploration game. You will play as Stanley, and you will not play as Stanley. You will follow a story, you will not follow a story. You will have a choice, you will have no choice.
Watch Dogs
As Aiden Pearce, a brilliant hacker, turn Chicago into the ultimate weapon in your quest for revenge. But what happens when your personal quest collides with an entire city?
Anodyne 2: Return to Dust, A Short Hike, Mutazione
Free Period: March 12th - 19th, 2020
Anodyne 2: Return to Dust
Run, jump, and drive across vast, dreamy 3D landscapes. Shrink into surreal, 2D dungeons inside of characters' bodies. Travel the world, meet strange people, and save the world from the dangerous Nano Dust.
A Short Hike
Hike, climb, and soar through the peaceful mountainside landscapes of Hawk Peak. Follow the trails or explore the backcountry as you make your way to the summit. Along the way, meet other hikers, discover hidden treasures, and take in the world around you.
Mutazione
A mutant soap opera where small-town gossip meets the supernatural. Join Kai as she arrives in the mysterious community of Mutazione to care for her ailing grandfather. Discover scenic hangouts, magical gardens, new friends, and old secrets...
GoNNER & Offworld Trading Company
Free Period: March 5th - March 12th, 2020
GoNNER
GoNNER is a tough as hell score-based procedurally-generated platformer with roguelike elements. GoNNER is also a story about friendship between Ikk, Death, and a space whale named Sally.
Offworld Trading Company
Mars has been colonized, and Earth's corporate titans fight to dominate this new market. Competition is fierce in this fast-paced economic RTS from Civilization IV Lead Designer, Soren Johnson.
Inner Space
Free Period: February 27th - March 5th, 2020
InnerSpace is a game about exploration, about player-driven moments both small and grandiose. Take your time, soar through the skies and dive through the oceans, and the secrets of the Inverse will reveal themselves.
Faeria & Assassin's Creed Syndicate
Free Period: February 20th - 27th, 2020
Faeria
With its unique living board, Faeria is also the only card game where you can gain all 300 cards in less than 50 hours.
Assassin's Creed Syndicate
This game was announced later, and it was originally only going to be Faeria for free in this week!
London, 1868. In the heart of the Industrial Revolution, play as Jacob Frye - a brash and charismatic Assassin.
Kingdom Come: Deliverance & Aztez
Free Period: February 13th - 20th, 2020
Kingdom Come: Deliverance
Kingdom Come: Deliverance is a story-driven open-world RPG that immerses you in an epic adventure in the Holy Roman Empire. Avenge your parents' death as you battle invading forces, go on game-changing quests, and make influential choices.
Aztez
Aztez is a unique hybrid of beat 'em up and turn-based strategy, set in the world of the Aztec Empire. Highly technical, real-time, beat-em-up combat events resolve ongoing conflicts in your expanding empire.
Carcassone, Ticket to Ride, & Pandemic
Free Period: February 6th - 13th, 2020
It appears Pandemic isn't going to be available although it was promoted previously as one of the free options.
Carcassonne
The official adaptation of the famous board game Carcassonne! A modern classic tile-placement game based on the award wining game in which the players draw and place a tile with a piece of southern French landscape on it.
Ticket to Ride
The official adaptation of Days of Wonder's best-selling train board game, Ticket to Ride takes less than one minute to learn but a lifetime to master. Over 70 million games played online and a new game starting every 4 seconds on average!
Pandemic
Humanity is on the brink of extinction. As members of an elite disease control team, you're the only thing standing in the way of the four deadly diseases spreading across the world. The fate of humanity is in your hands!
Farming Simulator 19
Free Period: January 30th - February 6th, 2020
The ultimate farming simulation returns with a complete graphics overhaul and the most complete farming experience ever! Become a modern farmer and develop your farm on two huge American and European environments, filled with exciting new farming activities, crops to harvest and animals to tend to.
The Bridge
Free Period: January 23rd - 30th, 2020
The Bridge is a logic puzzle game that forces the player to reevaluate their preconceptions of physics and perspective. It is Isaac Newton meets M.C. Escher. Manipulate gravity to redefine the ceiling as the floor while venturing through impossible architectures.
Horace
Free Period: January 16th - 23rd, 2020
"The best platformer of 2019." Horace is a huge platforming adventure which pushes the boundaries of the genre with a profound story of a small robot learning of life, the universe and Douglas Adams. Made by videogame lovers for videogame lovers!
Sundered: Eldritch Edition
Free Period: January 9th - 16th, 2020
For the King was delayed, and it looks like Sundered: Eldritch Edition will be given away instead!
Sundered is a chaotic hand­-drawn metroidvania where you resist or embrace ancient eldritch powers, a challenging and unique take on a classic genre from the creators of Jotun, now with local co-op!
Darksiders (Warmastered Edition), Darksiders 2 (Deathinitive Edition), AND Steep
Free Period: January 1st - 9th, 2020
Darksiders (Warmastered Edition)
Deceived by the forces of evil into prematurely bringing about the end of the world, War – the first Horseman of the Apocalypse – stands accused of breaking the sacred law by inciting a war between Heaven and Hell.
Darksiders 2 (Deathinitive Edition)
The ultimate DARKSIDERS II experience! 1080p native resolution. Reworked and tuned game balancing and loot distribution. Improved Graphic Render Engine for even higher visual quality, lighting and shadows. Improved and reworked level, character and environment graphics.
Steep
Ride a massive open world across the Alps, where the powder is always fresh and the run never ends. Defy and master the mountain alone or with friends on skis, wingsuits, snowboards and paragliders. Record and share your best stunts.
Yooka-Laylee and the Impossible Lair
Free Period: December 31st, 2019 - January 1st, 2020
Yooka-Laylee and the Impossible Lair is a brand-new platform adventure from some of the key creative talent behind 'Donkey Kong Country'. With their arch-nemesis Capital B up to no good, the buddy duo needs to spring into action once again to save the day!
Hello Neighbor
Free Period: December 30th - 31st, 2019
Hello Neighbor is a Stealth Horror Game about sneaking into your neighbor's house and figuring out what he's hiding in the basement. Play against an advanced AI that learns from your actions.
Talos Principle
Free Period: December 29th - 30th, 2019
The Talos Principle is a first-person puzzle game in the tradition of philosophical science fiction.
Shadow Tactics: Blades of the Shogun
Free Period: December 28th - 29th, 2019
Shadow Tactics is a hardcore tactical stealth game set in Japan around the Edo period. A new Shogun seizes power over Japan and enforces nationwide peace. In his battle against conspiracy and rebellion, he recruits five specialists with extraordinary skills for assassination, sabotage and espionage.
Hyper Light Drifter
Free Period: December 27th - 28th, 2019
Explore a beautiful, vast and ruined world riddled with dangers and lost technologies.
FTL: Faster Than Light
Free Period: December 26th - 27th, 2019
This "spaceship simulation roguelike-like" allows you to take your ship and crew on an adventure through a randomly generated galaxy filled with glory and bitter defeat.
Totally Accurate Battle Simulator
Free Period: December 25th - 26th, 2019
Totally Accurate Battle Simulator is a wacky physics-based tactics game. Experience accurate warfare through the ages. TABS uses state of the art physics-based simulation to provide you with never-before-seen insight to our greatest battles of history.
Celeste
Free Period: December 24th - 25th, 2019
Help Madeline survive her inner demons on her journey to the top of Celeste Mountain, in this super-tight platformer from the creators of TowerFall. Brave hundreds of hand-crafted challenges, uncover devious secrets, and piece together the mystery of the mountain.
Ape Out
Free Period: December 23rd - 24th, 2019
APE OUT is a wildly intense and stylized smash 'em up about primal escape, rhythmic violence & frenetic jazz. Build up nearly unstoppable momentum and use your captors as both weapons + shields to crush everyone on your procedurally generated path to freedom.
Little Inferno
Free Period: December 22nd - 23rd, 2019
Congratulations on your new Little Inferno Entertainment Fireplace! Burn flaming logs, screaming robots, credit cards, batteries, exploding fish, unstable nuclear devices, and tiny galaxies.
Superhot
Free Period: December 21st - 22nd, 2019
SUPERHOT is the first-person shooter where time moves only when you move. No regenerating health bars. No conveniently placed ammo drops. It's just you, outnumbered and outgunned, grabbing weapons off enemies to shoot, slice, and maneuver through bullets.
TowerFall Ascension
Free Period: December 20th - 21st, 2019
TowerFall Ascension is the definitive version of the hit archery combat game. Inspired by classics from the golden age of couch multiplayer, it's a 4-player local party game centering around hilarious, intense versus matches.
Into the Breach
Free Period: December 19th - 20th, 2019
Control powerful mechs from the future to defeat an alien threat. Each attempt to save the world presents a new randomly generated challenge in this turn-based strategy game from the makers of FTL.
The Escapists & The Wolf Among Us
Free Period: December 12th - 19th, 2019
The Escapists
You've landed yourself in prison again, and your only chance is to engineer an escape by any means necessary. How you do it is up to you! Why not cause a prison riot? Or dig a tunnel right under the walls of the prison? Or even steal a guard uniform to blend in with your captors?
The Wolf Among Us
This was added later during The Game Awards!
Based on the award-winning Fables comic books (DC Comics/Vertigo). As Bigby Wolf - THE big bad wolf - discover that a brutal, bloody murder is just a taste of things to come in a game series where your every decision can have enormous consequences.
Jotun - Valhalla Edition
Free Period: December 6th - 12th, 2019
Jotun is a hand-drawn action-exploration game set in Norse mythology. In Jotun, you play Thora, a Viking warrior who died an inglorious death and must prove herself to the Gods to enter Valhalla. Impress the Gods!
Rayman Legends
Free Period: November 29th - December 6th, 2019
Jump and fight your way through each world to save the day and discover the secrets of every legendary painting in Rayman Legends.
Bad North
Free Period: November 21st - 29th, 2019
Position and relocate your troops to fend off the Vikings, who each have their own counters to the threats you pose. Pick your battles and plan your evacuations carefully! Lose a commander and they're gone forever; lose everything, and it's game over!
The Messenger
Free Period: November 14th - 21st, 2019
As a demon army besieges his village, a young ninja ventures through a cursed world, to deliver a scroll paramount to his clan's survival. What begins as a classic action platformer soon unravels into an expansive time-traveling adventure full of thrills, surprises, and humor.
Nuclear Throne & Ruiner
Free Period: November 7th - 14th, 2019
Nuclear Throne
Nuclear Throne is a post-apocalyptic roguelike-like top-down shooter.
Ruiner
RUINER is a brutal action shooter set in the year 2091 in the cyber metropolis Rengkok. A wired psychopath lashes out against a corrupt system to uncover the truth and retrieve his kidnapped brother under the guidance of a secretive hacker friend.
SOMA & Costume Quest
Free Period: October 31st - November 7th, 2019
SOMA
SOMA is a sci-fi horror game from Frictional Games, the creators of Amnesia: The Dark Descent. It is an unsettling story about identity, consciousness, and what it means to be human.
Costume Quest
Costume Quest is a Halloween adventure from Tim Schafer's Double Fine Productions. In this charming role-playing game, choose your hero and trick-or-treat through three beautiful environments full of Double Fine humor and story.
Q.U.B.E.2 & Layers of Fear
Free Period: October 24th - October 31st, 2019
Q.U.B.E.2
Q.U.B.E. 2 is the sequel to the hit first-person puzzle game Q.U.B.E. As stranded archaeologist, Amelia Cross, you must solve the puzzles of this mysterious world and find a way back home.
Layers of Fear
Layers of Fear is a first-person psychedelic horror game with a heavy focus on story and exploration. Delve deep into the mind of an insane painter and discover the secret of his madness.
Observer & Alan Wake's American Nightmare
Free Period: October 17th - 24th, 2019
Observer
What would you do if your fears were hacked? >observer_ is a cyberpunk horror game from Bloober Team, the creators of Layers of Fear. Play as an Observer, the new front line of neural police, as you hack into the jagged minds of the insane.
Alan Wake's American Nightmare
A thrilling new storyline, hordes of creepy enemies, serious firepower and beautiful Arizona locations, combined with a fun and challenging new game mode!
Surviving Mars
Free Period: October 10th - 17th, 2019
Surviving Mars is a sci-fi city builder all about colonizing Mars and surviving the process. Choose a space agency for resources and financial support before determining a location for your colony. Build domes and infrastructure, research new possibilities and utilize drones to unlock more elaborate ways to shape and expand your settlement. Cultivate your own food, mine minerals or just relax by the bar after a hard day's work. Most important of all, though, is keeping your colonists alive. Not an easy task on a strange new planet.
Minit
Free Period: October 3rd - 10th, 2019
Minit is a peculiar little adventure played sixty seconds at a time.
Everything & Metro 2033 Redux
Free Period: September 26th - October 3rd, 2019
Everything
Everything is an epic, award-winning reality simulation game - where everything you see is a thing you can be, from animals to planets to galaxies and beyond. Travel between outer and inner space, and explore a vast, interconnected universe of things without enforced goals, score...
Metro 2033 Redux
In 2013, the world was devastated by an apocalyptic event, annihilating almost all mankind and turning the earth's surface into a poisonous wasteland. A handful of survivors took refuge in the depths of the Moscow underground, and human civilization entered a new Dark Age.
Batman: Arkham Collection & Lego Batman Trilogy
Free Period: September 19th - 26th, 2019
It looks like they've fixed the bugs, you can now grab the Batman: Arkham Collection and Lego Batman Trilogy for free!
Batman: Arkham Collection
Batman: Arkham Asylum
Experience what it's like to be Batman and face off against Gotham's greatest villians. Explore every inch of Arkham Asylum and roam freely on the infamous island.
Batman: Arkham City
Batman: Arkham City builds upon the intense, atmospheric foundation of Batman: Arkham Asylum, sending players flying through the expansive Arkham City - five times larger than the game world in Batman: Arkham Asylum - the new maximum security "home" for all of Gotham City's thugs, gangsters and insane criminal masterminds. Featuring an incredible Rogues Gallery of Gotham City's most dangerous criminals including Catwoman, The Joker, The Riddler, Two-Face, Harley Quinn, The Penguin, Mr. Freeze and many others, the game allows players to genuinely experience what it feels like to be The Dark Knight delivering justice on the streets of Gotham City.
Batman: Arkham Knight
Batman™: Arkham Knight brings the award-winning Arkham trilogy from Rocksteady Studios to its epic conclusion. Developed exclusively for New-Gen platforms, Batman: Arkham Knight introduces Rocksteady's uniquely designed version of the Batmobile.
Lego Batman Trilogy
The LEGO Batman Trilogy Pack offers players an unprecedented opportunity to experience the complete LEGO Batman saga.
Conarium
Free Period: September 12th - 19th, 2019
Conarium is a chilling Lovecraftian game, which follows a gripping story involving four scientists and their endeavor to challenge what we normally consider to be the 'absolute' limits of nature.
The End is Nigh & Abzu
Free Period: September 5th - 12th, 2019
The End is Nigh
The End Is Nigh is a sprawling adventure platformer where you die a lot, but thats ok because you are probably already dead anyway.
Abzu
From the art director of Journey® and Flower®, ABZÛ is a beautiful underwater adventure that evokes the dream of diving.
Celeste & Inside
Free Period: August 29th - September 5th, 2019
Celeste
Help Madeline survive her inner demons on her journey to the top of Celeste Mountain, in this super-tight platformer from the creators of TowerFall. Brave hundreds of hand-crafted challenges, uncover devious secrets, and piece together the mystery of the mountain.
Inside
Hunted and alone, a boy finds himself drawn into the center of a dark project.
Fez
Free Period: August 22nd - 29th, 2019
Gomez is a 2D creature living in a 2D world. Or is he? When the existence of a mysterious 3rd dimension is revealed to him, Gomez is sent out on a journey that will take him to the very end of time and space.
Hyper Light Drifter & Mutant Year Zero: Road to Eden
Free Period: August 15th - 22nd, 2019
Hyper Light Drifter
Echoes of a dark and violent past resonate throughout a savage land, steeped in treasure and blood. Hyper Light Drifter is an action adventure RPG in the vein of the best 16­bit classics, with modernized mechanics and designs on a much grander scale.
Mutant Year Zero: Road to Eden
Mankind has been eradicated by climate change, nuclear war, and pandemics. Will your team of mutants survive the Zone? Mutant Year Zero: Roadto Eden is a tactical adventure game combining turn-based combat with real-time exploration, story, stealth, and strategy.
GNOG
Free Period: August 8th - 15th, 2019
GNOG is a 3D puzzle game set in a tactile world of toys and secrets. Point, click, grab, poke, spin, pull, and play with uniquely charming monster heads as you explore the hidden worlds inside them. Filled with eye-catching designs, playful interactions, and a rich, reactive soundtrack, the hand-crafted heads come to life in either standard play or in VR.
For Honor & Alan Wake
Free Period: August 2nd - 9th, 2019
For Honor
Enter the chaos of war as a bold Knight, brutal Viking, deadly Samurai or swift Wu Lin, a legendary Faction consisting of four of the greatest warriors. In For Honor, wield your blade like never before with the innovative Art of Battle combat system that puts you in total control of your warrior. Master your sword and fight in brutal, fast-paced melee combat across an engaging story campaign and groundbreaking multiplayer modes.
Alan Wake
When the wife of the best-selling writer Alan Wake disappears on their vacation, his search turns up pages from a thriller he doesn't even remember writing. A Dark Presence stalks the small town of Bright Falls, pushing Wake to the brink of sanity in his fight to unravel the mystery and save his love.
Moonlighter & This War of Mine
Free Period: July 25th - August 2nd, 2019
Moonlighter
During a long-passed archaeological excavation, a set of Gates were discovered. People quickly realized that these ancient passages lead to different realms and dimensions – providing brave and reckless adventurers with treasures beyond measure. Rynoka, a small commercial village, was founded near the excavation site providing refuge and a place for adventurers to sell their hard-earned riches.

Moonlighter is an Action RPG with rogue-lite elements following the everyday routines of Will, an adventurous shopkeeper that dreams of becoming a hero.
This War of Mine
In This War Of Mine you do not play as an elite soldier, rather a group of civilians trying to survive in a besieged city; struggling with lack of food, medicine and constant danger from snipers and hostile scavengers. The game provides an experience of war seen from an entirely new angle.

The pace of This War of Mine is imposed by the day and night cycle. During the day snipers outside stop you from leaving your refuge, so you need to focus on maintaining your hideout: crafting, trading and taking care of your survivors. At night, take one of your civilians on a mission to scavenge through a set of unique locations for items that will help you stay alive.
Limbo
Free Period: July 18th - July 25th, 2019
Uncertain of his sister's fate, a boy enters LIMBO.
Torchlight
Free Period: July 11th - July 18th, 2019
Legions of twisted creatures, emboldened by Ember, have begun to swarm up from the caves below the sleepy enclave of Torchlight. In this critically acclaimed Action-RPG, you'll choose from three powerful heroes to adventure the depths for endless treasure and glory. Your adventure is unique, through randomly generated environments with new monsters, treasures, puzzles, and items each time.
Overcooked
Free Period: July 4th - July 11th, 2019
Overcooked is a chaotic couch co-op cooking game for one to four players. Working as a team, you and your fellow chefs must prepare, cook and serve up a variety of tasty orders before the baying customers storm out in a huff. Sharpen your knives and dust off your chef's whites, there isn't mushroom for error and the steaks are high in these crazy kitchens!

The Onion Kingdom is in danger and only the finest cooking can save it! In Overcooked players must journey through a variety of cruel and unusual kitchens on their quest to become master chefs capable of conquering an ancient edible evil which plagues the land.

Play solo or engage in classic, chaotic couch co-op for up to four players in both co-operative and competitive challenge modes. You'll have to cook a range of different dishes and work together in order to become the most effective and ultimate team!
Last Day of June
Free Period: June 27th - July 4th, 2019
Join Carl and June on what begins as a magical outing to their favorite spot, and try to unlock the sequence of events that could save the day – and June's life – in this cinematic experience that will compel you to ask yourself: "What would I do to save the one I love?"

Last Day of June is an interactive tale about love and loss, from an all-star team of creators.
Rebel Galaxy
Free Period: June 20th - 27th, 2019
Rebel Galaxy is a game of action-packed combat, exploration, discovery, trade, and "negotiation" with the outlandish denizens at the edge of the known universe.

You'll battle pirates, explore anomalies, befriend aliens, scavenge battle wreckage, mine asteroids, and discover artifacts. Choose your path as a roguish do-gooder, crafty space-trader or power-hungry privateer in this swashbuckling space adventure.
Enter the Gungeon
Free Period: June 13th - 20th, 2019
Enter the Gungeon is a bullet hell dungeon crawler following a band of misfits seeking to shoot, loot, dodge roll and table-flip their way to personal absolution by reaching the legendary Gungeon's ultimate treasure: the gun that can kill the past. Select a hero (or team up in co-op) and battle your way to the bottom of the Gungeon by surviving a challenging and evolving series of floors filled with the dangerously adorable Gundead and fearsome Gungeon bosses armed to the teeth. Gather precious loot, discover hidden secrets, and chat with opportunistic merchants and shopkeepers to purchase powerful items to gain an edge.
Kingdom New Lands
Free Period: June 6th - 13th, 2019
Be brave, ruler, and fight to the bitter end,
lest these New Lands conquer you instead.

Kingdom is a minimalistic micro strategy game with modern retro aesthetics and an ambient soundtrack. Players take control of a monarch struggling to build their kingdom from nothing by exploring the world, recruit loyal subjects and defend from the nightly Greed attacks.
City of Brass
Free Period: May 30th - June 6th, 2019
Become a daring thief in City of Brass, a first-person action adventure from senior BioShock developers.

Armed with scimitar and a versatile whip, you'll lash and slash, bait and trap your way to the heart of an opulent, Arabian Nights-themed metropolis – or face certain death as time runs out.
Rime
Free Period: May 23rd - 30th, 2019
Play as a young boy who has awakened on a mysterious island after a torrential storm. You see wild animals, long-forgotten ruins and a massive tower that beckons you to come closer. Armed with your wits and a will to overcome—and the guidance of a helpful fox—you must explore the enigmatic island, reach the tower's peak, and unlock its closely guarded secrets.
Stories Untold
Free Period: May 16th - 30th, 2019
Stories Untold is a narrative-driven experimental adventure game, that bends the genre into something completely unique. Combining a mix of classic text-adventure, point-and-click and more, 4 short stories are packaged together into a single mysterious anthology that has been described as "a fantastic, fascinating example of interactive visual storytelling" and earning widespread critical acclaim since release.

The game pulls together 80s retro nostalgia, innovative and experimental genre-defying gameplay, and tense, psychological horror to create "one of the most fascinating and unique tales you can play this year."

• Four unique stories, with their own settings, gameplay and mechanics.
• Play mind-bending text adventures, process radio transmissions and conduct experiments on bizarre artifacts
• Gorgeous retro-aesthetic brings back vivid memories, or a glimpse into what was.
• Sublime synth-wave horror soundtrack, inspired by 80s horror soundtracks.
• Achievements to unlock, and narrative secrets to discover
• Genre-hopping: from psychological horror, to tense mystery and terrifying sci-fi; Stories Untold is truly "4 stories, 1 nightmare"
World of Goo
Free Period: May 2nd, 2019 - May 16th, 2019
Beautiful and surprising, the millions of Goo Balls who live in the World of Goo are curious to explore - but they don't know that they are in a game, or that they are extremely delicious.

Welcome to the multiple "Game of The Year" award-winning puzzle game - World of Goo. Drag and drop living globs of goo to build structures, bridges, cannonballs, zeppelins, and giant tongues.
Transistor
Free Period: April 18th, 2019 - May 2nd, 2019
From the creators of Hades and Bastion, Transistor is a sci-fi themed action RPG that invites you to wield an extraordinary weapon of unknown origin as you fight through a stunning futuristic city.

Transistor seamlessly integrates thoughtful strategic planning into a fast-paced action experience, melding responsive gameplay and rich atmospheric storytelling. During the course of the adventure, you will piece together the Transistor's mysteries as you pursue its former owners.
The Witness
Free Period: April 4th, 2019 - April 18th, 2019
Wow, this is a pretty big one. One of the more popular and interesting puzzle games will be free for two weeks!
You don't remember who you are, and you don't remember how you got here, but there's one thing you can do: explore the island in hope of discovering clues, regaining your memory, and somehow finding your way home.
Oxenfree
Free Period: March 21st, 2019 - April 4th, 2019
Oxenfree is a supernatural thriller about some friends who enter into a ghostly rift unwittingly.
Slime Rancher
Free Period: March 7th, 2019 - March 21st, 2019
Slime Rancher is a fire-person sandbox game that has you collecting slims, growing crops, harvesting resources, and exploring an alien world!
Thimbleweed Park
Free Period: February 21st, 2019 - March 7th, 2019
If you are into solving mysteries, playing multiple characters, and things getting really weird the deeper you delve then Thimbleweed Park is for you!
Axiom Verge
Free Period: February 7th, 2019 - February 21st, 2019
Axiom Verge is a Metroidvania game, think Ori in the Blind Forest or Hollow Knight. The graphical style is similar to the original Metroid series and kind of reminds me of the old school Contra games.
The Jackbox Party Pack
Free Period: January 24th, 2019 - February 7th, 2019
The Jackbox Party Pack is a pretty big departure from the first few games in that it's meant to be played with a group of people. There are multiple games like Fibbage XL, Drawful, Word Spud, and Lie Swatter. You can use your phones, tablets, or computer as a controller to participate. If you are a streamer, you can have an audience of people join in and help vote for the best answers in certain games!
What Remains of Edith Finch
Free Period: January 11th, 2019 - January 24th, 2019
What Remains of Edith Finch is an interesting exploration game that has you exploring the Finch family house. As you explore, you'll learn more about Edith's family history as she tries to find out why she's the last one in her family alive.
Super Meat Boy
Free Period: December 28th, 2018 - January 10th, 2019
Super Meat Boy was the second offering in the series of free games. If you love difficult platformers, then you'll love Super Meat Boy. It was a pretty big change of pace when it first released, and it paved the way for games like Celeste to find success.
Subnautica
Free Period: December 12th, 2018 - December 27th, 2018
Subnautica was the first game released as a freebie. It is arguably also the best of the games, I had an extremely good time with it and it is a very unique experience. You play as a survivor of a space ship wreck and attempt to survive in an alien world that is primarily covered in open ocean. Hopefully, you were lucky enough to grab it because if not I would strongly recommend grabbing it because it was one of my favorites of the year.
Epic Games Store FAQ
Before we head into the list of past and present free games, I'm going to run through some of the common questions people seem to have about how the free games system works.
Are the Games Free Forever?
Yes, they are free forever if you "purchase" them during the free period. You just have to navigate to the game during the specific free date range and click on the purchase button right below the name of the game. The game will be available for installation in your library at anytime.
Do I Need to Install the Game?
No, you don't need to install the game to get credit for it. Once you click on the purchase button, you will run through the standard process of purchasing a game but it will be free. You do not have to install it, and it will be available for download anytime afterwards.
How Often Are Games Free?
Every week there will be a free game available. Once a new game is offered for free, the one that will be next will be revealed. They have run events where more games were given out, most notably the 12 Days of Free Games event during the winter holidays of 2019. Epic will also sometimes release multiple games at a time for free!
How Long Will They Be Giving Out Free Games?
While this program was expected to come to an end in 2019, it looks like they've decided to extend it throughout 2020. We don't know if it will extend into 2021, but if the store and promotion remains popular I wouldn't be surprised to see them continue.
Epic Games Store vs. Steam
There is some controversy going on with the two competing companies for the game store space. Epic has offered to take less of a cut of sales from developers if they agree to exclusivity in distribution. That means the game won't be available from Steam (usually for a year after release) if the developer agrees to the deal. This has angered people who just want the games to be available in every store, especially since a lot of people have been using Steam for a long time.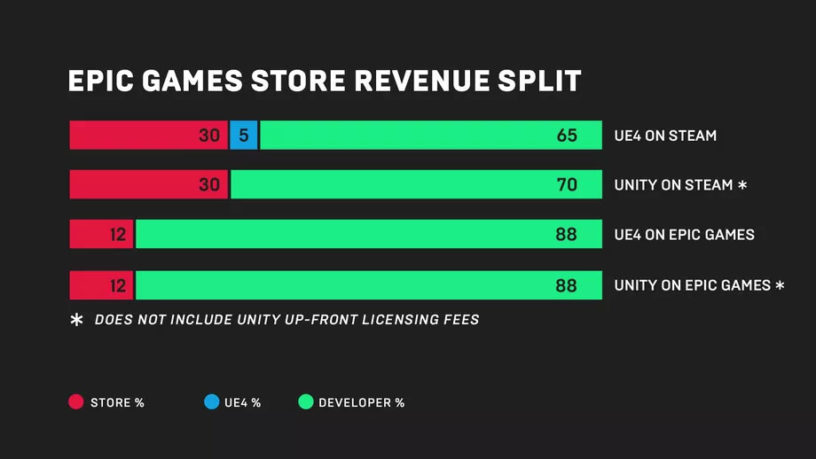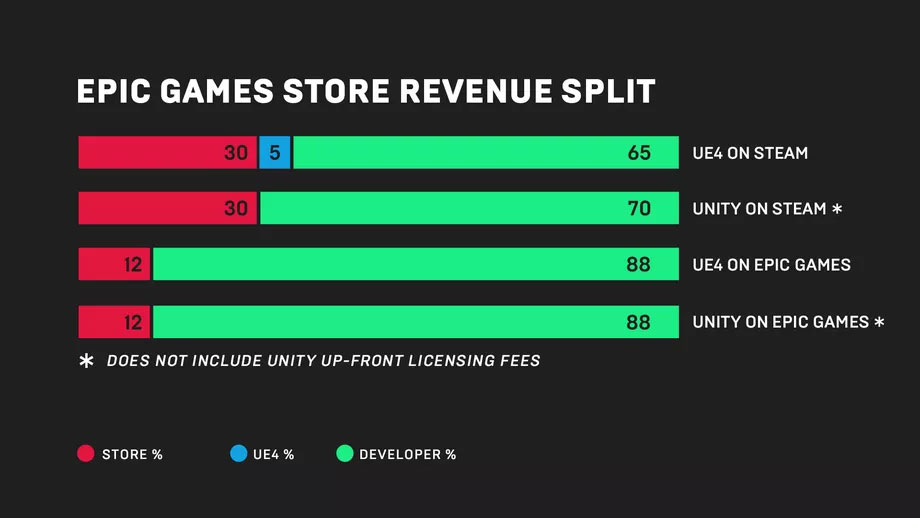 The other issue for people is that the Epic Games Store is lacking a lot of the features that make Steam so great. There's no ability to review games or talk about them with the community. It is a very limited experience, and interestingly enough a lot of players of some of the free games that have been released will actually go to the Steam Community page of that game to ask questions.