Villages can help you start your Minecraft world on a good foot by giving you a place to gather resources and trade. After exploring Minecraft seeds in both Bedrock and Java editions, we've compiled our favorites into this list to help you start your world right.
Whether you want to be surrounded by villages or just want one with good scenery, our list has something for every Minecraft player.
Best Minecraft 1.20 Java Village Seeds
These seeds are all you need to start a relaxing, low-key village life in Minecraft Java.
Taiga Islanders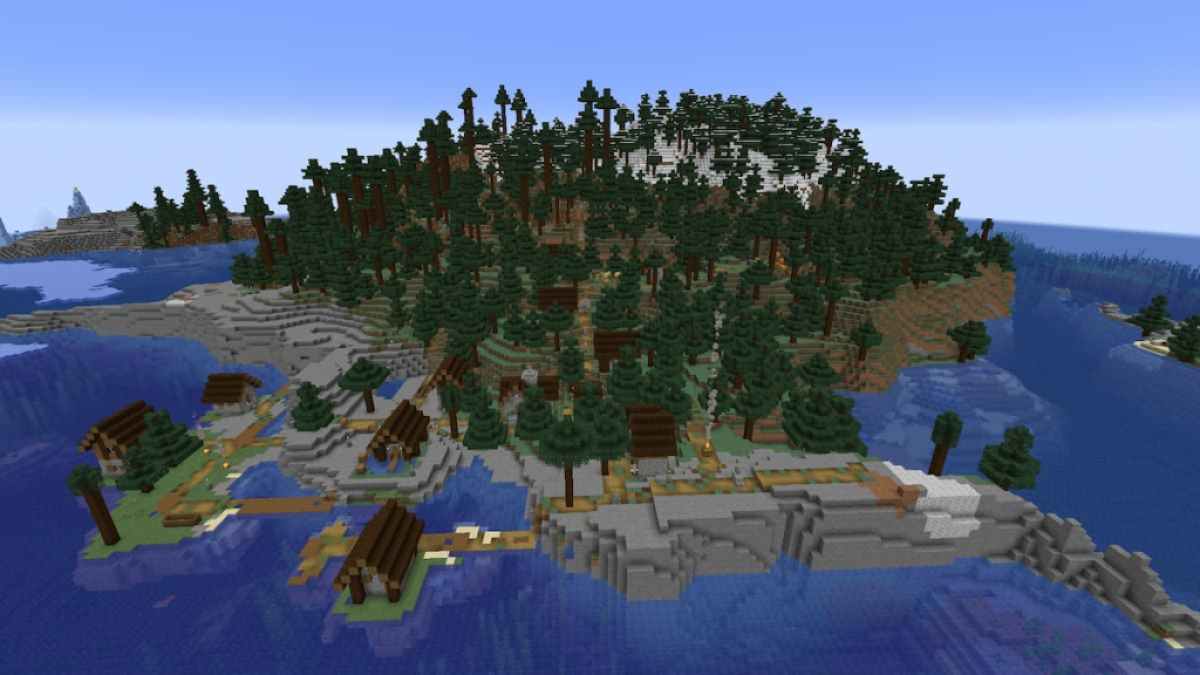 Seed: -6703127032885281607
A gorgeous Taiga island floating between a Frozen Ocean and a Cold Ocean is home to one small Taiga Village. It lies at the opposite end of the island from Spawn, floating above a ruined portal in the water. The nearby waters also contain Trail Ruins and a shipwreck stuck on an iceberg. Maybe both belonged to their ancestors, who were stranded on the island decades ago with no way to escape.
Key Locations and Coordinates
Taiga Village: 256, 592
Trail Ruins: 312, 616
Shipwreck: 88, 568
Lone Desert Village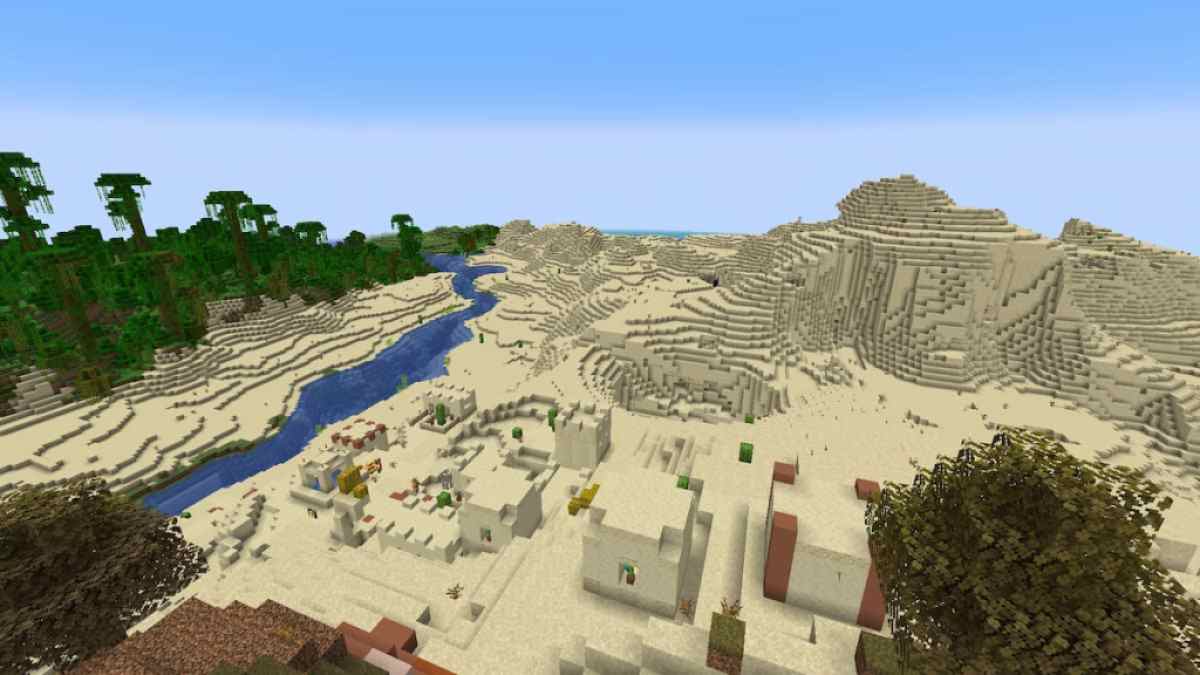 Seed: 1693089948021719654
This seed spawns you in Wooded Badlands right next to a singular Desert Village. Forest, Sparse Jungle, and Plains biomes can all be found nearby. Lush and Dripstone Caves can also be found beneath the surface. While the village is a great place to start for resources, there are a few other structures located within the Desert that make this seed particularly worth playing!
Key Locations and Coordinates
Desert Village: 160, 80
Ruined Portal: 136, 216
Desert Temple: -312, 280
Large Warm Ocean Cluster: 344, 424
Humble Beginnings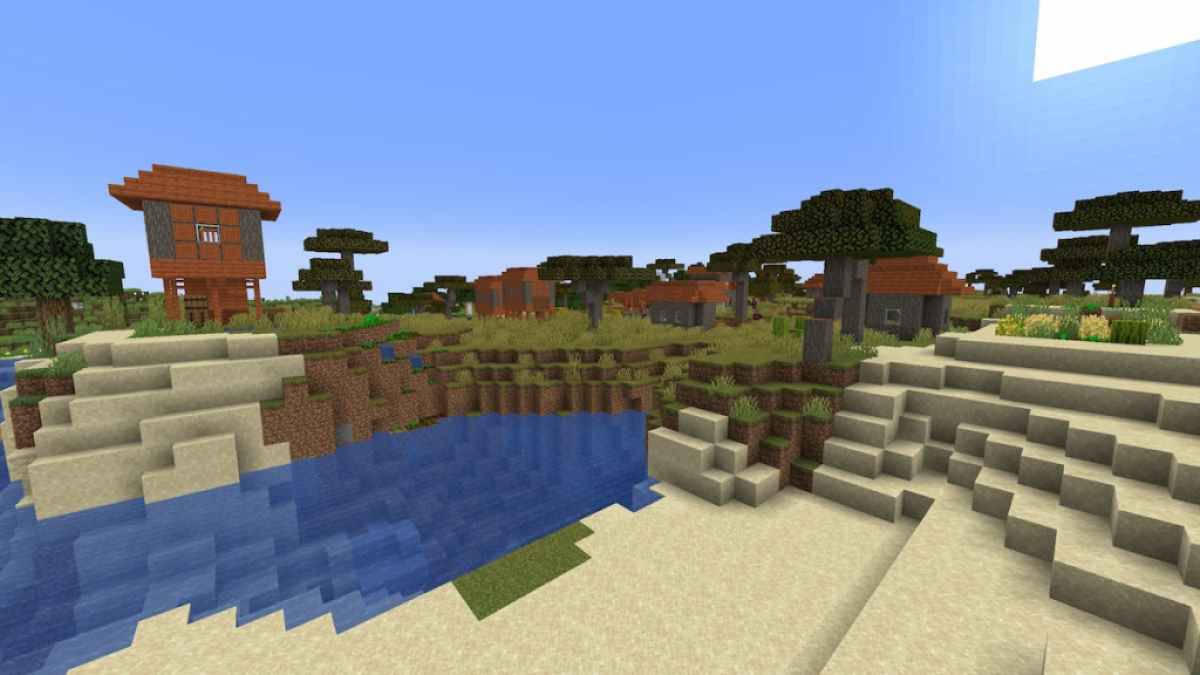 Seed: 7387006697899052570
You start out by spawning on top of one of the homes in this Savannah Village. To the right of the village is a cave containing iron, coal, and other helpful resources. After making your start here, you can move on to explore the many other structures inhabiting the land! There are two Woodland Mansions to the northwest, a Jungle Temple to the north, and a multitude of villages about a 2,000-block trek to the east of Spawn.
Key Locations and Coordinates
Savannah Village: Spawn
Ruined Portal: 220, 21
Plains Village: -992, -1,312
Ancient City: -968, -43, -1,288
Woodland Mansion: -1,880, -2,024
Triple Village Spawn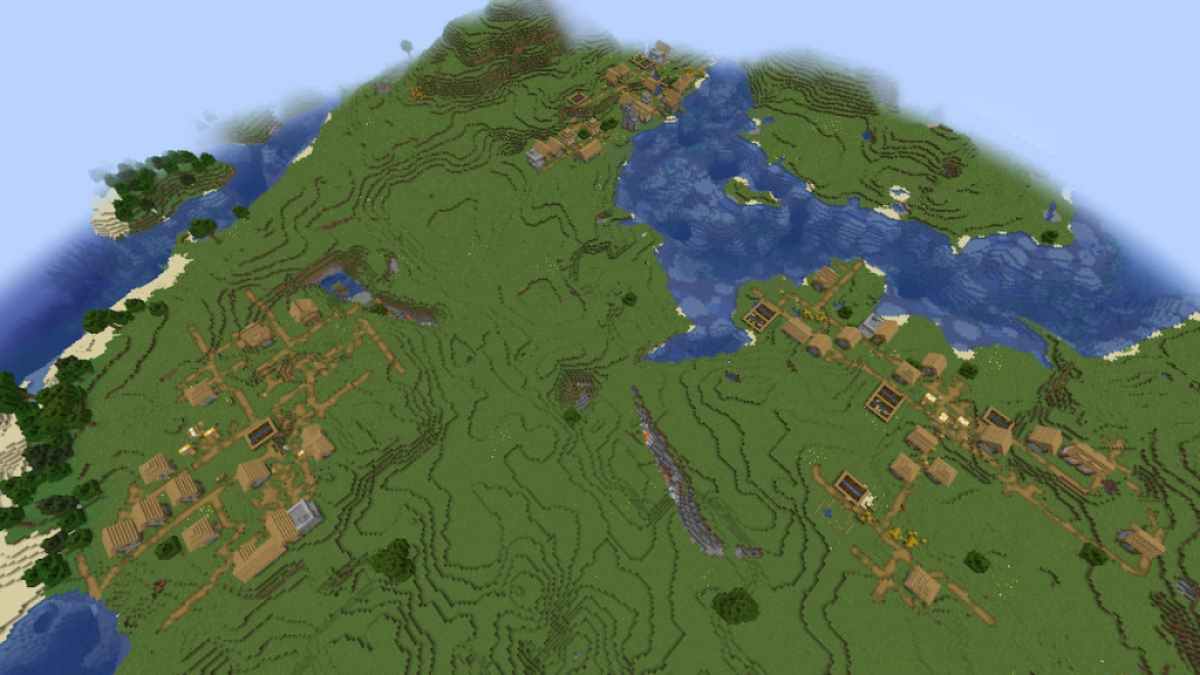 Seed: 2015606532547647
As far as spawns go, I can hardly remember one one as fascinating as this. You spawn in a moderately flat meadow, with sprawling villages located on three sides. One of these villages is located right by a beach where you'll find a shipwreck, a ruined portal, and tons of buried treasure!
Key Locations and Coordinates
Village by the Beach: 32, 16
Village 2: -144, -144
Village 3: -192, 64
Pillager Outpost: -400, -192
Strategic Village Planning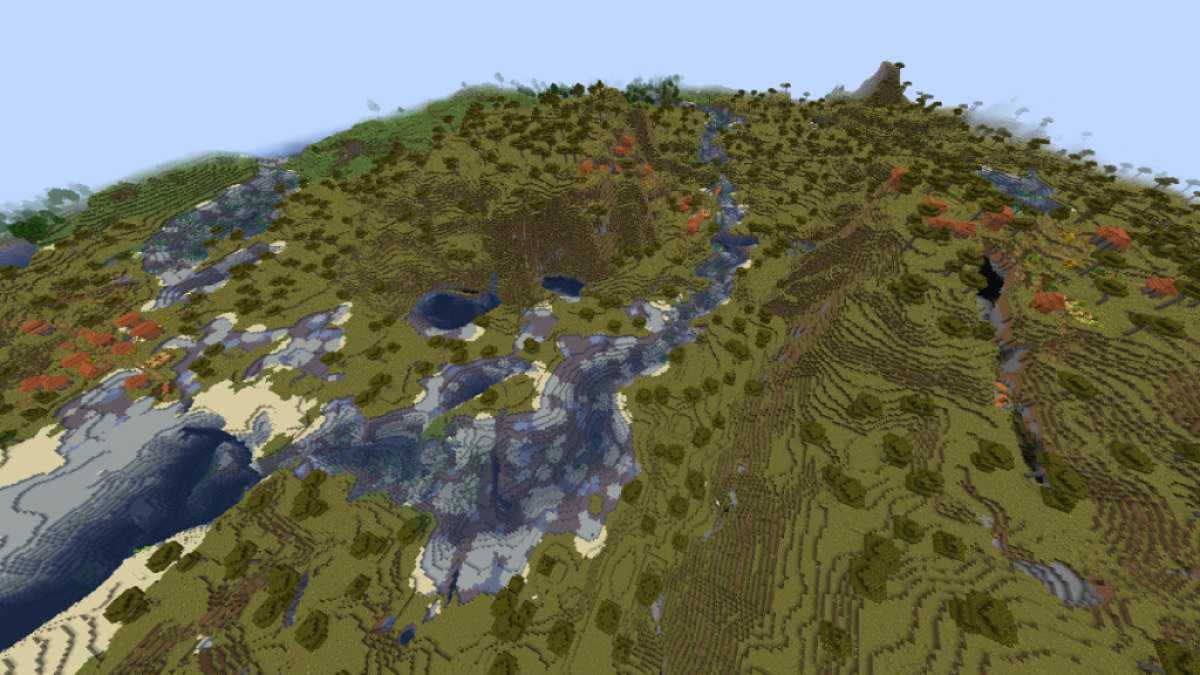 Seed: 5638231396176697285
There are plenty of things to love about this seed, but the best thing about it is the clusters of villages that form around Spawn and other rare structures. Right when you load the world, you'll find four villages within a couple hundred blocks of a Woodland Mansion and Spawn. You'll also find three villages guarding a Stronghold not far away. As you branch out, you'll find dozens of biomes, more villages, and a plethora of other rare structures within 2,000 blocks of spawn!
Key Locations and Coordinates
Village 1: 224, -160
Village 2: -144, -448
Village 3: 352, 192
Village 4: 592, 192
Woodland Mansion: -424, -1,000
3 Villages Around Stronghold: -1,248, 2,192
Village Bonanza
Seed: -4043078723174909697
If your idea of the perfect village seed is one that has dozens of villages within a day's walk from spawn—you've found it. In this seed, you'll find over 20 Villages less than 2,000 blocks from your starting point, with the vast majority of them being south of spawn (+Y). This is not just a seed for those of you who want villages, though, as there are plenty of Pillager Outposts standing between the villages. You'll have to be careful not to tread into their territory as you travel from town to town.
Key Locations and Coordinates
Village 1: -400, 176
Village 2: 400, 272
Village 3: 800, 176
Village 4: 64, 720
Pillager Outpost: 32, -496
Old Cities and New Villages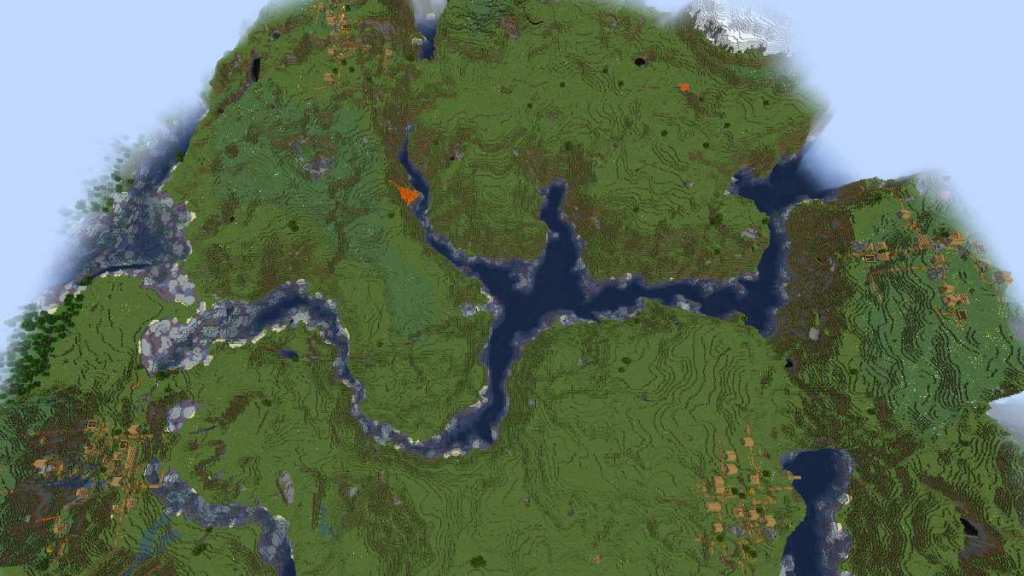 Seed: -6367239042471136353
If you are looking for access to villages as soon as you start the world, look no further than this seed. There are at least 15 villages available to you within 1,500 blocks of spawn, giving you access to ample resources and plenty of safe havens to protect you from the harsh Minecraft world. Once you have visited all the villages and you're properly prepared, you can protect them from the evil in the five Ancient Cities and four Pillager Outposts that are also within 1,500 blocks of spawn!
Key Locations and Coordinates
Village 1: 112, 64
Village 2: 304, -144
Village 3: -752, -176
Village 4: -464, 48
Village 5: -272, -416
The Desert Temple Village and Outpost War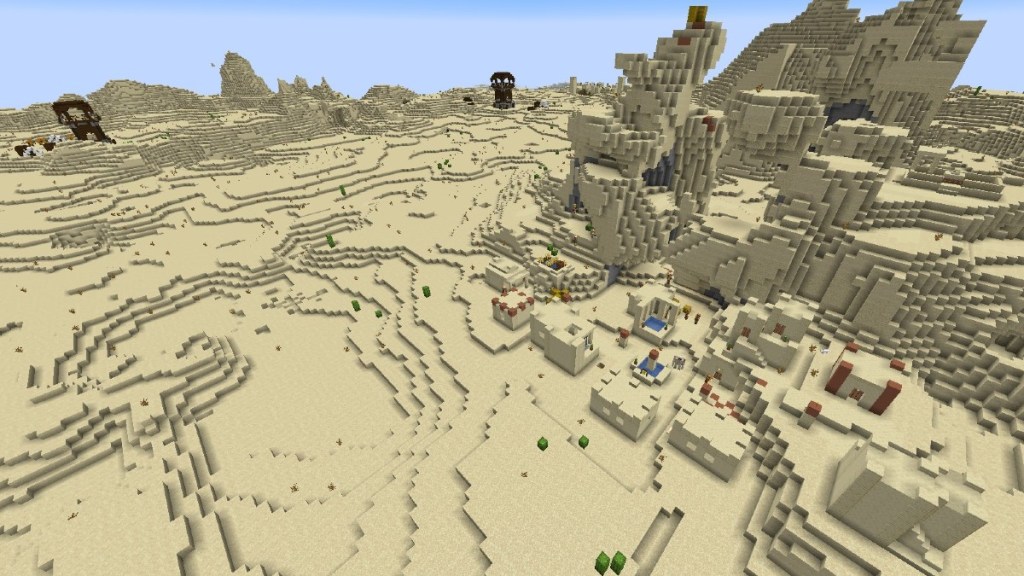 Seed: 19000503
In this seed, you begin your adventure in the middle of a Desert Village. Within a 750-block radius, you will find five other Desert Villages, two Pillager Outposts, and four Desert Temples. This high number of structures suggests that there may be some intense land battles between the opposing sides. This battle provides plenty of resources for you to gather while fighting pillagers, befriending villagers, and looting Desert Temples. You will also find a Mangrove Swamp only a couple hundred blocks from Spawn!
| | |
| --- | --- |
| Pillager Outpost 1: -144, 176 | Pillager Outpost 2: 32, 256 |
| Spawn Village: 0 0 | Village 2: 48, -400 |
| Village 3: -512, -288 | Village 4: -736, 48 |
| Village 5: -320, 208 | Desert Temple 1: 248, -840 |
| Desert Temple 2: -296, -408 | Desert Temple 3: 216, -216 |
| Desert Temple 4: 120, 120 | Desert Temple 5: -696, -184 |
Perfect Expansion
Seed: -1651158988382519374
The name says it all! There are plenty of villages in the area with lots of open space between them. In addition, the prevalence of resources and the absence of Pillager Outposts and other threats make this space the perfect place to create one massive village.
Key Locations and Coordinates
Village 1: 55, 257
Village 2: -519, 758
Ruined Portal: -270, 883
Village 3: 226, 904
Village 4: 649, 705
Village 5: 720, 314
Best Minecraft 1.20 Bedrock Village Seeds
These Bedrock Village seeds are perfect for starting a survival world yourself, but they're also great for introducing the game to friends and family, especially for console players!
Lakeside Taiga Town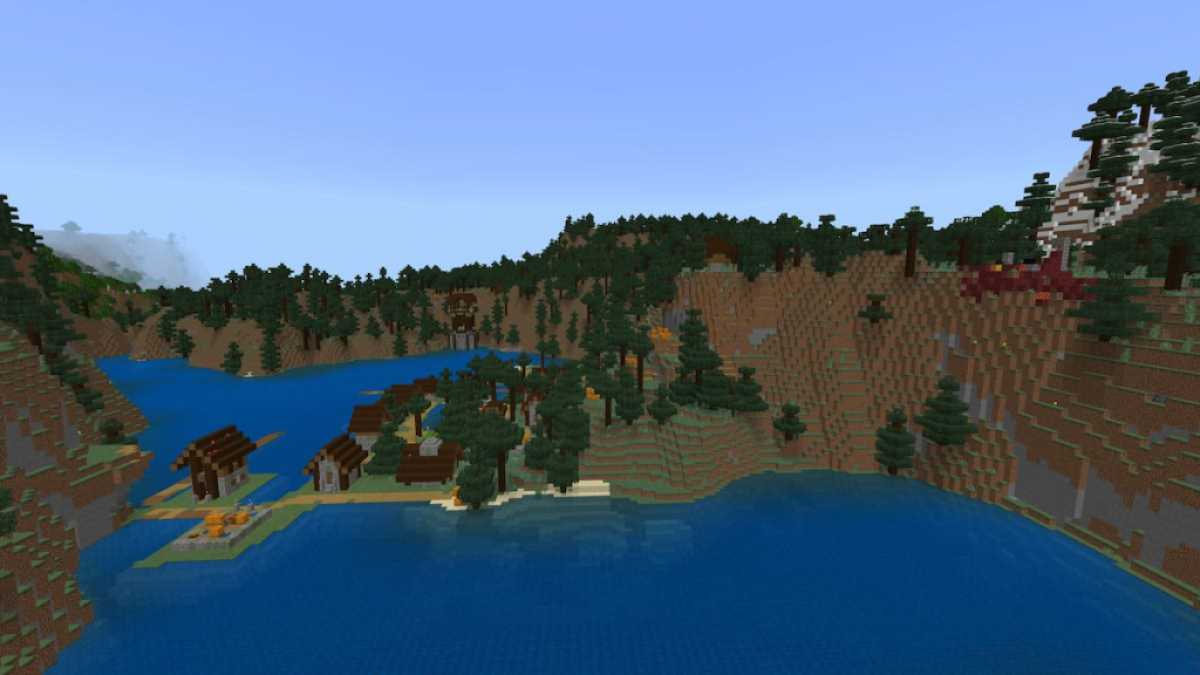 Seed: 8881229535498996416
Spawn is set on a large Taiga biome covered in rolling hills and Stony Peak mountains. A lakeside Taiga Village can be seen a short distance away. Beyond that is a matching Pillager Outpost, looming in the distance as if watching over the village. The picturesque scenery would be perfect for building a hillside cabin.
Key Locations and Coordinates
Taiga Village: 104, 152
Pillager Outpost: 136, 264
Underground Trail Ruins: 168, 264
Ancient City: -264, -43, 136
Melting Snowpeaks Village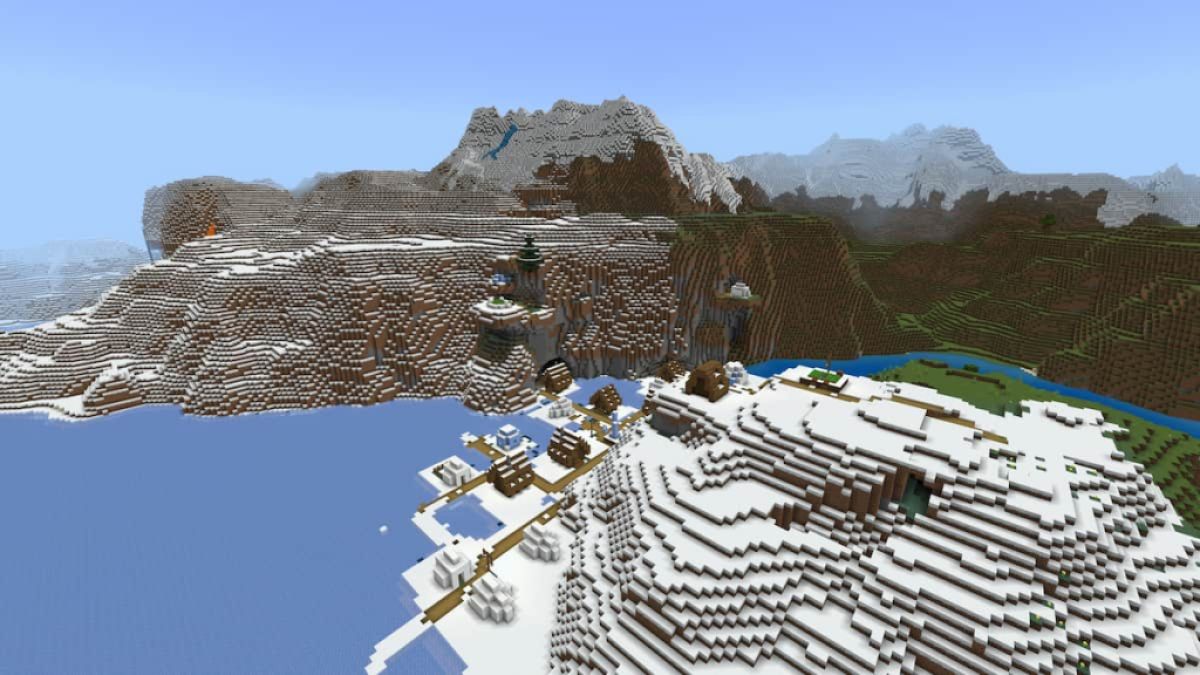 Seed: -1232223485391311472
This seed starts you in a lonely Snowy Plains biome. It is surrounded by warm biomes, giving off the impression that the Spring is coming and melting the snow. The closest Snowy Village is set right at the edge of the Snowy Plains, next to a regular Plains biome. One of the village's igloos rests on the mountainside, giving the village a special touch. Another Snowy Village and a Pillager Outpost can be found in the Snowy Plains as well.
Key Locations and Coordinates
Snowy Village 1: 127, -332
Snowy Village 2: -479, -367
Pillager Outpost: -727, 86
Cherry Mountain Village
Seed: -8241955388256119778
This is one of the most gorgeous Plains Village spawns I've ever seen! You spawn near the edge of a Cherry Grove containing a Plains Village. The surrounding area is covered in sprawling Plains and Meadows and contains all kinds of villages. The geography is also amazing—there are plenty of hills, water features, stunning caves, and natural arches. It's the perfect seed for those looking for an easy-going, beautiful world to build in.
Key Locations and Coordinates
Cherry Village: 145, 41
Plains Village 1: 19, -315
Plains Village 2: -362, 149
Pillager Outpost: 358, 487
Plains Village 3: 581, 757
Plains Village 4: 175, 698
Quad Blacksmith Village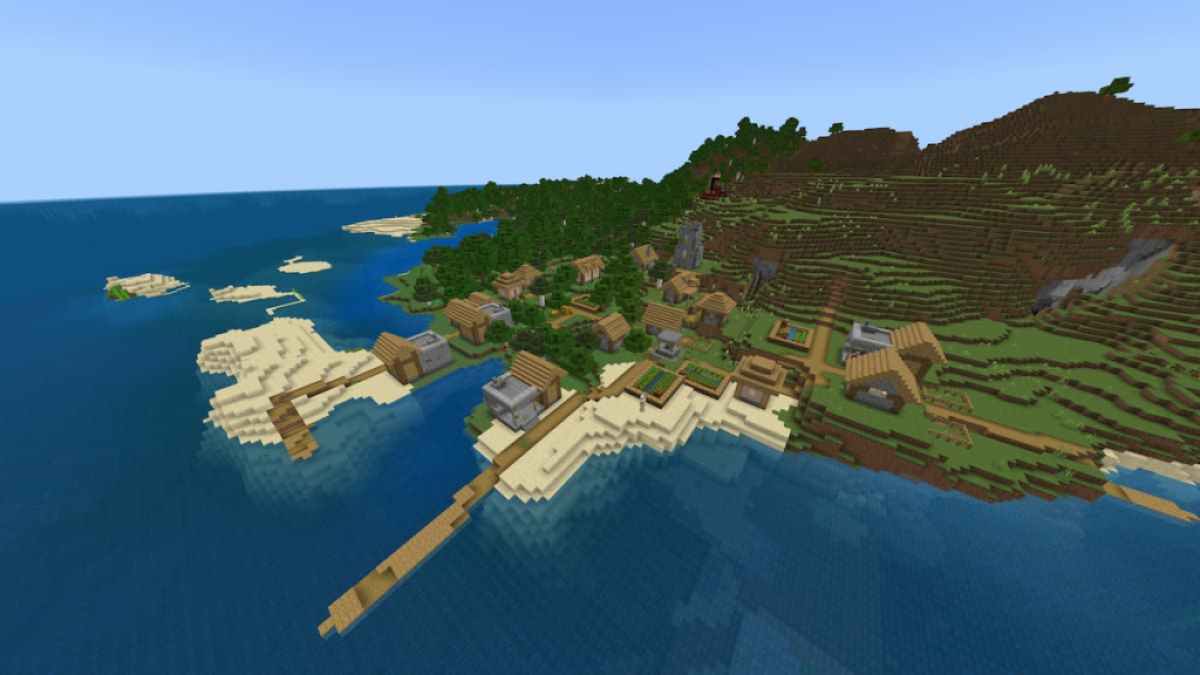 Seed: 2318176229889913168
This seed spawns you on top of a blacksmith hut in a Plains Village located on the edges of a small delta. If spawning on top of one wasn't enough, you will also get to access three more blacksmiths, all in one village. The surrounding waters are worth treading as well, containing tons of Ocean Monuments, shipwrecks, and one big, circular Mushroom Island a few hundred blocks off the village's coast.
Key Locations and Coordinates
Blacksmith Village: Spawn
4 Buried Treasures: 712, -376
Ruined Portal: 872, -312
Ocean Monument: 296, -200
Coral Desert Villages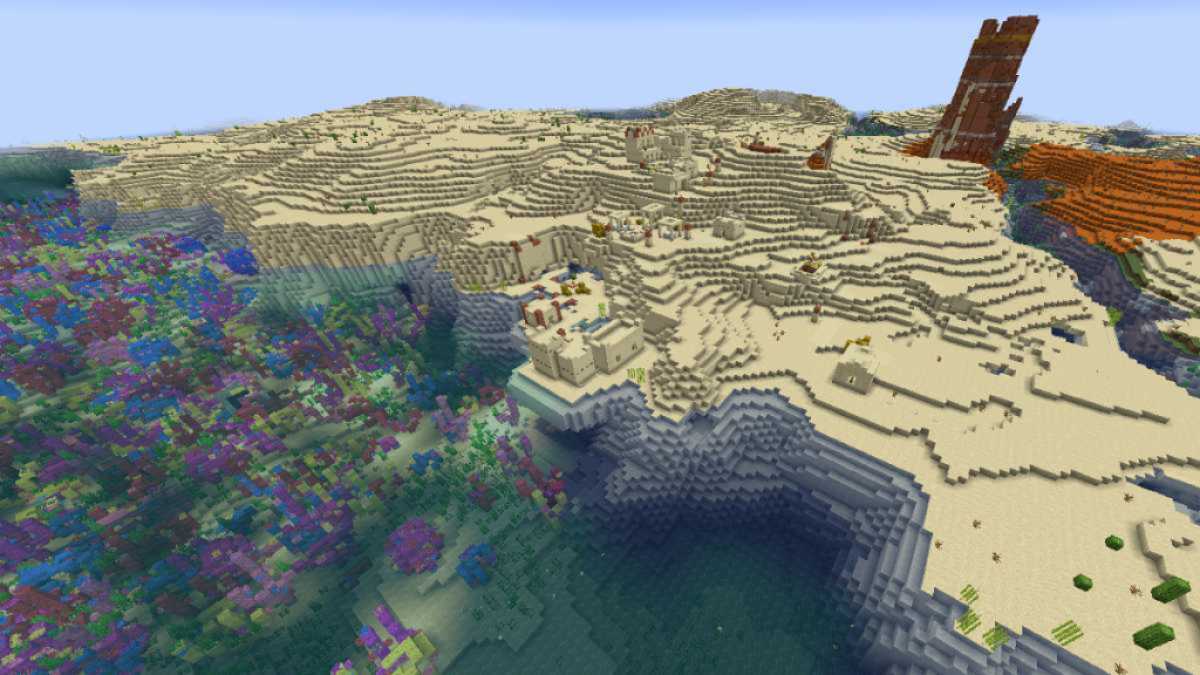 Seed: -3373198683487676029
Desert seeds are rarely mentioned in top seed lists, but this one easily made the cut. You spawn next to a village facing out into a vast Warm Ocean with sprawling Coral Reefs. Within 1,000 blocks of spawn are several more villages, including another beach village with a naturally occurring bridge between a desert river and a Coral Reef.
Key Locations and Coordinates
Reef Village 1: -208, 48
Reef Village 2: -320, 708
Desert Temple 1: 168, 88
Desert Temple 2: 280, -312
Pillager Outpost: 320, 112
Trail of Villages
Seed: 1015849951
There are few things more mesmerizing in Minecraft than a Windswept Village. This seed not only has a fascinating Windswept Village—it's also only a couple dozen blocks away from spawn! When the novelty of the village has worn off and you're ready to explore, you can continue heading south (positive Y) to find four more villages in a straight path. Three of these villages are next to Desert Temples, so there are plenty of resources and rare items available!
Key Locations and Coordinates
Windswept Village: 152, 88
Village: 104, 680
Village/Temple 1: 248, 1,192
Village/Temple 2: 72, 1,784
Village/Temple 3: 216, 2,360
Related: Best Minecraft Bedrock Seeds
The Mountain Lair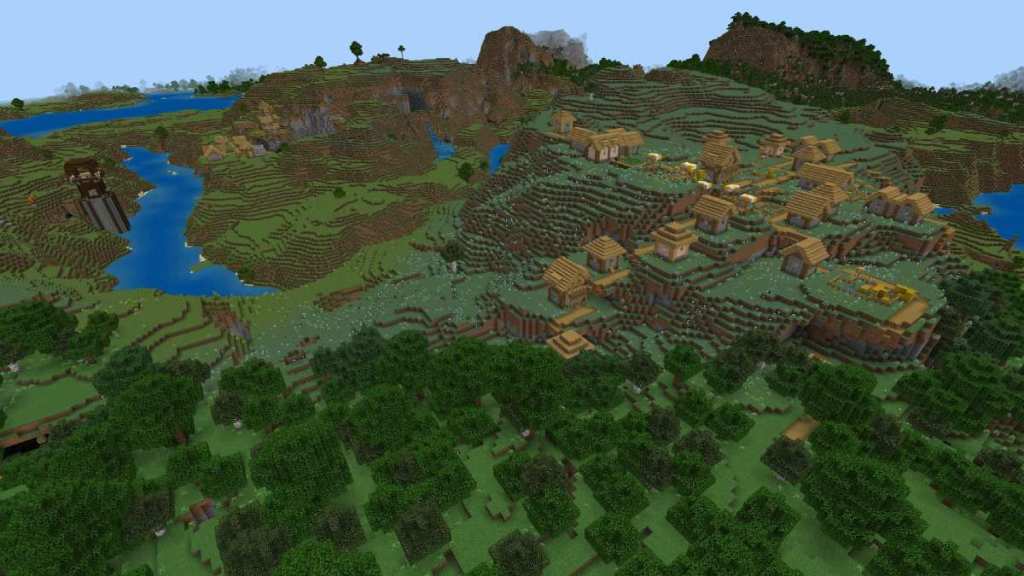 Seed: 1090899386
This is a beautiful seed with plenty of structures and wondrous views available to you right at the start! Perhaps one of the most enticing parts about this world is that you spawn near a peculiar cluster of buildings. A villainous Pillager Outpost stands on the fringes of two Plains Villages, one of which sits on top of a hollowed-out mountain. When you're ready, you can go a couple of thousand blocks East or West (+/- Z) to find dozens of villages littered throughout the countryside!
Key Locations and Coordinates
Mountain Village: 280, 296
Pillager Outpost: 424, 520
Village: 328, 584
Ocean Monument: -328, -488
Shipwreck 1: 152, -232
Shipwreck 2: -152, -200
Desert Village Tower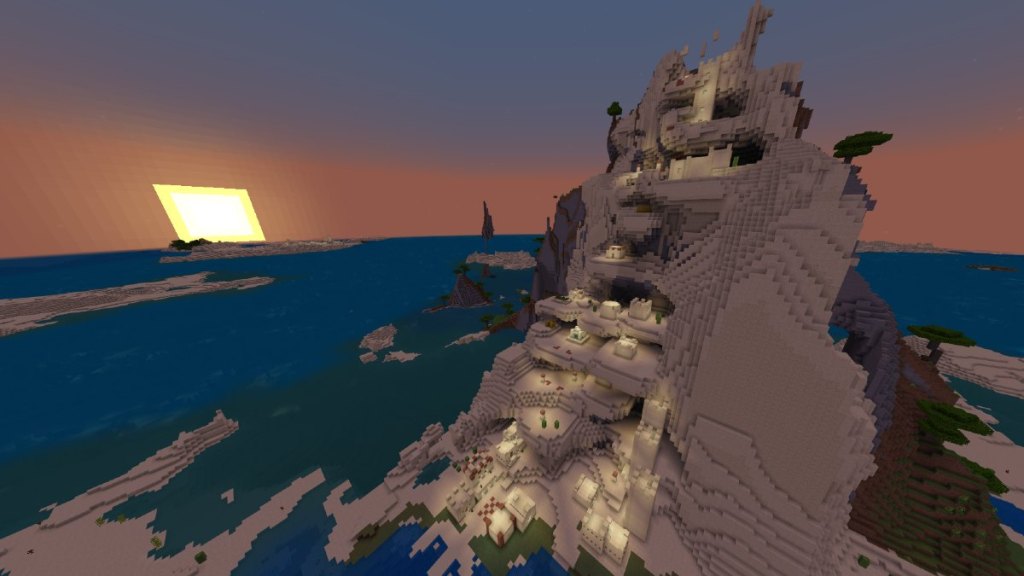 Seed: -9036966008009856678
Just a couple dozen blocks away from Spawn is one of the most unlikely Desert Village formations we've seen. The village is generated on a multi-tiered desert pillar, with each house having its own platform. This map acts as both the perfect setting for an adventure-based story and a great place to play in your own survival world. In addition to the village, there is also an Ocean Monument about 100 blocks from Spawn.
Key Locations and Coordinates
Desert Village Tower: -168, -312
Ocean Monument: -120, 152
Shipwreck: 56, -232
Desert Temple: 344, -760
Buried Treasure: 72, -120
The Villages on Meadow Mountain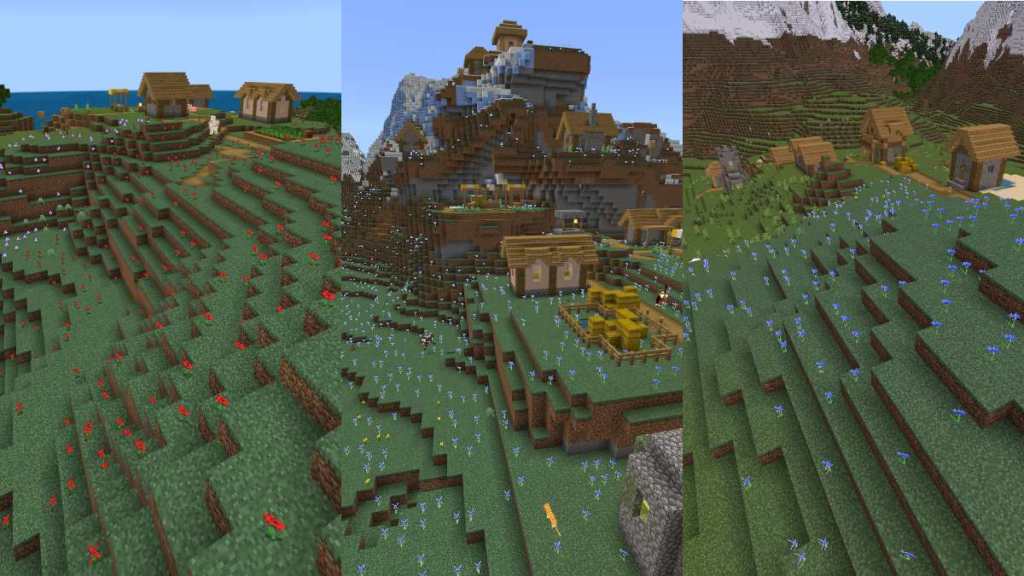 Seed: 2595113116242317821
You don't spawn next to a village on this seed, but the beauty of the three closest villages makes the short walk to them well worth the adventure. The three villages within a few hundred blocks of spawn are on the outskirts of a massive ring of Meadow Mountains. Each village has its own field of flowers and offers the serene feeling everyone wants to experience in a casual Minecraft world. When you're ready, you can move into the valley within the ring of mountains and build your own village in the Flower Plains biome you find there!
Key Locations and Coordinates
Flower Village: -392, -344
Flower Village 2: -856, -488
Flower Village 3: 40, -792
Ancient City 1: -280, -584
Ancient City 2: -616, -216
Mangrove Swamp Village Mishap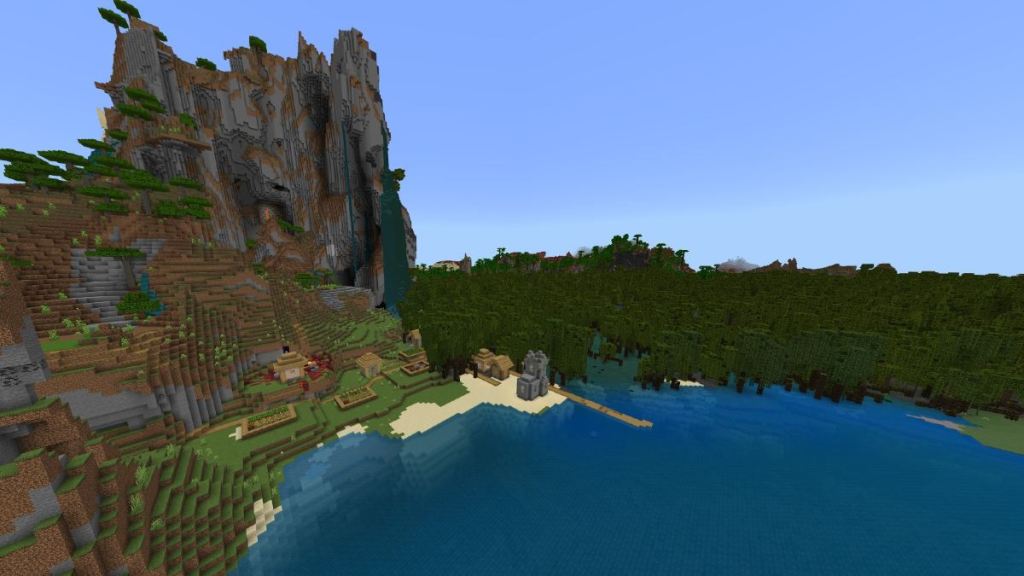 Code: 67561815575817929
Players start in a village right on the edge of a Mangrove Swamp biome. However, the village includes a potential glitch in the world generation, as one of the houses is split in half and replaced by a broken Nether portal. We're not sure if this was a villager's experiment gone wrong or some other happenstance. Regardless, it's still an awesome thing to see!
Key Locations and Coordinates
Village and Nether Portal: 42, 13
Village: 256, -456
Buried Chest 1: 8, -232
Buried Chest 2: 136, 264
Jungle Temple: -136, 792
Loving the easy village vibes but want to play around with something more chaotic? Try looking through our Worst Minecraft Seeds of All Time here on Pro Game Guides.