Our Minecraft Village Seeds post includes some great world options with nearby villages that you can begin your next world on! These are for both Bedrock and Java, so you should be able to find something you like on any platform. Villages can make your game a whole lot easier by giving you a place to start out and trade with!
Using the Key Locations
If you want to teleport yourself to one of the locations I mention, just copy the numbers listed by the one you want to visit. Go into your game and into that seed, then in the command window just type in "/teleport @s " and paste the numbers! Once you hit enter, you should teleport to the location.
Patch Versions
You can still use seeds from previous patches, but sometimes the seed will be slightly different than shown. It's worth giving one a shot in whatever version you are playing to see how it makes out in that patch!
Minecraft Village Seeds List
You'll notice some of the screenshots look a bit higher quality, and that's because I've got a Minecraft Shader installed! If you want to find some great general seeds, then check out our Best Minecraft Seeds post next.
Here's our list of Minecraft Village Seeds:
Snow Village w/Igloos (Bedrock - 1.15+)
Credit: The_Spartan300 - Seed: 2001039901
This seed features a nearby Snow Village with Igloos right next to spawn. Not only that, you also have a ravine to explore that has exposed diamond, mineshaft, and a dungeon spawner. There's an additional ravine further into the snow area and another snow village to find!
Key Locations
Snow Village w/Igloos: 917 74 143
Huge Ravine w/Exposed Diamond: 906 17 14
Mineshaft in Ravine: 911 18 -3
Dungeon Spawner in Ravine: 871 17 -2
Shallow Ravine: 730 45 338
Second Snow Village: 934 73 654
Badlands & Giant Tree Taiga - Desert Village (Bedrock - 1.15+)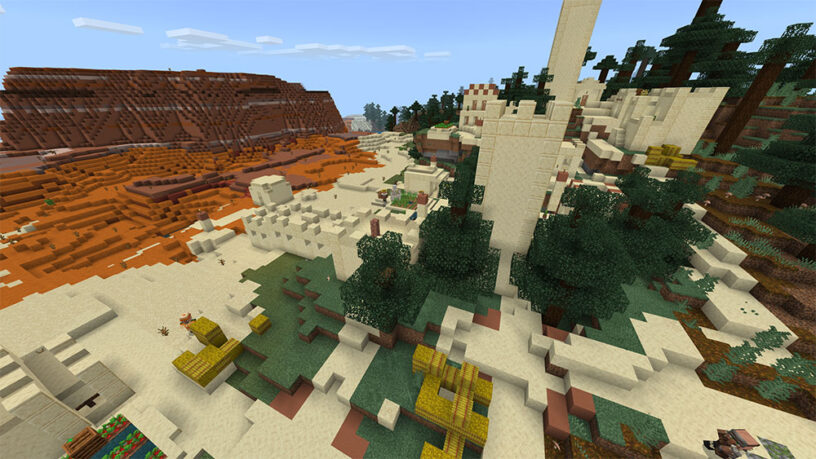 Credit: TelepathicGrunt - Seed: -954871915
This 1.15+ seed featured a good sized desert village sandwiched in-between a Badlands and Giant Tree Taiga biome! That alone is pretty nice, but there's also some exposed diamond in a Ravine that isn't too far away. You can find an Ocean Ruin, Pillager Outpost, and Haunted Village as well!
Key Locations
Desert Village: 910 69 139
Ravine w/Exposed Diamond: 330 14 -553
Ocean Ruin: 20 69 -1124
Pillager Outpost: -584 77 154
Haunted Village: -644 63 226
Desert Village & Much More (Bedrock - 1.14+)
Credit: Dodriofan480 - Seed: 1961838222
This seed features a lot of different things surrounding the spawn area that you'll be able to investigate. If you want to start a monster xp grinder, there's a spawner right next to spawn! Just head over to the forest area and you'll see some open area that heads down into a cave. Make your way down the natural path of the cave and you should run right into it. There's an additional spawner nearby this one, so you aren't going to be hurting for finding spots to farm monsters.
There's also multiple nearby ravines which nearly all have exposed diamond! These should be a lot of fun to explore and will get you started off on the right foot. There's a Desert Pyramid near a couple of these ravines, and further away is a good sized Desert Village. You'll even find a large Savannah Village, if that's more of what you are looking to utilize!
Key Locations
Monster Spawner Cave Entrance: 414 60 -25

Monster Spawner: 390 44 16

Second Monster Spawner Cave Entrance: 615 64 25

Second Monster Spawner: 615 39 14

Desert Village: 535 66 522
Desert Pyramid: 251 67 878
Ravine w/Exposed Diamond: 690 14 -87
Pillager Outpost: 668 68 205
Desert Pyramid: 379 71 -354
Small Ravine w/Diamond Nearby: 297 11 -441
Larger Ravine w/Exposed Diamond (Multiple Spots): 426 12 -371
Savannah Village: 185 69 962
Village Island (Java - 1.14+)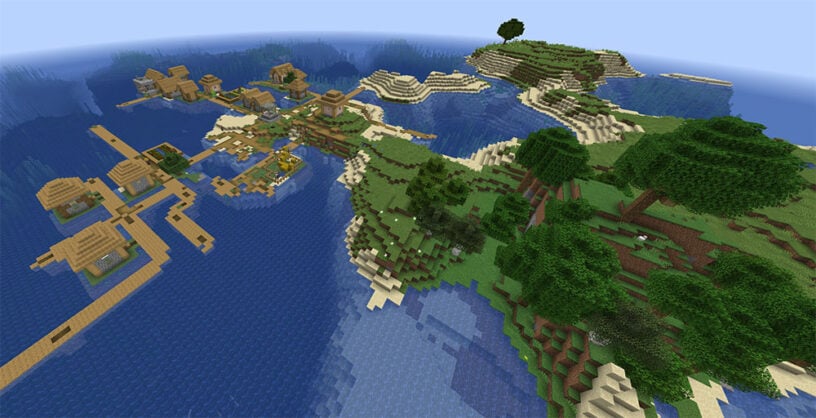 Credit: Ph3nomen0N - Seed: -772124751310384583
This is a really awesome seed because you literally spawn on a big island with a huge village attached to it! You can build yourself a couple of new Minecraft Houses that match up with the neighborhood! If you aren't enjoying the island life, you can go towards the desert that isn't too far away and find a desert temple and village! This isn't an ordinary village either, there's a cave right in the middle of it that you can explore and find a dungeon spawner. Not too far from here, you'll also find a forest with another very large village.
Key Locations
Desert Temple: -307 783 554
Desert Village w/Dungeon Spawner: -650 64 570
Forest Village: -740 70 212
Mountain Village w/Monster Spawner (Bedrock - 1.14+)
Credit: DarkAgeOutlaw - Seed: -1231267014
This is a pretty cool mountain village with a farm inside of a cave and a monster spawner right next to it! In the mobile version of the game, you'll find a waterfall pouring onto some unfortunate villager's house! There's also a Zombie Village not too far away from this one, so that is a fun thing to check out.
Key Locations
Mountain Village: -250 72 -209
Monster Spawner: -266 71 -242
Zombie Village: 180 83 -310
Large Village: -310 67 -1136
Another Large Village: -295 64 644
Amazing Mountain Village (Bedrock - 1.14+)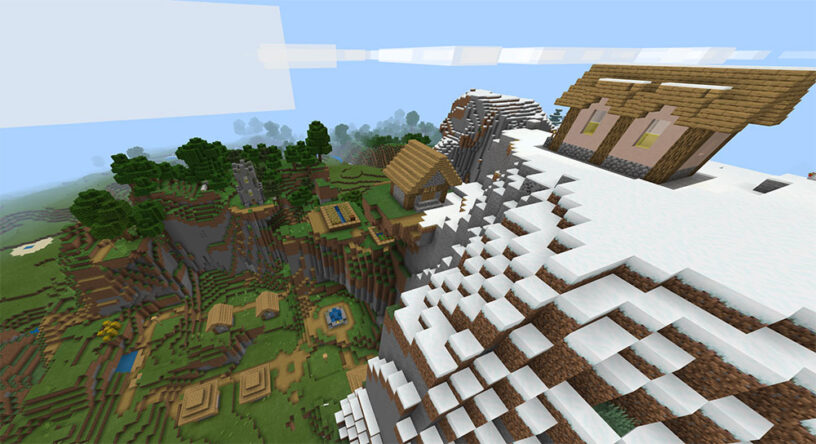 Credit: Fredrick_Zelder - Seed: -1400738501
If you're looking for an amazing mountain village to start your next Minecraft world then this is a great one to try! It is one of the more unique village arrangements I've ever seen, with many buildings being high up on a mountain. Not only that, there's an additional nearby village that has a Stronghold buried deeply beneath it! If you like diversity in your biomes, you start out near a pretty big swamp and if you explore around near the the Stronghold village you will find an Ice Spikes biome!
Key Locations
Mountain Village: 943 78 -1104
Taiga Village: 165 66 585
Village w/Stronghold Underneath: 990 68 -825
Ice Spikes Biome: 1448 92 -908
If you want to change up your game with some of these seeds, then check out our Best Minecraft Mods post!