Our Minecraft Village Seeds post includes some great world options with nearby villages that you can begin your next world on! These are for both Bedrock and Java, so you should be able to find something you like on any platform. Villages can make your game a whole lot easier by giving you a place to start out and trade with!
Using the Key Locations
If you want to teleport yourself to one of the locations I mention, just copy the numbers listed by the one you want to visit. Go into your game and into that seed, then in the command window just type in "/teleport @s " or "/tp @s " and paste the numbers! Once you hit enter, you should teleport to the location.
Patch Versions
You can still use seeds from previous patches, but sometimes the seed will be slightly different than shown. It's worth giving one a shot in whatever version you are playing to see how it makes out in that patch!
Minecraft Village Seeds List
You'll notice some of the screenshots look a bit higher quality, and that's because I've got a Minecraft Shader installed! If you want to find some great general seeds, then check out our Best Minecraft Seeds post next.
3 Villagers close to each other surrounded by 10 Biomes at Spawn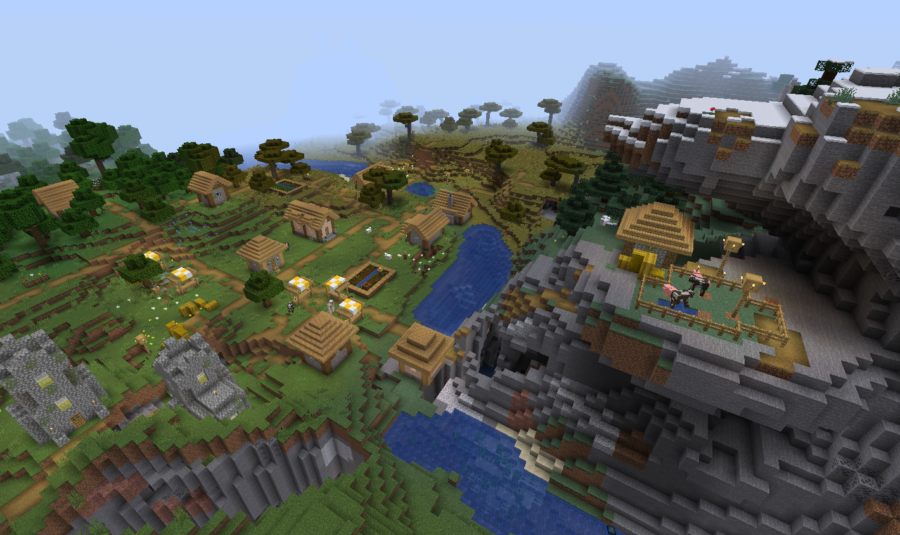 Credit: mintymoes - Seed: -2592242360827338447 - Version: Java 1.16.4
When you spawn everything seems pretty normal until you being to explore... and you'll see a different biome in more or less every direction that you look! Close to spawn is one village, and then up north past the mountains is another, then down south through the savanna is another! 10 different biomes surround your spawning point, it's truly awesome!
Key Locations
Desert Temple: -200 696
Jungle Temple #1: -472 280
Jungle Temple #2: -840 8
Stronghold: -448 1360
Pillager Outpost: 308 -1004
Village & Igloo: -3232 248
Ruined Portal: 152 264
Shipwreck: 424 392
Desert Village Near Coral Reef (Java - 1.14.4)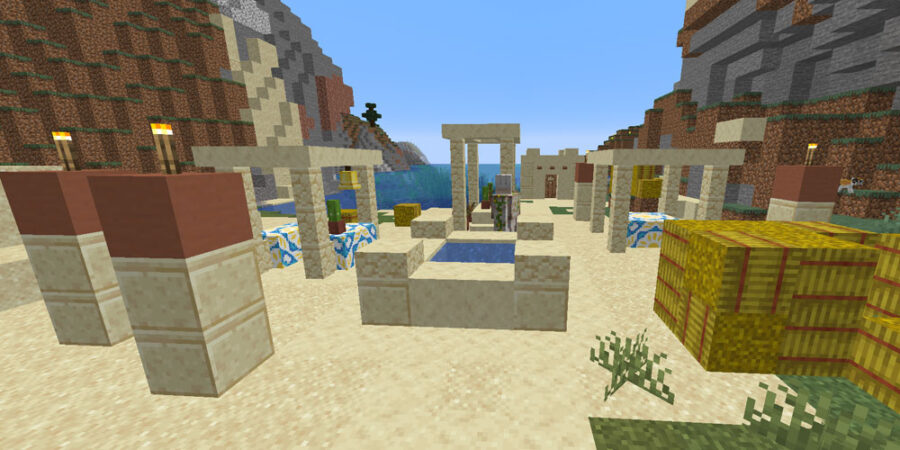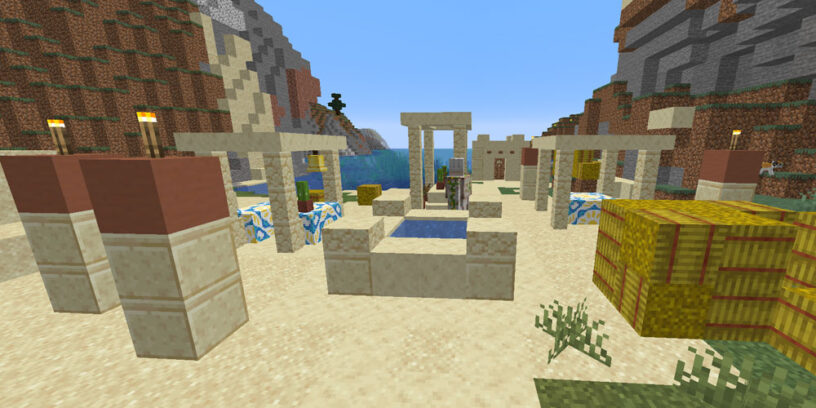 Credit: GiveMeAegis - Seed: 8081493198926661304
Where you spawn there's two large villages to explore, but this isn't the main attraction of this seed. There's a small desert village south of the spawn along with a pretty large coral reef to the west of it. There's so many villages in this seed, you can just run around and find them all over the place. The coral reef is kind of a lake because it's mostly surrounded by land, and all of this land features a majority of different biomes: Desert, Mountains, Forest, Swamp, Plains & Ocean!
This seed also works in 1.15+, but you don't get all of the same biomes at the 1.14.4 version.
Key Locations
Desert Village: -143 63 1722
Coral Reef/Shipwreck: -482 63 1631
Shipwreck: -219 65 1615
Larger Desert Village: 154 75 1879
Another Large Desert Village: 151 67 2109
Pillager Outpost: 345 76 2214
Desert Pyramid: 346 65 2323
Large Mountain Village: -298 70 -337
Large Forest Village: 122 63 -737
Village Spawn Near Coral Reef & Lots of Diamond! (Bedrock - 1.14.6)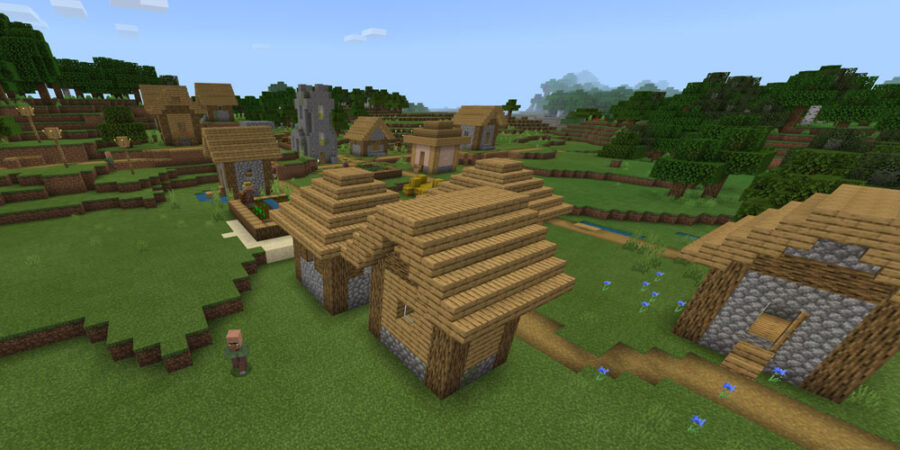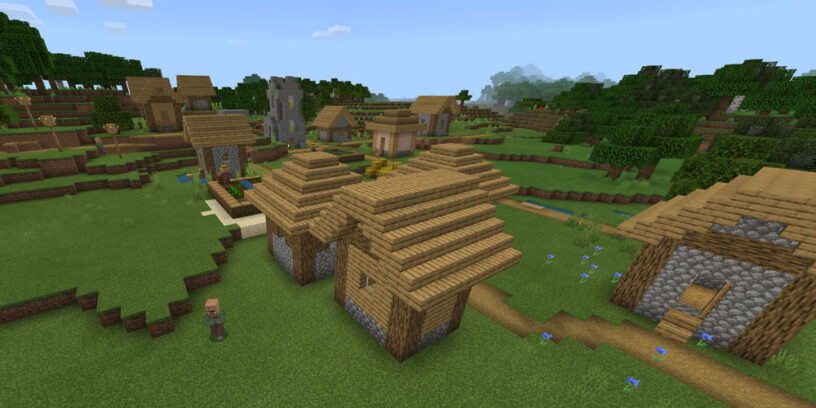 Credit: ThatOneWeebGurl - Seed: -1968925663
You spawn right next to a village in this seed with a nearby coral reef that can be explored. This seed also has an additional village, as well as a haunted village! There's also a pretty nice bonus to this seed because there's a huge Ravine that's not too far from spawn where you can go into and find quite a bit of exposed diamond! I searched around this area and managed to find three different Diamond spawns. You might even find more because of how big this underground area expands.
Key Locations
Coral Reef: 291 60 190
Swamp Biome: 310 64 6
Ravine: 319 13 57
Four Diamond: 320 11 34
Four More Diamond: 291 11 55
Eight Diamond: 289 14 30
Eight More Diamond: 278 12 66
Second Village: 219 71 -404
Haunted Village: 98 71 -703
Second Haunted Village: -207 64 -691
Village w/Ravine & Jungle Biome (Bedrock - 1.14.6)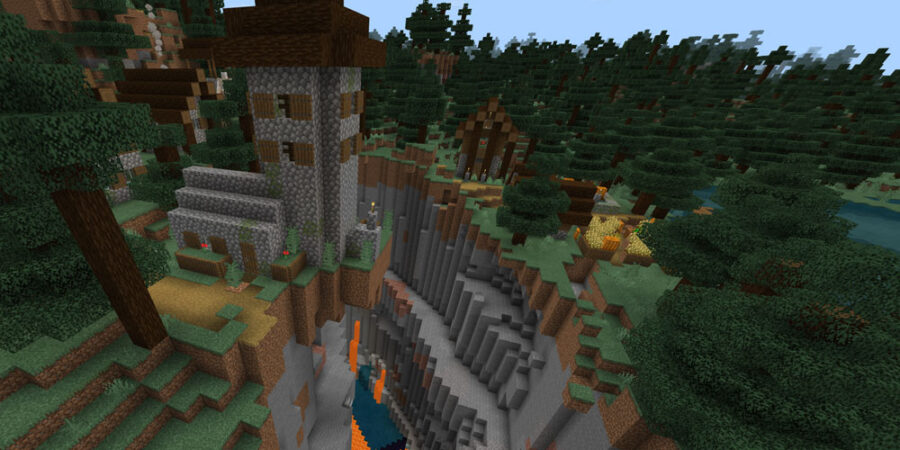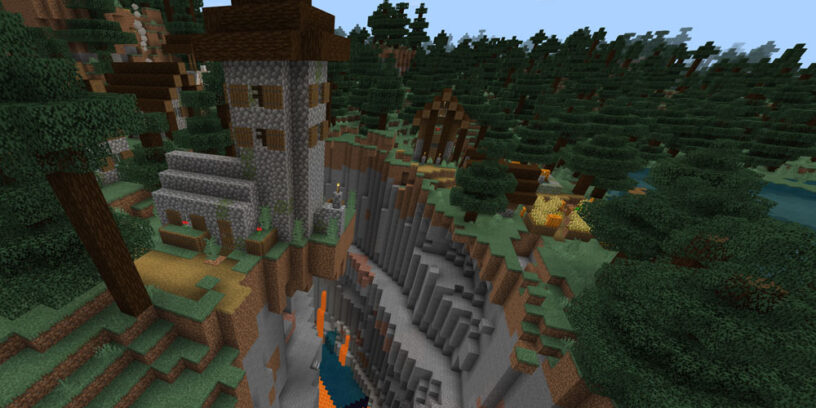 Credit: SilkySharp - Seed: 598080973
This seed has got a jungle biome, but it also has a lot of other stuff going on with it. You've got the village with a ravine running right through it. This ravine also has a diamond spawn inside of it. The jungle biome is not far from here and has a couple of temples and another village. Near the spawn you can go to a snow village with some igloos and an ice spike biome. Not too far from there is another ravine with more diamond! There's a lot to explore with this one if you're looking for additional things along with some jungle.
Key Locations
Village w/Ravine: -284 69 75
Diamond in Ravine: -322 11 43
Jungle Biome: -580 72 23
Village Near Jungle: -708 64 171
Jungle Temple: -794 67 112
Bamboo Jungle: -975 70 -151
Jungle Temple #2: -955 65 -463
Snow Village w/Igloos: 125 63 -342
Ice Spikes Biome: -44 72 -423
Ravine #2 w/Diamond: -149 12 -664
Igloo: -290 72 -803
Desert Village w/Pillager Outpost in a Ravine (Bedrock - 1.14.6)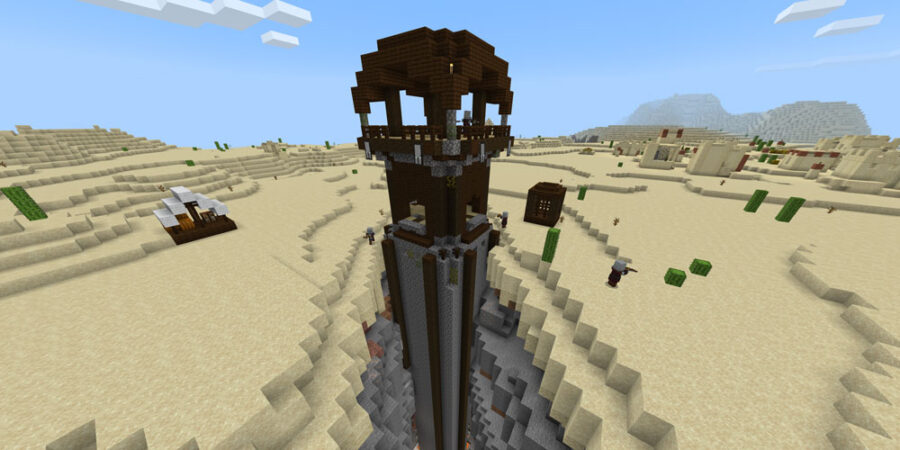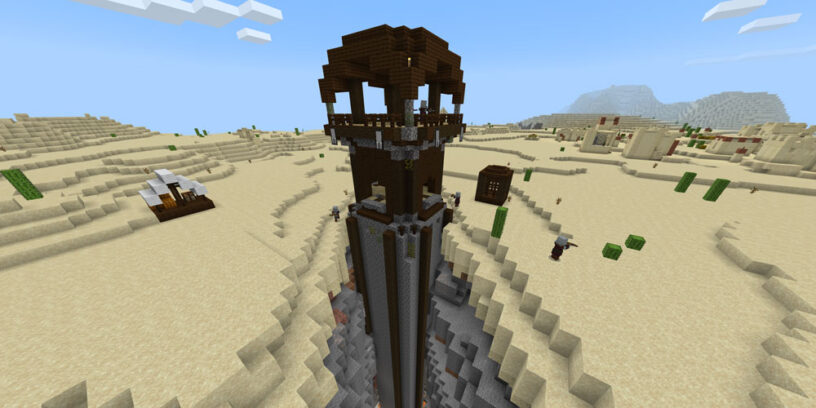 Credit: god_lifts - Seed: 616843740
This isn't exactly at spawn, but you can get walk there in a reasonable amount of time. This is a really cool spawn because the outpost is right in a ravine which makes it extend all the way to the bottom of it. You can also find a couple of diamonds down in the ravine, so that's a quick boost to your early game. There's likely some more exploring to be done in this area. This desert area is pretty packed with stuff because there's a couple of villages and pyramids in the biome. At the spawn, you can find a desert with a pyramid and a village that's entirely separate from the outpost section!
Key Locations
Desert Pyramid: 1322 71 176
Haunted Desert Village: 1398 69 131
Coral Reef: 1655 55 -228
Pillager Outpost in Ravine: 488 69 487
Diamonds in Ravine: 483 13 499
Desert Pyramid: 362 65 560
Desert Village #2: 593 71 533
Haunted Desert Village #2: 128 68 534
Desert Pyramid #3: 106 65 304
Pillager Outpost, Floating Island, & Many Villages! (Bedrock - 1.14.6)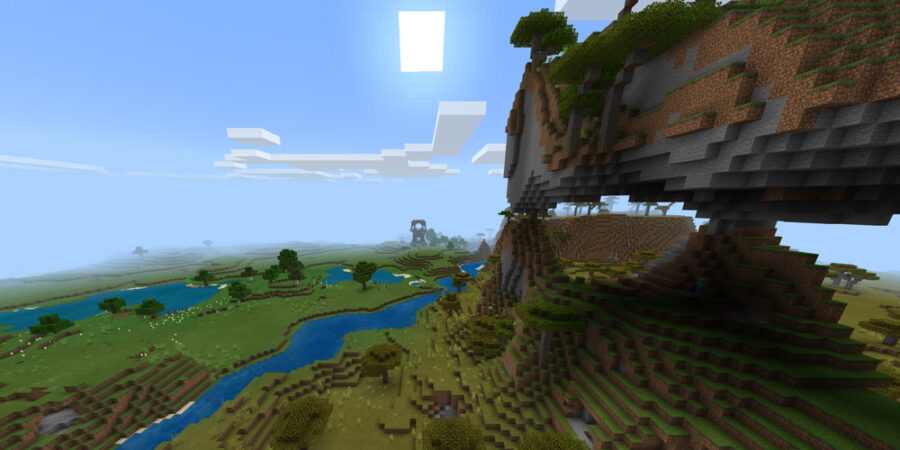 Credit: mochimachi - Seed: -741721765
This seed has a pretty cool looking floating island right where you spawn, and just beyond that is a Pillager Outpost. There's also quite a few villages and haunted villages in the surrounding area. Not too far away from spawn is a pretty large ravine which has a couple of diamond veins that you can mine. This area also has a small dungeon with a skeleton spawner!
Key Locations
Pillager Outpost: 263 80 103
Desert Pyramid: 314 65 16
Haunted Savannah Village: 580 63 180
Desert Village: 138 66 -285
Desert Village #2: -232 70 -312
Desert Pyramid #2: -357 74 -263
Ravine w/Diamond: -283 11 -130

More Diamond: -292 11 -109
Skeleton Spawner: -282 21 -146
Snow Village w/Igloos (Bedrock - 1.15+)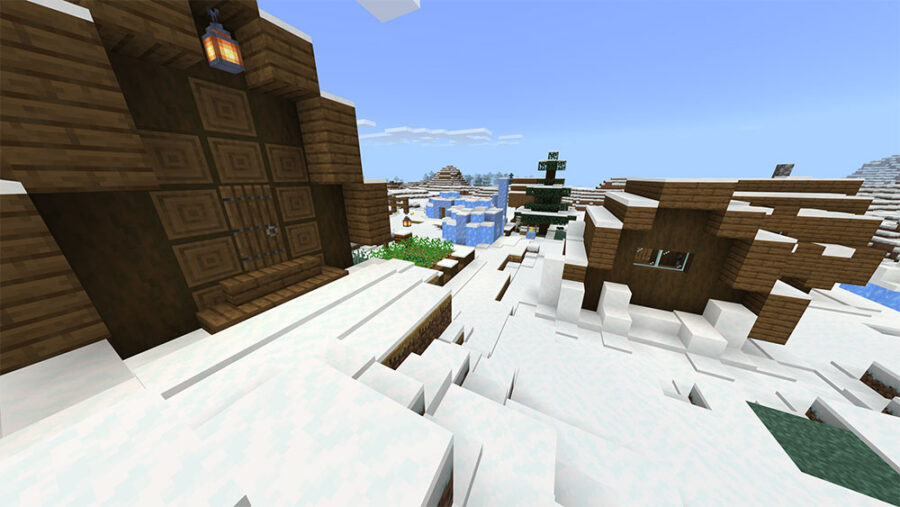 Credit: The_Spartan300 - Seed: 2001039901
This seed features a nearby Snow Village with Igloos right next to spawn. Not only that, you also have a ravine to explore that has exposed diamond, mineshaft, and a dungeon spawner. There's an additional ravine further into the snow area and another snow village to find!
Key Locations
Snow Village w/Igloos: 917 74 143
Huge Ravine w/Exposed Diamond: 906 17 14
Mineshaft in Ravine: 911 18 -3
Dungeon Spawner in Ravine: 871 17 -2
Shallow Ravine: 730 45 338
Second Snow Village: 934 73 654
Badlands & Giant Tree Taiga - Desert Village (Bedrock - 1.15+)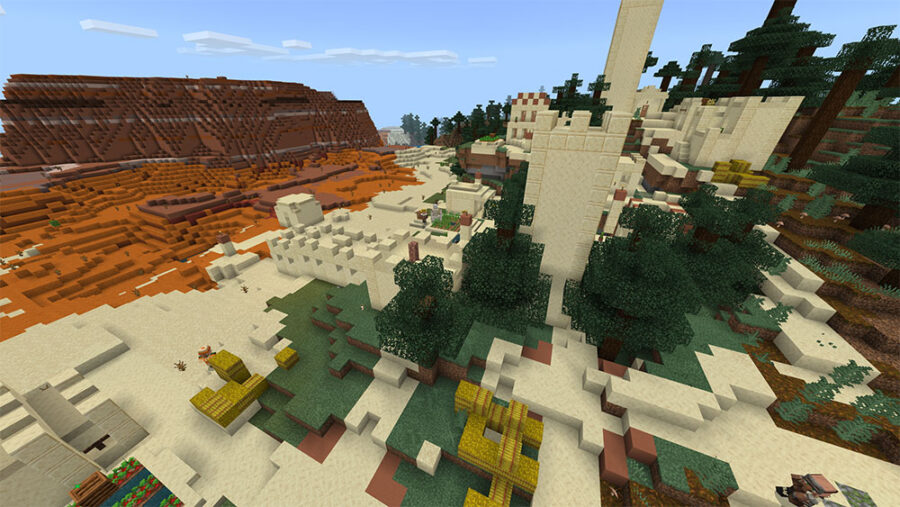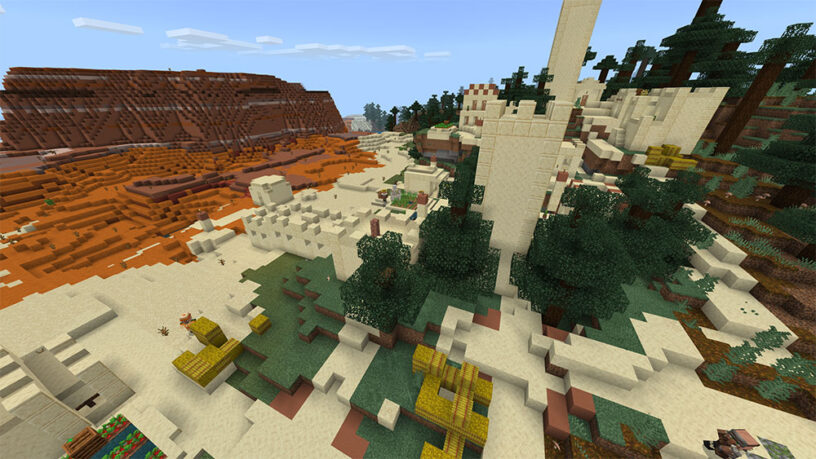 Credit: TelepathicGrunt - Seed: -954871915
This 1.15+ seed featured a good sized desert village sandwiched in-between a Badlands and Giant Tree Taiga biome! That alone is pretty nice, but there's also some exposed diamond in a Ravine that isn't too far away. You can find an Ocean Ruin, Pillager Outpost, and Haunted Village as well!
Key Locations
Desert Village: 910 69 139
Ravine w/Exposed Diamond: 330 14 -553
Ocean Ruin: 20 69 -1124
Pillager Outpost: -584 77 154
Haunted Village: -644 63 226
Desert Village & Much More (Bedrock - 1.14+)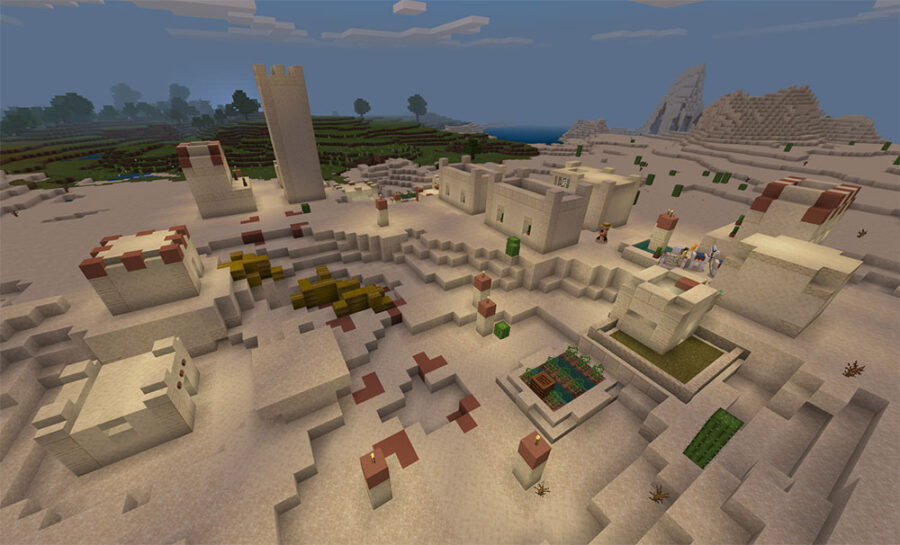 Credit: Dodriofan480 - Seed: 1961838222
This seed features a lot of different things surrounding the spawn area that you'll be able to investigate. If you want to start a monster xp grinder, there's a spawner right next to spawn! Just head over to the forest area and you'll see some open area that heads down into a cave. Make your way down the natural path of the cave and you should run right into it. There's an additional spawner nearby this one, so you aren't going to be hurting for finding spots to farm monsters.
There's also multiple nearby ravines which nearly all have exposed diamond! These should be a lot of fun to explore and will get you started off on the right foot. There's a Desert Pyramid near a couple of these ravines, and further away is a good sized Desert Village. You'll even find a large Savannah Village, if that's more of what you are looking to utilize!
Key Locations
Monster Spawner Cave Entrance: 414 60 -25

Monster Spawner: 390 44 16

Second Monster Spawner Cave Entrance: 615 64 25

Second Monster Spawner: 615 39 14

Desert Village: 535 66 522
Desert Pyramid: 251 67 878
Ravine w/Exposed Diamond: 690 14 -87
Pillager Outpost: 668 68 205
Desert Pyramid: 379 71 -354
Small Ravine w/Diamond Nearby: 297 11 -441
Larger Ravine w/Exposed Diamond (Multiple Spots): 426 12 -371
Savannah Village: 185 69 962
Village Island (Java - 1.14+)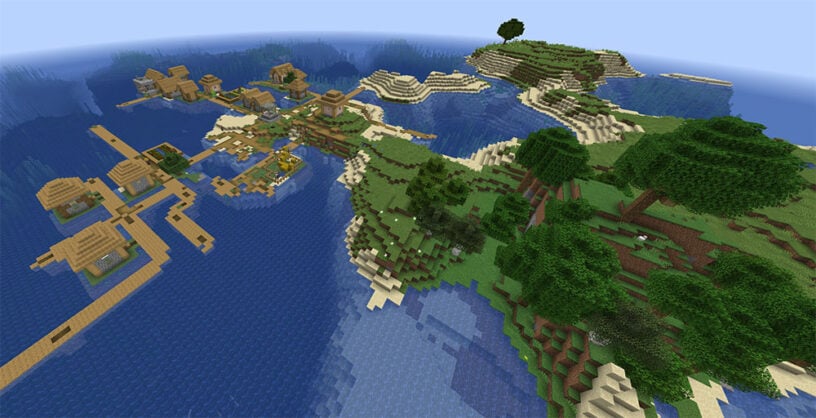 Credit: Ph3nomen0N - Seed: -772124751310384583
This is a really awesome seed because you literally spawn on a big island with a huge village attached to it! You can build yourself a couple of new Minecraft Houses that match up with the neighborhood! If you aren't enjoying the island life, you can go towards the desert that isn't too far away and find a desert temple and village! This isn't an ordinary village either, there's a cave right in the middle of it that you can explore and find a dungeon spawner. Not too far from here, you'll also find a forest with another very large village.
Key Locations
Desert Temple: -307 783 554
Desert Village w/Dungeon Spawner: -650 64 570
Forest Village: -740 70 212
Mountain Village w/Monster Spawner (Bedrock - 1.14+)
Credit: DarkAgeOutlaw - Seed: -1231267014
This is a pretty cool mountain village with a farm inside of a cave and a monster spawner right next to it! In the mobile version of the game, you'll find a waterfall pouring onto some unfortunate villager's house! There's also a Zombie Village not too far away from this one, so that is a fun thing to check out.
Key Locations
Mountain Village: -250 72 -209
Monster Spawner: -266 71 -242
Zombie Village: 180 83 -310
Large Village: -310 67 -1136
Another Large Village: -295 64 644
Amazing Mountain Village (Bedrock - 1.14+)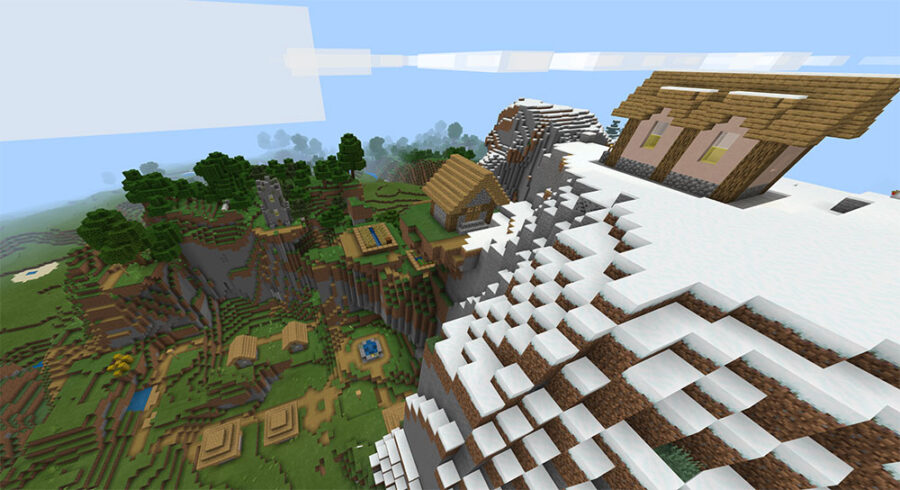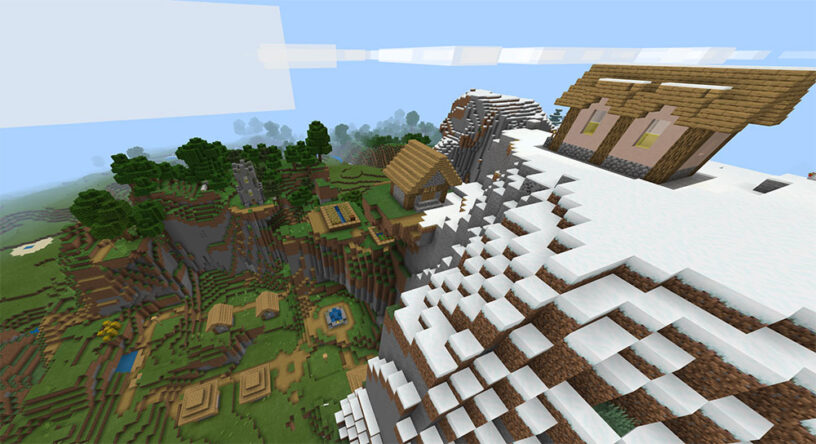 Credit: Fredrick_Zelder - Seed: -1400738501
If you're looking for an amazing mountain village to start your next Minecraft world then this is a great one to try! It is one of the more unique village arrangements I've ever seen, with many buildings being high up on a mountain. Not only that, there's an additional nearby village that has a Stronghold buried deeply beneath it! If you like diversity in your biomes, you start out near a pretty big swamp and if you explore around near the the Stronghold village you will find an Ice Spikes biome!
Key Locations
Mountain Village: 943 78 -1104
Taiga Village: 165 66 585
Village w/Stronghold Underneath: 990 68 -825
Ice Spikes Biome: 1448 92 -908
If you want to change up your game with some of these seeds, then check out our Best Minecraft Mods post!