We're looking at some of the Best Minecraft Pocket Edition Seeds you can find! These will make starting a new world a lot easier and give you a leg up on having an epic place to build your next creation. In our list below, we've included screenshots of the major highlight from each seed, a description of what you will find, and coordinates for key starting areas.
If you're playing on PC or another device, head over to our Best Minecraft Seeds or Minecraft 1.18 Seeds posts for our best Java and Bedrock seeds!
The Shortlist
Crater Mountain Island: 162712994
The Impossible Village: 2100201543
The Impossible Mansion: -892884632
Hm.: 969325560
Lush Jungle Mountain: 708126700
Pike's Peak: -1465919862
Wet Heat Dry Heat: 826006579
Best Minecraft PE Seeds
Crater Mountain Island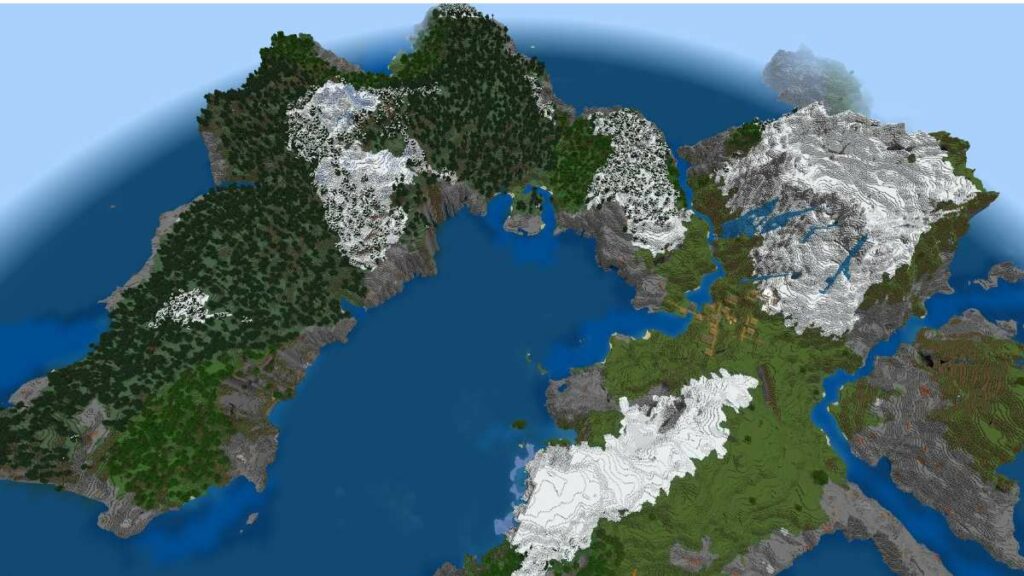 Seed: 162712994
This is a massive starting island with a single, well-placed Village in between a huge mountain crater. While some might consider it a struggle to go up and down the mountains that make up this entire island, others might see this island as the perfect setup for a villain's lair! Or, of course, you can just use it to establish a safe base with plenty of resources and an opportunity to build an elevated home. Don't forget to look for Buried Treasure! There are over 50 of them on this amazing island spawn.
Key Locations

Village: -296 200
Ruined Portal: -600 24
Shipwreck: 248 104
Buried Treasure: -56 -56
Buried Treasure: -56 24
The Impossible Village
In this fascinating seed, you start next to a village in an impossible situation. We say impossible, because the only way for this to happen is that one villager fiddled with Spacetime and accidentally warped an entire Chunk out of place. Whatever the reason for this crazy situation, it works well to protect them from the Pillager Outpost that spawns only a short distance away!
Seed: 2100201543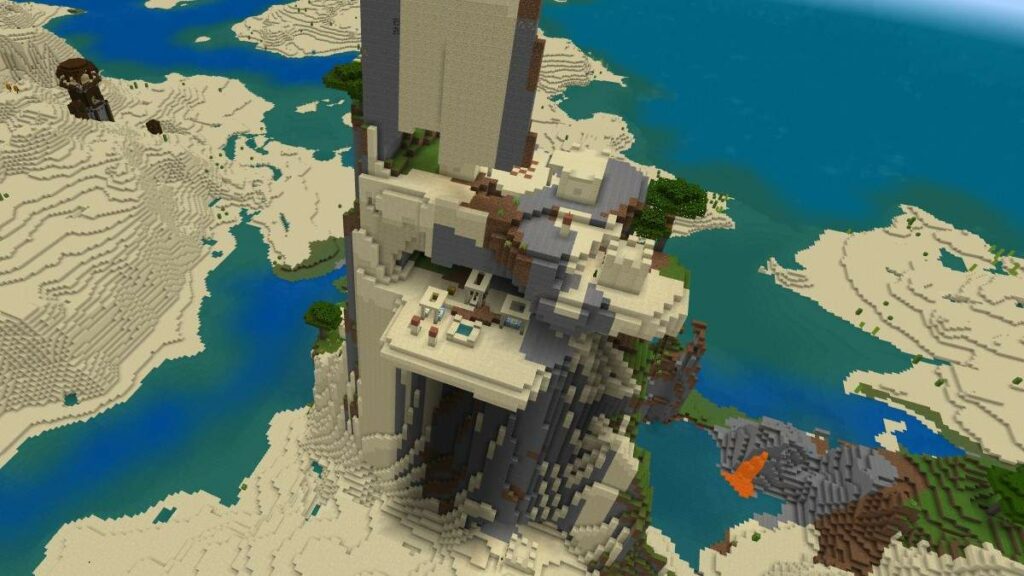 Key Locations

Desert Village: 328 104
Pillager Outpost: 232 280
Ruined Portal: 232 200
Desert Temple: 264 264
Shipwreck: -152 312
The Impossible Mansion
If you're looking for a strong start to your survival experience and want some fascinating wonders in your world, this is the perfect seed for you. You start within 400 blocks of two Villages in a nice green area with plenty of water, resources, and special points of interest all around. If you follow the nearby River to the southeast of Spawn, you will shortly find the tallest Woodland Mansion you'll see in 1.18. There is too much on this map to pass it up for your next PE world.
Seed: -892884632
Key Locations

Mansion: 600 328
Ruined Portal: 152 40
Shipwreck: -376 -328
Shipwreck: -520 -120
Village: -360 216
Hm.
Is a conspiracy afoot? Have Villagers made peace with Pillagers in this world? No. Neither of those. The world generation mechanics simply frowned upon this near-spawn village and placed a Pillager Outpost right in the center. Do you think you can gather enough equipment and establish protection for the Villagers within the first few minutes of creation? Or will the Pillagers wipe out the Villagers and force you to rebuild from scratch?
Seed: 969325560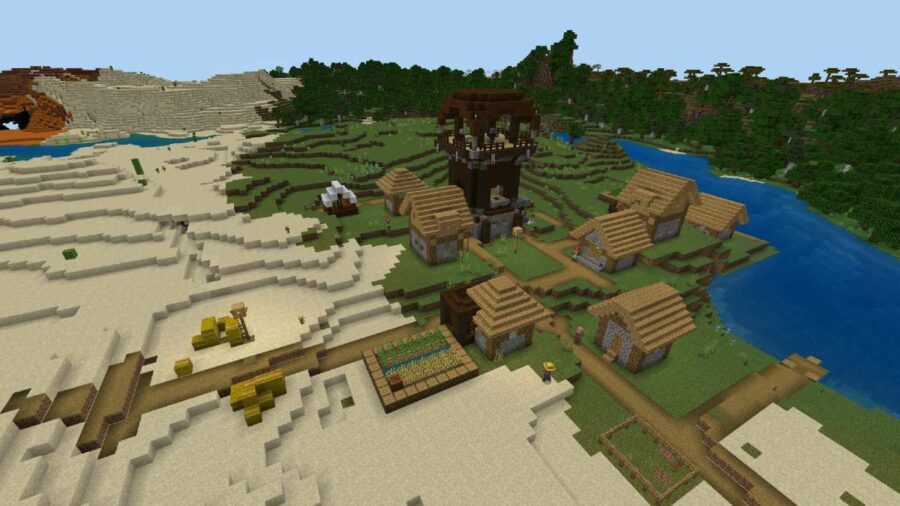 Key Locations

Village w/ Outpost: 232 248
Nether Portal: 88 344
Desert Temple #1: 648 72
Desert Temple #2: -264 584
Village: 216 792
Lush Jungle Mountain
You'll have a very hard time deciding on whether you'd liked to live on the surface or underground on this map seed. You spawn in a large Jungle Biome and near a village and Jungle Temple. However, less than a couple hundred blocks away is the entrance to an expansive Lush Cave that brings just as much plant life and beauty to under the world's surface. Do you think you can choose underground or surface living? Por qué no los dos?
Seed: 708126700
Key Locations

Jungle Temple #1: -152 216
Jungle Temple #2: 568 200
Village #1: -392 156
Village #2: -488 344
Lush Cave: 34 118
Pike's Peak
If you are focused more on enjoying the views of a mountain rather than from a mountain, this is a great PE seed to begin a new Minecraft world. A few hundred blocks from spawn, you will find a village, providing you the materials you need to begin your adventurous hike up the beautiful mountain in the distance. On your way to the mountain, why not stop at all the Buried Treasure along the way?
Seed: -1465919862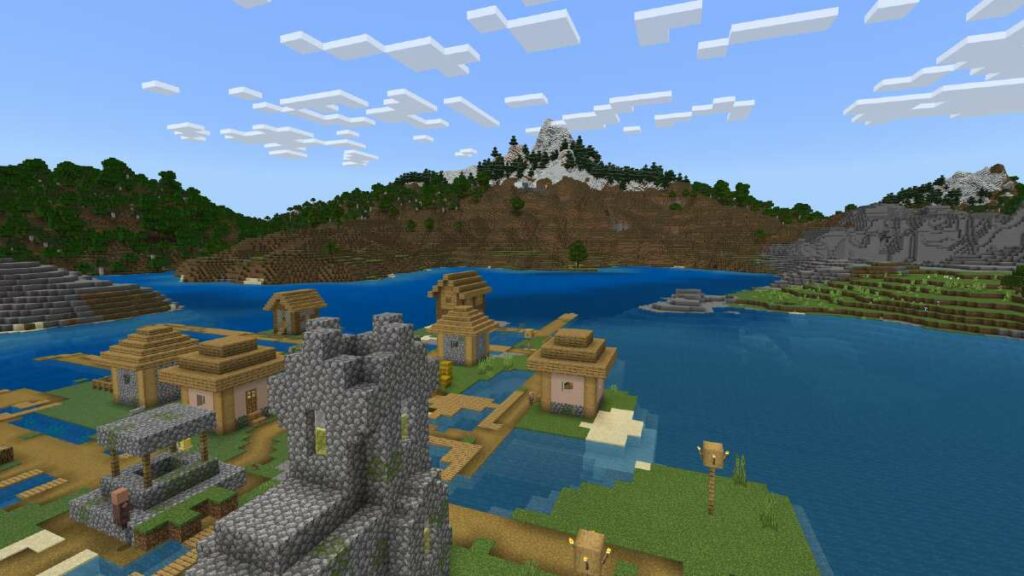 Key Locations

Village: -248 -248
Jagged Peak: -333 -666
Ruined Portal: -312 -360
Buried Treasure #1: -248 -120
Buried Treasure #2: -248 -184
Wet Heat Dry Heat
Regardless of the path you choose, you'll be facing scorching temperatures on this seed. You spawn in a forest near a massive Jungle biome with plenty of resources available. From there, you can choose to make the very short hike over to a beautiful Badlands biome next door, or you can head the opposite direction to see a Mushroom Island!
Seed: -826006579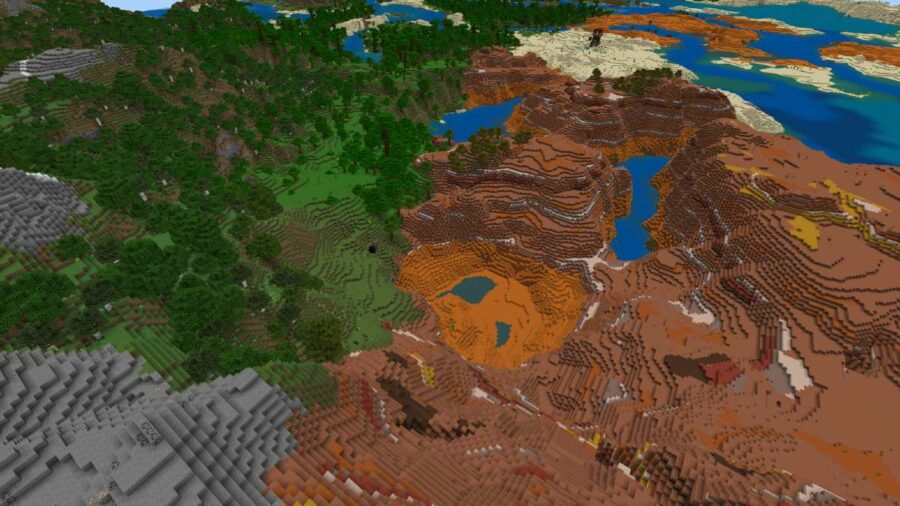 Key Locations

Jungle/Badlands Border: 1300 440
Mushroom Island: -710 -75
Nether Portal: 328 40

Ocean Monument #1: -456 -424
Ocean Monument #2: -760 376
Don't forget to check out some of our other great Minecraft content like the Best Minecraft 1.18 Adventure Maps and Best Minecraft 1.18 Puzzle Maps!