Our Best Minecraft Seeds List features a bunch of newly found seeds to some awesome areas to start your next Minecraft world. We have seeds for every version of the game, including PE (Pocket Edition), PC, Java, Bedrock, and Xbox One editions! Seeds are a great way to get your adventure started in an exciting area. With the random nature of landscape creation in the game, it's nice to at least have some guarantee of what you are getting yourself into.
How-to Use Seeds
Using Seeds in Minecraft is relatively simple, and the process is largely the same across all versions of the game. When you are creating a new world, look for the "More World Options..." area, or in some cases you'll just find a blank text box that you can paste your seed code into.
Once you find this box, paste the particular seed you want to load into it and you're done! The more complicated part, is that some seeds don't work for some versions of the game. For example, all positive seeds (numbers without a - at the beginning of them) are usable from Bedrock to Java. Furthermore, if you have a negative seed from Bedrock, you have to add 4294967296 to it for it to work in the Java version (Learn more here). Finally, negative Java seeds will NOT work in Bedrock at all. There will be irregularities between Bedrock and Java seeds, which can include differences in neutral temperature and ocean biomes.
If you've got an updated version of Minecraft on your mobile device or console (Nintendo Switch & Xbox One), then all Bedrock codes should work! PlayStation 4 is currently the main outlier (other than Java), so you will need codes that are specifically for the PlayStation.
Minecraft Seeds List
Here's a list of some great seeds that should give you a fun starting point for your next world! I've listed what version of Minecraft they will work with. Bedrock works with the Windows 10, Nintendo Switch, Xbox One, and mobile versions! We'll be listing some coordinates for you to check out some key areas in some of the biomes. You can enable coordinates when you create a world (Bedrock), and either make your way over to the spot or use the /teleport command!
Diamonds at Spawn + Huge Ravine (Bedrock) - NEW!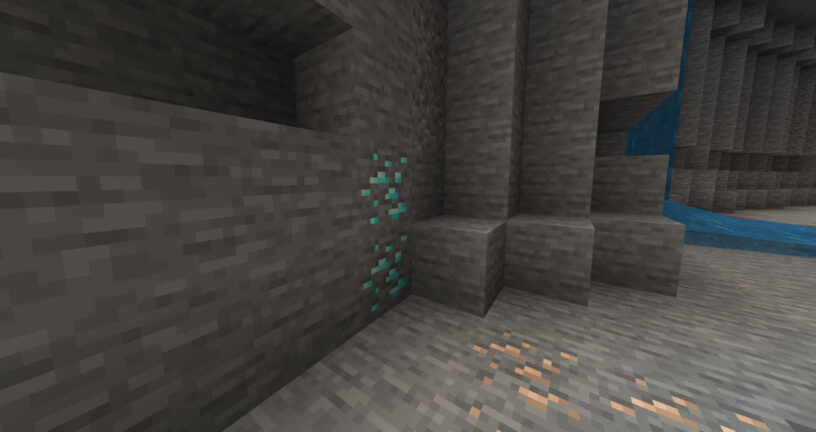 Credit: TheBigButtlol on Reddit - Seed: -974562123
If you want to start off with enough diamond to craft a few important items, then this is a great one. There's a huge ravine right near spawn that has two diamond spawn locations that will set you up nicely for the rest of the game! Be careful though, these spots are at the bottom of the ravine, and you don't want to go falling off the edge. You've also got a village nearby, so there's a lot of great features in this seed.
Key Locations (Bedrock Coordinates)
Diamonds at Bottom of Ravine #1: X: 271, Y: 13, Z: 12
Diamonds at Bottom of Ravine #2: X: 308, Y: 13, Z: -16
Village: X: 36, Z: -265
Big Desert Village: X: 973, Y: -657
Fire & Ice (Java Only) - NEW!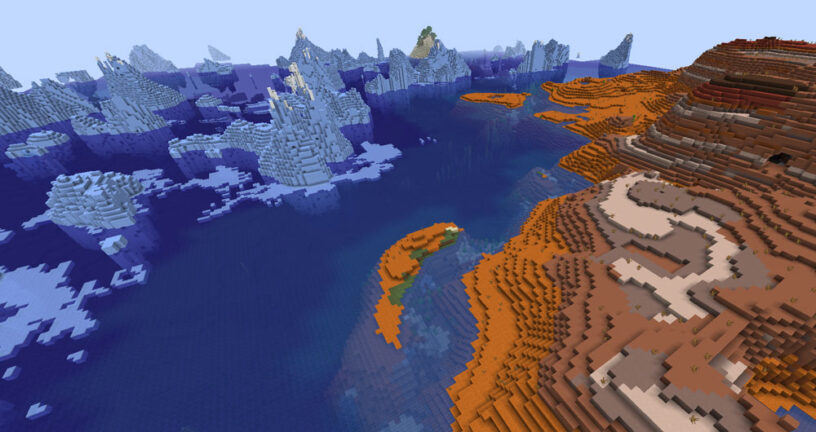 Credit: SlateBrick on Reddit - Seed: -6183068961479409378
This is a really interesting seed because you start off in the middle of two very distinct biomes. You've got the cold ocean biome which features a lot of frozen areas to explore, and on the other side is the badlands biome that is super pretty and interesting. Combine these two together and you've got the fire and ice seed!
Key Locations (Java Coordinates)
Underwater Ruins w/Drowned: X: -443, Z: -197
Icebergs & Frozen Islands (Java Only)
Seed: -7865816549737130316
This is a great seed if you want some beautiful landscapes that are surrounded by icebergs. This will be a bit of a tough one to start out on, so if you're looking for a challenge then you'll love this frozen area with a lot to explore!
Varied Biomes (Bedrock & Java)
Image Credit: TelepathicGrunt on Reddit - Seed: 577830886
This is a wonderfully diverse seed that has a ton of varied biomes all around you! There's multiple villages, some badlands, mushroom forest, deserts, and a frozen area to explore. You can also find an area where Diamonds spawn not too far from where you start.
For further details, check out TelepathicGrunt's guide on where a bunch of great locations are around the map with coordinates!
All Biomes Nearby (All Platforms)
Image Credit: SnoverMC on Reddit - Seed: 306959825
This is an awesome one to use because there's a huge variety of biomes all around you! This makes for an extremely diverse play through, and you can find all of the stuff you could ever want just by traveling around the map. There's even a large mineshaft straight down below where you spawn.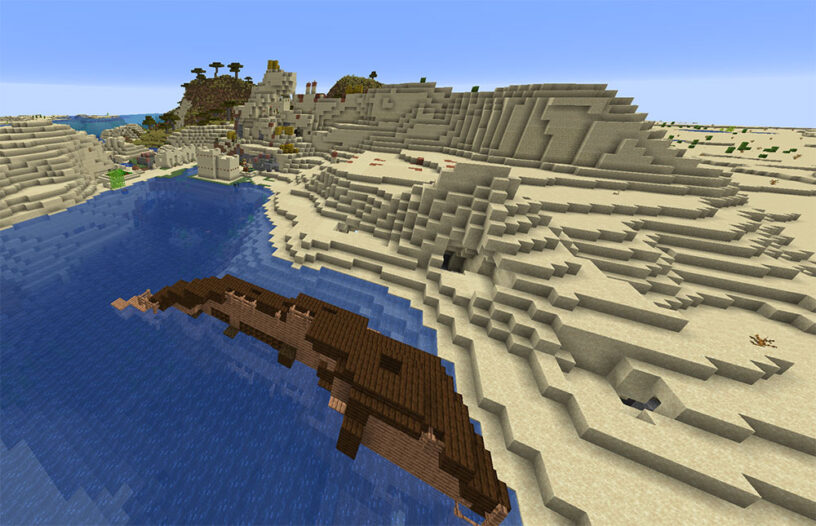 Here's a look at the large boat, village, and ruins area you can find!
Key Locations (Java Coordinates)
Village, Well, Desert Pyramid, Boat, Underwater Ruins: X:-2746, Z: 1393
Large Reef: X:-1924, Z:1493
Mesa/Swamp Mineshaft: X: 1555, Z: -355
Bamboo Forest & Pillager Outpost Near Spawn (Java)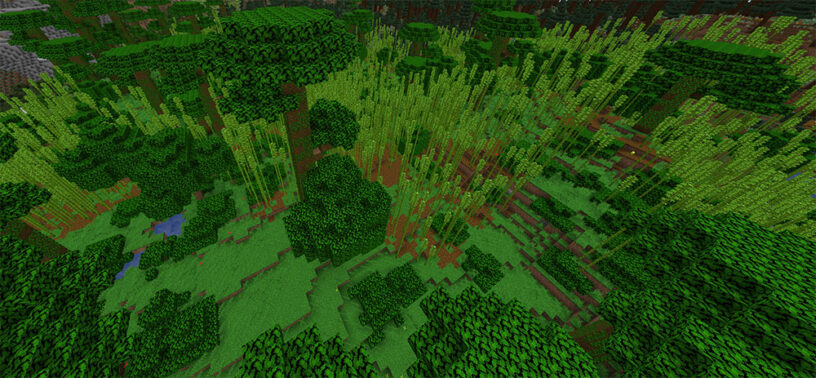 Seed: -1840965877845656856
If you're looking for a huge Bamboo Forest with some beautiful large trees then this is the seed for you. To make things even more exciting, there is a Pillager Outpost right nearby, so be sure to start crafting immediately if you don't want to be quickly dispatched!
Large Reef & Mesa Location (Java)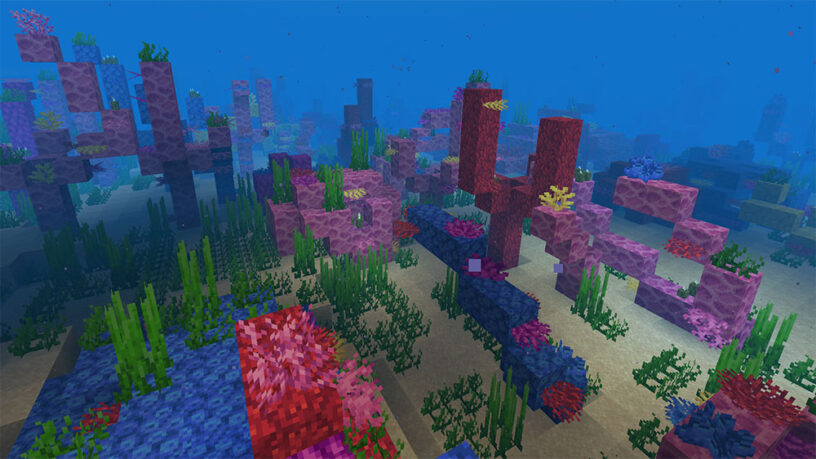 Seed: -8809400317592721666
If you're looking for a nice reef to explore then this seed will be great for you. There's a massive reef right next to your spawn, and you are also near a wonderful Mesa biome that has some beautiful islands layered in the signature earth tones.
Key Locations (Java Coordinates)
Sunken Ship Wreck: X: 279, Z: 96
Village w/Blacksmith: X: 1076, Z: 504
Tons of Biomes Close Together (Bedrock)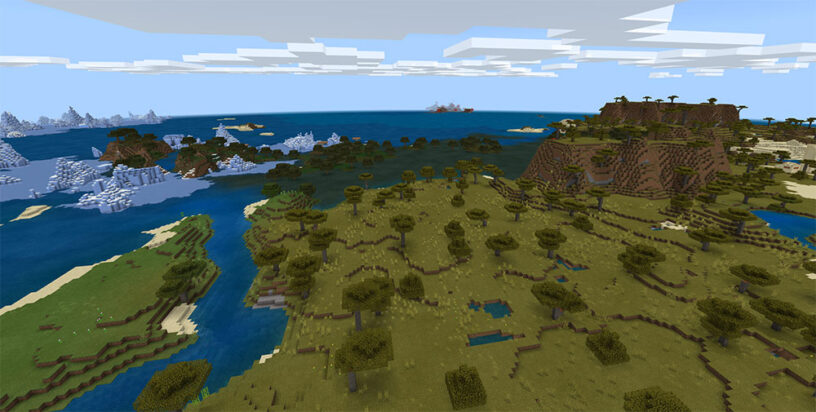 Seed: 266794693
If you want a bunch of different biomes close together then you might want to check this seed out. You've got icy islands, jungle, desert, and swamp all right next to each other. There's a desert village near the spawn, as well as a jungle temple to explore. You can also go deeper into the desert and find yourself an additional village that has a blacksmith!
Key Locations (Bedrock Coordinates)
Desert Village: X: 31, Z: 84
Second Village w/Blacksmith: X: -322, Z: -362
Jungle Temple: X: 360, Z: -218
Many Biomes: Surface Shipwreck, Coral, Desert Village/Temple (Bedrock)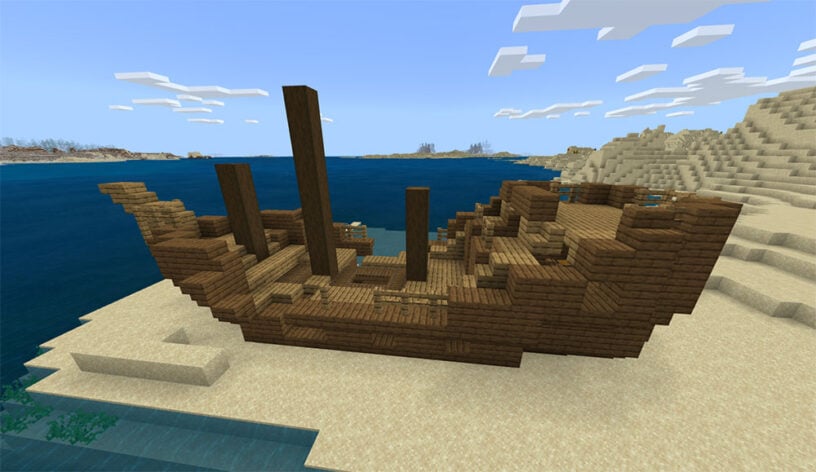 Seed: 343145341
This seed has a lot to offer in terms of biomes, including coral, desert, ocean, and taiga. Also, it has some other great features like a large shipwreck that is on the surface that can be explored. It's also got a nearby desert village and temple, as well as a couple of different Pillager Outposts!
Key Locations (Bedrock Coordinates)
Shipwreck: X: 2927, Z: 207
Ocean Ruins: X: 3299, Z: -111
Coral Biome: X: 3147, Z: 49
Small Village: X: 4033, Z: 123
Desert Pillager Outpost: X: 3129, Z: 376
Snow Pillager Outpost: X: 4009, Z: 603
Igloo Ice Village: X: 4159, Z: 900
Desert Village w/Blacksmith: X: 3586, Z: -389
Desert Temple: X: 3224, Z: -295
Huge Lava Filled Ravine: X: 3570, Z: -445
That's it for now, let me know in the comments what more you'd like to see out of this post! More key locations & coordinates? More variations of seeds? What type of seeds?