Our Minecraft Best Seeds post features a bunch of newly found seeds to start your next Minecraft world. Using specific seeds is a great way to get your adventure started in an exciting area. With the random nature of landscape creation in the game, it's nice to guarantee what you are getting yourself into.
The Shortlist
Java Seeds

King of Java: 1542201397407325465
Marvelous Mountain Island: 24198801
Civilization Five and Six: 2019763973
The Temple Hat: 150589112544105406
Cliffs of Dover: -132767011038296039

Bedrock Seeds

Mountain Faceoff: 8624896
Biome Diversity: 79067
Lush Jungle Mountain: 708126700

The Goodlands: -78688046
The D&D Dream: 1613969106
Java Seeds (1.18)
King of Java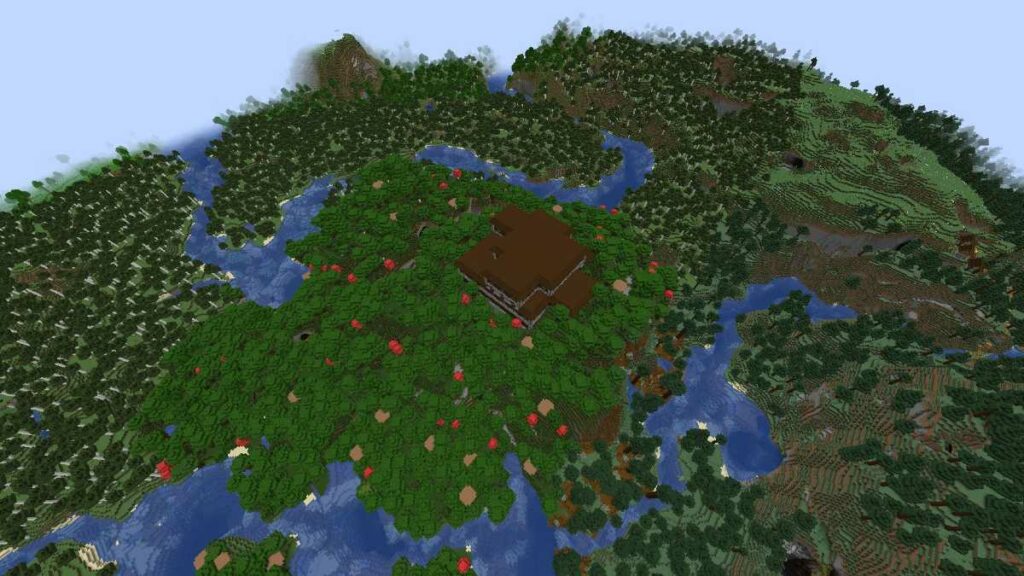 Seed: 1542201397407325465
This seed is in the running for one of the best seeds we have seen in 1.18. You start the seed right on top of a mansion, but that's not the only thing that makes it great. Withing 2500 blocks of spawn, you'll find every overworld structure and almost every type of biome. This is the perfect seed for those players who want to own their own mansion and have access to everything Minecraft has to offer. Seeds like this do not come by often. Don't forget to check out our King of Bedrock seed below to see its Bedrock counterpart!
Key Locations

Woodland Mansion: Spawn
Village: -208 -272
Jungle Temple: 648 520
Desert Temple: 1032 824
Shipwreck: 408 -72
Marvelous Mountain Island
Seed: 24198801
This seed is one of the best ones we've seen in 1.18 so far. You start off on a massive island full of mountains. The biggest mountain is the best one in this map, as it is hollowed out in many areas and it's home to a Mountain Village. Oh, and did we mention the Mushroom Island near the spawn island?
Key Locations

Nether Portal: 120 40
Village: 192 96
Shipwreck: 248 8
Shipwreck: -152 248
Mushroom Island: 450 -150
Civilization Five and Six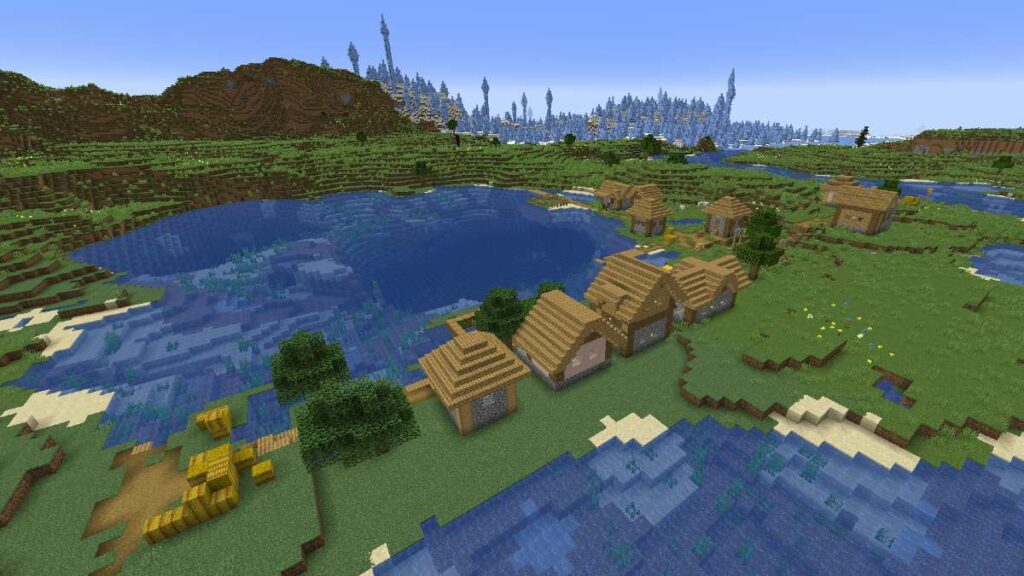 Seed: 2019763973
This seed works as both a Java seed and a Bedrock seed. In the Java seed, you spawn within 1000 blocks of five villages, and in the Bedrock version, you spawn within 1000 blocks of six villages! Brooding over the villages and undoubtedly preparing for an attack is a Pillager Outpost. Further out in the opposite direction of the Villages is a huge snowy biome with dozens of Igloos and several other Villages!
Key Locations

Village #1: 192 80
Village #2: -305 272
Village #3: -368 -160
Village #4: -816 -144
Village #5: -944 192
Pillager Outpost: -1216 352
Ice Biome: East (Positive X)
The Temple Hat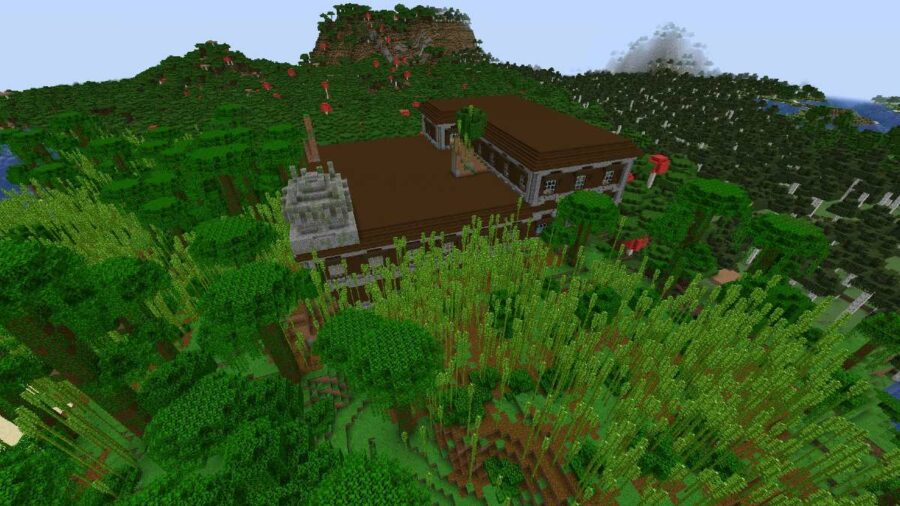 Seed: 150589112544105406
For the first time in our Minecraft seeds lists (and possibly the only time), we bring you a Mansion seed that has a Mansion with a Jungle Temple generated on top of it. Jungle Mansions are rare enough, but to have two of the rarest structures in the game form one on top of the other may be a once-in-a-lifetime opportunity. Instead of busting through the front door to claim the Mansion, you have the option to grab any loot you can in the Jungle Temple on top and use it to help you claim this mega-rare complex!
Cliffs of Dover
Seed: 1613969106
On this seed, you spawn near massive cliffs overlooking a long, winding river. What's more than that, you are just a few blocks away from a village, which you can make your home as you adjust to the beautiful surrounds around you.
Key Locations

Nether Portal: 40 8
Village #1: 344 88
Outpost #1: 40 520
Village #2: 392 -216
Outpost #2: 328 -488
Village Mountain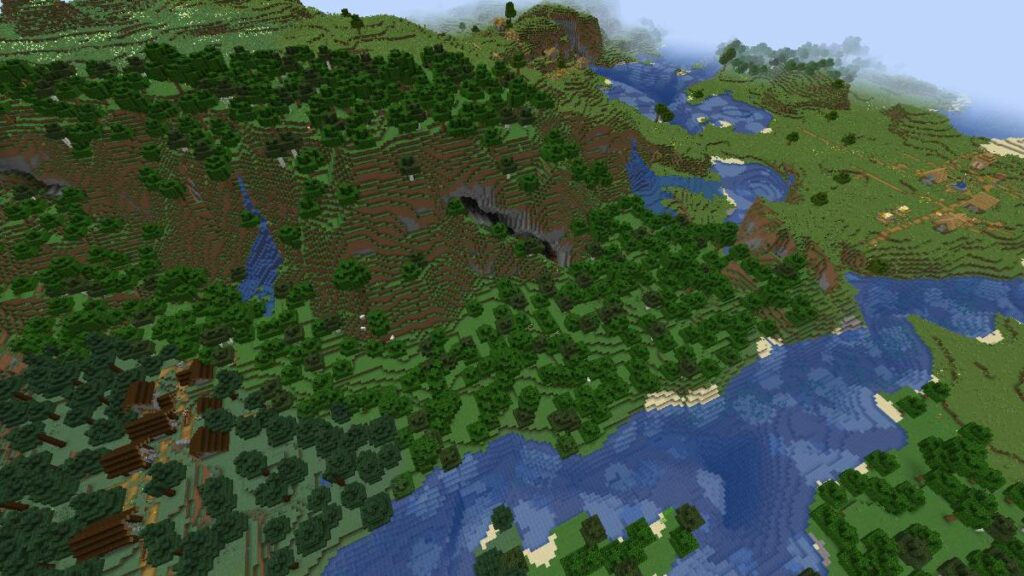 Seed: 292038360
It may be hard to see, but three villages are surrounding the mountain in the image above. The best part? You spawn on that mountain! This seed is a wonderful option to use if you're just starting 1.18 and want to have a slight advantage while exploring the incredible new world generation. You can either use this as a starting point or reign over your village citizens below and build a giant castle on the mountain.
Key Locations

Spawn: 98 110 -139
Village #1: -15 100 -15
Village #2: -180 70 110
Village #3: -168 71 -150
Bedrock Seeds (1.18)
Mountain Faceoff
Seed: 8624896
This seed started off as one of 1.18's best seeds, and it continues to hold that title. You spawn next to a beautiful ring of mountains and within walking distance of two mountainside villages. Not too far away are two ominous Pillager Outposts, ready to cause trouble. Is this seed a battle for control of the mountain between good and evil?
Key Locations

Village: -216 -264
Village: 232 232
Pillager Outpost: -584 296
Pillager Outpost: 200 536
Ruined Portal: -280 40
Biome Diversity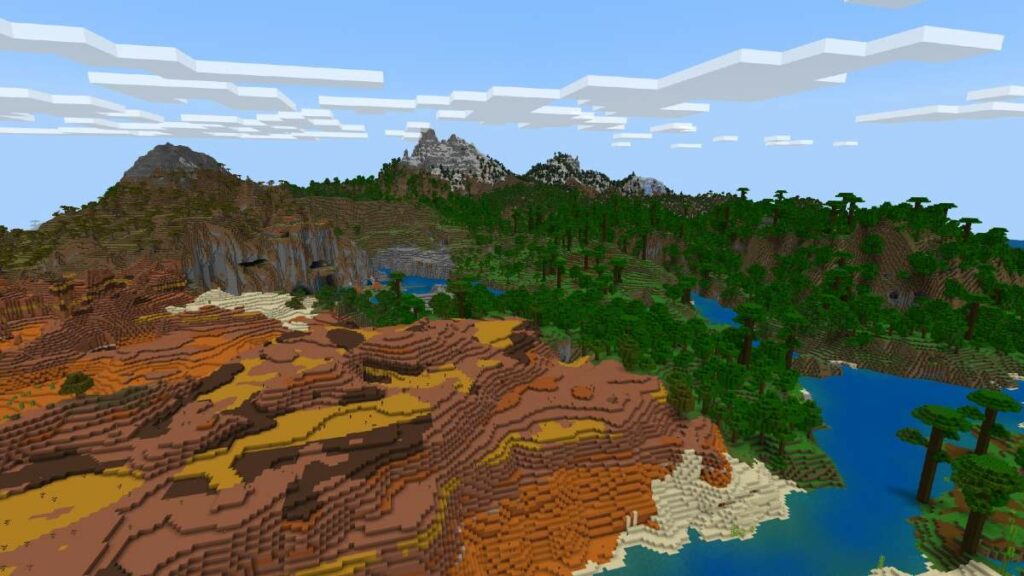 Seed: 79067
If you've been wanting to find a permanent 1.18 home base seed, this is should definitely be on your list of contenders. In it, you'll find you don't have to walk far to find every climate available in Minecraft and almost every biome in the game. If you plan to set up an entire network of bases that have access to all kinds of biomes and resources, then start here.
Key Locations

Jungle Temple: -168 216
Village: 200 312
Mushroom Island: -400 -400
Pillager Outpost: 472 376
Nether Portal: 312 168
Lush Jungle Mountain
Seed: 708126700
You'll have a very hard time deciding on whether you'd liked to live on the surface or underground on this map seed. You spawn in a large Jungle Biome and near a village and Jungle Temple. However, less than a couple hundred blocks away is the entrance to an expansive Lush Cave that brings just as much plant life and beauty to under the world's surface. Do you think you can choose underground or surface living? Por qué no los dos?
Key Locations

Jungle Temple #1: -152 216
Jungle Temple #2: 568 200
Village #1: -392 156
Village #2: -488 344
Lush Cave: 34 118
The Goodlands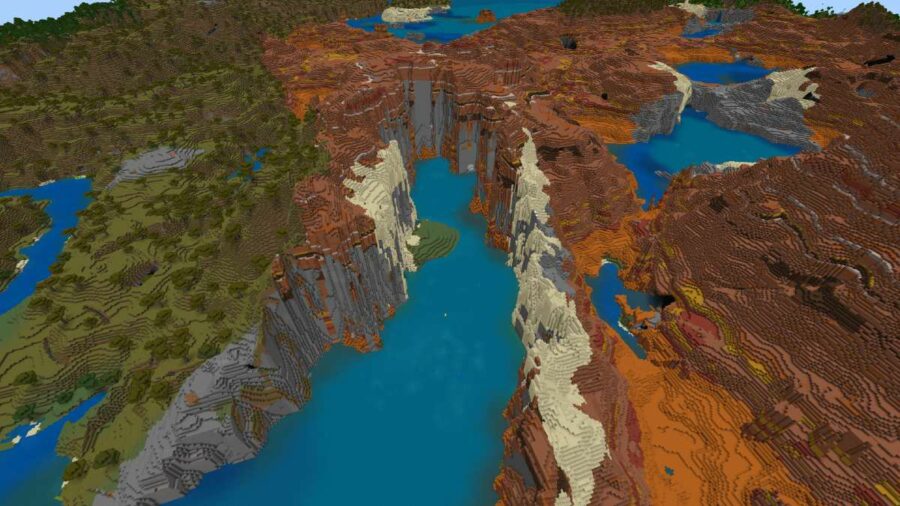 Seed: -78688046
This is our favorite seed so far for Minecraft 1.18. You spawn in what is supposed to be the Badlands, but the size and beauty of it all are anything but bad. In the Badlands, you'll find massive craters filled with water and a Coral Reef in a massive alcove that separates the Badlands from a sizeable Savannah biome.
Key Locations

Village: -360 -360
Abandoned Village: -872 -296
Jungle Temple: 40 696
Stronghold: -812 -844
Nether Portal: 120 -280
The D&D Dream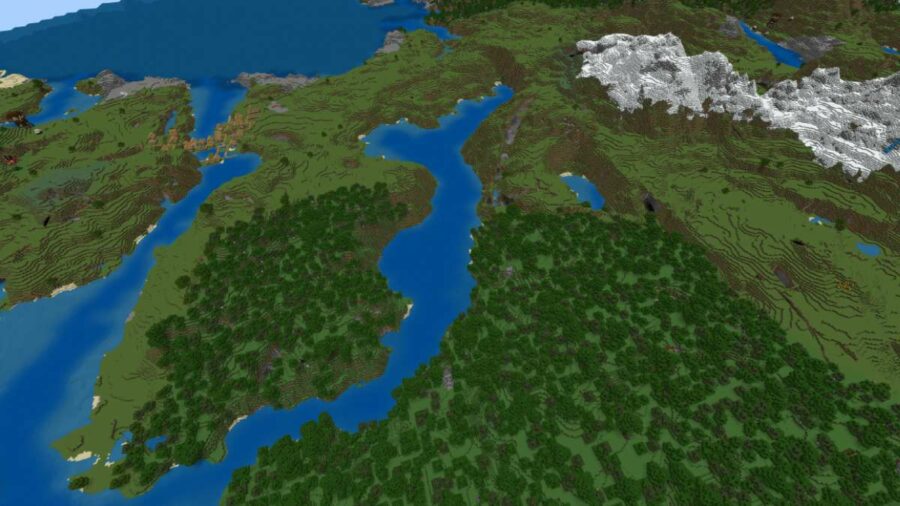 Seed: 1613969106
It might be hard to see, but there is a lot going on in the image preview above. This seed spawns you right in the middle of a Dungeon Masters dream world. You start near a long river that leads to a port city overlooking an ocean. Near this city are two things: an Outpost and a Nether Portal. Across the river is a short mountain range, and in a different direction you'll find a massive forest. This map is certainly an easy one to make an adventure.
Key Locations

Port City: 40 296
Mountain Ranges: -430 200
Outpost #1: 296 392
Outpost #2: -872 376
Nether Portal: 280 328
Don't forget: All Bedrock seeds work on all versions of Minecraft except the PC Version, which runs Java. Minecraft for Windows 10 also uses Bedrock Edition!