Our Minecraft Best Seeds post features a bunch of newly found seeds to some good areas to start your next Minecraft world. We have cool seeds for every type and version of the game! Seeds are a great way to get your adventure started in an exciting area. With the random nature of landscape creation in the game, it's nice to at least have some guarantee of what you are getting yourself into.
Our list of some of the best Minecraft seeds will give you a bunch of fun starting point options for your next world! I've listed what version of Minecraft they will work with. Bedrock works with the Windows 10, Nintendo Switch, Xbox One, and mobile versions! We'll be listing some coordinates along with each seed, so that you can check out some key areas in the various areas of the world. You can enable coordinates when you create a world in Bedrock or use the F3 key on Java. You can also make your way over to the spot or use the /teleport command!
Best Minecraft Seeds
The Shortlist
Java Seeds

Neverwinter: 627689198065479624
Mansion Oasis: -1167558203395702077
All Biomes Near Spawn: 64971835648254
The Badlands Monument: 6106940150691661575
Beautiful Mountain Top Village at Spawn: 46663436141796529

Bedrock Seeds

Mesa So Alone: -1479345304
Simple Start, Great Opportunities: salmon
The Pillager Challenge: 1613434103
Ocean Monuments Galore: -1113465022
A Gorgeous Start: 1487266664
Java Seeds
Neverwinter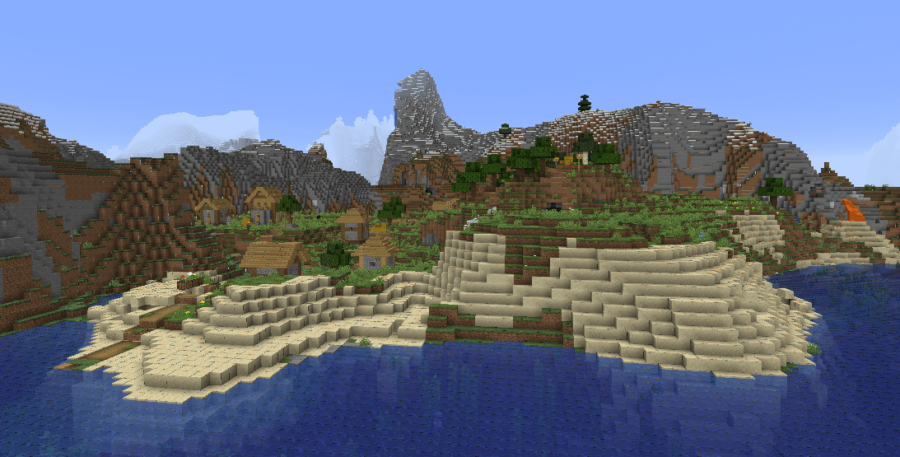 Image via: Pro Game Guides | Discovered By: Plebiain | Seed: 627689198065479624 | Platform: Java 1.16+
In this beautiful map seed, you spawn right inside a coastal Village that is surrounded by mountains. This is the perfect location to build a massive empire that is protected from raids and pillages. There is only one direction for enemies to come from, so it's really just a matter of fortifying your defenses there. You can also take advantage of the massive mountains and mine straight through them from your hometown.
Key Locations

Village #1: 70 80 20
Village #2: 120 80 520
Village #3: -810 80 75
Stronghold: 1380 35 1252
Mineshaft: 20 35 60
Mansion Oasis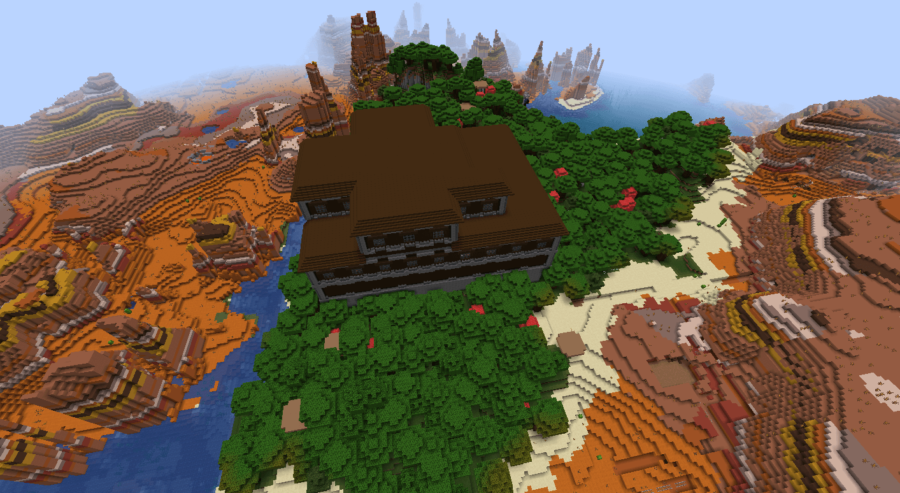 Image via: Pro Game Guides | Discovered By: Killstepz | Seed: -1167558203395702077 | Platform: Java 1.16+
In this wonderful mansion map, you spawn in the middle of a massive Jungle biome with a Mesa Biome all around you. If you go a bit Southwest and cross the Mesa, you will find a pleasant oasis area locked in by the Mesa Biome with a Woodland Mansion! This is an extremely rare find and makes a wonderful base of operation (once it's cleared out) with a fantastic, warm-colored view!
Key Locations

Woodland Mansion: 125 80 125
Zombie Spawner: 44 12 93
Three Zombie Spawners: -18 42 -123 | -2 47 -126 | -12 30 -133
Mineshaft: 200 30 10
Village: 50 80 825
All Biomes Near Spawn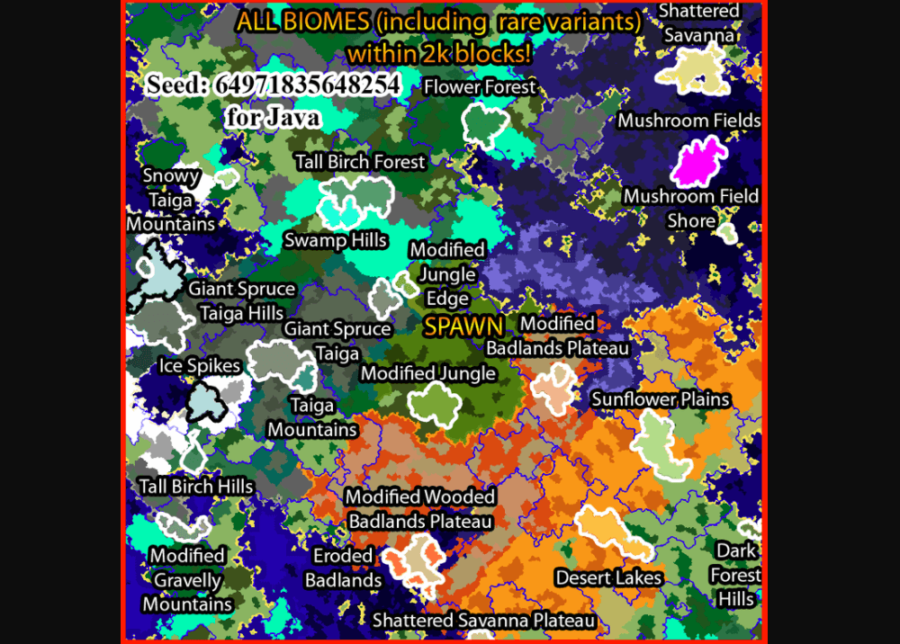 Credit: BigBrain5Head - Seed: 64971835648254 - Platform: Java
Seeds like this are one in a million. From your spawn location, you will find every single Biome in on the list, including the rare variants. Some of those variants are rare enough by themselves, but to have them all show up near spawn is almost impossible. This is the perfect map for you if you want to access to every resource in the game. Talk about taking over the world!
Key Locations

Jungle Temple #1: 56 80 360
Jungle Temple #2: 184 80 552
Jungle Temple #3: -408 80 360
Ocean Monument: 536 40 -280
Witch Hut: -248 70 -408
The Badlands Monument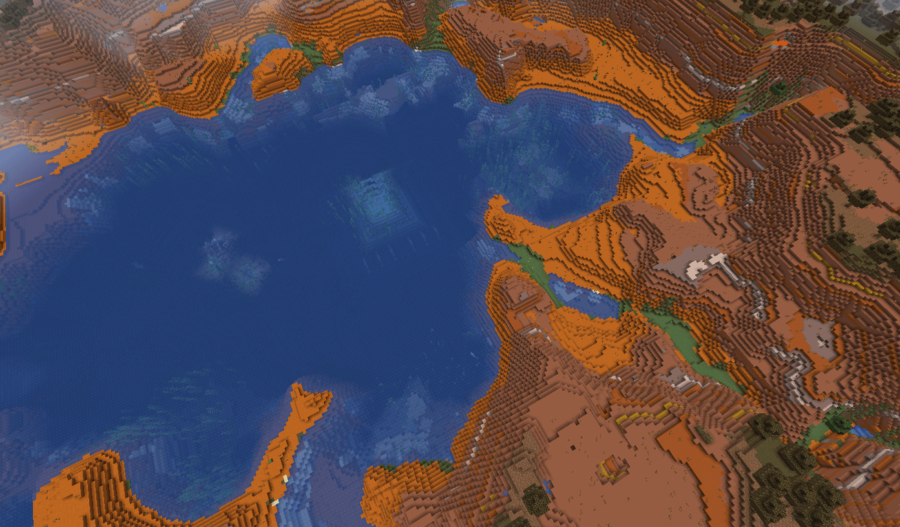 Credit: BigBrain5Head - Seed: 6106940150691661575 - Platform: Java
We wanted to include this seed because it has an fascinating spawn location. Badlands aren't the most common of Biomes, but this seed spawns you next to a large lake in the Badlands, with an Ocean Monument right in the center! If you've ever been to Salt Lake City, you'll feel like this is the Minecraft version of it.
Key Locations

Ocean Monument: 24 40 8
Village #1: 372 80 804
Village #2: 836 80 676
Shipwreck #1: 168 40 -360
Shipwreck #2: -280 40 520
Beautiful Mountain Top Village at Spawn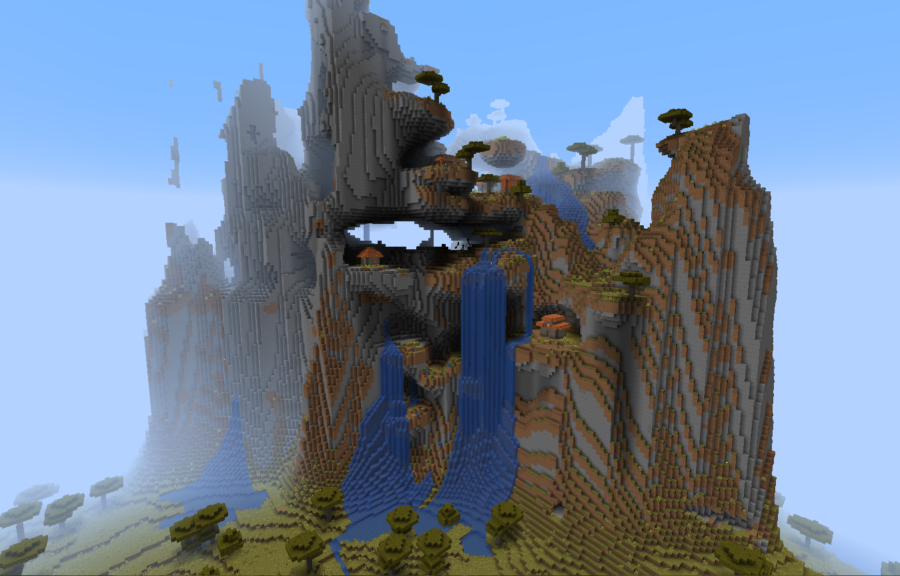 Credit: BigBrain5Head - Seed: 46663436141796529 - Platform: Java
This seed is just breathtaking, as soon as you spawn you can see the height in which you are. You can see all the beauty all around you. Then as you climb down and look up, you can see the water cascading down the mountain like a waterfall, encasing the village, it's just wonderful.
Key Locations

Desert Temple: 152 328
Desert Temple #2: 216 -408
Desert Temple #3: 104 -744
Mushrom Biome: -1287 300
Witch Hut: 856 1112
Stronghold: -1640 -496
Ruined Portal: 136 -280
Shipwreck: -280 8
Bedrock Seeds
Mesa So Alone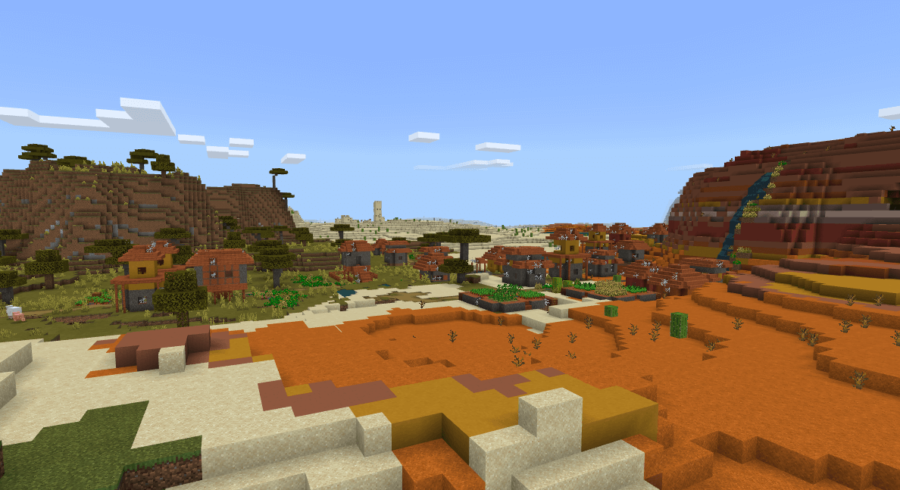 Image via: Pro Game Guides | Discovered By: i_LOVE_Turt1es | Seed: -1479345304 | Platform: Bedrock 1.16+
You spawn in a Mesa Biome near two abandoned villages on this map. Mesa biomes are known to be very aesthetically pleasing, and this is your perfect chance to figure out the secret to why the Villages nearby are abandoned. Legend has it, there is a Villager house on a floating island somewhere on the map. Perhaps the Villagers there will know the secrets?
Key Locations

Village #1: 2700 80 200
Village #2: 2650 80 520
Mineshaft: -2120 40 375
Stronghold: 1956 40 -1020
Floating Island Village: 3994 102 -233
Simple Start, Great Opportunities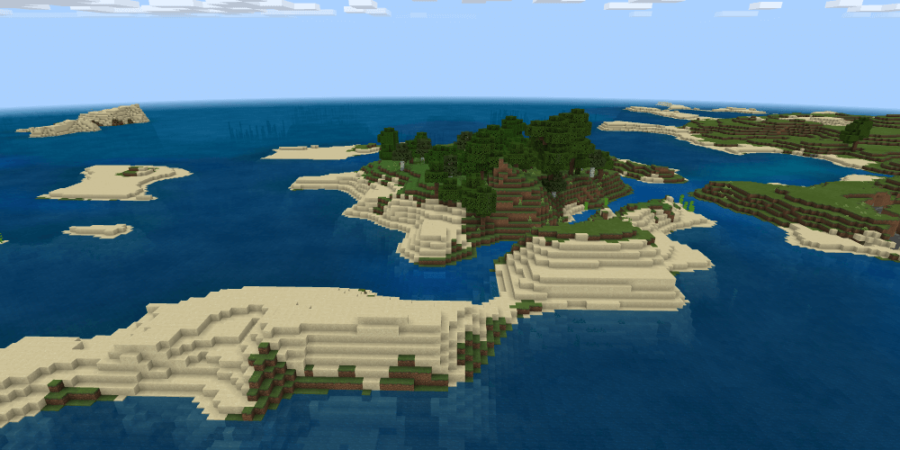 Image via: Pro Game Guides | Discovered By: Electrical-Donkey917 | Seed: salmon | Platform: Bedrock 1.16+
As you can see in the image above, this seed provides the classic Minecraft spawn experience. Begin your adventure on an island, but be ready to conquest almost everything the game has to offer! This seed was put in the spotlight because you can find almost every single type of structure within 2,000 blocks of the spawn. This not only includes Overworld structures but Nether structures as well. If you were looking to find the best structures for the best gear, this is your map seed!
Key Locations

Overworld

Ocean Monument: 135 40 203
Village: -653 90 -349
Ruined Portal: -519 80 -583
Woodland Mansion: -900 80 -999
Ravine w/ Stronghold & Mineshaft: -1390 50 -994

Nether

Bastion Remnant: -7 50 -93
Nether Fortress: -47 50 -164
The Pillager Challenge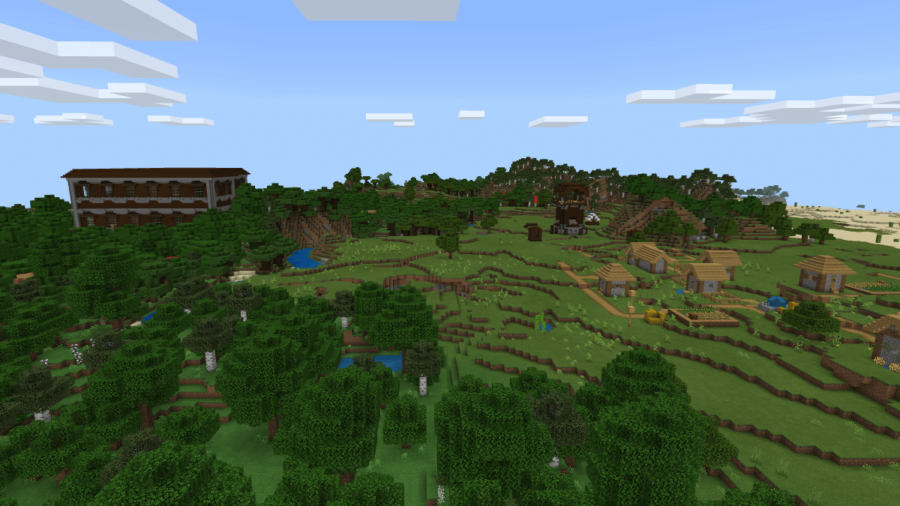 Credit: Flamewaker4848 - Seed: 1613434103 - Platform: Bedrock
This challenging seed provides a fun quest for you right when you spawn! It spawns you a short walk away from a Village, a Mansion, and a Pillager Outpost. For those of you who like to get right to the action when you spawn, you can challenge yourself to protect the town and conquer the Outpost and Mansion. If you succeed, this seed has provided you a perfect starting point for a Survival world!
Key Locations

Village Near Spawn: 1060 80 460
Woodland Mansion: 1660 80 330
Pillager Outpost: 1480 80 350
Stronghold: 1630 1040
Ocean Monument: -310 -660
Ocean Monuments Galore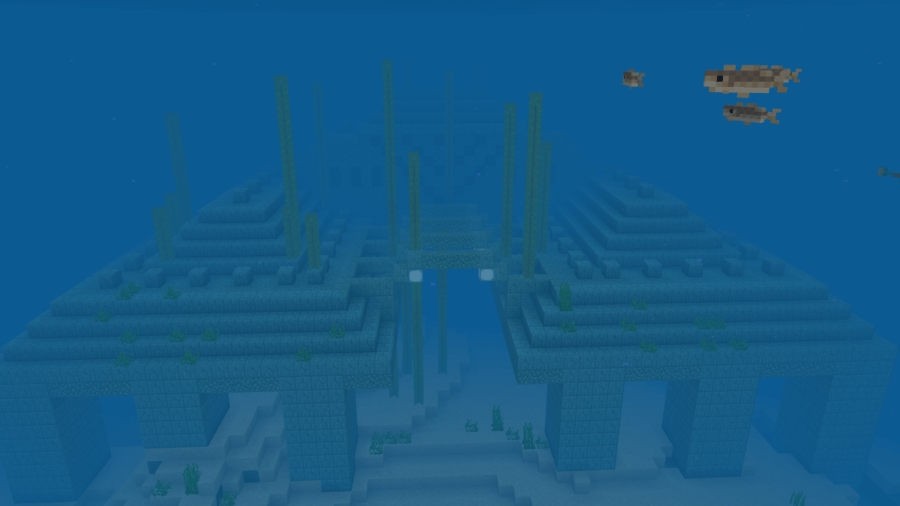 Credit: Girly-Gamer - Seed: -1113465022 - Platform: Bedrock
If you like Ocean maps, this seed is perfect for you. You spawn on a small island with a single tree. This is a slow start map, but you'll find yourself in solitude with an easily defensible base. When you're ready, you have dozens of Ocean Monuments not far away. The closest five Ocean Monuments are listed below!
Key Locations

Ocean Monument #1: 140 40 -380
Ocean Monument #2: 340 40 215
Ocean Monument #3: 240 40 735
Ocean Monument #4: -780 40 60
Ocean Monument #5: 200 40 -840
A Gorgeous Start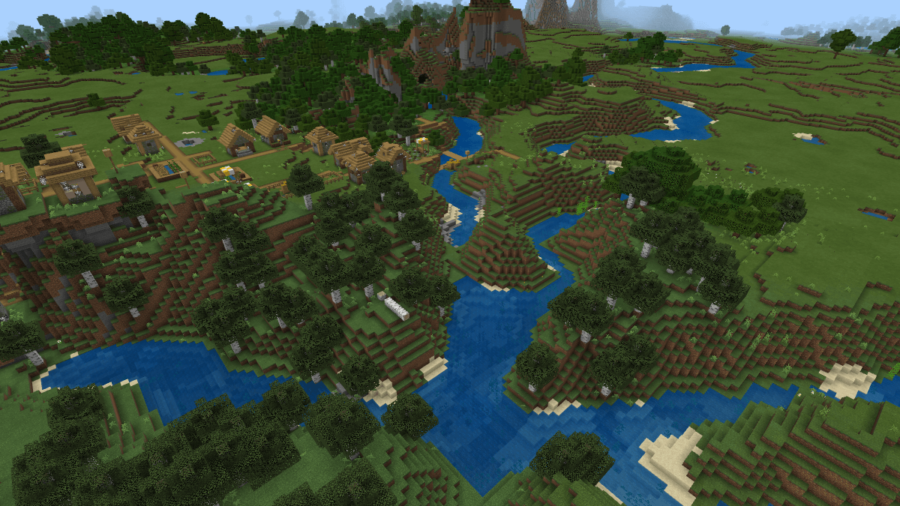 Credit: MinecraftChill- Seed: 1487266664 - Platform: Bedrock
The thing we like most about this seed is that it provides a classic Minecraft experience. For us veteran players, there was nothing better than finding a perfect spawn with lots of resources and a beautiful setting. These are types of maps that draw you in for hours as you build a comfortable base, and the ones you remember when you're feeling nostalgic. Try this map for one of the most pleasant Minecraft experiences!
Key Locations

Village: 225 80 -750
Stronghold #1: -770 -660
Stronghold #2: -1250 -770
Pillager Outpost: -980 80 -870
Desert Temple: -480 80 120
What is a Minecraft Seed?
A seed is a randomly generated number that represents a specific world that has been created when you start a new game of Minecraft. This seed can be used by other players to play in the exact world you are playing in!
How to Use Minecraft Seeds
Using Seeds in Minecraft is relatively simple, and the process is largely the same across all versions of the game. When you are creating a new world, look for the "More World Options..." area, or in some cases you'll just find a blank text box that you can paste your seed code into.
Once you find this box, paste the particular seed you want to load into it and you're done! The more complicated part, is that some seeds don't work for some versions of the game. For example, all positive seeds (numbers without a - at the beginning of them) are usable from Bedrock to Java. Furthermore, if you have a negative seed from Bedrock, you have to add 4294967296 to it for it to work in the Java version (Learn more here). Finally, negative Java seeds will NOT work in Bedrock at all. There will be irregularities between Bedrock and Java seeds, which can include differences in neutral temperature and ocean biomes.
If you've got an updated version of Minecraft on your mobile device or console (Nintendo Switch, PlayStation 4, or Xbox One), then all Bedrock codes should work!
Minecraft Seeds Coverage