We're looking at some of the best Mushroom Island Seeds you can enjoy when you start up your next game of Minecraft! We have several Mushroom Seed types for
Lists of the Best Minecraft Mushroom Island seeds are in high demand because they are considered much safer spawns than any other biome, since hostile mobs do not spawn on Mycelium blocks. In fact, the only mobs that spawn on these biomes are Mooshrooms and Bats! That means you can safely build whatever you want on the island without worrying about being attacked!
Best Minecraft 1.19 & 1.18 Mushroom Island Seeds List
Best Minecraft Java 1.19 Mushroom Island Seeds
A Very Humid World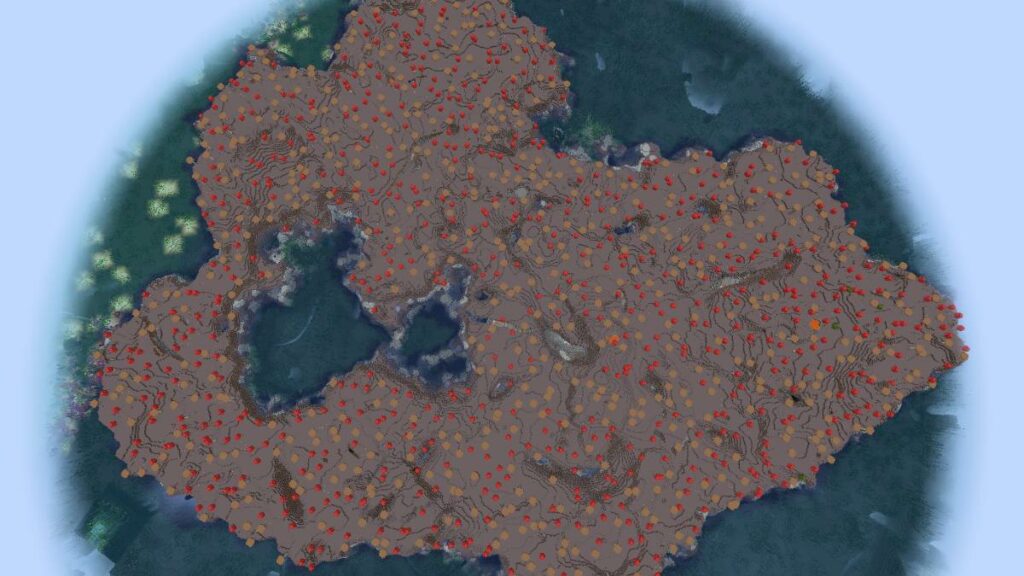 Seed: 29000163
The area surrounding spawn in this world is packed with humid or hot environments, including a big Mushroom Island (roughly 1,000 by 1,000 blocks in area) only a couple hundred blocks from spawn. Once you've established your base on the mob-free Mushroom Island, saddle up and explore the rest of the surrounding area to find many other warm biomes like Deserts, Mangrove Swamps, and Jungles!
Key Locations

Mushroom Island: 50 0
Shipwreck: -88 184
Shipwreck: 56 72
Ocean Monument: -248 -280
Ocean Monument: 808 376
Mushroom Rorshach Test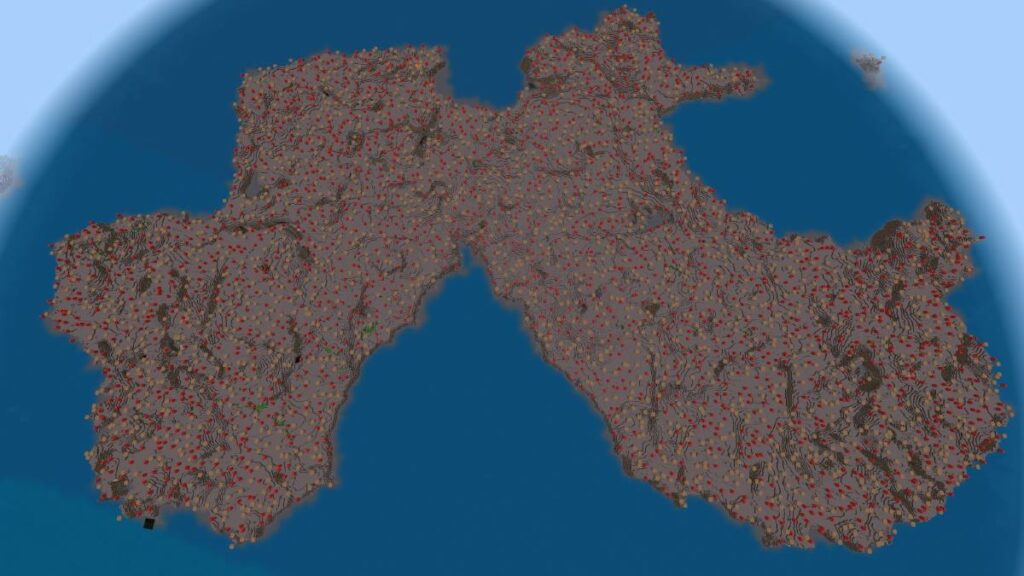 Code: -2371172034543136718
This is one the most interesting Mushroom seeds we have seen in Minecraft 1.19 so far, as it contains a large Mushroom Island landmass that looks like a Rorshach test. It is not only an interesting shape—it's also massive! When you include the smaller islands, this Mushroom Island spreads over 2000 blocks, which is extremely rare near the spawn. When you consider the numerous structures and biomes nearby, this should be your first go-to if you're looking for 1.19 Mushroom seeds.
Key Locations

Village: 720 -384
Shipwreck: 680 -536
Shipwreck: 408 -376
Mushroom Island: 350 -400
Ocean Monument: 664 200
Best Minecraft Bedrock 1.19 Mushroom Island Seeds
Mushrooms on the Coral Reef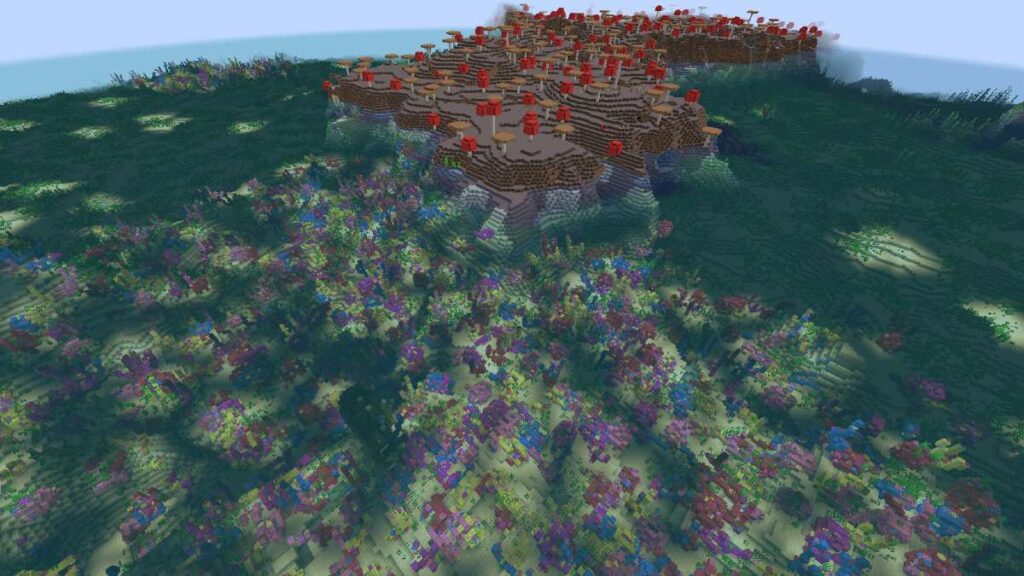 Seed: 137000608
Enjoy the best of both form and function in this Minecraft seed where you spawn a short boat trip away from a Mushroom Island that branches into a beautiful Coral Reef. If you're looking for a peaceful beginning to your game but struggle to get beautiful scenery (a common problem on Mushroom Island maps), you can remedy that problem with this seed. Add some color to your world while you stay safe from mobs!
Key Locations

Mushroom Island: 225 -400
Village: 680 -1016
Jungle Temple: 1032 -712
Ocean Monument: 200 168
Mushroom Island Drift
Code: 36000036
We chose this seed as the best Mushroom seed for Minecraft 1.19 Bedrock because it starts you close to a fascination geological formation that you're not likely to see in any other seed. A few hundred blocks away from spawn is a large Mushroom island that seems to have broken apart and drifted into several smaller segments. Many of these segments are surrounded in ice, which makes one wonder just how this drift was possible. When you combine the rarity of the formation and the myriad of structures near spawn, this is a great way to start The Wilds update!
Key Locations

Mushroom Island: 325 -30
Ocean Monument: 232 328
Shipwreck: 424 408
Shipwreck: 136 504
Best Minecraft Java 1.18 Mushroom Island Seeds
Shipwrecks Around Sharktooth Island
Seed: -3066707496599231880
You don't start off on a Mushroom island on this seed, but you are a mere 500 blocks away from a peculiar Mushroom Island shaped like a shark's tooth. Surrounding Sharktooth Island are over 40 Shipwrecks, which leads us to wonder exactly what kind of curse you might be under if you decide to make the island your home. Of course, it could just be a coincidence. Maybe the 10 Ocean Monuments surround the island are actually to blame? We've listed the locations of a few of them below, but you'll have to find the rest on your own!
Key Locations

Mushroom Island: 15 390
Shipwreck: -136 664
Shipwreck: -136 248
Ocean Monument: -312 200
Ocean Monument: -728 168
Monumental Mushroom Island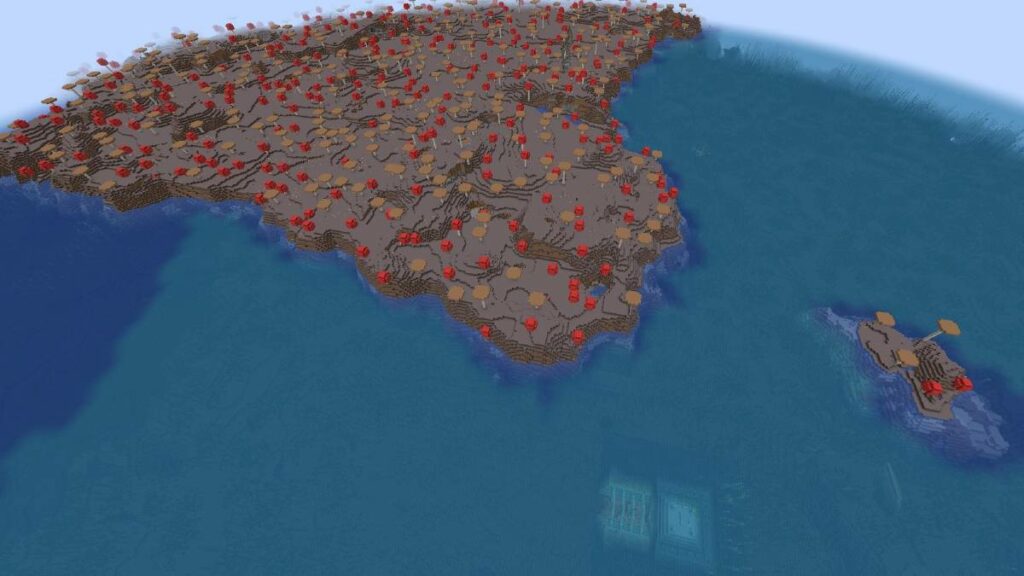 Seed: 7913039298569672318
The Mushroom Island near spawn on this seed is not the only enticing part about it: there are also over a dozen Ocean Monuments in the large Ocean surrounding the Mushroom Island. In fact, you may run into one of them on your way from Spawn to the to the monumental Mushroom Island. We've provided the locations for a few of them below, but you'll have to explore this amazing seed yourself if you want to find the rest!
Key Locations

Mushroom Island: -305 -149
Ocean Monument: 152 -216
Ocean Monument: -328 -776
Ocean Monument: -872 -232
Ocean Monument: -312 344
Coral Mushroom Island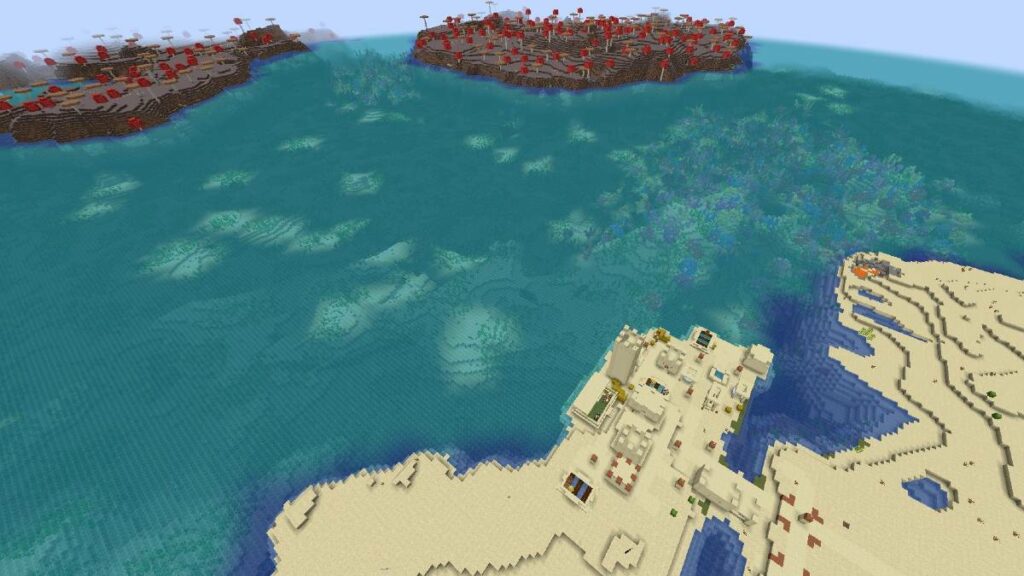 Seed: 1394249242
If you're a fan of easy beginnings and beautiful views, this is the seed for you. You start off only a couple hundred blocks away from a medium-sized Mushroom Island. Not only is this island easy to access, but it is also completely surrounded by multiple beautiful Coral Reefs. When you establish your starting base on the island, you can look in any direction and you'll never be disappointed!
Key Locations

Village: 112 176
Shipwreck: 232 40
Mushroom Island: 10 -50
Ruined Portal: 40 8
Shipwreck: -72 40
Best Minecraft 1.18 Bedrock Mushroom Island Seeds
Big Desert and Big Mushroom Island
Seed: -1677612650
This is a great Desert/Mushroom Island/Coral Reef seed where you start next to a Desert Temple and a Desert Village that are on the coastline of a massive Coral Reef. Across from the Coral Reef is one of the biggest Mushroom Islands you'll ever see—spanning over 4k blocks! If you want a great starter seed with access to plenty of important structures and a beautiful Coral Reef, start with this one.
Key Locations

Desert Temple: 376 -168
Ruined Portal: 56 152
Shipwreck: 50 200
Mushroom Island: 260 560
Shipwreck: 584 104
Big Ol' Mushroom Island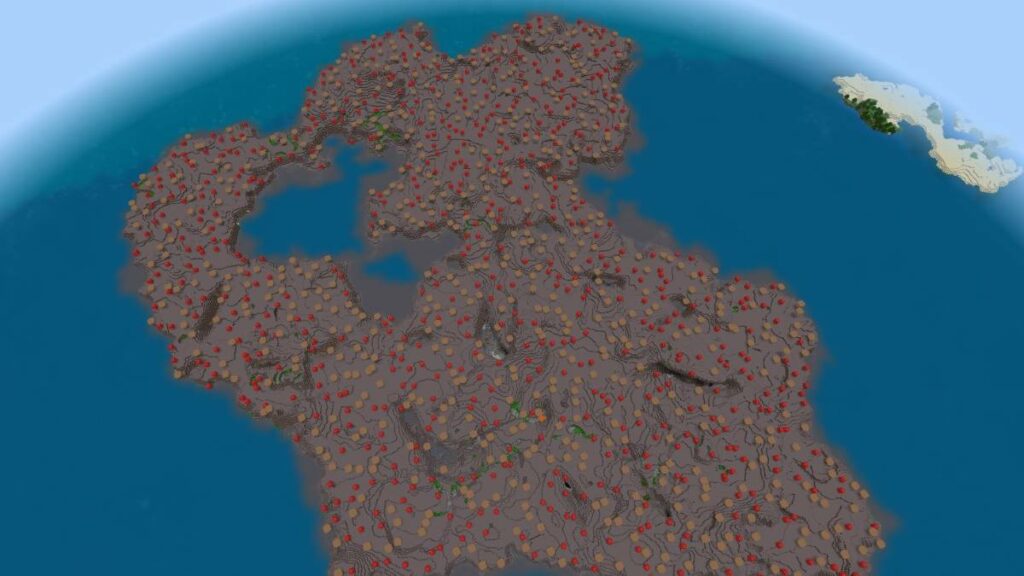 Seed: 29000163
This seed is what most people think of when they're looking for an ideal Mushroom Island. You start the world with easy access to several Buried Treasure chests. When you're ready, grab a boat and take a short trip east (positive X) to land at a massive Mushroom Island. If you hate the hustle of surviving the first few nights, this is a wonderful seed to try.
Key Locations

Buried Treasure: -248 72
Buried Treasure: -248 152
Buried Treasure: -248 216
Mushroom Island: 100 250
Shipwreck: 56 152
Sad Mushroom Archipelago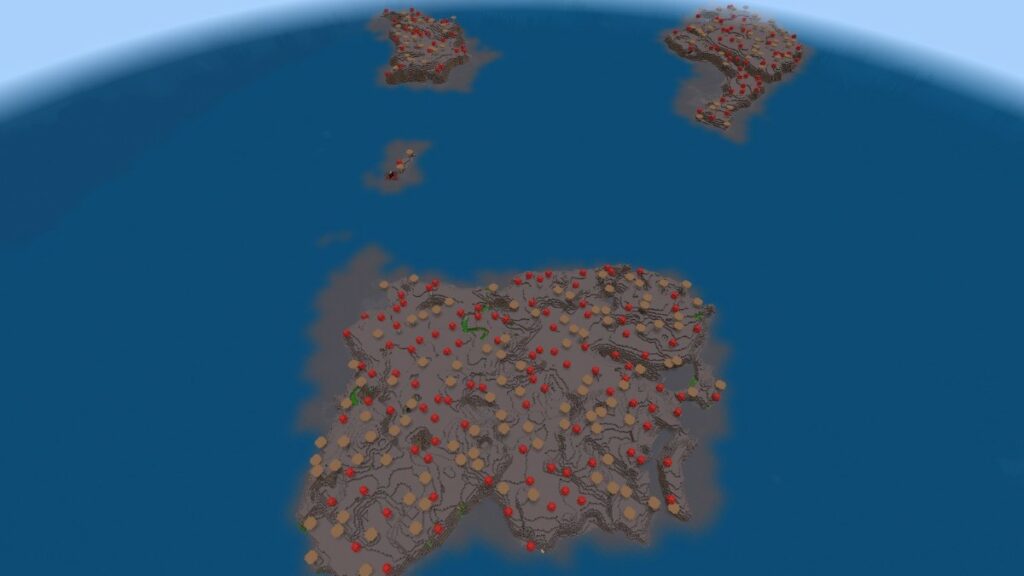 Seed: 41000260
Just like the seed listed above, this seed spawns you next to several Buried Treasure chests. When you sail south from spawn, you will go through an archipelago that forms the shape of a sad face that seems to be crying. To top it all off, the "tear" of the Sad Mushroom Archipelago has a Ruined Portal with a Crying Obsidian block. Perhaps this group of islands is sad because of the five Ocean Monuments surrounding it?
Key Locations

Mushroom Island: -200 10
Ocean Monument: -248 -328
Ocean Monument: -168 296
Ocean Monument: 696 -296
Ruined Portal: 296 264
If you want to find some seeds with just diamond, be sure to check out our Minecraft Diamond Seeds post! We've also have a lot more seed options on our Best Minecraft Seeds post.