If you're looking to explore the oceans and live among the fish then we've got a bunch of great Minecraft Coral Reef Seeds for you to check out! These are for both Bedrock and Java, so you should be able to find something you like on any platform. Making yourself an underwater sanctuary is a bit of a different challenge, so it's worth giving a shot if you've done just about everything else!
The Shortlist
Bedrock

Coastal Coral Cove: 11000001
The Caribbean Savannah: 220735489
Coral Kingdom: 368592799

Java

Coral Oasis: -404108749251477019
Coral Water Wonderland: 1730875277296305186
The Coral Badlands: -3707816544166824799
Bedrock Seeds
These seeds also work in Java, but the key locations will not be accurate.
Coastal Coral Cove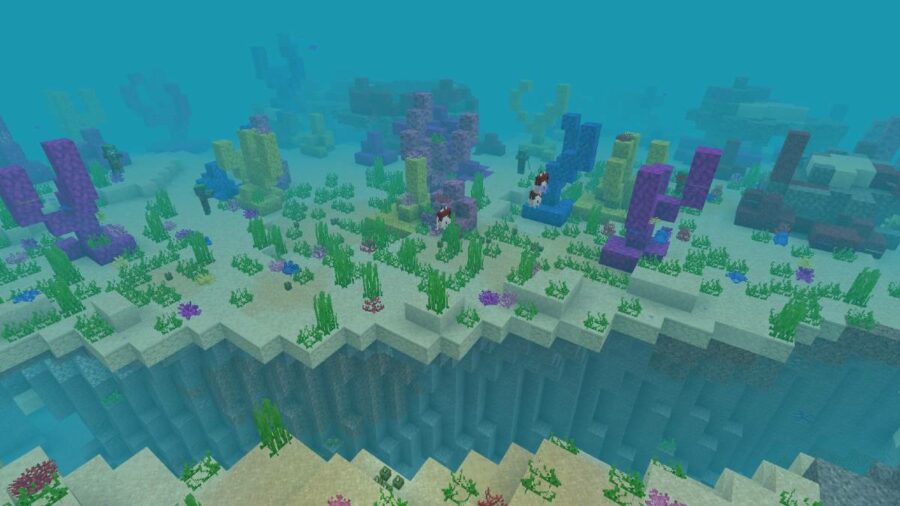 Seed: 11000001
Looking for immediate access to a Coral Reef? This is the seed for you. You spawn in a swamp and need only to walk a few blocks to dive into a warm coastal region that is absolutely filled with a Coral Reef. The entire area also highlights the new cave generation system with dozens of massive, underwater caves for you to explore. This is the best Coral Reef seed for Bedrock that we've found so far!
Key Locations

Nether Portal: -567 72
Mineshaft: -456 120
Shipwreck #1: -152 40
Shipwreck #2: 24 24
The Caribbean Savannah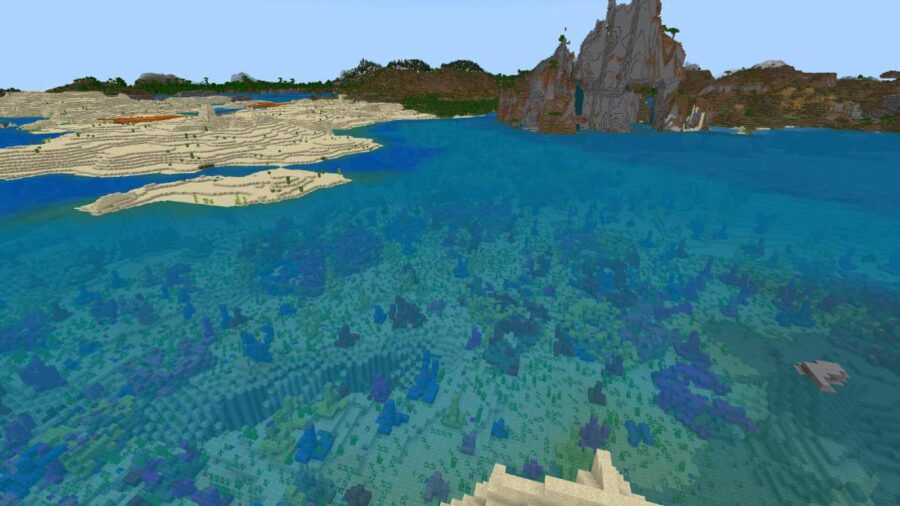 Seed: 220735489
The Coral Reef in this seed isn't massive, but the area around the Coral Reef is what made us want to add this to the list of best seeds. Players have access to a village near the reef, which can be seen from the tall, naturally generated mountain formation you see in the image. What better way to enjoy the view of your Coral Reef below?
Key Locations

Natural Formation: 601 251
Village #1: 760 152
Village #2: 264 -312
Village #3: 152 88
Coral Kingdom
Seed: 368592799
The hike to the location shown in the image for this seed is expansive, but well worth the travel time. This seed has the largest Coral Reef we've ever seen in Bedrock, and you can enjoy the view of it from one of the three Desert Villages that are in it. The Coral Reef spans across over 1000 blocks, so you will have plenty of underwater beauty to explore!
Key Locations

Coral Village #1: -3592 -1960
Coral Village #2: -3604 -2408
Coral Village #3: -4120 -2424
Ocean Monument: -4376 -1832
Desert Temple: -3384 -1336
Java Seeds
Coral Oasis
Seed: 1730875277296305186
If deserts aren't your thing, perhaps you can get away from the heat and sand at this Coral Oasis just barely west of spawn in this interesting seed. At the oasis, you'll find a huge lake filled with coral and a bustling village a couple dozen blocks away. In such a barren area with so little life around it, it's wonderful to see an entire ecosystem thriving on its own. When you're up for an adventure, check out the Impossible Waterfall at the entrance of a huge open cave nearby!
Key Locations

Coral Oasis: -200 -30
Ruins Cluster: -384 -224
Impossible Waterfall: -480 -425
Nether Portal: -248 -344
Mineshaft: -280 -168
Coral Water Wonderland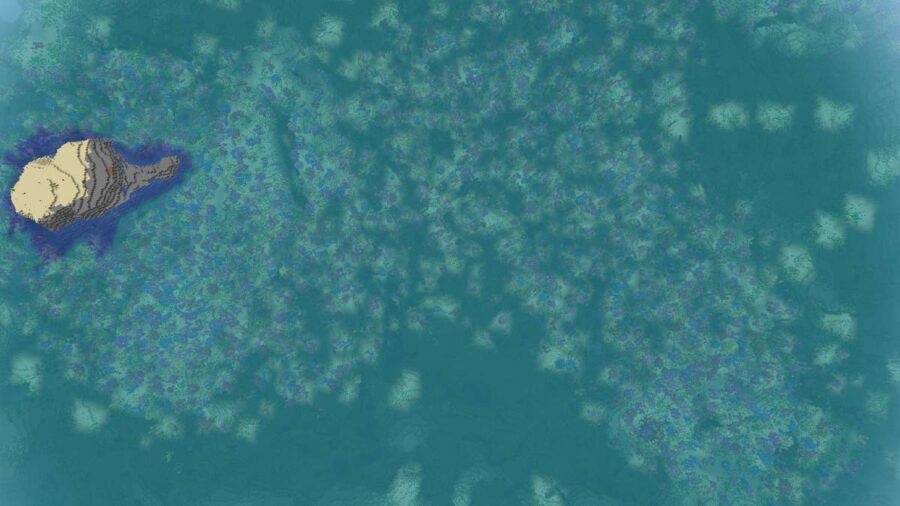 Seed: 1730875277296305186
This seed contains the largest Coral Reef we have ever seen in the Java version of Minecraft. The image above doesn't quite do it justice, as it is just a small section of the reef. The warm ocean where the reef is located spans over thousands of blocks, and there are several sections of reef within. Truly: the amount of Coral Reef in just this section of the map is overkill! The only downside is that you have to make a sizeable walk to reach the reef.
Key Locations

Coral Reef: -1250 2275
Ruins Cluster: -856 1352
Nether Portal: -1128 1640
Shipwreck #1: -1256 1672
Shipwreck #2: -1351 1960
The Coral Badlands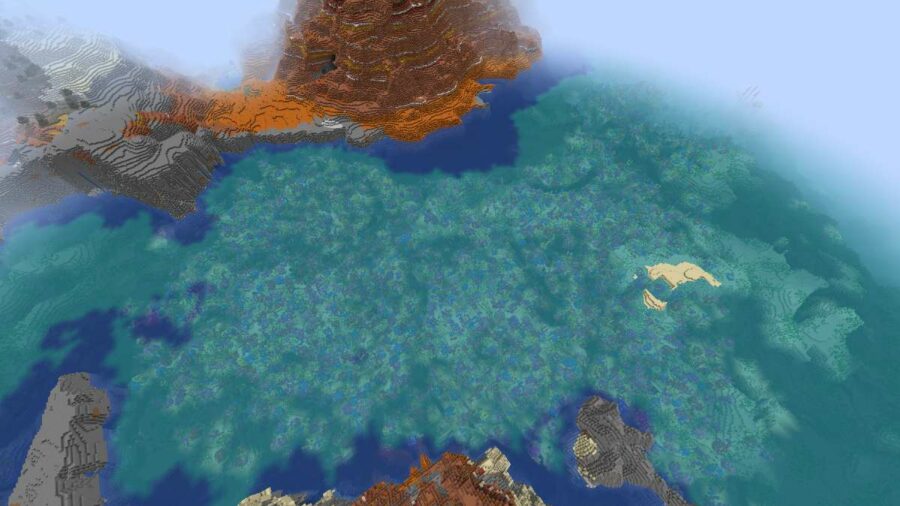 Seed: -3707816544166824799
In this seed, you spawn in a seemingly normal Badlands biome. However, if you make a short walk, you'll find a massive Coral Reef connected to the Badlands that spans over hundreds of blocks. If you prefer warm climates and a life on the sea (with a ton of visible sea creatures and plants), this is the perfect map for you. Did you see the ghostly Shipwreck in the image?
Key Locations

Village: 8 -248
Nether Portal: 120 136
Ocean Ruins: 344 328
Shipwreck #1: 264 568
Shipwreck #2: 536 520
Don't forget to check out our Minecraft Homepage to see all the latest news, guides, and content for Minecraft 1.18!