We're taking a look at some great Minecraft Island Seeds for you to try in your next world! These are for both Bedrock and Java, so you should be able to find something you like on any platform. Who hasn't envisioned what it would be like to live secluded away on an island? Well, you can make that vision somewhat of a reality by using one of these seeds and building yourself a nice island villa!
Using the Key Locations
If you want to teleport yourself to one of the locations I mention, just copy the numbers listed by the one you want to visit. Go into your game and into that seed, then in the command window just type in "/teleport @s " and paste the numbers! Once you hit enter, you should teleport to the location.
Minecraft Island Seeds List
You'll notice some of the screenshots look a bit better than usual, and that's because I've got a Minecraft Shader equipped! If you want to find some great non-island based seeds, then check out our Best Minecraft Seeds list as well.
Here's our list of Minecraft Island Seeds:
Village Island & Ocean Monument Surrounded by Ice (Java - 1.15.2)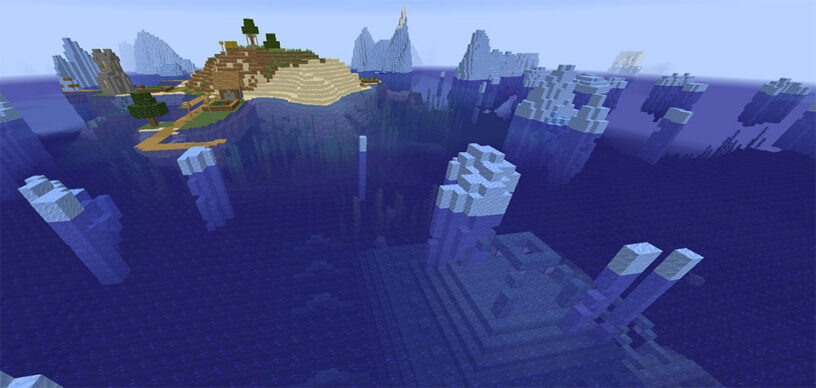 Credit: MichaelMiller2578 - Seed: -3714757682118750540
Wow, this is a great seed to start out on! Not only do you spawn right in a large village on an island that is surrounded by ice, you're also a stones throw away from an ocean monument that you can explore. There's more monuments to find as well, plus many ruins and shipwrecks you should come across. If you want to find a mainland area, you can find it not too far from your spawn (listed in the coordinates below). It has many different biomes on it, I found mountains, forest, dark forest, and even swamp!
Key Locations
Spawn Village: 103 75 9
Ocean Monument: 142 61 112
Ocean Ruins: 72 37 119
Shipwreck: 259 51 367
Ocean Monument #2: 785 61 97
Shipwreck #2: 821 64 43
Ocean Ruins #2: 793 48 25
Shipwreck #3: 857 57 320
Ocean Monument #3: 1184 61 257
Ocean Ruins #3: 47 34 -172
Mainland: 95 76 -477
Large Island (Java)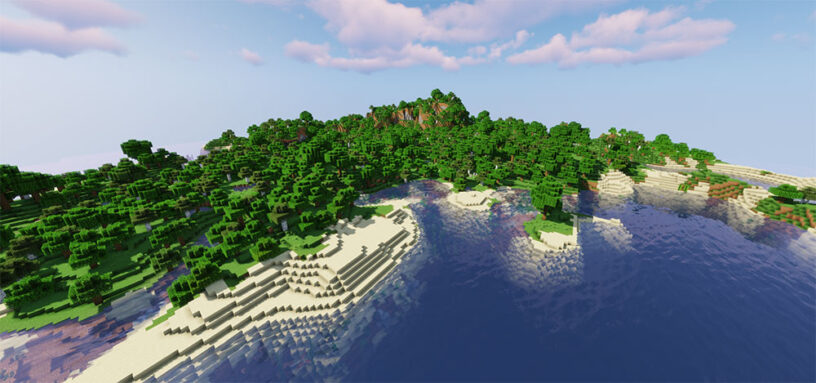 Seed: 5797705914173781750 - Credit: 45rpmadapter
This might be one of the best island seeds I've ever seen! You spawn on an enormous island, that has mountainous features as well as nice beaches to build upon. If you want to head across the water, you'll find a shipwreck within an iceberg: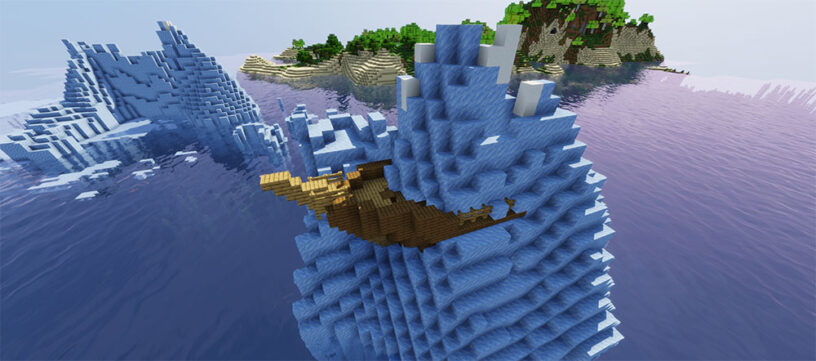 Key Locations
Shipwreck in Iceberg: -219 77 -185
Underwater Shipwreck: 2 58 -216
Underwater Shipwreck: -432 64 -496
Village: -439 68 552
Ocean Monument: 350 61 -255
Village Island (Java)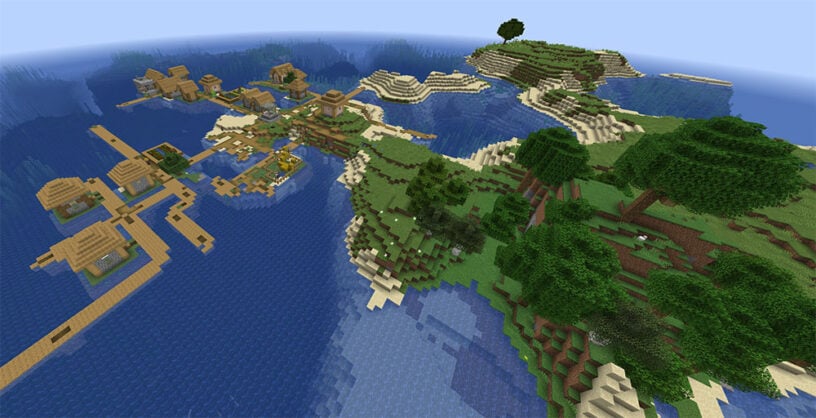 Credit: Ph3nomen0N - Seed: -772124751310384583
This is a really awesome seed because you literally spawn on a big island with a huge village attached to it! You can build yourself a couple of new Minecraft Houses that match up with the neighborhood! If you aren't enjoying the island life, you can go towards the desert that isn't too far away and find a desert temple and village! This isn't an ordinary village either, there's a cave right in the middle of it that you can explore and find a dungeon spawner. Not too far from here, you'll also find a forest with another very large village.
Key Locations
Desert Temple: -307 783 554
Desert Village w/Dungeon Spawner: -650 64 570
Forest Village: -740 70 212
Tom Hanks (Java)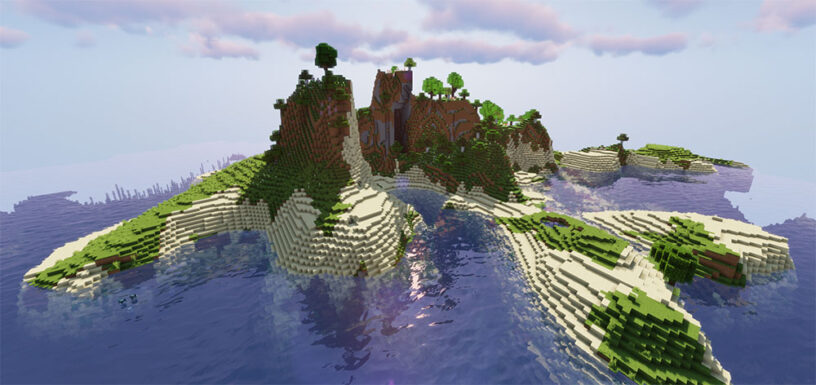 Seed: tomhanks
Believe it or not, if you type in "tomhanks" as a seed you will end up at an island! Why is that weird? Well, Tom Hanks starred in a movie called Cast Away, where he was stranded on an island. Now, you won't find Wilson here, but you will find shipwrecks and ocean monuments! The island you spawn on isn't so great, but if you head west you will come across one of those monuments and a way better island to potentially start your build (shown above in the screenshot)! There's a couple of villages, but they are pretty far from where you spawn.
Key Locations
Better Island: -346 72 -31
Nearby Shipwreck: 24 65 -128
Ocean Monument: -127 61 -158
Ocean Monument: 191 61 -270
Village: 805 73 -325
Village: -906 73 -147
Three Ruin Island (Bedrock)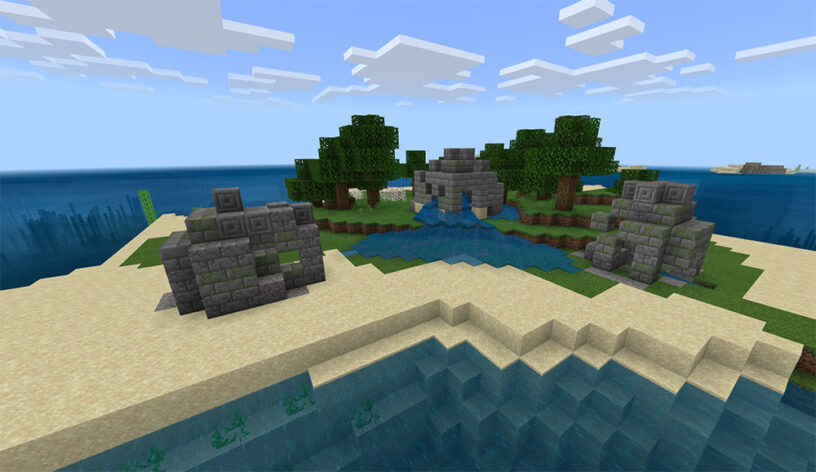 Seed: -1673096729
This seed features a pretty large ocean biome, but right near the island you spawn is an island that feature three island ruins that are on top of land! Each of these ruins should have a chest in them, so you can get some quick early loot to start building up your first base or two. There's quite a few islands scattered around, but there's also a landmass not too far from spawn that features a couple of Villages and even a Ravine that has a Mineshaft!
Key Locations
Three Ruin Island: 380 64 173
Underwater Ocean Ruins: 610 33 815
Ravine: -475 39 582
Village: -759 72 980
Ravine w/Mineshaft: -883 32 987
Desert Village: -1113 66 1078
Another Village Island (Bedrock)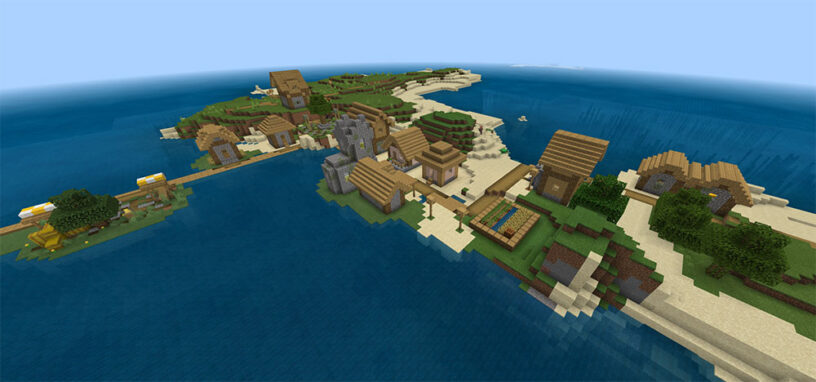 Seed: -407474912
If you're on Bedrock and want to start on an island with a village then this seed is for you! The one problem is that you don't spawn directly on it, so you'll need to head over to the coordinates below. If you want to just start teleport over there and use the /spawnpoint command to create your spawn at it! Not only do you have the village, you also have a Dungeon Spawner located directly below it. It's very deep, so only head down there once you've setup yourself a bit. If you want to find some other interesting thing around the map, there's a Ruin that's been frozen in the snowy biome and an Ocean Monument not too far from the village island.
Village Island: 181 69 474
Dungeon Spawner: 194 38 514
Frozen Ruins: 44 68 231
Ocean Monument: -186 61 297
Village: 449 72 -1130
Huge Island (Bedrock)

Seed: 3254239
If you want just a huge island to build on then this is a good starting seed for you. It doesn't have a ton in terms of villages, but it does have another large island but is more mountainous. It also has a fairly close swamp biome, and there's a Mineshaft you can explore as well.
Big Mountainous Island: -498 101 525
Swamp Biome: -754 64 737
Mineshaft: -912 29 576
If you want to add some additional excitement to some of these seeds, then check out our Best Minecraft Mods post!