Our Minecraft Where-to Find Diamonds Guide will walk you through step-by-step on the best ways to locate and farm it! Diamond is one of the most important resources in the game, and it is used to create the best tools, armor, and weapons.
How-to Mine Diamond
The first thing you need to know before heading down into the deep recesses of your Minecraft map is how-to mine Diamond. You will need to an Iron Pickaxe before you go, because you can't mine it with a lower level pickaxe.
Step 1: Find Iron
Iron can be found pretty regularly in just about all areas of a mine. You'll need a Stone Pickaxe to harvest it. The easiest way to find Iron is to look around for a cave system or crevasse/ravine. These are naturally occurring areas that don't require a lot of mining to open up. Using these gives you a large area to survey, and it should lead to some easy resources like Coal and Iron.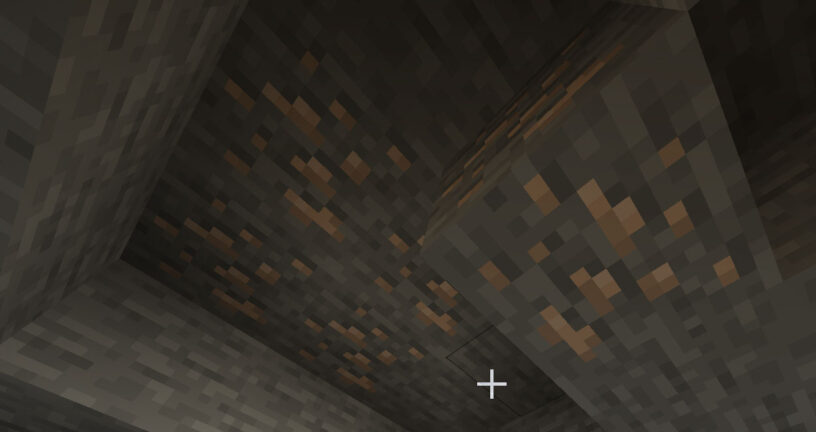 Step 2: Smelt the Iron
Once you've found the Iron Ore, you'll want to create some Iron Ingots. Create a Furnace, place the Iron Ore inside of it along with some Coal, Charcoal, or Wood and this will create some ingots.
Step 3: Create the Iron Pickaxe
Once you've got the three Iron Ingots, get yourself a couple of sticks and you can create the Iron Pickaxe in the Crafting Table.


It's not recommended to use the Iron Pickaxe on anything but Diamond or Redstone unless you have an excess of Iron Ore. If you waste your pickaxe on general stone and what not, you might break it before you find what you are looking for and then not be able to mine it.
Where-to Find Diamond
Diamond is located deep down in the depths of the map. It can only be found between certain layers. What is a layer? Well, whatever block you are standing on has a X, Y, & Z coordinate associated with it. You can find this by pressing F3 on your keyboard to open up the debug screen.


If you aren't on a PC/Mac, you can dig yourself down to the Bedrock (black & gray blocks that can't be broken). You will first start to see Bedrock at layer 5, so you can count upwards from there to figure out which layer you are on.
Why do you need to know this? Diamond only spawns between layers 5 and 16, but most commonly you'll find it between layers 5 and 12. So, you'll need to be between these layers to find it.
How-to Farm Diamond
Now that we know where-to find it, we need to know how-to best farm it. This is not an exact science, but there are ways to maximize the ways we can locate it.
Look for Caves
While down in the Diamond spawn layers, you'll want to look for cave systems. If you find these, you can explore large parts of the map in this area and inevitably run into Diamond. To find cave areas, it's best to listen for both lava and monsters. These usually mean there are gaps in the areas around you, but you are going to need to be careful! Finding lava while you are mining around is usually not a good thing because it's very dangerous. If you find Diamond near lava, make sure you either use a bucket of water to create a safe area, or floor it off with all of that extra Cobblestone you should have! If you hear monsters, that means there's a large enough gap in a nearby area for them to spawn. Mine towards that area and you might just find a cave system. Be ready though, you might need to fight the monsters off before you get to explore. Make sure to place some torches around so more monsters don't spawn.
Branch Mining
Probably the most common and best ways to maximize your chances to find Diamond is to branch mine. Get down to the lower layers, you'll want to start on layer 6 to make sure you have no bedrock below you. Mine straight forward in a line for about 20 - 30 or so blocks (you can decide how far you want to go). Once you've come to as far as you want to go, mine three to the right or left and then mine back towards where you started in a line. It should end up looking something like this:


What this does is efficiently checks the entire area for Diamond. You can keep repeating this over and over as much as you want as long as you are within the layers that contain Diamond.
More Great Minecraft Content
Diamond General Tips & Tricks
Create a Crafting Table, Furnace, & Storage area near where you are doing all of your mining. These are all very easy to craft and don't take many resources. This allows you to run back to this area and drop off things and empty your pack. You can smelt ore while you are doing all of your mining, and you can keep your resources safe while you mine.

Lava is the most deadly aspect of doing any kind of deep mining. So, if you find Diamond, make sure to bring it back to a storage area. If you die via lava, it's possible all of your stuff will drop into it and burn up. You won't be able to retrieve it, and you'll lose it forever!

Grab all the Iron, Gold, and Redstone Ore you see while looking for Diamond! These are all very useful to you, so be sure to pick it up when you find it. Diamond is a key material, but don't be solely focused on it!
Never dig straight down! This is a common rule most Minecraft players know, but it's important to heed it. You can fall into a cave or drop right into lava. Always be safe when you're mining down into an unknown area.
Enchant your pickaxe with the Fortune enchantment! This will give you a chance to get an additional Diamond when you find some. The higher the enchantment you place on it (it goes up to Fortunte III), the more you can potentially get.