If you're playing Minecraft on PS4, Xbox One, Nintendo Switch, Mobile, or Minecraft for Windows, then you're playing on the Bedrock version of the game. To get the ultimate Minecraft experience, I always try to locate a perfect seeds that matches my playing or building inspiration. Our seeds listed below are picked because they provide fascinating, resourceful, or beautiful worlds—or all three!
Best Minecraft 1.20 Bedrock Seeds
Fishermen Island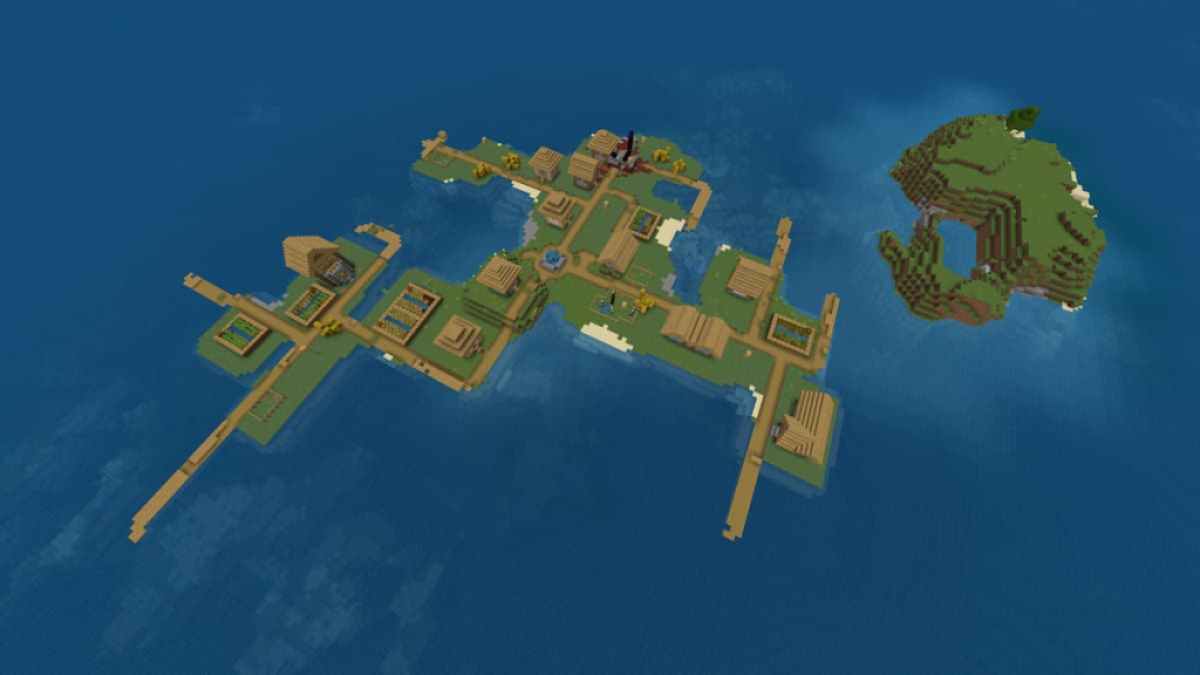 Seed: -2737030570029809383
Players who wish to start a survival island challenge but want a quick head start need to look further than this seed, which spawns you on a small island occupied by a Plains Village. Inside the Village you will find a Ruined Portal which leads you straight onto the top of a Nether Fortress. The surrounding region is not barren either, with tons of Ocean Monuments, Shipwrecks, and Ruins for you to explore.
Key Locations

Plains Village: 88 -456
Nether Portal: 88 -488
Shipwreck: 232 -696
Ocean Monument: 264 -152
Cherry Crater Abode
Seed: 1984608350533082989
This seed features a Plains Village situated at the heart of a large Cherry Blossom encircled crater, providing a truly picturesque location for you to have a calm building experience. However, adventurous thrill-seekers can easily find a dripstone cave behind the villages, and soon realize it opens up into a giant drop taking you straight to the depths of an Ancient City!
Key Locations

Cherry Crater Village: -984 632
Ancient City: -1,064 -51 568
Pillager Outpost: -1,160 584
Ruined Portal: -1,016 376
Beach with Buried Treasures:-1,064 1,416
Icy Crater Mansion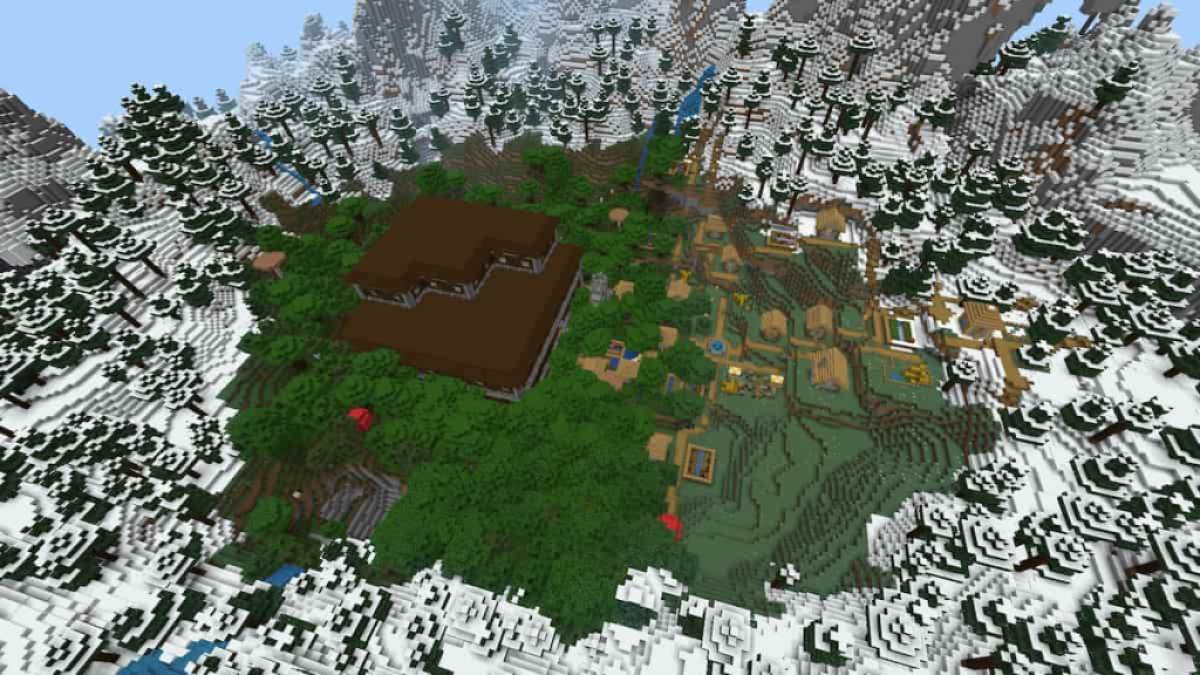 Seed: 147829058677214126
Settlements inside a crater are always a pretty sight. However, not many craters can claim to house a Plains Village, as well as a Woodland Mansion within its confines! I adore the way the village appears to seamlessly blend into the structure of the Woodland Mansion. With all of this at your disposal right at spawn, you are guaranteed to have a head start to your adventure with this seed.
Key Locations

Woodland Mansion: Spawn
Plains Village: Spawn
Ancient City: 40 -51 136
Ruined Portal: 312 216
Pillager Outpost: -776 136
Stranded Shipwreck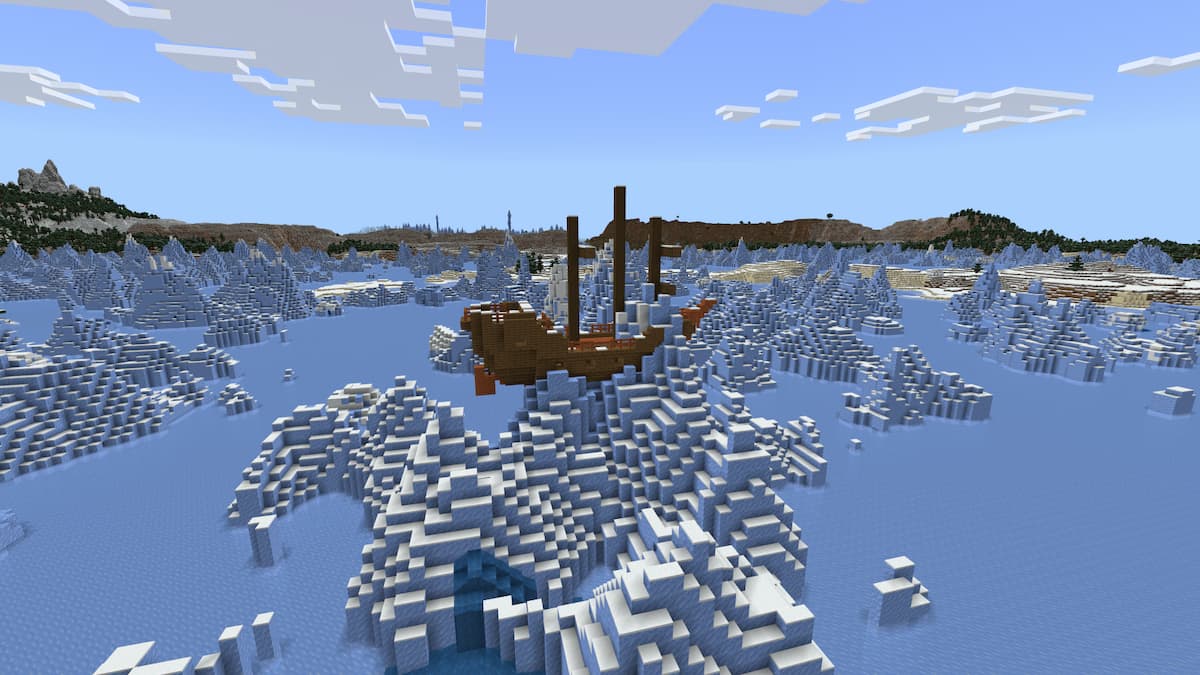 Seed: -3271674935876727390
One of the most incredible Bedrock seeds discovered very recently, this seed sees a Shipwreck sitting on top of a huge iceberg, just a stone's throw away from a Mushroom Island. This is a great place to start a base or make a landmark in your world. Honestly, this seed alone inspired us to create something similar in our world!
Key Locations

Shipwreck on iceberg: -950 429
Village: 250, -470
Nether Portal: 375, -260
Lush Cave entrance: -333 -845
Ruined portal (completable): -520 -897
Blacksmiths of Cherry Grove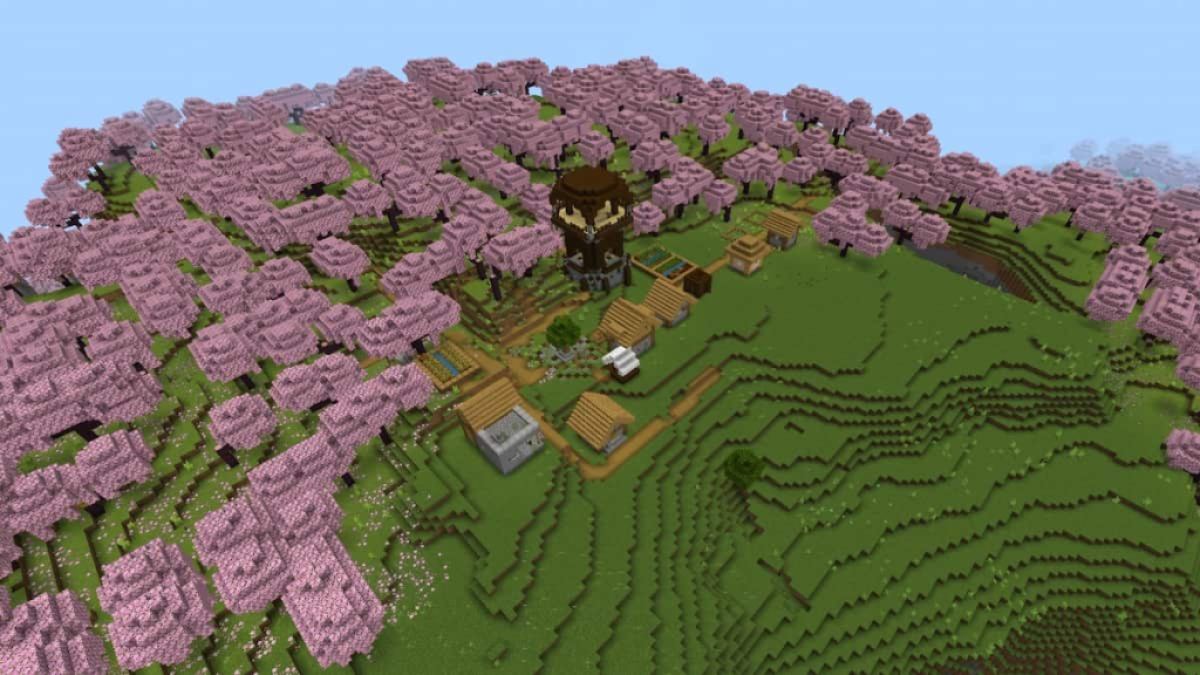 Seed: 91276453817984294
This seed offers all that you can ask for a perfect start in Minecraft. As you spawn, you find yourself on top of a small hill covered in bright Cherry Blossoms which a mob of Villagers has turned into their base of operations. What's more, this village hosts two Blacksmiths, as well as a Pillager Outpost. Once you're ready to stray further, you will find a Ruined Portal, and a Woodland Mansion only a stone's throw away!
Key Locations

Double Blacksmith Village: 24 72
Pillager Outpost: 56 56
Woodland Mansion: 344 424
Ruined Portal: 184 248
The Lush Taiga Pit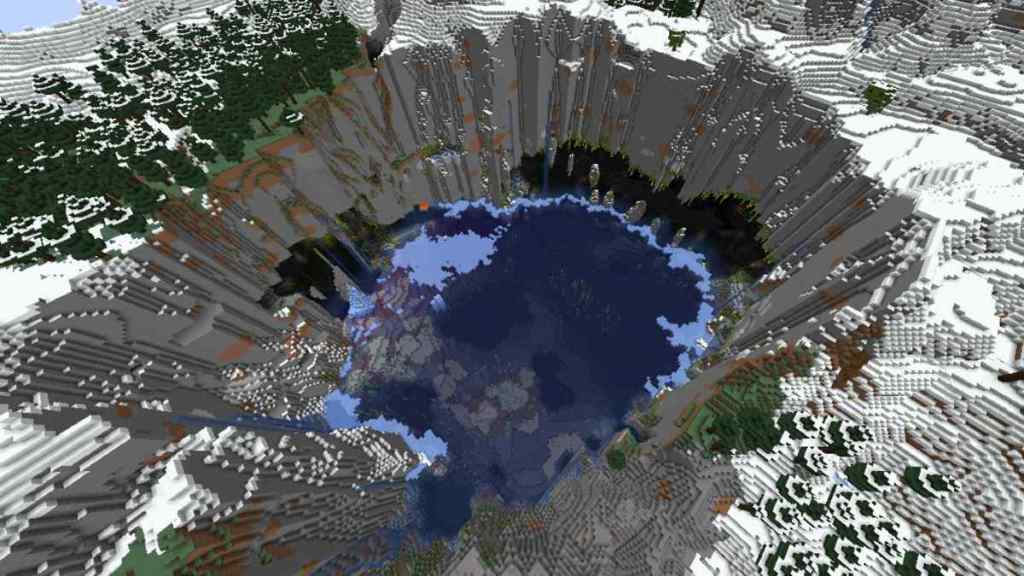 Seed: 340883181811974
This seed features one of the most fascinating and awe-inspiring world-generation abnormalities I've ever seen. You spawn in a moderately sized Taiga biome directly next to a sinkhole/pit with an exposed Lush Cave at the bottom of it. One must wonder how that much open space in a cave can possibly hold up the mountain. But, if you're willing to risk the potential cave-in, this seed provides a myriad of biomes and structures for you to kick off your Minecraft adventure. Don't forget to check out the Ancient City within the Lush cave right under spawn.
Key Locations

The Lush Cave Pit: Spawn
Village: -440 -200
Village: -728 264
Outpost: -920 520
Ancient City: 120 -51 120
Snowy Mountain Valley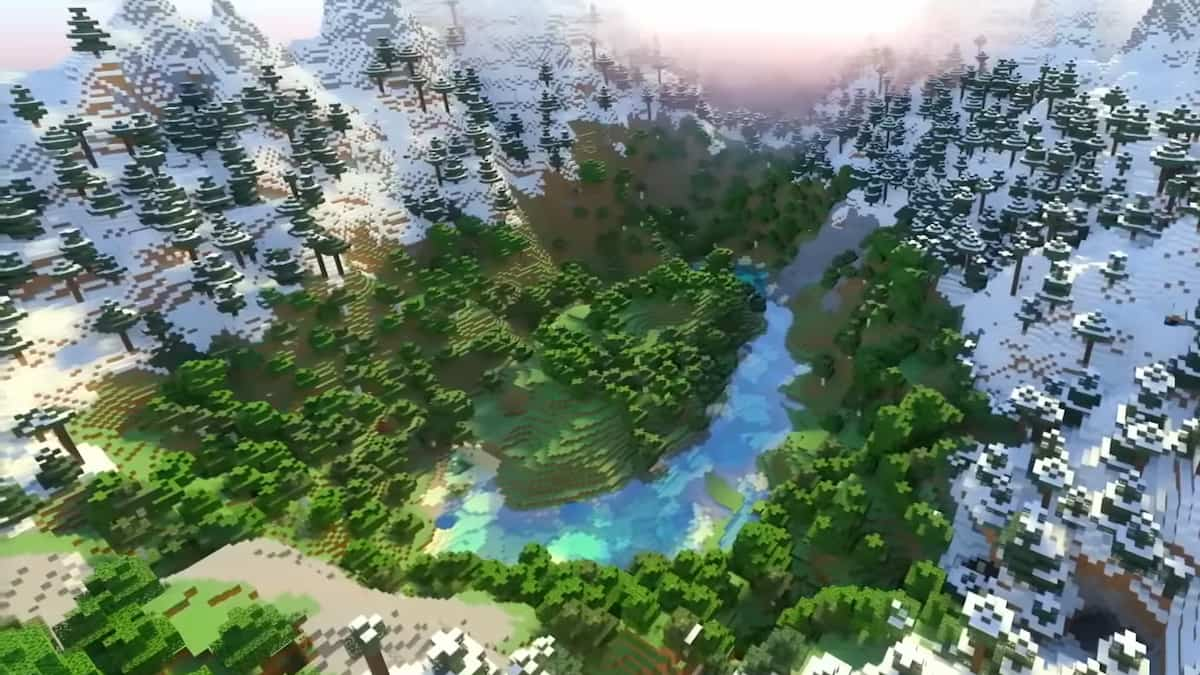 Seed: -1251634260110429594
This seed spawns you at a freezing jagged peak surrounding a beautiful valley. The valley consists of lush green Forest biomes, with an island in the middle. It is perfect for building a hidden base covered by mountains. Dig tunnels through the mountains to create pathways to explore the surrounding environment if you desire. Furthermore, you will find tons of sprawling Ancient Cities below the ground and a Plains Village with a Nether Portal a short way down south from the spawn point.
Key Locations

Mountain Valley: -218 -172
Ancient City: 232 -51 120
Plains Village: -296 344
Buried Treasure: -312 -120
Ocean Monument: 72 -696
The Lush Cave of Coral Lake
Seed: 599282705
If an Oasis biome existed in Minecraft, we believe it would look like this. You spawn in a Badlands/Desert biome, and a few dozen blocks away is a multi-layer exposed Lush Cave built into a Badlands Mountain Cliff overlooking a small (but beautiful) Coral Reef lake. Nearby, you'll find a significantly larger Coral Reef biome. Additionally, you'll find dozens of Villages, Monuments, Temples, and Igloos east of spawn.
Key Locations

Coralush Cave: North of spawn (negative Y)
Coral Biome: -184 -22
Large Ruin (Cluster): -600 72
Shipwreck: -648 -200
Village: 800 240
Double Lake Meadow Crater
Seed: 651719687612429311
If you visit this key location, you'll find a wonderful naturally-formed double-lake forested meadow that will greet you inside a crater! Beautiful waterfalls split them in the middle, and forest caves and crevices are only waiting for you to discover and explore them. You can build in or around the crater, allowing your imagination to run wild!
Key Locations

Meadow Crater: -180, 130, -300
Plains Village: -232, 50, 120
Estimated Ruined Portal: 104, 50, 248
Jungle Temple: 152, 50, 200
King of The Crater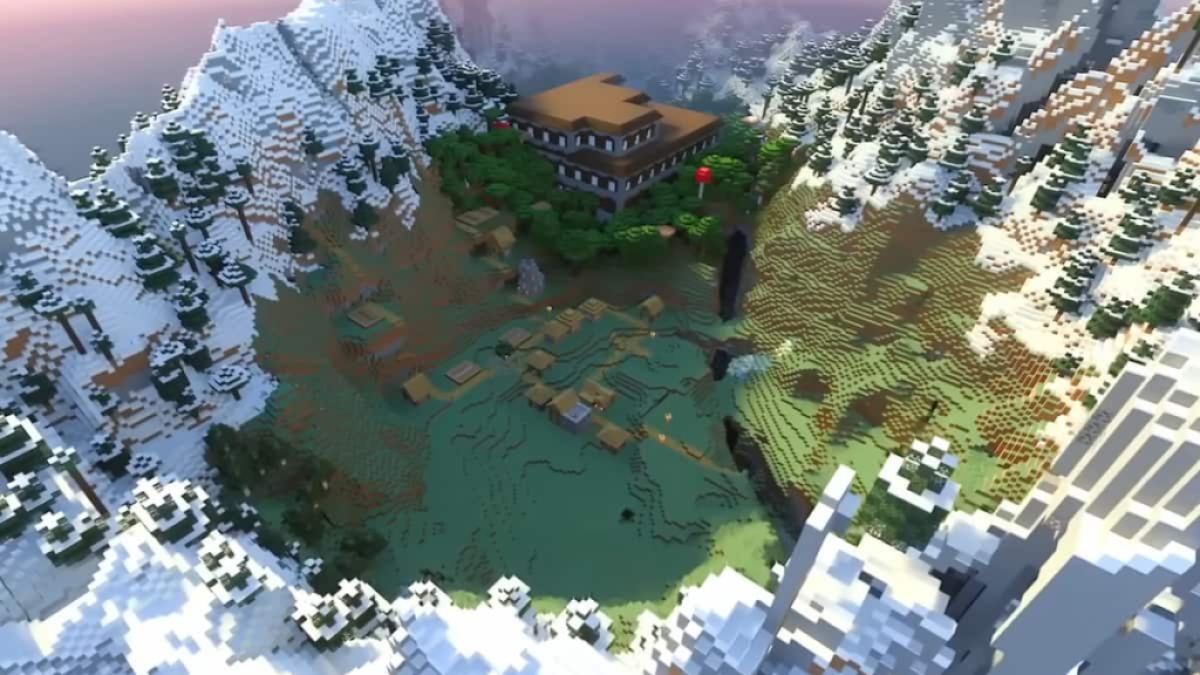 Seed: 4284333691774547722
This seed spawns me into what is easily one of the best starting points a player can ask for. Right at spawn, I faced a ring of jagged white peaks forming a large crater. Players will find a Plains Village alongside a Woodland Mansion inside the crater, neatly covered by thick vegetation. There is also a Pillager Outpost situated behind the Mansion as if it's on guard duty. All of this truly makes this area a habitat fit for a king.
Key Locations

Plains Village: 88 72
Pillager Outpost: 216 200
Mansion: 104 152
Ancient City: -152 -51 152
Ruined Portal: 56 88
Snowy Mesa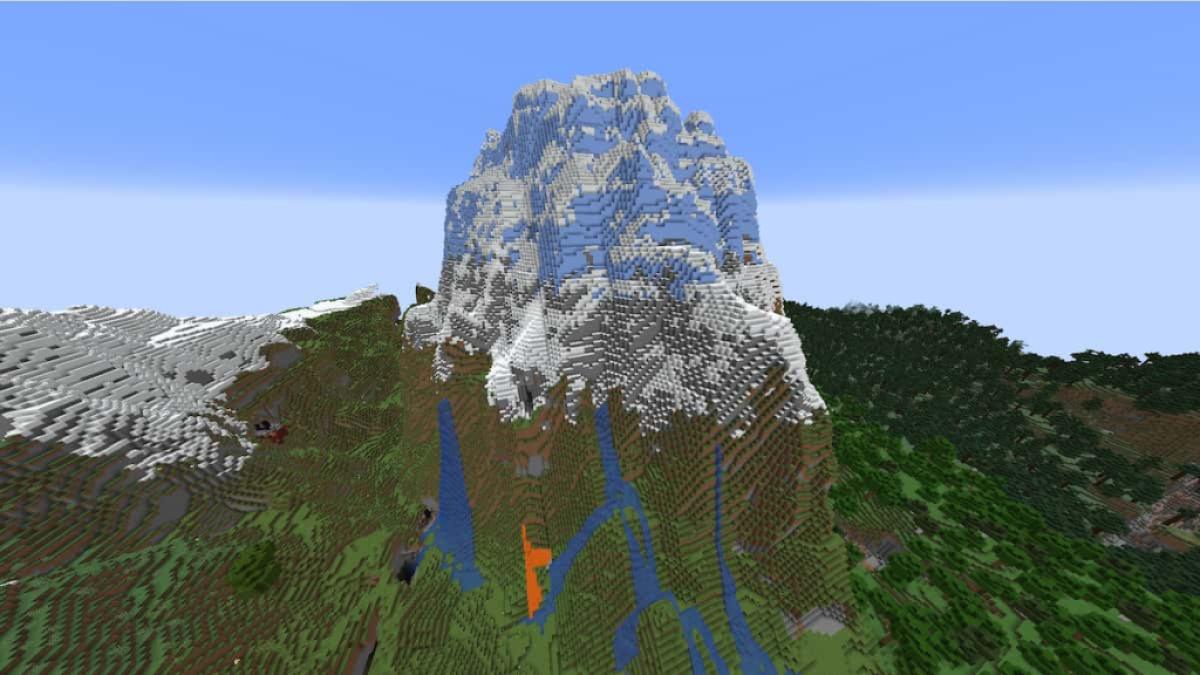 Seed: 3180937131711060872
This one will require you to travel a bit, but it will be worth it to discover a snow-capped mesa reaching into the sky! This vast structure is max-height and fairly wide, which gives you many building options. When you look from the top of the mesa onto the surrounding mountain peaks, they will seem small from your standing position.
Key Locations

Snowy Mesa: 590, 250, 320
Plains Village: 264, 20, 205
Ancient City: 104, -51, 72
Pillager Outpost: -840, 20, 552
Related: Minecraft 1.19 Village Seeds – Best Village Seeds for Java and Bedrock!
Best Minecraft 1.19 Bedrock Seeds
Clashing Biomes
Seed: 746939950032865412
We all love to see biomes clashing with each other in Minecraft's world generation. That's why this seed is special, as Savanna, Badlands, and Desert biomes all intersect with each other right where you spawn! This amalgamation of biomes creates a contrast of colors, making it a perfect landscape for building. You will get lots of resources right off the bat from the two neighboring Savanna Villages near Spawn and explore up to seven Ancient Cities underneath the bright orange of the Badlands.
Key Locations

Twin Savanna Villages: 184 -232
Pillager Outpost: -728 -1,160
Jungle Temple: -744 648
Ancient City: -1,112 -51 72
Desert Temple: -1,688 -1,480
The Ultimate Beginner Island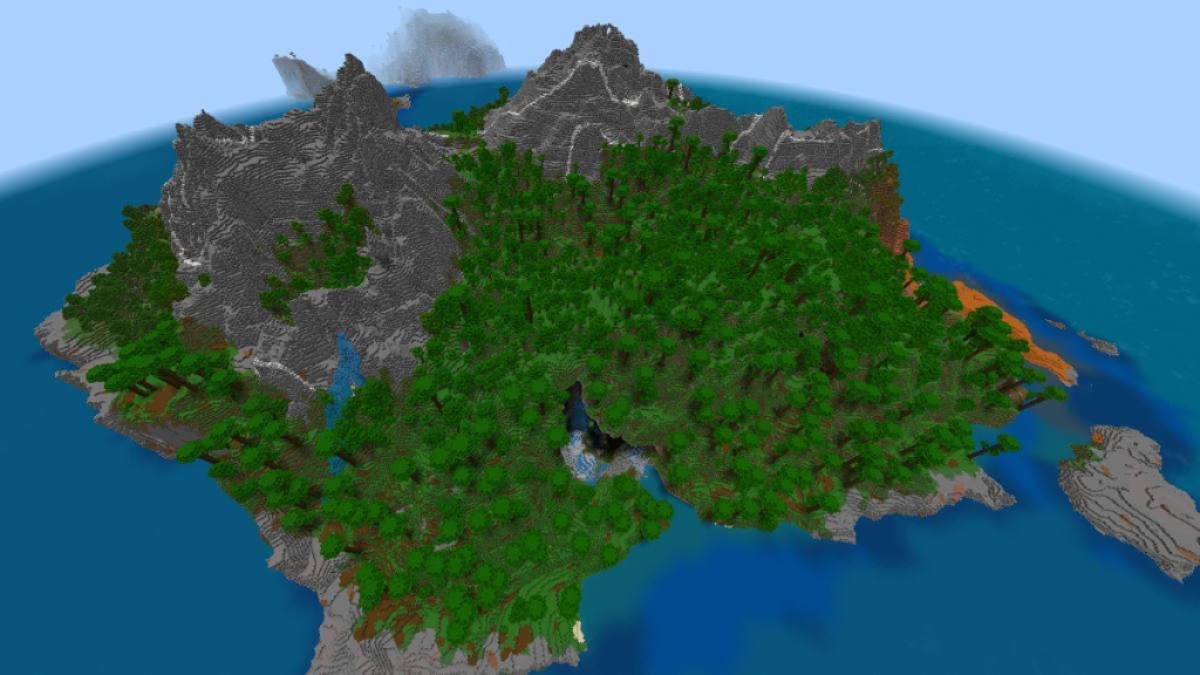 Seed: 968565878525959881
This seed is featured on several of our best Minecraft seeds lists because of how well it works as a simple, but beautiful, beginner and casual-player island. You spawn on the edge of a large Jungle Island with a monstrous mountain right in the center. Hidden beneath the Jungle is a layered Lush Cave for you to make your underground home. This is truly an ideal seed for new players, casual players, or anyone who wants to renew their interest in Minecraft survival.
Key Locations

Ancient City: 184 -51 104
Shipwreck: -232 -120
Village: -904 -424
Ocean Monument: -200 -776
Shipwreck: 168 -344
Epic Crater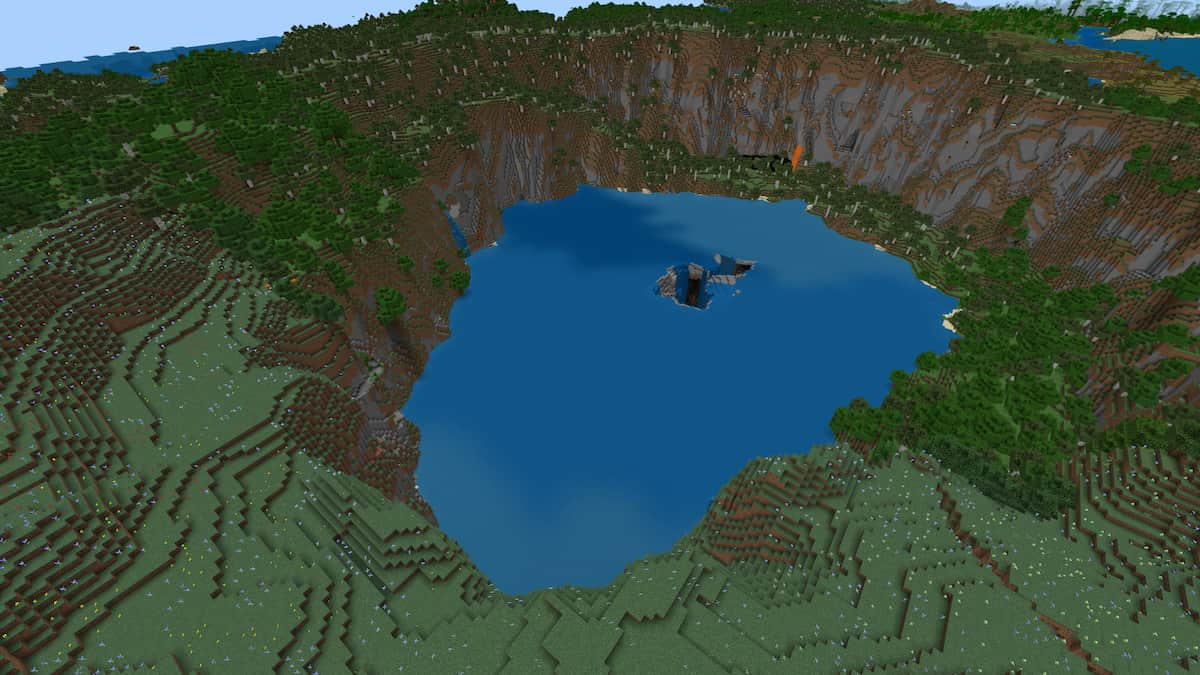 Seed: 847479976687857
Reddit user stofix found this seed and won a competition with it, and it's easy to see why. A huge crater has a further sinkhole draining the lake into a lava sea! It's so visually impressive and filled with great biomes, we adore this seed, inspiring us to build here!
Key Locations

Crater: 50, 1,000
Village and Pillager Tower: -986, 872
Village and Portal: -1,305, -900
Shipwreck: 648, 264
Lake-filled Mountain Valley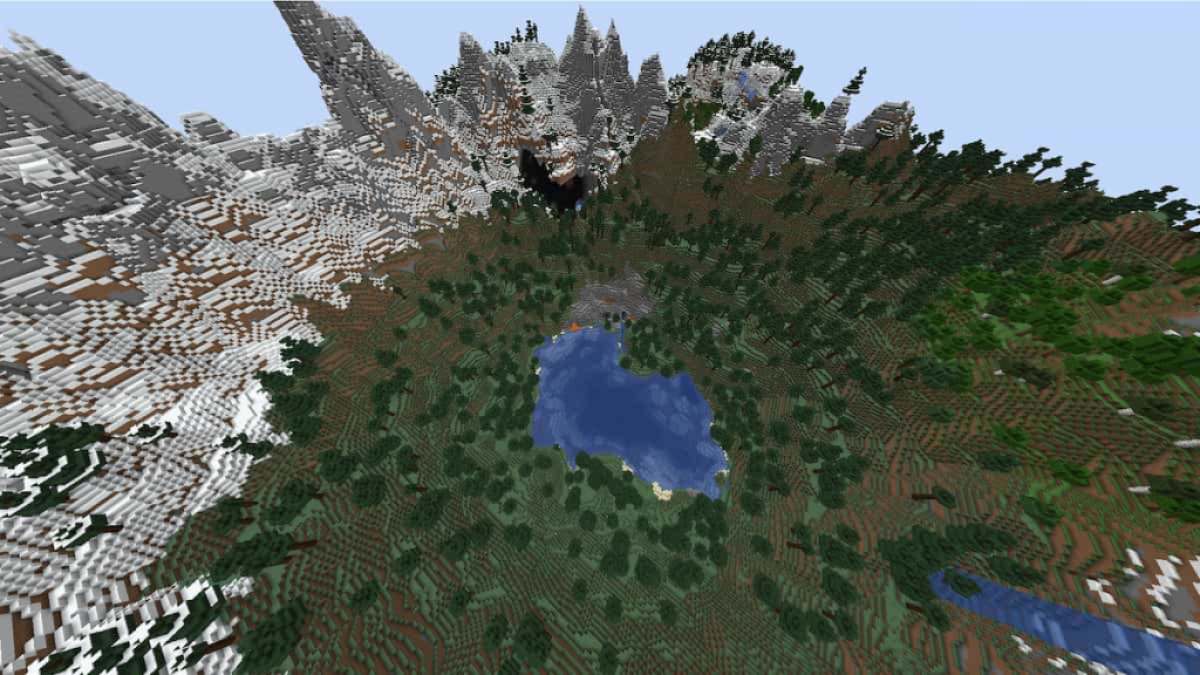 Seed: -6339824463720481367
This great seed will spawn you on the edge of a snow-capped mountain ridge encircling a beautiful lake. A giant cave entrance leads into a vast network of tunnels waiting for you to explore it. Building options are limitless with this one; you can opt for a shack in the middle of the lake, build your house right on top of the snow-piercing peaks, or have a cave mansion overlooking the beautiful mountain lake!
Key Locations

Estimated Ruined Portal: 232, 20,184
Taiga Village: 328,5,136
Mineshaft: -360, 2, 104
Check out some of our other seeds lists for Minecraft 1.19. We've got the Best Diamond Seeds and Best Woodland Mansion Seeds!