If you're playing Minecraft on PS4, Mobile (Pocket Edition), or Windows 10 then you're playing on the Bedrock version of the game! Seeds are what create the world that you play in, so having one that provides you with a lot of things you'd like to be surrounded with can be important. If you're looking for a particular place to start playing, then we've got a full list of great Minecraft Bedrock Seeds from you to choose from in this post!
Using the Key Locations
If you want to teleport yourself to one of the locations I mention, just copy the numbers listed by the one you want to visit. Go into your game and into that seed, then in the command window just type in "/teleport @s " or "/tp @s" and paste the numbers! Once you hit enter, you should teleport to the location.
You can also use these coordinates if you show coordinates in the options before creating your world! I try to keep locations I list relatively close to the spawn, so try to head in the direction that matches the coordinates to find it.
Bedrock vs. Java Versions
If you are on Windows (unless you're on Java), PS4, or Pocket Edition then your version of the game is Bedrock and all seeds listed as Bedrock below should work with your game. Please note that they don't always show up exactly as described, the version numbers can sometimes play a part in how certain parts of a seed render (villages, biomes, etc.)
If you want to find some awesome Java seeds, then check out our Best Minecraft Seeds list!
Minecraft Bedrock Seeds List
Here's a list of some of the top Minecraft Bedrock Seeds:
Village w/Ravine & Jungle Biome (1.14.6)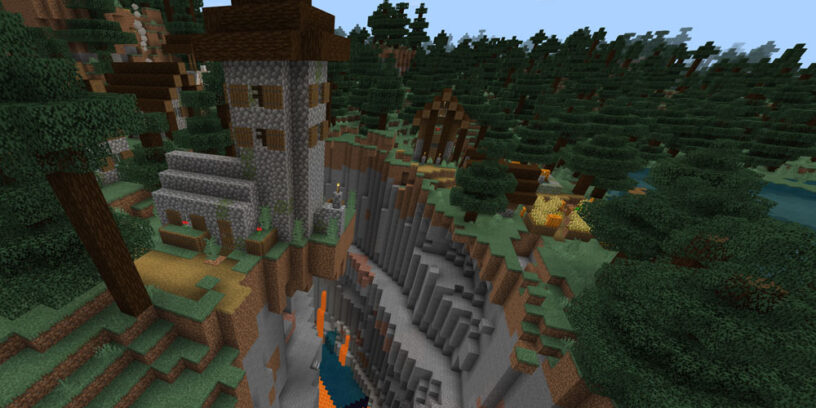 Credit: SilkySharp - Seed: 598080973
This seed has got a jungle biome, but it also has a lot of other stuff going on with it. You've got the village with a ravine running right through it. This ravine also has a diamond spawn inside of it. The jungle biome is not far from here and has a couple of temples and another village. Near the spawn you can go to a snow village with some igloos and an ice spike biome. Not too far from there is another ravine with more diamond! There's a lot to explore with this one if you're looking for additional things along with some jungle.
Key Locations
Village w/Ravine: -284 69 75
Diamond in Ravine: -322 11 43
Jungle Biome: -580 72 23
Village Near Jungle: -708 64 171
Jungle Temple: -794 67 112
Bamboo Jungle: -975 70 -151
Jungle Temple #2: -955 65 -463
Snow Village w/Igloos: 125 63 -342
Ice Spikes Biome: -44 72 -423
Ravine #2 w/Diamond: -149 12 -664
Igloo: -290 72 -803
Jungle & Ice Spikes at Spawn (1.14.6)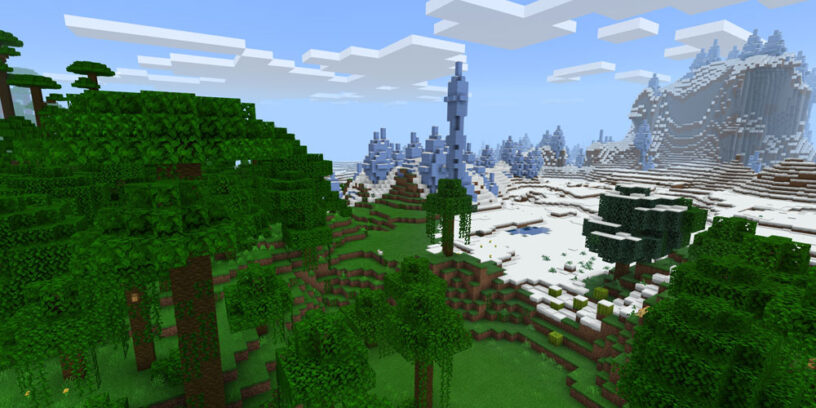 Credit: TelepathicGrunt - Seed: 1659596317
What a crazy mix of biomes at your spawn where you find yourself in a large jungle but right next to it you see huge ice spikes! You'll find a snow village, mine in a ravine, a few more villages, and a pillager outpost! This is just after my research of the seed, I'm sure there's quite a bit more to find if you delve deeper. This would be a great seed for a variety of things to play with.
Key Locations
Jungle Temple: -138 82 134
Snow Village: 173 69 -373
Mine in Ravine: -838 36 561
Village: -1146 71 584
Large Village: -1214 70 959
Pillager Outpost: 474 81 134
Large Haunted Village: 659 69 252
Snow Village #2: 1041 66 51
Village Spawn Near Coral Reef & Lots of Diamond! (1.14.6)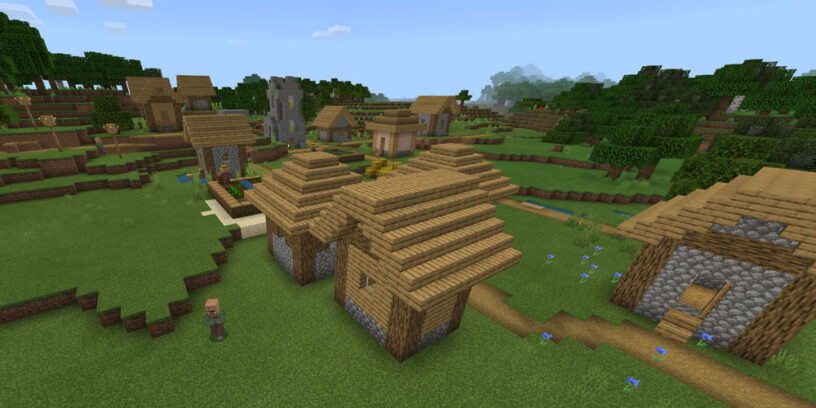 Credit: ThatOneWeebGurl - Seed: -1968925663
You spawn right next to a village in this seed with a nearby coral reef that can be explored. This seed also has an additional village, as well as a haunted village! There's also a pretty nice bonus to this seed because there's a huge Ravine that's not too far from spawn where you can go into and find quite a bit of exposed diamond! I searched around this area and managed to find three different Diamond spawns. You might even find more because of how big this underground area expands.
Key Locations
Coral Reef: 291 60 190
Swamp Biome: 310 64 6
Ravine: 319 13 57
Four Diamond: 320 11 34
Four More Diamond: 291 11 55
Eight Diamond: 289 14 30
Eight More Diamond: 278 12 66
Second Village: 219 71 -404
Haunted Village: 98 71 -703
Second Haunted Village: -207 64 -691
Coral, Ocean Monument, and Icebergs (1.14.6)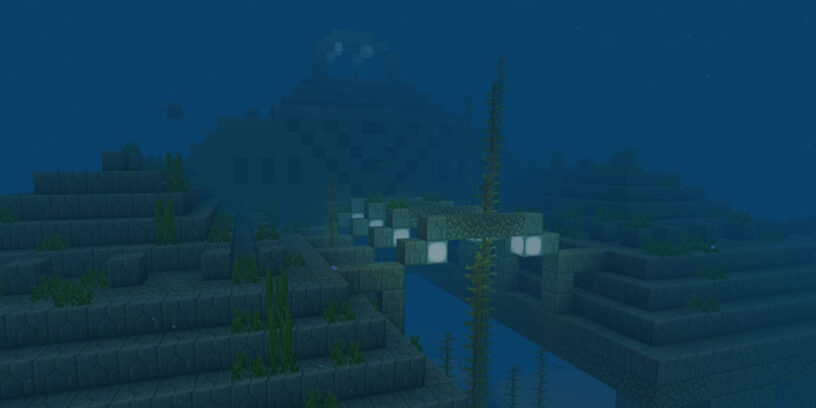 Credit: MrFackleWinkie - Seed: 1919300996
If you're looking for a tougher start, this seed starts you out on a small island with very little on it. You're surrounded by coral reefs, and there's an Ocean Monument very close to spawn. You aren't too far from resources though, you can find a couple of islands with trees and there's some larger landmasses. You can also find a village fairly close by that's listed down below! There's also a very large and awesome looking badlands biome that I recommend seeking out.
Key Locations
Ocean Monument: 4249 61 168
Village: 4788 67 231
Pillager Outpost: 5384 84 280
Badlands Biome: 5569 87 729
Iceberg Biome: 3965 63 299
Flower Biome: 3806 69 1283
Pillager Outpost #2: 4153 78 725
Swamp Biome: 4101 63 830
Large Island w/Village - Also Diamonds at Spawn! (1.14.6)
Credit: dstrllmttr - Seed: -1007380239
Originally, I was going to post this seed just for the large island with a village on it! That was before I did some exploring right next to spawn and found two diamond spawns that will get you a total of ten diamonds! These are literally right in two separate ravines that are next to spawn. You will need to be careful because there's quite a bit of lava around, but it's obviously worth it for a quick 10 diamonds right when you start a game. You can take this diamond over to the island village and have quite a nice start to your game. The village island is really not too far from where you spawn, so just hop in a boat and head towards the coordinates listed below! There's also a pretty large forest/taiga village that's a bit of a hike but worth seeking out.
Key Locations
Spawn: 449 73 0
Ravine w/2 Diamond: 473 11 -23
Ravine w/8 Diamond: 503 11 -21
Island Village: 653 64 572
Large Taiga Village: 1362 71 929
Pillager Outpost in a Ravine (1.14.6)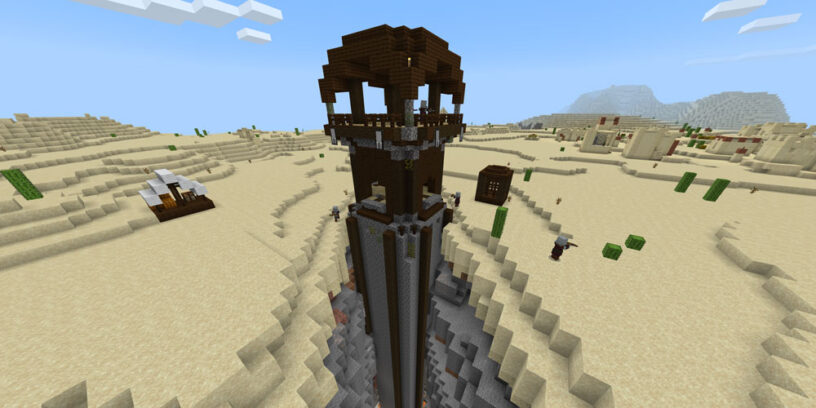 Credit: god_lifts - Seed: 616843740
This isn't exactly at spawn, but you can get walk there in a reasonable amount of time. This is a really cool spawn because the outpost is right in a ravine which makes it extend all the way to the bottom of it. You can also find a couple of diamonds down in the ravine, so that's a quick boost to your early game. There's likely some more exploring to be done in this area. This desert area is pretty packed with stuff because there's a couple of villages and pyramids in the biome. At the spawn, you can find a desert with a pyramid and a village that's entirely separate from the outpost section!
Key Locations
Desert Pyramid: 1322 71 176
Haunted Desert Village: 1398 69 131
Coral Reef: 1655 55 -228
Pillager Outpost in Ravine: 488 69 487
Diamonds in Ravine: 483 13 499
Desert Pyramid: 362 65 560
Desert Village #2: 593 71 533
Haunted Desert Village #2: 128 68 534
Desert Pyramid #3: 106 65 304
Double Skeleton Spawner (1.14)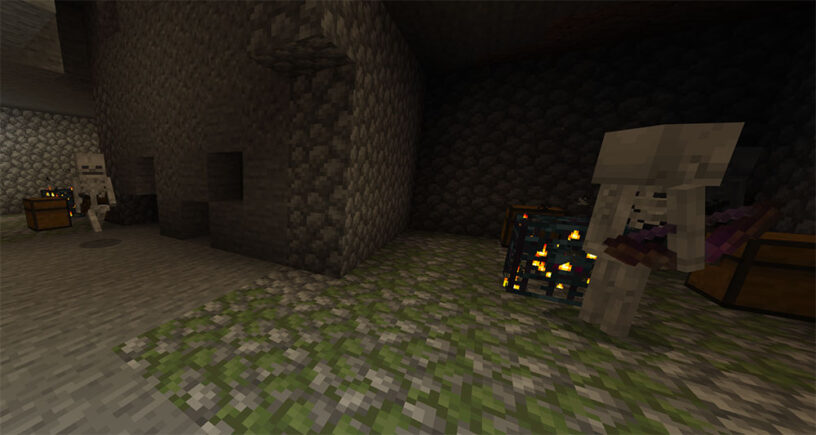 Credit: Yungxblunt - Seed: -1627030624
Finding Bedrock seeds with double spawners are pretty hard to find, so this one is pretty unique. Not only do you have the spawners that aren't too far from spawn, you have quite a few villages to explore! One of these in particular is a really awesome Savanna Village that has some houses on a hill and is overall pretty interesting looking.
Key Locations
Double Skeleton Spawners: 391 45 60

Dig Straight Down From: 391 72 60

Desert Temple: 266 65 222
Desert Village: 152 67 184
Savanna Village: 157 64 -268
Lava Filled Ravine: 423 17 304
Haunted Village: 1082 63 458
Ship Wreck: 12 55 353
Underwater Ruins: 35 51 439
Taiga Island w/Diamonds (1.14)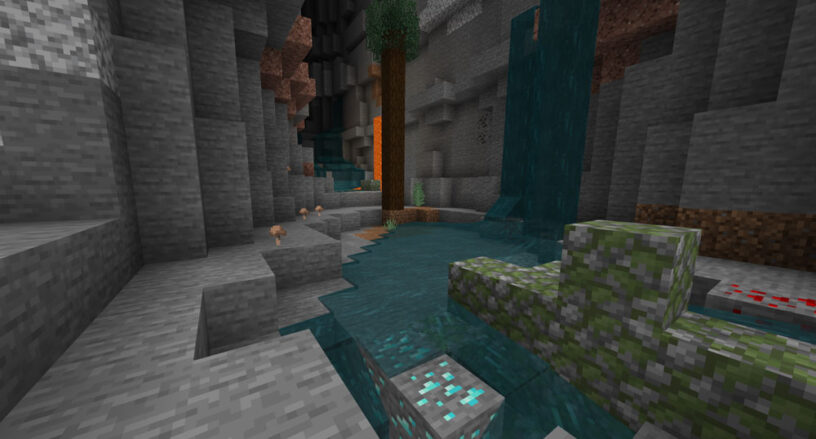 Credit: DeliciousTidePod - Seed: 1796811328
This one is pretty nice because you start out on a pretty great Taiga Island, and not only that you can pretty much dig straight down (be careful) and find some Diamond right away! There's a cave system under the spawn, and if you head to the coordinates (show them in the options) listed below you will find six diamonds! There's also a ravine that's a bit of a hike from spawn, but if you make the trip you'll be rewarded with a couple of exposed diamonds. If you're looking for a Stronghold, that can be found at a Badlands Village along with a large ravine!
Key Locations
Cave Diamonds (Six!): 32 11 29
Ravine Diamonds: -1046 13 217
Badlands Biome: 34 75 269
Badlands Mine: -79 69 377
Large Badlands Village w/Ravine & Stronghold: 54 65 951
Acacia Waterfall Village (1.14)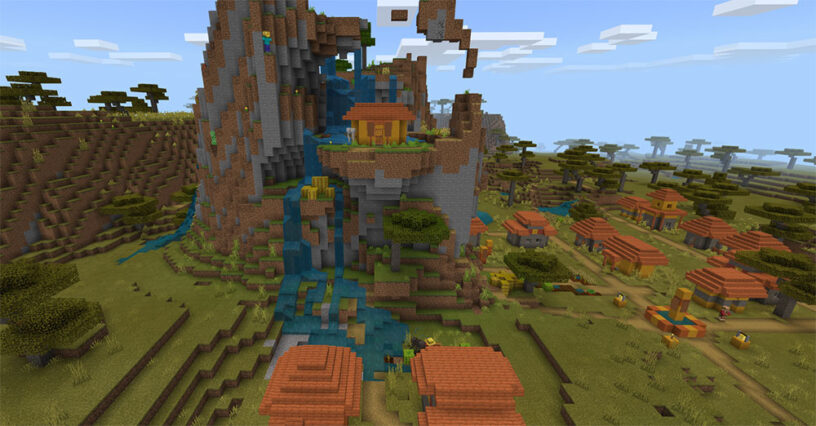 Credit: Jfonzy - Seed: 33480944
While I initially liked this seed for awesome looking Acacia Village with the house surrounded by the waterfall, I found a lot more to love about it. There's a nearby Haunted Village you can head over to, and there's a Desert Village you can find as well. Near that Desert Village is a cave, if you head down into it and get to the bottom, you'll find a Diamond spawn with eight Diamond in it! That's a pretty huge bounty and can really get you started on your way to a new build.
Key Locations
Acacia Village: 518 69 134
Haunted Village: 136 65 531
Desert Village: 79 63 87
Diamonds in Deep Cave (Near Desert Village): 51 11 98

Cave Entrance: 41 64 128
If you teleport here you will be in front of lava where the Diamonds can be found. There's EIGHT Diamond here to find, so it's worth exploring. It is kind of hard to find if you go through the cave, try to use the coordinates to guide you.

Desert Temple: -195 72 43
Mountain Village w/Monster Spawner (1.14)
Credit: DarkAgeOutlaw - Seed: -1231267014
This is a pretty cool mountain village with a farm inside of a cave and a monster spawner right next to it! In the mobile version of the game, you'll find a waterfall pouring onto some unfortunate villager's house! There's also a Zombie Village not too far away from this one, so that is a fun thing to check out.
Key Locations
Mountain Village: -250 72 -209
Monster Spawner: -266 71 -242
Zombie Village: 180 83 -310
Large Village: -310 67 -1136
Another Large Village: -295 64 644
Amazing Mountain Village (1.14)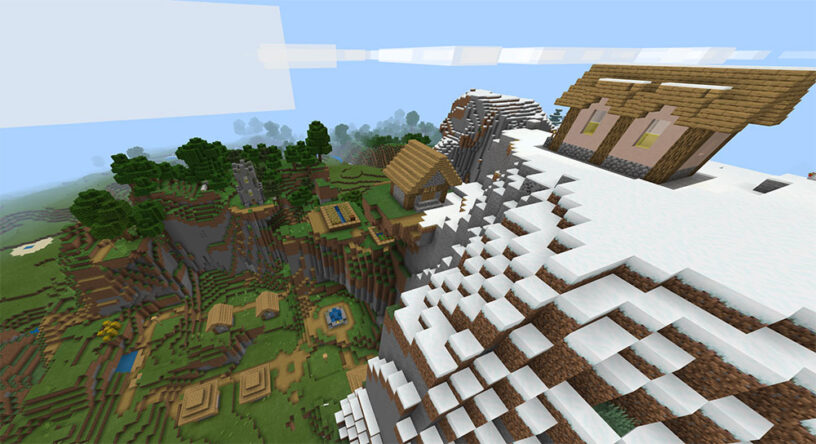 Credit: Fredrick_Zelder - Seed: -1400738501
If you're looking for an amazing mountain village to start your next Minecraft world then this is a great one to try! It is one of the more unique village arrangements I've ever seen, with many buildings being high up on a mountain. Not only that, there's an additional nearby village that has a Stronghold buried deeply beneath it! If you like diversity in your biomes, you start out near a pretty big swamp and if you explore around near the the Stronghold village you will find an Ice Spikes biome!
Key Locations
Mountain Village: 943 78 -1104
Taiga Village: 165 66 585
Village w/Stronghold Underneath: 990 68 -825
Ice Spikes Biome: 1448 92 -908
Tons of Stuff Near Spawn (1.14)
Credit: Dodriofan480 - Seed: 1961838222
This seed features a lot of different things surrounding the spawn area that you'll be able to investigate. If you want to start a monster xp grinder, there's a spawner right next to spawn! Just head over to the forest area and you'll see some open area that heads down into a cave. Make your way down the natural path of the cave and you should run right into it. There's an additional spawner nearby this one, so you aren't going to be hurting for finding spots to farm monsters.
There's also multiple nearby ravines which nearly all have exposed diamond! These should be a lot of fun to explore and will get you started off on the right foot. There's a Desert Pyramid near a couple of these ravines, and further away is a good sized Desert Village. You'll even find a large Savannah Village, if that's more of what you are looking to utilize!
Key Locations
Monster Spawner Cave Entrance: 414 60 -25

Monster Spawner: 390 44 -16

Second Monster Spawner Cave Entrance: 615 64 25

Second Monster Spawner: 615 39 14

Desert Village: 535 66 522
Desert Pyramid: 251 67 878
Ravine w/Exposed Diamond: 690 14 -87
Pillager Outpost: 668 68 205
Desert Pyramid: 379 71 -354
Small Ravine w/Diamond Nearby: 297 11 -441
Larger Ravine w/Exposed Diamond (Multiple Spots): 426 12 -371
Savannah Village: 185 69 962