We're taking a look at some awesome seeds you can play with in this list of Minecraft Pillager Outpost Seeds! These are for both Bedrock and Java, so you should be able to find something you like on any platform.
Using the Key Locations
If you want to teleport yourself to one of the locations I mention, just copy the numbers listed by the one you want to visit. Go into your game and into that seed, then in the command window just type in "/teleport @s " or "/tp @s" and paste the numbers! Once you hit enter, you should teleport to the location.
Versions & Version Numbers
If you are on Windows (unless you're on Java), PS4, or Pocket Edition then your version of the game is Bedrock and all seeds listed as Bedrock below should work with your game. Please note that they don't always show up exactly as described, the version numbers can sometimes play a part in how certain parts of a seed render (villages, biomes, etc.)
In terms of version numbers, each seed was tested based on the number that is listed with it. The seed can still work with other versions of the game, but the seed might not have all the exact spawns listed as previous mentioned in the Bedrock section.
Minecraft Pillager Outpost Seeds List
You'll notice some of the screenshots look a bit better than usual, and that's because I've got a Minecraft Shader equipped. If you want to find some awesome general seeds, then check out our Best Minecraft Seeds list!
Desert Pyramid Inhabited By Pillager Outpost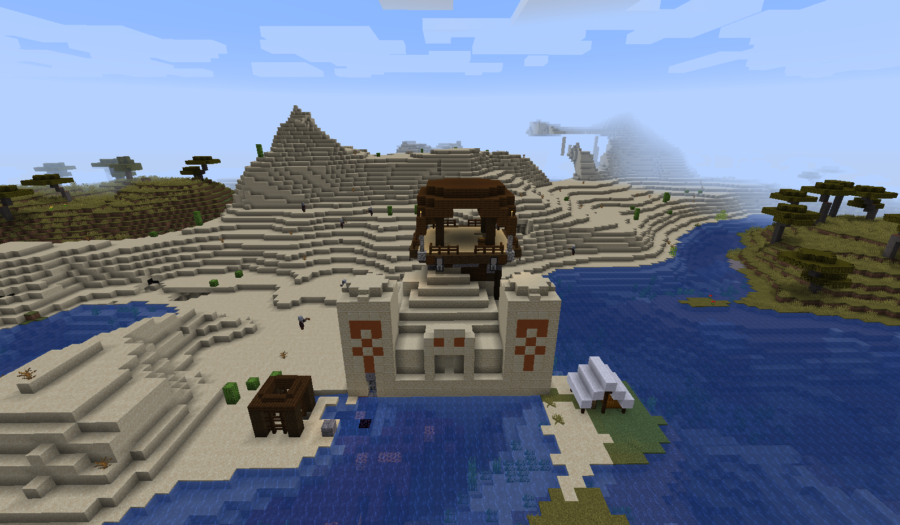 Credit: mooing_cowmilk - Seed: 38139859344449569 - 38139859344449569 - Version: Java 1.16+
This seed from the get-go is amazing, as you spawn you are right next to a Desert Temple, but even better than that a Pillager Outpost is on top of the temple! Not only that but on the left side of the temple are the ruins of a Nether Portal!
Key Location
Desert Temple: -268 74 56
2nd Desert Temple: -248 73 -488
Village: -288 70 -684
Witches Hut: 312 70 264
Shipwreck: 895 64 -552
Tons of Biomes & Easy Diamond (Bedrock - 1.14.6)
Credit: EliWRN - Seed: 10292992
I originally started checking out this seed due to the talk about tons of biomes in a short space. Once I went into it though, I found a huge ravine that had many diamonds in it! Not only that, this ravine featured mines that could be explored for possibly more diamonds. There's also a spider spawner that is exposed that you could easily exploit. If that's not enough, there's some great biomes all over the area. You start off in a savanna, desert, plains area. If you start to explore you'll find a mountainous area, large ocean, and cold areas. There's even an interesting spawn of an Outpost right next to a Village!
Key Locations
9 Diamonds in Ravine: 1225 11 27
6 Diamonds in Ravine (Lava hazard): 1246 14 44
More Ravine Diamonds: 1286 12 69
Spider Spawner: 1283 22 65
Outpost Right Next to Village: 455 66 504
Ocean Monument: -330 61 136
Large Savanna Village: 980 71 1016
Haunted Village Near Swamp Biome: 1105 68 -1149
Pillager Outpost & Jungle Temple at Spawn! (Java - 1.14.4)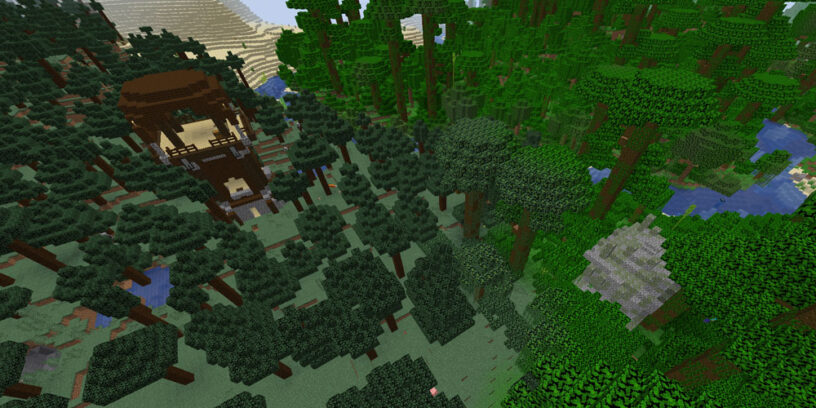 Credit: CornCooper - Seed: 6506886162711205223
You spawn right in front of a Pillager Outpost in this seed, there's also a Jungle Temple right next to it! To the east you'll find a pretty large Savannah where there's two different villages you can visit. There's a shipwreck on land, and a desert pyramid to find!
Key Locations
Pillager Outpost: 201 81 -232
Jungle Temple: 149 73 -185
Desert Pyramid: 619 72 178
Shipwreck on Land: -187 65 -374
Savannah Village: 833 71 316
Savannah Village #2: 1055 71 139
Pillager Outpost, Floating Island, & Many Villages! (Bedrock - 1.14.6)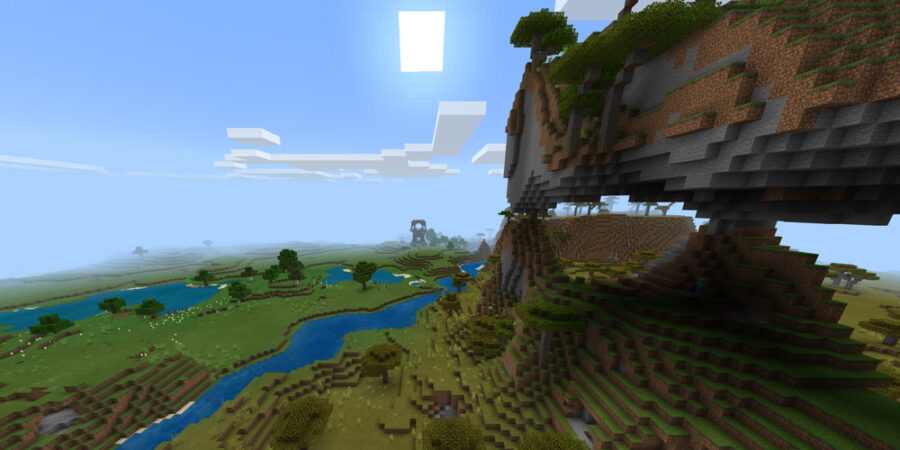 Credit: mochimachi - Seed: -741721765
This seed has a pretty cool looking floating island right where you spawn, and just beyond that is a Pillager Outpost. There's also quite a few villages and haunted villages in the surrounding area. Not too far away from spawn is a pretty large ravine which has a couple of diamond veins that you can mine. This area also has a small dungeon with a skeleton spawner!
Key Locations
Pillager Outpost: 263 80 103
Desert Pyramid: 314 65 16
Haunted Savannah Village: 580 63 180
Desert Village: 138 66 -285
Desert Village #2: -232 70 -312
Desert Pyramid #2: -357 74 -263
Ravine w/Diamond: -283 11 -130

More Diamond: -292 11 -109
Skeleton Spawner: -282 21 -146
Pillager Outpost in a Ravine (Bedrock - 1.14.6)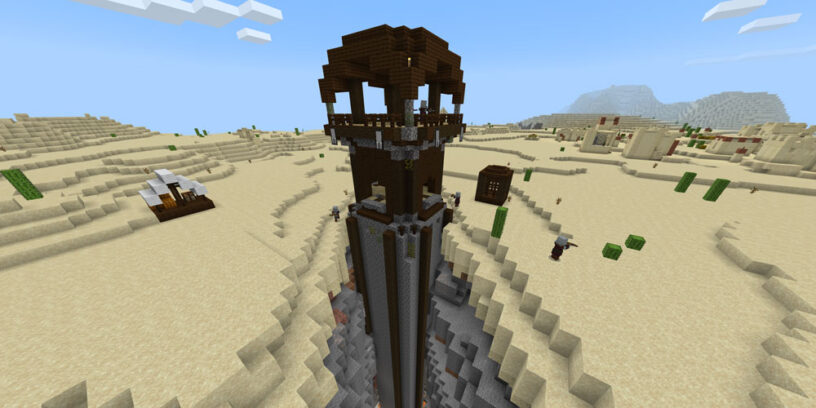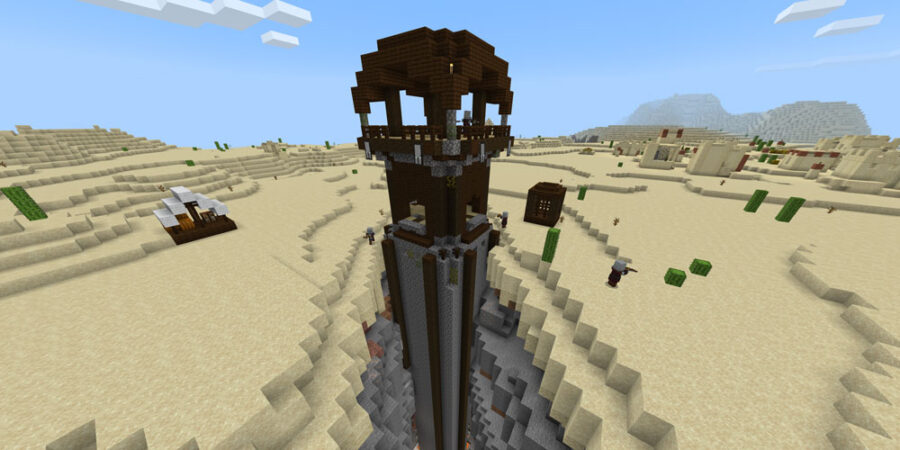 Credit: god_lifts - Seed: 616843740
This isn't exactly at spawn, but you can get walk there in a reasonable amount of time. This is a really cool spawn because the outpost is right in a ravine which makes it extend all the way to the bottom of it. You can also find a couple of diamonds down in the ravine, so that's a quick boost to your early game. There's likely some more exploring to be done in this area. This desert area is pretty packed with stuff because there's a couple of villages and pyramids in the biome. At the spawn, you can find a desert with a pyramid and a village that's entirely separate from the outpost section!
Key Locations
Desert Pyramid: 1322 71 176
Haunted Desert Village: 1398 69 131
Coral Reef: 1655 55 -228
Pillager Outpost in Ravine: 488 69 487
Diamonds in Ravine: 483 13 499
Desert Pyramid: 362 65 560
Desert Village #2: 593 71 533
Haunted Desert Village #2: 128 68 534
Desert Pyramid #3: 106 65 304
Pillager Outpost, Savannah, & Desert (Java - 1.15.2)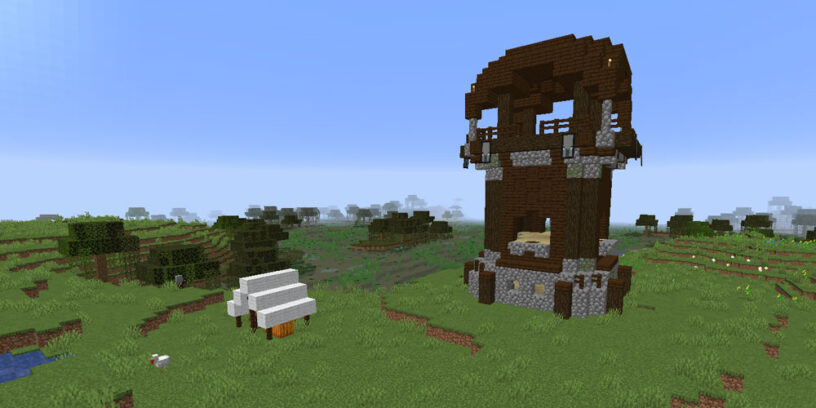 Credit: ARTILLERY_LIQUIFIRE - Seed: 63539878
You start out right in a pretty flat area with a Pillager Outpost right in front of you. There's quite a few different biomes in this area including desert, savannah, plains, swamp, wooded mountains, and more! If you explore around more you'll find a Ravine with a mine in it and an exposed spider spawner. There's also quite a few villages to be found as well, each of them appears in a different biome. If you want some access to coral, there's a reef that isn't too far away from spawn.
Key Locations
Savannah Biome: 57 68 119
Desert Village: 664 68 221
Birch Forest Biome: -153 71 129
Wooded Mountains Biome: -379 94 28
Swamp Biome: -679 65 280
Ravine/w Mine & Spider Spawner: -712 47 875
Desert Pyramid: 1195 67 743
Savannah Village: 1167 63 509
Plains Village: 1323 64 333
Large Forest Village: 1568 62 91
Coral Reef: 1477 55 -209
Mansion, Pillager Outpost, & Jungle! (Java - 1.15.2)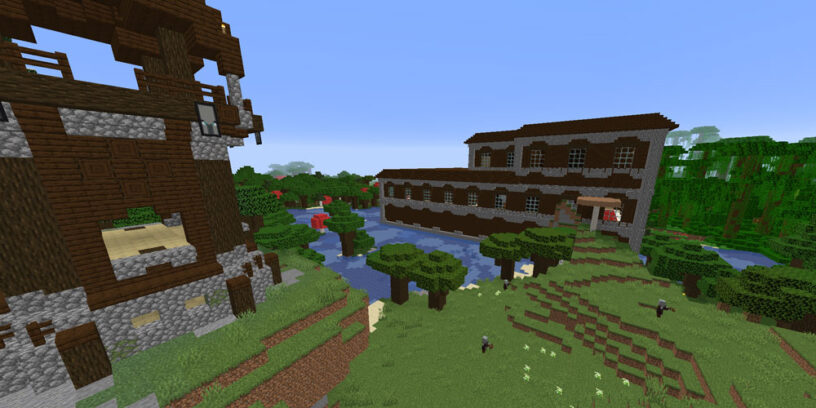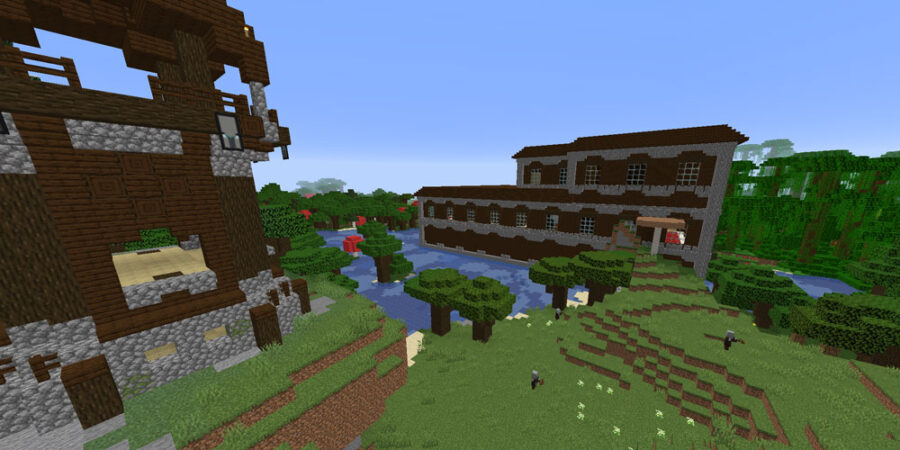 Credit: Killstepz - Seed: 7210414366237083040
This seed is jam packed with stuff right next to spawn! You've got a pillager outpost, mansion, and jungle biome all very close to you. Not only that, there's a ravine right next to the mansion that has a Mine inside of it! There's also a pretty good sized village not too far from this initial area.
Key Locations
Pillager Outpost: -5 88 41
Mansion Entrance: 79 63 -1
Jungle Biome: 86 64 127
Ravine w/Mine: 80 40 97
Village: 80 68 -484
Swamp Biome: 314 63 -1248