While the 1.16 version of Minecraft hasn't fully released yet, you can still play it via various snapshots that are available that contain a lot of what will be released in the update. We're taking a look at a bunch of great 1.16 seeds that you can try now or once the Nether update finally gets added to the game!
Using the Key Locations
If you want to teleport yourself to one of the locations I mention, just copy the numbers listed by the one you want to visit. Go into your game and into that seed, then in the command window just type in "/teleport @s " or "/tp @s" and paste the numbers! Once you hit enter, you should teleport to the location.
You can also use these coordinates if you show coordinates in the options before creating your world (Java you can hit F3)! I try to keep locations I list relatively close to the spawn, so try to head in the direction that matches the coordinates to find it.
If you want to find some seeds for other versions of the game, then check out our Best Minecraft Seeds list!
Nether Locations
Due to the amount of changes going on in the Nether because of 1.16, don't be surprised if locations in this area end up being different than described. We'll be updating them once the official release happens if things change drastically.
Minecraft Bedrock Seeds List
Here's a list of some of the top Minecraft 1.16 Seeds:
Villages & Stronghold (Java)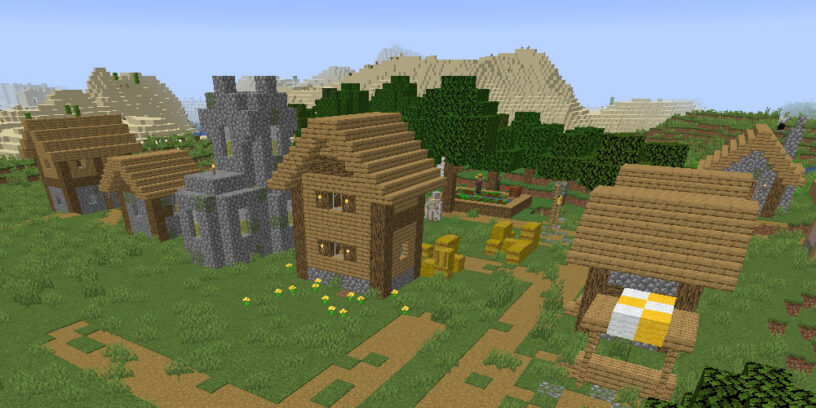 Credit: manngamania - Seed: 546581295959790967
If you'd like a couple of villages really close to your spawn then this might be the seed for you. There's a normal village right nearby, and if you make a short run over to the desert you will find another one. There's also an exposed mineshaft near the plains village which is right near spawn. You can also find a ruined portal, ocean monument, and a couple more desert villages not too far away.
If you want to eventually head to the Stronghold it isn't all that far away from the spawn! We've got the coordinates listed below so you don't have to go looking for it!
Key Locations
Village: 15 67 112
Desert Village: -153 68 38
Mineshaft: -95 39 23
Ruined Portal: -524 74 -635
Ocean Monument: 302 61 654
Desert Village #2: 185 75 -472
Desert Village #3: 520 69 -887
Coral Reef: 625 58 -901
Swamp Biome: 496 63 -1106
Desert Biome: 138 70 -1402
Stronghold: 297 78 -1398
Desert Village #4: 790 67 -332
Large Haunted Village: 1811 71 -1242
Mesa Biome, Taiga Village, & Mansion (Java)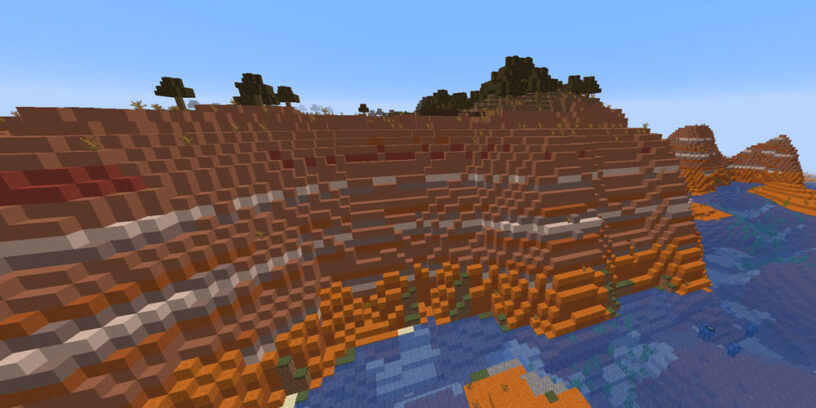 Credit: Avomance - Seed: -931867804274397901
You start out in a flower forest biome which is great for finding bees and collecting honey. If we head to the north we'll find a mesa biome with an exposed spawner and some mines to explore. If you keep going north you'll eventually find a swamp biome, ruined portal, and a taiga village! To the south you'll run into an ocean with a shipwreck and ocean ruins. If you keep heading south across the water you'll find a tundra biome and eventually a tundra village! If you head east you will find a really nice mountain biome, and you will eventually run into a pillager outpost. To the west expands the mesa biome quite a bit. If you keep heading this direction you will eventually run into a pretty sweet mansion with a nearby swamp biome!
Key Locations
Mesa Biome w/Exposed Spawner & Mines: -206 71 -114
Swamp Biome: 100 63 -422
Ruined Portal: 227 64 -542
Taiga Village: 127 62 -795
Shipwreck: 100 64 999
Ocean Ruins: 112 63 1032
Tundra Village: 278 63 1693
Pillager Outpost: 1254 89 137
Mansion: -910 63 319
Nether Locations
Basalt Deltas: 27 65 194
Soul Sand Valley: 13 91 522
Crimson Forest: 57 76 798
Bastion Remnant: 50 68 -127
Mushroom, Forest, Mesa Biomes All Near Spawn (Java)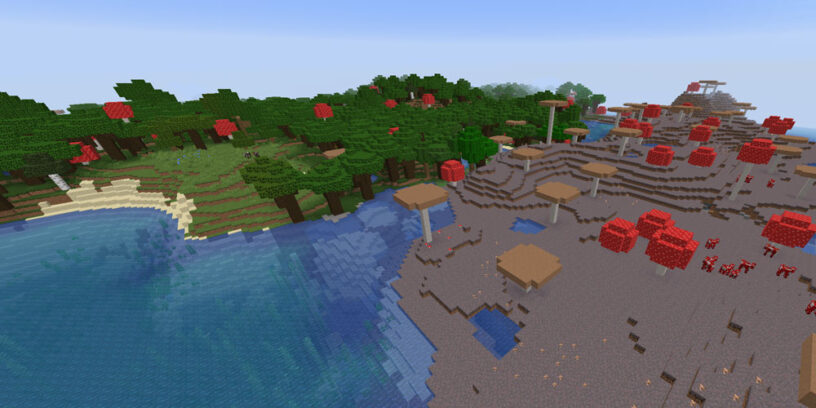 Credit: Rigz Digz - Seed: -1909600681984991067
This seed has a lot of diversity right at spawn due to it being near a Mushroom Field, Mesa, and Forest Biome! You can head over to the mushroom area for safety against monsters, and then go explore quite a bit of mines in the mesa biome! If you expand outwards more, you will find villages in the desert, a swamp biome with a hut, and you can find some Ruined Portals as well! There's a lot to love about this seed, so if you're looking for a bunch of variety then this might be the one for you!
If you create a Nether Portal in the initial spawn area you will start out in a Crimson Forest which can have Piglins for trading!
Key Locations
Mesa Mine: -71 67 -89
Shipwreck Near Mesa: 119 52 -191
Mesa Mine #2: 79 69 -334
Wooded Badlands Biome: -2 94 -394
Witch's Hut/Swamp Biome: -444 68 -396
Desert Village: -1320 63 393
Desert Village #2: -1250 66 807
Savannah Village Partially on Mountain: -869 94 787
Ruined Portal: 28 70 215
Plains Village: -454 71 234
Ruined Portal #2: -507 71 342
Desert Pyramid: -687 65 330
Savannah Village w/Ravine: -868 70 233
Bamboo Jungle Biome w/Temple: 5 73 1369
Nether Locations
Crimson Forest Biome: -10 42 -38
Soul Sand Valley Biome: -127 44 -73
Nether Fortress: -672 61 224
Large Mountainous Island w/Reef (Java)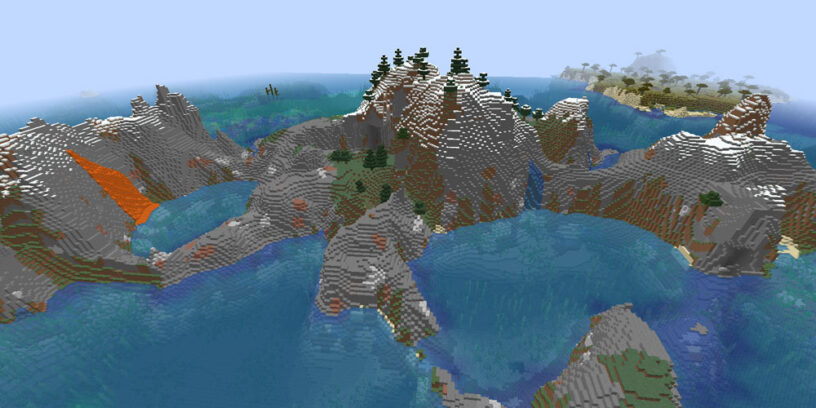 Credit: xozacqwerty - Seed: -4619615235388437653
You don't spawn exactly at this large island, but you can make it there without too much trouble if you head northwest and go through the desert biome. Use F3 to track your coordinates or just teleport there using the numbers below.
I did end up running into a Mushroom Field during my travels, but it's pretty far from the island!
Key Locations
Huge Mountainous Island: -711 86 -501
Coral Reef: -695 56 -760
Shipwreck: -588 56 -733
Above Water Shipwreck: -1052 65 -541
Ruined Portal (Savannah Island): -607 68 -298
Ruined Portal #2 (Taiga Island): -553 65 -1051
Mushroom Fields: -265 63 860
Village Oasis w/Ruined Portal (Java)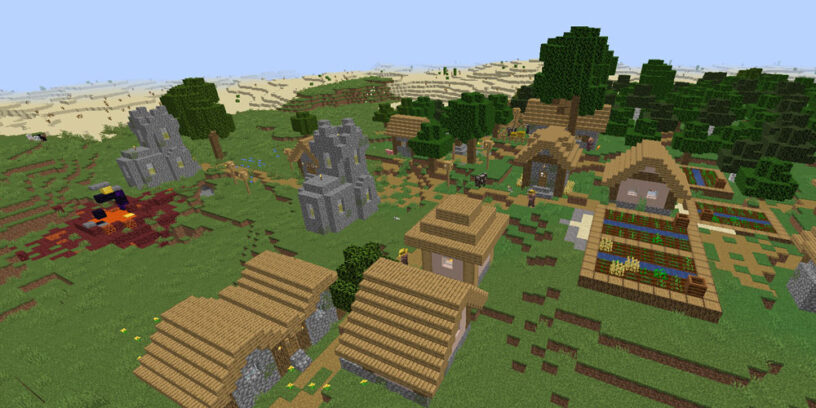 Credit: Plebiain - Seed: 1051939900539129555
We've got a great seed here with a plains biome that features a large village inside of it right smack in the middle of a large desert. You spawn right next to the village, so it's easily accessible right when you start out. There's also a Ruined Portal right nearby which features a Block of Gold and a Chest you can loot. These are newly added in the 1.16 update. The desert is large and features a pyramid, as well as an additional village not too far away from spawn. There's also a shipwreck right off of shore from the desert village.
I found quite a few villages just doing my general exploring, so it appears this seed has quite a bit to offer if you're willing to venture out!
Key Locations
Ruined Portal: 70 65 39
Savannah Biome: 5 66 298
Desert Pyramid: -382 69 24
Desert Village: -513 73 202
Shipwreck: -556 57 161
Desert Pyramid #2: -415 69 -213
Savannah Village: -241 64 -247
Ruined Portal #2: -424 67 -582
Desert Pyramid #3: 852 65 -133
Small Desert Village: 1070 67 -360
Desert Village #2: 1364 71 110