Woodland Mansions are rare structures in Minecraft. It can be a challenge to find them, as they only generate in specific conditions. We've explored some of the best seeds for Woodland Mansions and get screenshots to validate them! If you check out the seeds below, you'll find this scarcely generated Mansion near your spawn, as well as some other helpful locations!
Best Minecraft Java 1.20 Mansion Seeds
Village & Mansion Islands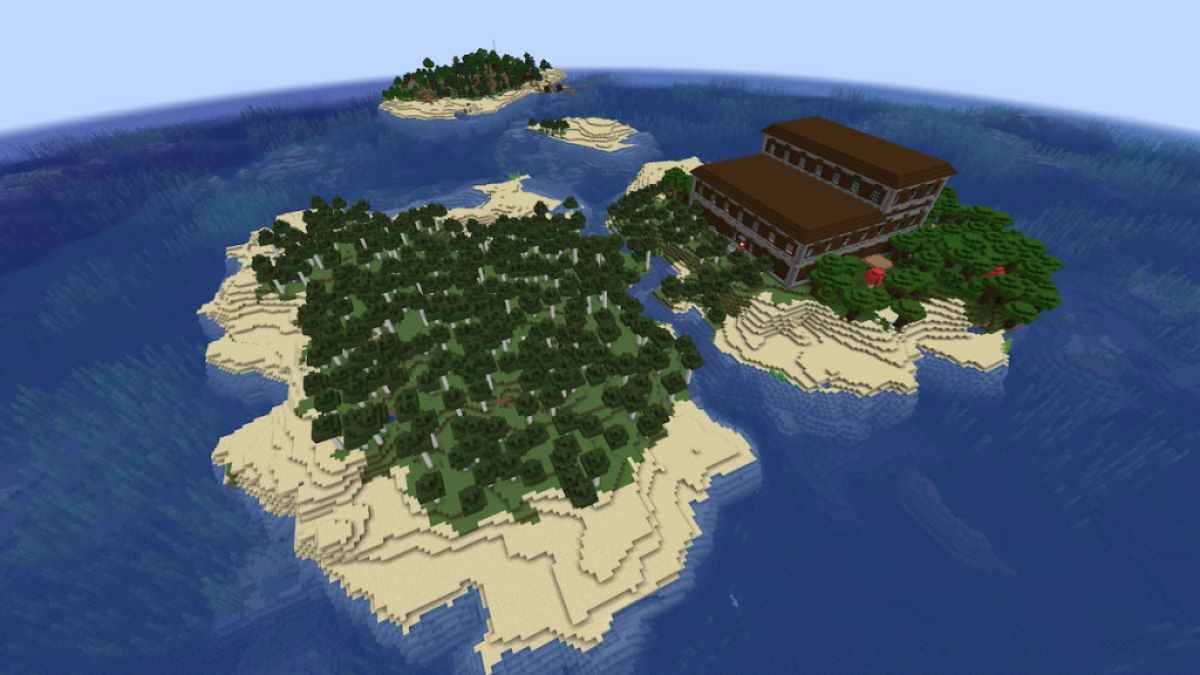 Seed: 6946123863878399
This seed spawns you on a small group of islands, with one island hosting a plains Village, and the other with a Woodland Mansion! The small distance between the two structures mean players can gear up and prepare in peace before heading into the Mansion. The ocean around this island is also great for exploration, with tons of shipwrecks, cold ruins, and Ocean Monuments scattered across.
Key Locations

Woodland Mansion: 136 152
Plains Village: 112 -160
Ruined Portal: 216 264
Shipwreck: 88 -248
Village on a Mansion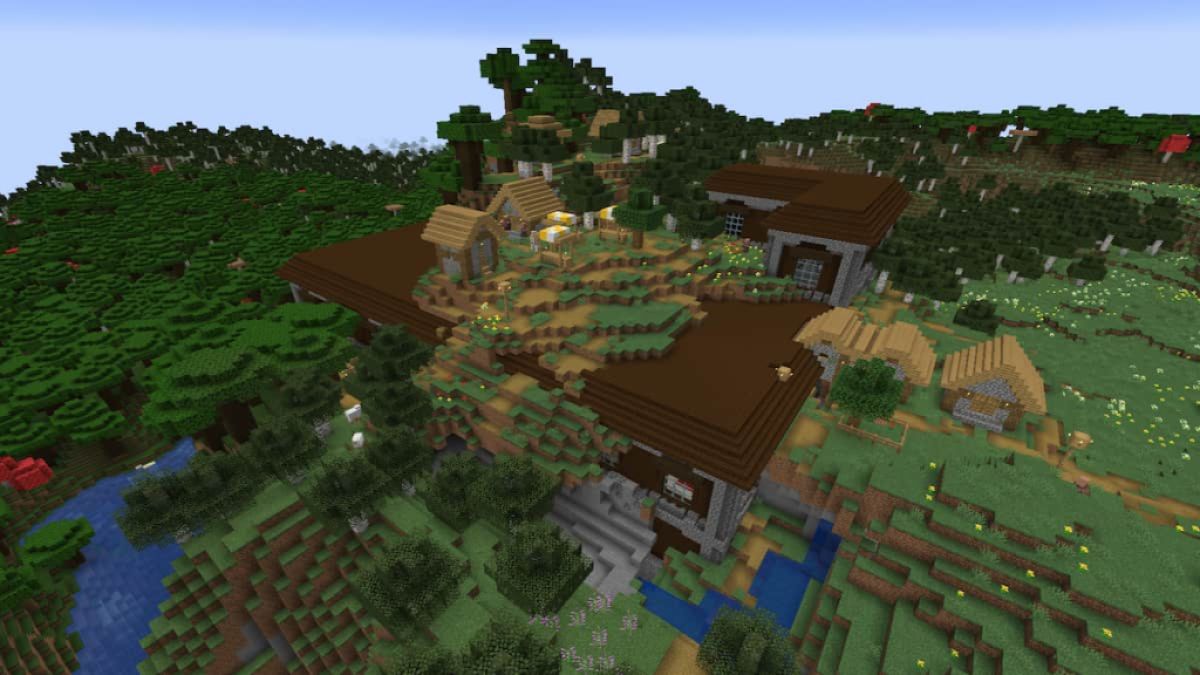 Seed: 2374522903531219544
We've all heard of Mansion spawns, or Village spawns. But how about a Village that spawns on top of a Mansion? Weird, but true. In this seed, what you see as you spawn is a village growing on top of a mansion, with some villagers' huts even extending inside the mansion quarters. Apart from that, it has everything right at spawn—a Ruined Portal beside the mansion, a large cave system, and a cold ocean with Shipwrecks and Ocean Monuments waiting to be explored.
Key Locations

Woodland Mansion: 88 72
Village on top of Mansion: 48 64
Shipwreck: -296 -168
Ruined Portal: 8 136
Buried Treasure: 153 -247
Temporary Mansion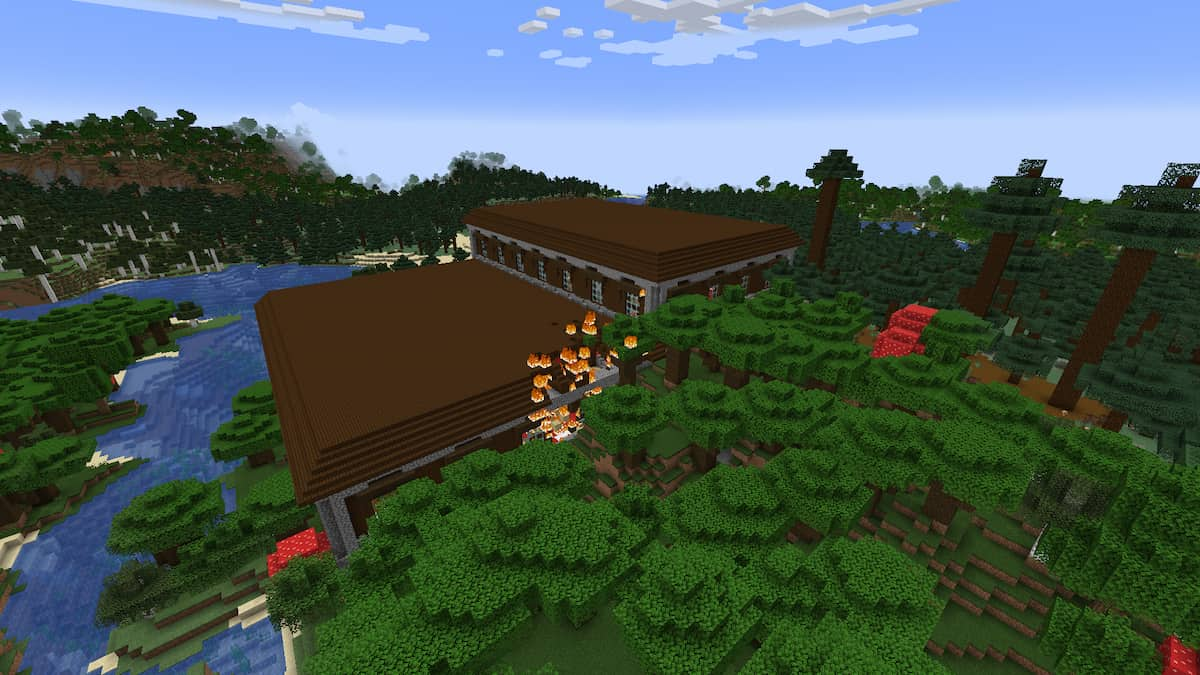 Seed: 8400566693169370642
You better check out this mansion quick, because the whole thing will burn itself to the ground a few minutes after it first loads. That's because the mansion intersects with a lava pool which causes the walls, carpets, and eventually the whole building to burn down. Hopefully taking out the more dangerous inhabitants as it goes. Plus, it's just a short climb away from spawn and a village, so it's a great way to get some quick loot!
Key Locations:

Woodland Mansion: 520, 136
Taiga Village: 384, 240
Shipwreck: 280, 168
Ocean Monument: 168, -280
Ruined Portal: 72, 120
Mansion City Spawn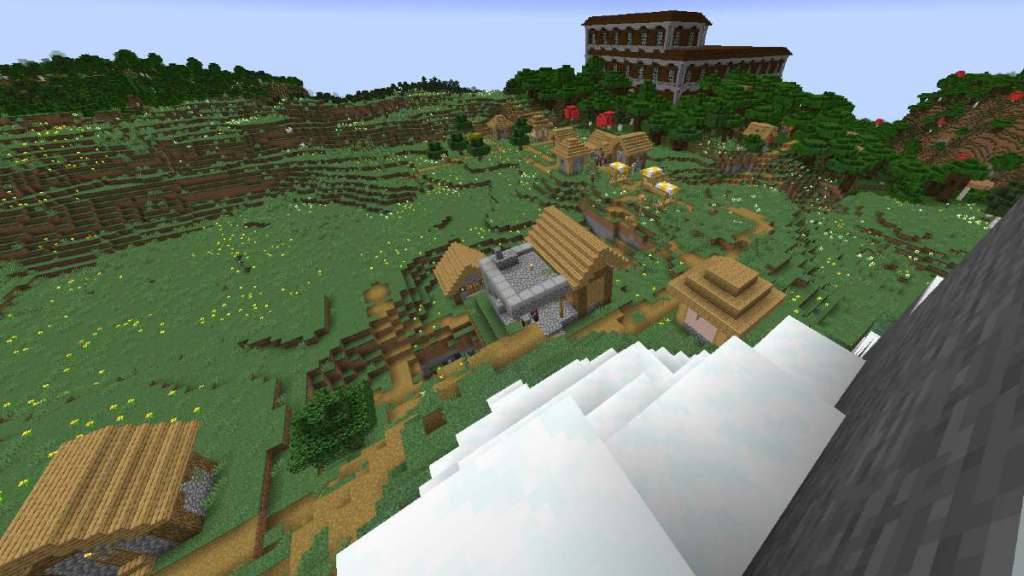 Seed: 5705783928676095273
This seed works for both Bedrock and Java, which is a rare circumstance. You spawn on the side of a mountain and only a few dozen blocks away from both a Mansion and a Village. You'll also find an Ancient City deep under spawn. This also works as a good speedrun seed on Java—you'll find a second Mansion on the way to the Stronghold only 1,500 blocks from spawn!
Key Locations

Mansion/Village: 88 120
Ancient City: 152 72
Mansion: 728 -568
Stronghold: 1316 -720
Village: -320 -480
Jungle Tower Mansion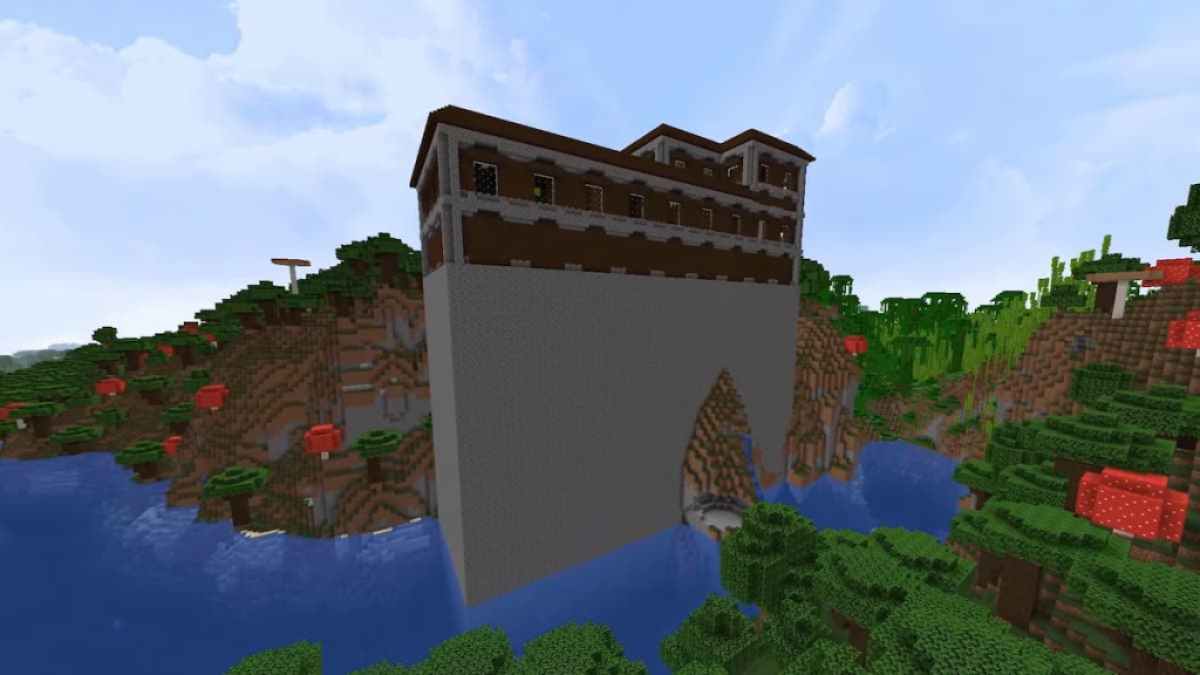 Seed: 332879550
This seed features an absolutely massive Mansion that basically sits directly on water along the edges of the jungle you spawn in. However, the large Mansion is not it's only turning point. Digging below the surface of the Mansion will lead you to a vast and open Lush Cave. This seed also has a diverse range of biomes in the near vicinity of the Mansion at spawn point, including a large patch of Badlands biome with a Desert Temple.
Key Locations

Mansion: 56 104
Ruined Portal: 104 -296
Desert Temple: -456 -408
Desert Village: -960 -208
Shipwreck: 440 72
The Corrupt Spawn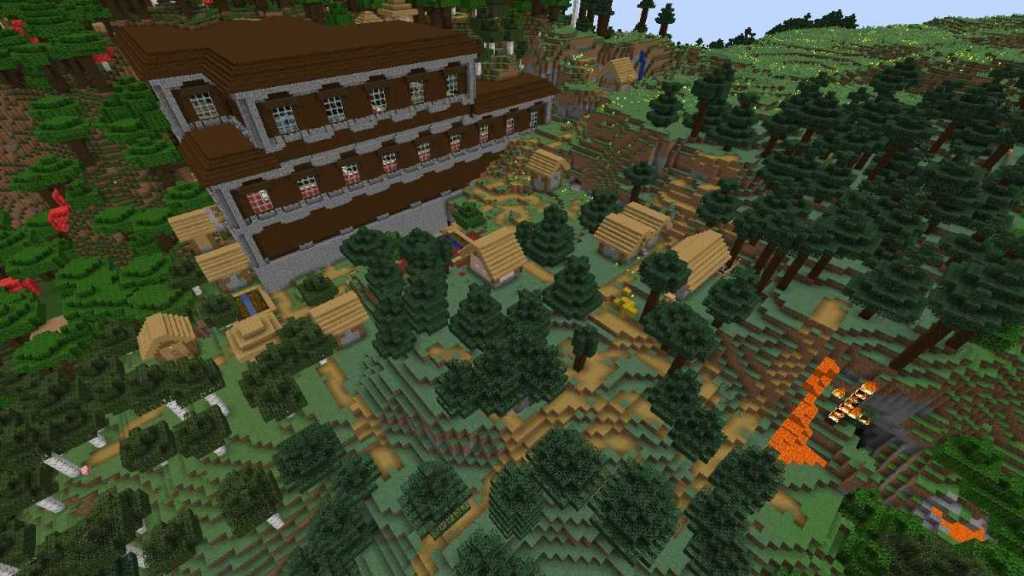 Code: 37021689
Many seeds boast that they start you in a village or on a mansion, but this seed starts you right next to both! You spawn a couple dozen blocks away from a Village that has been taken over by a mansion. Villagers are hastily running about while the evil Illagers are just a few blocks away. This map also challenges the player to think fast to put out the fire from the lava fall very close to the village!
Key Locations

Mansion: 72 136
Village: 48 112
Nether Portal: 56 104
Village: 384 -352
Best Minecraft Bedrock 1.20 Mansion Seeds
Village & Mansion inside Cave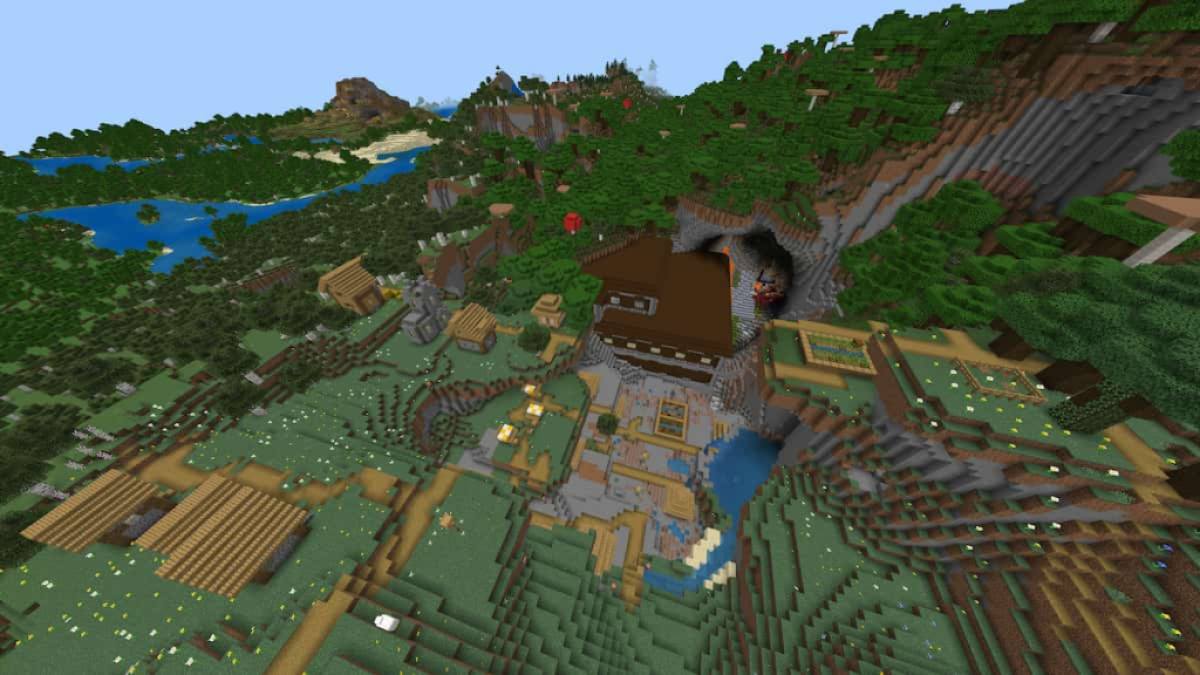 Seed: 7887943438113683498
A multi-structure point of interest is always exciting to see in Minecraft. This is why we chose this seed, which features a Village, a Mansion, and a Ruined Portal, all inside a sprawling dripstone cave! Apart from this crazy clash of structures, this seed features multi-biome forests surrounding it on all sides, which makes exploration above ground worthwhile when you wish to venture out of the caves.
Key Locations

Woodland Mansion: 88 88
Plains Village: 56 168
Ancient City: 40 -51 136
Mineshaft: 312 -8
Pillager Outpost: 40 -1,064
Hidden Cave Mansion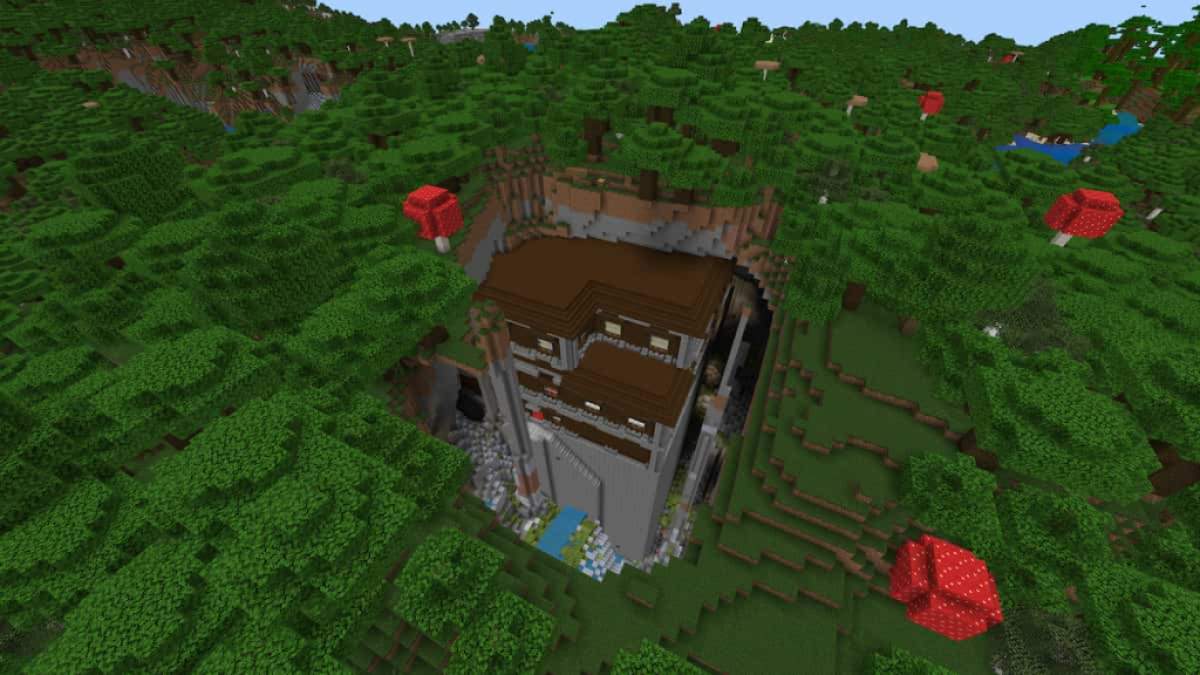 Seed: -2238350781986886782
Everyone is familiar with the fact that Woodland Mansions in Minecraft have very specific generation rules. That's what makes this seed so unique, as it features a Woodland Mansion that literally spawns underground. It has a large crater opening at the top for easy access to the overworld. The generation almost makes the mansion feel like a hidden base of operations of some dubious Illagers.
Key Locations

Hidden Cave Mansion: 243 63 -749
Taiga Village: -504 -408
Pillager Outpost: -1,000 -968
Jungle Temple: -904 -1,208
Ruined Portal: 232 -920
Taiga Mansion
Seed: 1549669365988579852
Finding a Woodland Mansion is as easy as it gets with this seed which spawns you directly on top of a Woodland Mansion, with a Taiga Village attached to it. The peculiar fact about this seed is that many houses of this Taiga Village are located inside the lower levels of the Woodland Mansion, as if the structure was a part of the village itself. Further adding to convenience, a Nether Portal can be found a stone's throw away from your spawn point. Surrounded by long river channels, and lush greenery all around, this seed will give you a jump start, as well as a lot of inspiration from the get-go.
Key Locations

Woodland Mansion: Spawn
Taiga Village: 56 88
Ruined Portal: 88 88
Pillager Outpost: 504 472
Desert Temple: 296 -1,384
The Mountain Village Mansion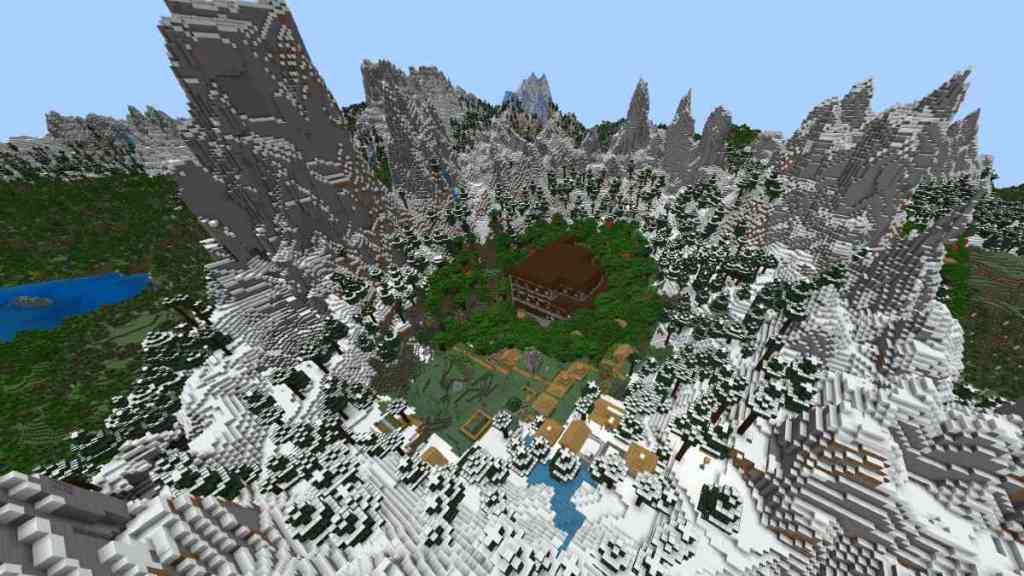 Seed: -6709148406763899126
Spawn on a majestic mountain range ring in this seed that is home to a Village and Mansion, two sides protecting a deep dark secret underneath the surface. The Mansion near spawn is directly above an Ancient City. However, with your help, the nearby Village can overtake the mansion and all three can provide you with great resources to kick off a majestic Minecraft adventure.
Key Locations

Village: 88 72
Mansion > Ancient City: 104 152
Village: -248 -280
Village: -856 -392
Village: 280 -808
River Bank Mansion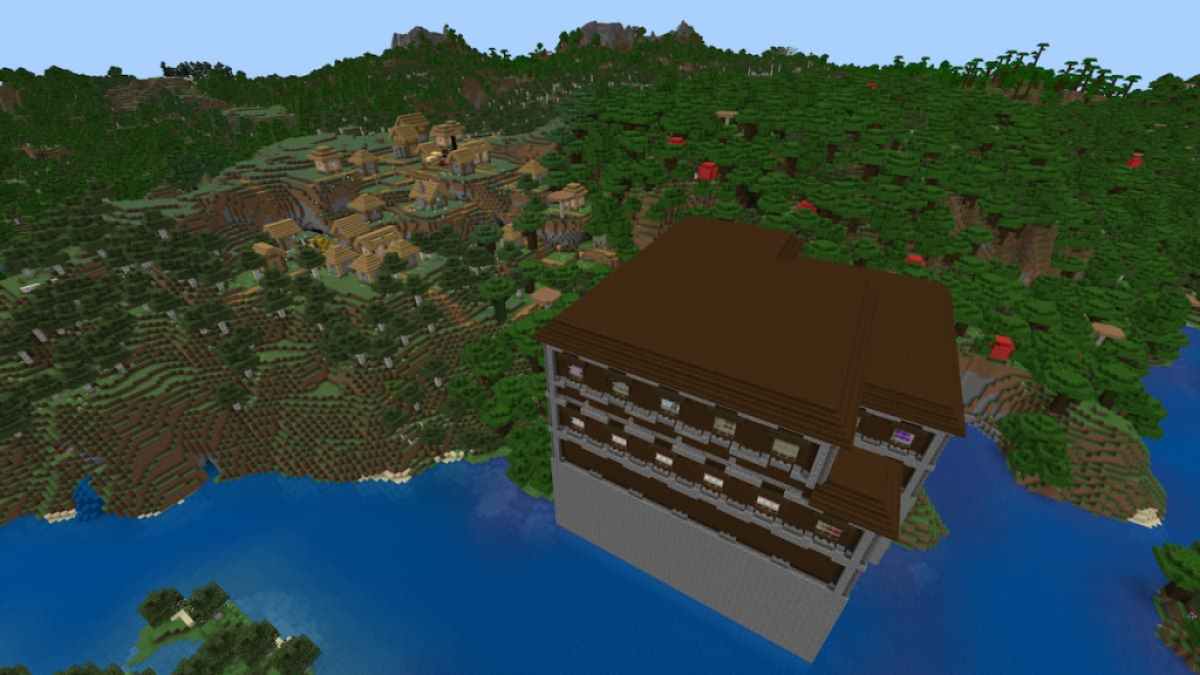 Seed: 1289241832832901779
This is one of the best Bedrock seeds if a Woodland Mansion at spawn is what you're looking for. However, with this seed, not only will you spawn behind a massive Mansion sitting on a river bank, but soon find that it is located right beside a Plains Village quietly sitting on the adjacent meadows. This neighboring village also has a Ruined Portal. Follow the river east to find yourself in a huge ocean with shipwrecks, ruins, and tons of Buried Treasure along its banks.
Key Locations

Mansion: 8 8
Plains Village: 120 8
Plains Village: -408 -312
Pillager Outpost: -712 -872
Ancient City: 552 -51 456