You need to systemically clear paths that have been overgrown with weeds or secured with magic trappings as you play Little Witch in the Woods. One of the obstacles you encounter early in the game is the Honey Pumpkin weeds that block the next section past Green Forest Plateau. Here's how to take out the weeds and make sure they don't come back.
How to get rid of the Honey Pumpkin weeds to unlock the new area in Little Witch in the Woods
While searching through the Green Forest Plateau area of the map (this is the area uphill and West of the Witch's home), you'll spot a large crop of Honey Pumpkin blocking your path to continue on. To clear the Honey Pumpkin weeds out of the way, you'll need to head back to the Witch's home and craft a Weed Terminator Potion.
Once you have the Weed Terminator Potion, head back to the spot and equip the bottle of weed killer. Use the controls instructed to you (different depending on PC or Xbox) to Aim and then Throw While Aiming. If you aim correctly, the potion will clear the weeds. Now, finish it off by interacting with the Honey Pumpkin nucleus (the little orange orb) and holding down the key until it is eradicated. This makes certain it does not grow back.
Related: Can you choose your character in Little Witch in the Woods?
How to craft the Weed Terminator Potion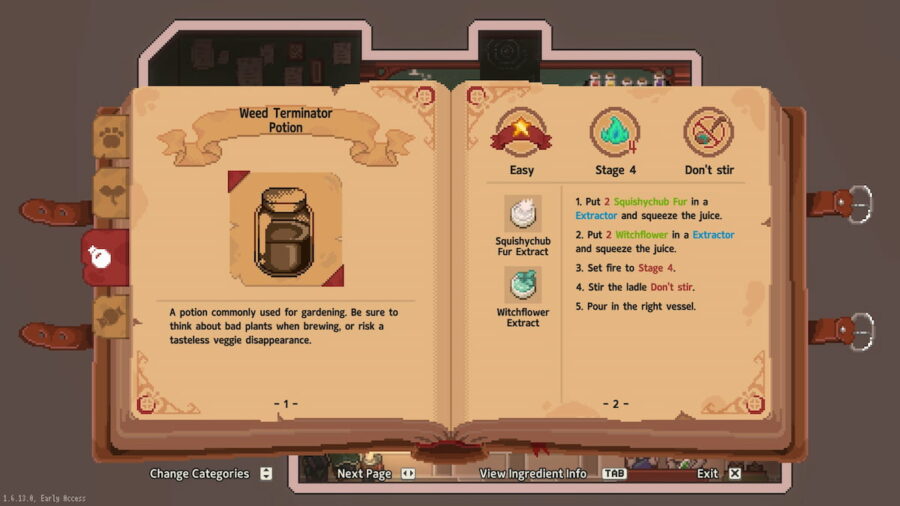 If you're at the point that you have already met Aurea and got the Glass Extractor bottle from her, you've likely already created the Weed Terminator Potion once before (as you needed to destroy the weeds to access her location). The difference this time is that you are all out of the Extracts you used last time. Now you have to make your own.
While downstairs in the Workshop, head over to the Extractor on the left side of the doorway. Interact with it and use your ingredients to create Squishychub Fur Extract and Witchflower Extract. These are the only two you'll need for now. Then, head over to the cauldron and carefully prepare the potion. Double-check that all of these measures are taken before crafting:
The fire is set to Level 4.
The ladle is set to Don't Stir.
You have both Extracts equipped.
Want to read more about Little Witch in the Woods? If so, check out How to get the Glass Extractor Bottle from Aurea in Little Witch in the Woods on Pro Game Guides.