Harmony is a Legendary item that isn't very difficult to get — in our experience, at least. For those of you that rarely find luck, you may be in trouble.
The components for Harmony can all be found in one shop. All you need is either enough luck to get what you need quickly or enough Silver to force your way into the right items.
Once you have the three components needed, you can craft Harmony via Stelia the cook in Vern Castle. You'll also need 1,700 Silver to craft Harmony
Related: How to get all North Vern Cooking Collectibles in Lost Ark
Where to find Fresh Cocktails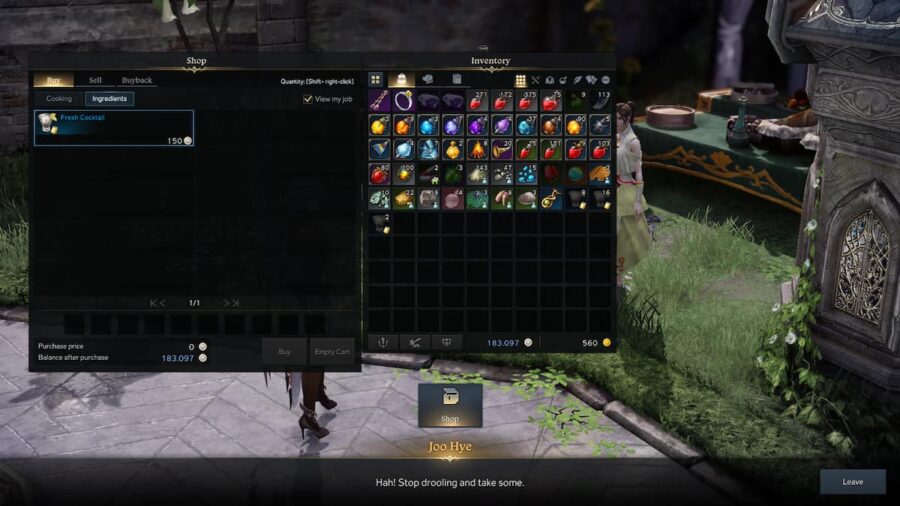 To obtain the three ingredients for Harmony, you'll need to buy Fresh Cocktails from Joo Hye in Vern Castle. Each Fresh Cocktail costs 150 Silver.
The Fresh Cocktail, when right-clicked in your inventory, will turn into one of three different items:
A Questionable Cocktail
A Pungeant Cocktail
A Palatable Cocktail
You'll need one of each of these items to craft Harmony. In our experience, You won't have a problem getting a Questionable or Pungeant Cocktail. Your only challenge is getting the Palatable Cocktail.
We obtained a Palatable Cocktail after using just 22 Fresh Cocktails, which cost us 3,300 Silver. As far as the dishes in the Adventurer's Tome can go, Harmony was rather cheap and easy to obtain.
For help with more food in Lost Ark, go check out How to craft Manpo's Mystery Meat Dumping in Lost Ark on Pro Game Guides!