Her Majesty's Secret is a Hidden Story in Lost Ark that can be frustrating due to how close each marker is to enemy spawn points. To begin this quest, go to Fesnar Highland in North Vern.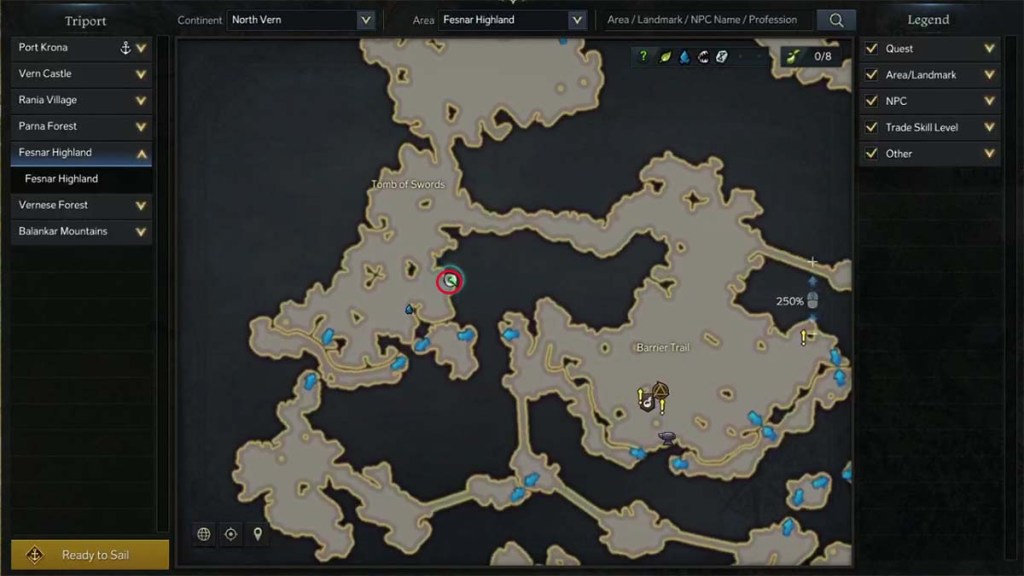 The Tomb of Swords is the first spot you need to visit on the west side of the map. Look for the large stone with the red marking on its front. Inspect the back of the stone rather than the front. To pop up the option, we had to go to the right side of the stone. It is important to remember that an enemy spawns very close to you and will attack you every time it spawns.
Related: Where to find "Navegal's Fate" Another Story in Lost Ark
The next location is farther west but still in the Tomb of Swords. Take out all enemies around this marker. There isn't much time to find this one because they keep spawning. A large statue shaped like a sword is held up with wooden spikes. Look at the note on the ground in front of the statue.
Next, visit the Balankar Mountains in North Vern. In Veloran's Hideout, you will find Ancient Elveria, a dungeon on the north side of the area. Go inside.
You need to go all the way to the center of the map called Contaminated Ruins. Go to the circular area in that location, which is on the side that overlooks the rest of the temple. As you walk around the railing, you will see the inspect option appear when you reach the point marked above.
For more Lost Ark guides, check out Where to find "Probing Goblin Village" Another Story in Lost Ark or Where to find "Help the Orphans" Another Story in Lost Ark in Lost Ark right here on Pro Game Guides.