Speed makes a big difference in Madden. Players who are able to break off big runs, chase down opponents, or make quick cuts are very valuable additions to any team. Speed is especially important in Madden 22 as player control is even more in-depth and movements are more realistic. Only one player sits at a 99 speed rating and not as many players have earned very high ratings. Here are the fastest players in terms of speed in Madden 22.
Tyreek Hill — 99 Speed
Henry Ruggs III — 98 Speed
Anthony Schwartz — 97 Speed
Jaylen Waddle — 97 Speed
Marquise Brown — 97 Speed
Mecole Hardman — 97 Speed
Raheem Mostert — 97 Speed
Donte Jackson — 96 Speed
Javelin Guidry — 96 Speed
John Ross III — 96 Speed
Related: Best Defensive Backs in Madden 22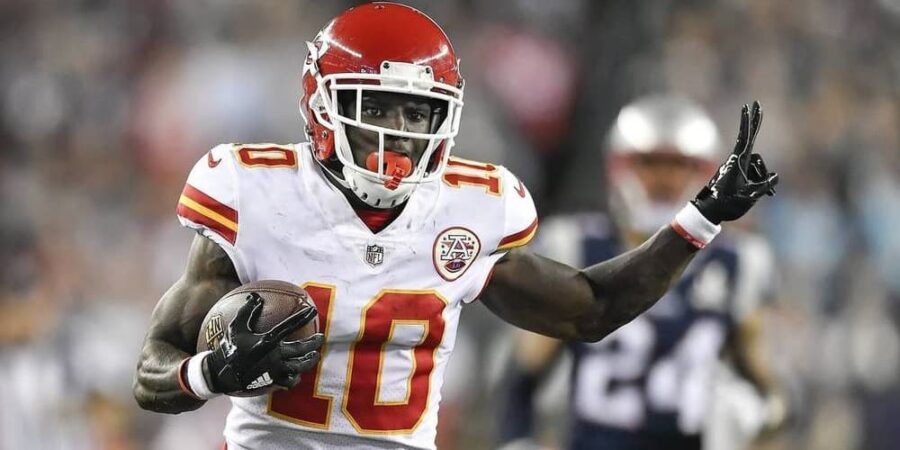 Tyreek Hill sits at the top of the speed rating for good reason. The Chiefs receiver has quickly become one of the best receivers in the league due to his incredible speed and crisp route-running. Before being drafted into the NFL, Hill was an accomplished track athlete, having run fast enough to qualify for Olympic Trials in 2012. Sophomore Raiders receiver Henry Ruggs III showed off his speed last year to earn a 98 rating this year. Ruggs also clocked a 4.27 second 40-yard dash time at the 2020 NFL Combine.
One of the most interesting speed ratings is held by 20-year old rookie Anthony Schwartz. Despite not playing a down yet, Schwartz is the third-fastest player in Madden 22 due to his previous accomplishments. Not only did Schwartz run an insane 4.25 40-yard dash at this year's combine, but he also is the current world record holder for fastest 100-meter dash time under 18 years old. Mecole Hardman is another notable speedster on the list. Paired up with Hill in Kansas City, Hardman presents a deep catch danger on every play.
Although he barely cracks the top 10 list, John Ross III is widely considered one of the fastest receivers and is the current record holder of the NFL Combine 40 time with a 4.22-second run. Other great players that barely missed the list include Lamar Jackson (96 Speed), Curtis Samuel (95 Speed), and DK Metcalf (95 Speed).
For more Madden 22 guides, check out Best Wide Receivers in Madden 22 on Pro Game Guides.