Minecraft Dungeons is the brand new dungeon crawler released by Mojang Studios. This style of game has you slaying waves of monsters on your way to strong bosses and exciting loot! We're taking a look at the best armor you can obtain the game right now. If you want to survive and make your way through the hordes, you will need to make sure you're protected.
It is obviously very early in the game's lifespan right now, so we've got a preliminary look at what has been found to be powerful so far. This list will likely evolve over time as players find more gear and figure out new builds. We'll be updating our list periodically as new things are found, so you will always know what's best armor to use in Minecraft Dungeons!
The Blacksmith is a good way to get new armor, so check out our Emerald Farming Guide to hopefully craft something powerful!
Best Armor in Minecraft Dungeons
Here's our list of some of the best performing armor in Minecraft Dungeons so far:
We go into details on why this armor in particular stands out in the game below! If you're curious about weaponry, check out our Best Minecraft Dungeons Weapons Guide!
Frost Bite Armor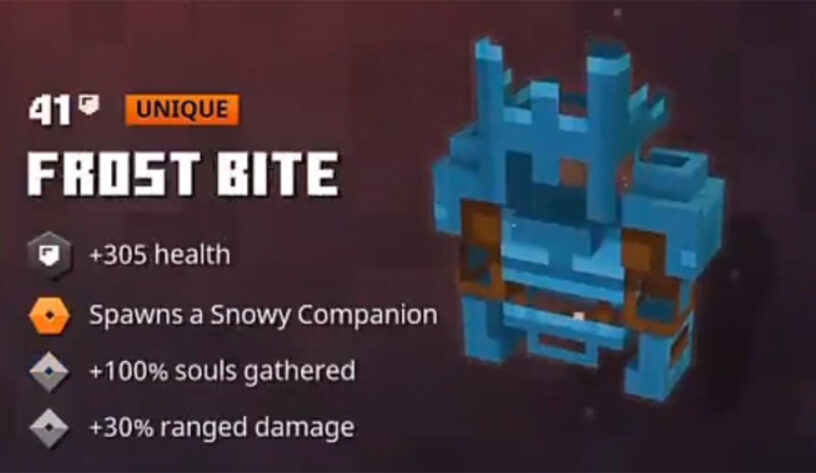 Frost Bite remembers the icy winds which once flowed beneath the wings of mighty Phantoms.
This is a pretty powerful set of armor because it has a lot of powerful attributes on it. You get a significant buff to your health, the unique attribute spawns a Snowy Companion which can help you in combat and will tank mobs for you, there's a 100% increase in souls gathered which is a mechanic that allows you to increase your ability to use your Artifacts more often, and of course you get a nice buff to ranged damage!
Frost Bite armor can also include a Chilling enchantment which will freeze attacking enemies! This gives you more time to dish out damage or prevents you from getting swarmed in the later stages of the game.
Fox Armor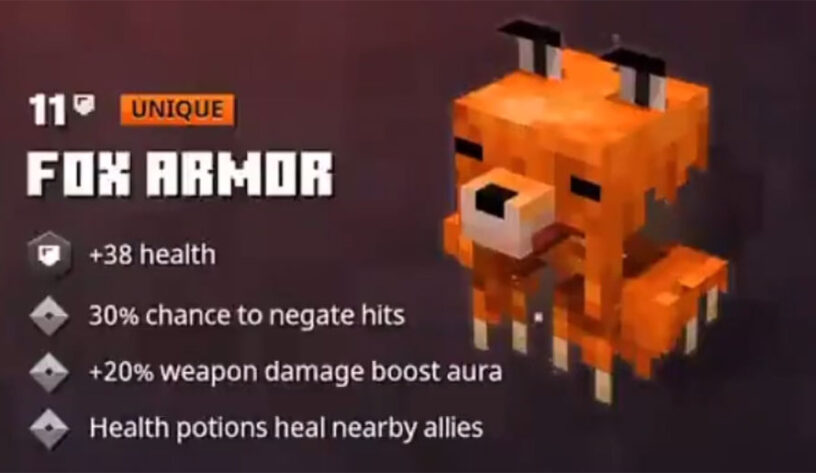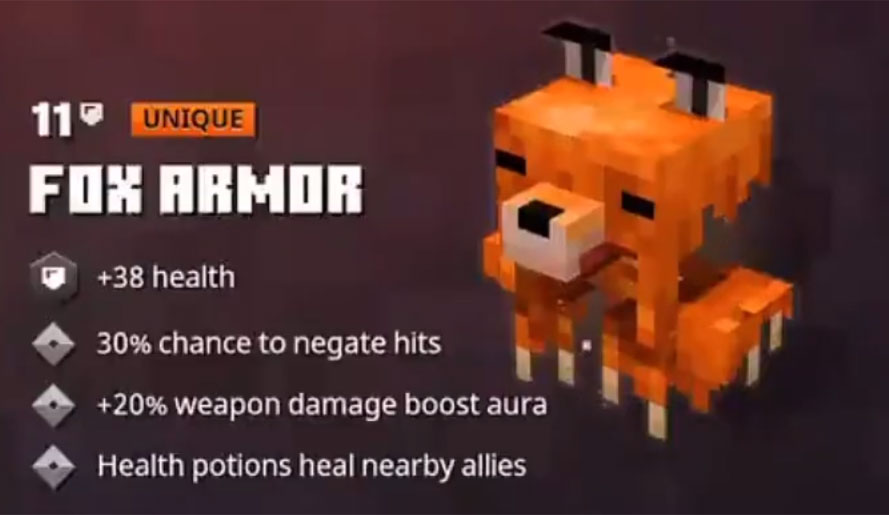 Ancient Village tribes created this armor to honor the fox, who is a great and agile warrior.
Now, I will only recommend this armor to players who are playing in a group of people because it has a couple of support abilities on it. This armor is great if you're playing a more evasion based build because of the chance to negate hits. It's great in a group because you give off a weapon damage boost aura that will benefit allies. Not only that, when you use a health potion in the game you will heal your nearby party members. So, if you want something to help your team out, then this is a great option if you don't like to get into the fray too often!
Highland Armor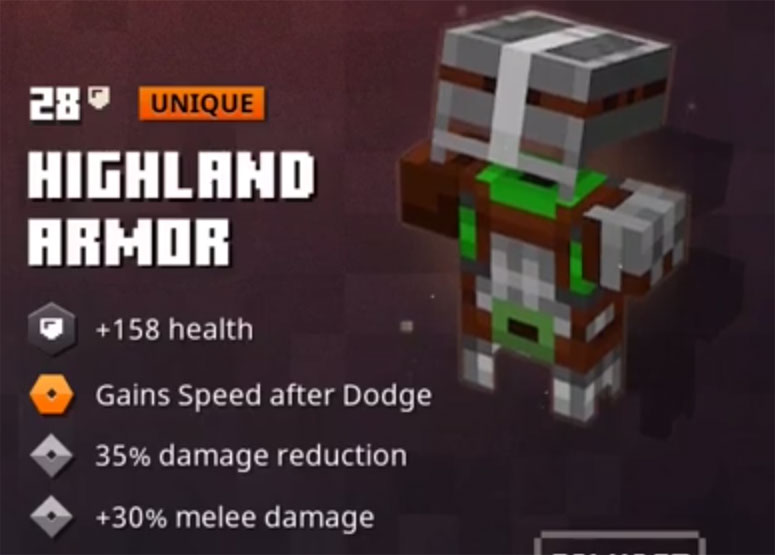 A wise armorer made this armor with care.
If you want to play a tank style of character that specializes in melee attacks then this is a great option. You get a nice boost in health, you have a significant damage reduction perk, and you get a pretty huge +30% to melee damage. The Gains Speed after Dodge ability is decent, but isn't really the highlight of this armor. This is an all-around strong armor due to its tankiness and increased damage.
Archer's Armor
Archer's Armor, favored by humble warriors, is cheap to make and still stops a blade.
If you're leaning towards an archer based build then the Archer's Armor is one of the best options. You get a significant health boost, a movement speed aura for you and your allies, additional arrows when you collect them, and a pretty significant ranged damage buff. There's nothing super special about it, but if you're want to stay ranged for the most part it's hard to go wrong with this option!
That concludes our current look at the best armor in Minecraft Dungeons. I'm sure there will be additional options listed in the near future, but for now get out there and slay some mobs to obtain that loot!