Minecraft Dungeons is finally here, and one of the best parts about these type of games is finding the top items for your character! Well, look no further, because we've got a list of the Best Weapons you can find in Minecraft Dungeons. If you want to start taking out hordes of mobs fast, then you'll want to make sure you have some of these bows, swords, scythes, and more equipped before you head out!
The game is just releasing as of the first writing of this guide, so understand that this is an early look at what has been discovered as powerful currently. This list will likely evolve over time as players find more weapons and figure out new builds. We'll be updating our list periodically as new things are found, so you will always know what's best weapons to use in Minecraft Dungeons!
The Blacksmith is a good way to get weapons, so check out our Emerald Farming Guide to craft some new ones!
Best Weapons in Minecraft Dungeons
Here's our list of the best weapons in Minecraft Dungeons right now:
You can find a detailed look at this below with a description of what makes them so good! Keep in mind that damage stats will be different depending on the level of the weapon. If you're curious about armor, check out our Best Minecraft Armor Guide!
Fighter's Bindings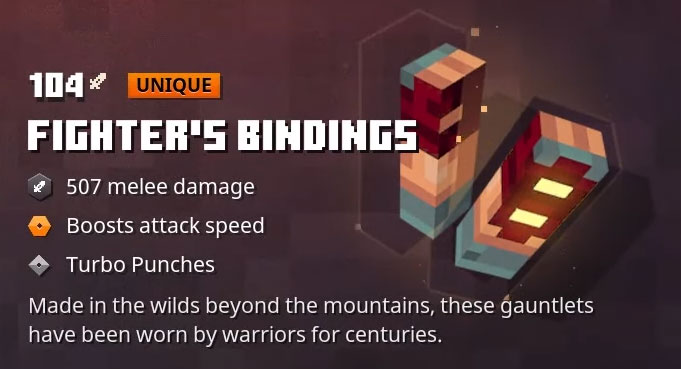 If you're looking for the fastest attacking weapon in the game then this is it! Fighter's Bindings boost attack speed, and will throw something called Turbo Punches. This weapon while low on power is incredibly strong due to how well it pairs with some of the stronger enchantments. The ones you'd be looking for are Radiance, which has a 20% to heal you and your allies in a small circular area on hit. Swirling is another great one because it will hit nearby enemies and allow you to AOE down the ones you aren't currently focused on. Shockwave is also a strong one which adds a similar perk to your weapon.
Another interesting combo would be Anima Conduit and Soul Siphon. This would greatly benefit you if you are using soul based artifacts. Anima absorbs a small amount of health for each soul you absorb, and siphon gains you a 10% chance to obtain souls on hit. You will obviously be hitting a ton, so you should be triggering this quite often.
Fighter's Bindings can be obtained by farming Soggy Cave or Cacti Canyon. You can also get them randomly from the Blacksmith!
Eternal Knife
If you're making a souls based build then this is one of the weapons you'd like to have. Not only does it have the +2 Soul Gathering perk that you want, it has the unique ability to gain souls on a hit. Souls builds are looking to be pretty strong due to some powerful Artifact options available. This would be the ideal weapon in one of those builds, particularly if you can find one with strong enchants on it.
If you're building for Souls, you can also consider using the Truthseeker. It's similar to the Eternal Knife with the additional Soul Gathering, but features the unique increased damage to wounded mobs perk instead. Other options include the Frost Scythe, Soul Fists, and Jailor's Scythe. The Soul Fists in particular have a Souls Critical Boost unique perk that could be beneficial.
Feral Soul Crossbow


If you listen closely you can hear the souls inside the crossbow, usually ridiculing you.
Another great soul based item for your build. The Feral Soul Crossbow comes with the additional Soul Gathering, but it also comes with the unique Souls Critical Boost perk. It's a pretty hard hitting bow, so you can dish out quite a bit of damage with it as your ranged option.
The Bow of Lost Souls is another good option because it features Soul Gathering, and has the unique perk of having a Chance for Multishot.
Guardian Bow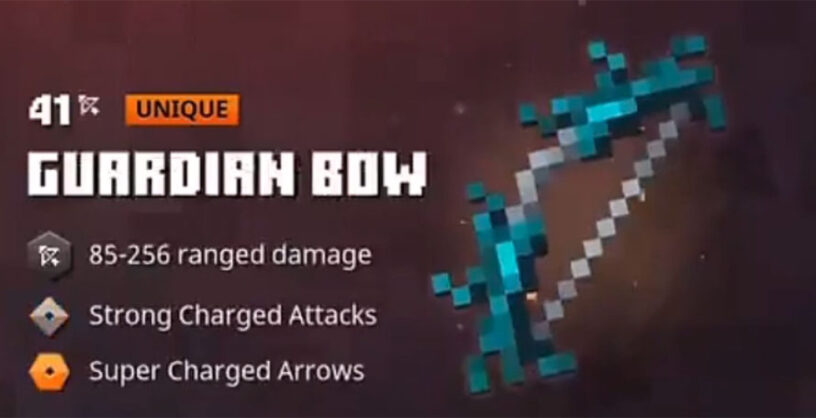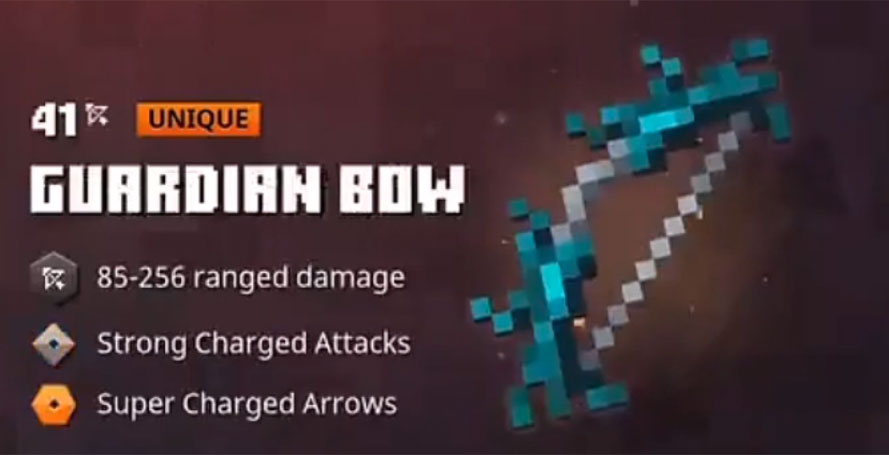 Forged from fossilized coral, the Guardian Bow is a remnant from sunken civilizations of lost ages.
The Guardian Bow is a powerful option for your ranged attack slot. It has great base damage and a couple of great abilities that make it even more powerful. With any bow, when you hold your attack for a second or two before firing you trigger a charged attack. With this bow, it deals even more damage when you do that due to the Super Charged Arrows attribute.
Red Snake Bow
The Red Snake Bow is a pretty good option if you want to eliminate large groups of enemies. While it's lower in base damage, the reason this bow stands out is due to the Change for Arrows to Explode ability. When you land a shot, it has a random chance to explode shortly afterwards. This explosion deals nearly double the normal attack damage as an AOE. If you hit this on a group of mobs, you will likely wipe them out in one shot! Strong Charged Attacks is another great ability to have, so this is a well-rounded option that's great for packs of monsters.
I would tend to avoid the Piercing enchantment on this bow because you want your shot to stay within a pack of monsters. If it pierces through it will lodge in a wall or somewhere potentially further away from them and explode harmlessly.
Dark Katana
A blade that will not rest until the battle has been won.
The Dark Katana is a powerful sword that has quite a bit of base damage and gets the bonus of extra damage to Undead enemies. You will be facing off against quite a bit of Undead, so don't overlook that perk.
Elite Power Bow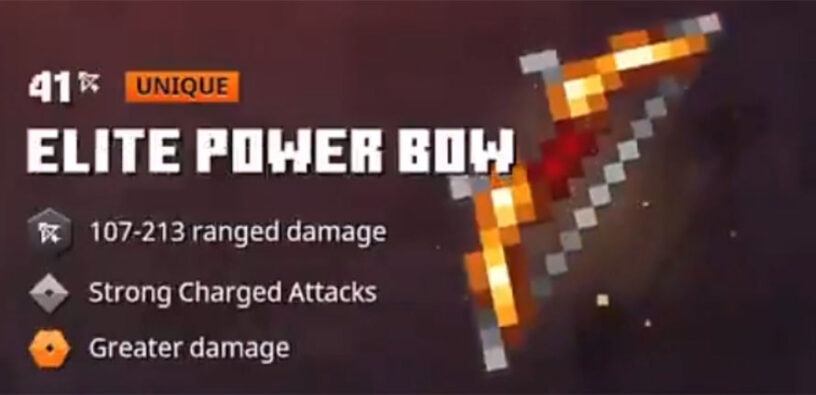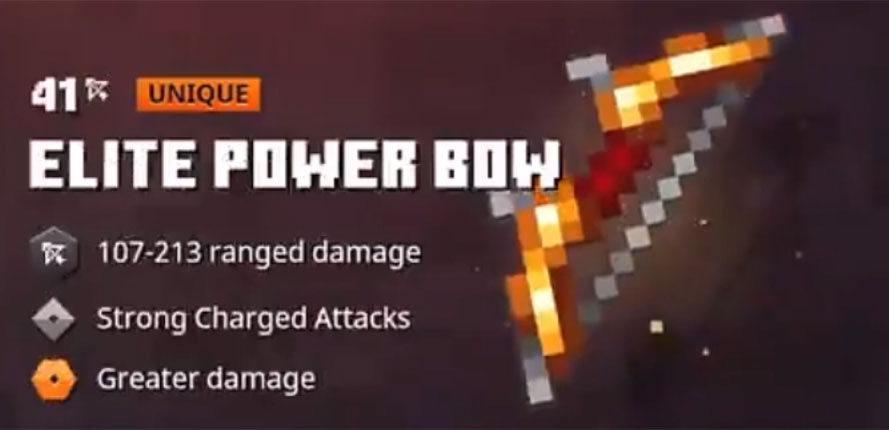 The secrets of the Elite Power Bow's construction have been lost without a trace.
If you're looking for just raw damage then the Elite Power Bow is one of the best option. While it's base damage doesn't surpass the Guardian Bow, it has the Greater Damage perk on it that increases the damage even further. This bow is a great one to pair with piercing, since you'll be hitting very hard and hopefully lining up monsters to takeout in a row.
That concludes our first look at the best weapons in Minecraft Dungeons! We'll be looking to update this again as soon as possible to keep you in the know on the best options for your builds. If you have suggestions on additions to the list, let us know in the comments.