Ever wanted to build something in Minecraft, but yet you can't come up with anything? We've got you covered with some of the best Minecraft building ideas we could find. Take inspiration from a medieval castle, a sushi restaurant, or even a botanical garden!
Best Minecraft Castle Builds
Castle with Moat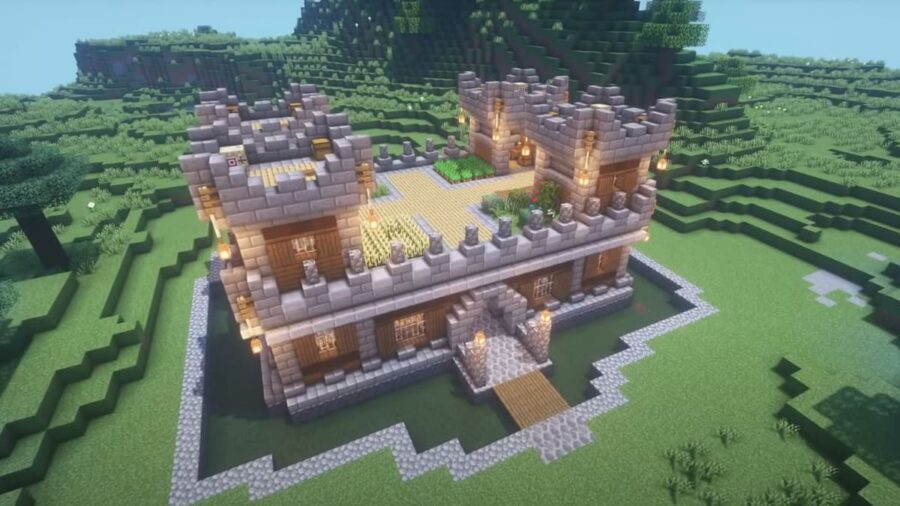 Keep yourself protected in this small castle with a wraparound moat. It also featured a rooftop courtyard for you to stand atop whenever you get tired of being inside. Due to its size, this build strikes a middle ground between a castle and a house, making it suitable for a player who doesn't want to build a gigantic structure.
Medieval Castle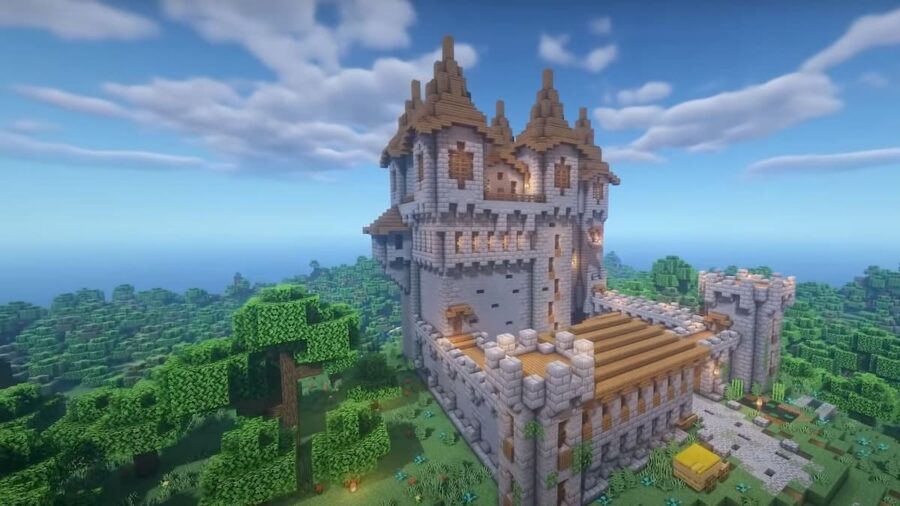 For the player that wants a sizable and classic-looking royal palace, this medieval castle will hit the sweet spot. Its large exterior is the same on the inside, meaning that space is not wasted, which can be an issue in some Minecraft builds. Despite its impressive quality, this castle can be completed by players who are between beginner and intermediate levels of experience.
Japanese Autumn Castle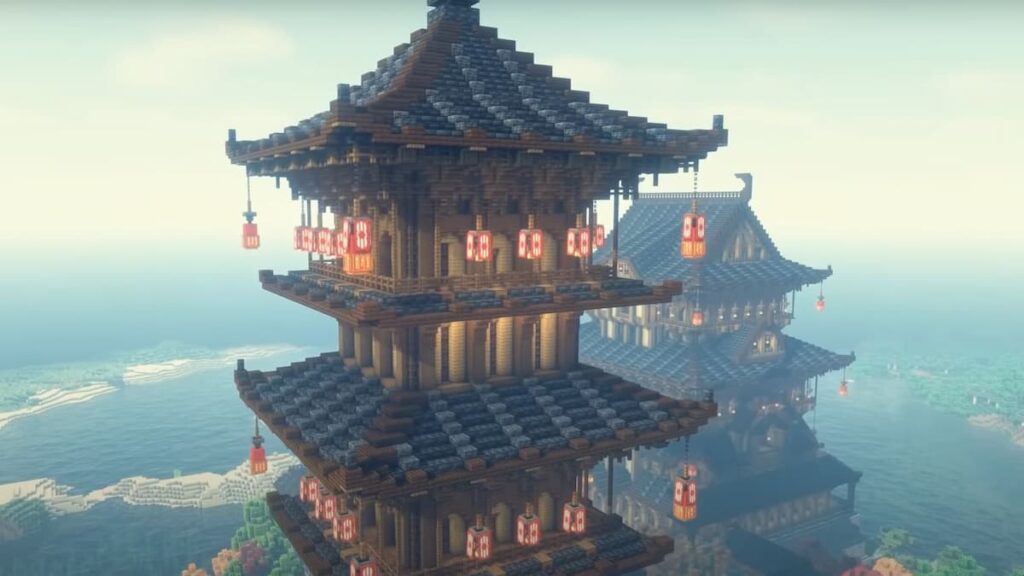 If you're looking for something royal and large but you also want something that is stylized, try out this Japanese Autumn Castle. It does require a bit of patience, time, and skill to build, so this may not be ideal for beginner Minecraft builders. This build also requires a lot of materials, so make sure to review the materials in the tutorial. While it's quite a feat to build this castle, it is one of the most beautiful castle ideas available and makes it worth the endeavor.
Best Minecraft Restaurant Builds
Cat Cafe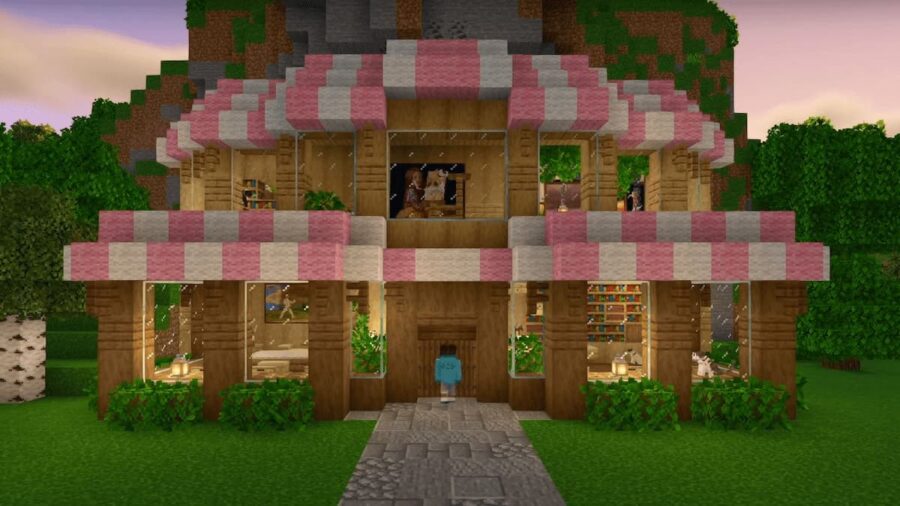 Combine the vibes of a cozy cafe with the cute energy of a cat shelter by building an adorable cat cafe. This build is beginner-friendly and does not require too many different items to make it. The two-story cafe features bookshelves, comfortable seating, and semi-private nooks for the cats to relax within. You can easily make this design within a couple of hours, probably much sooner if you have some building experience.
Sushi Restaurant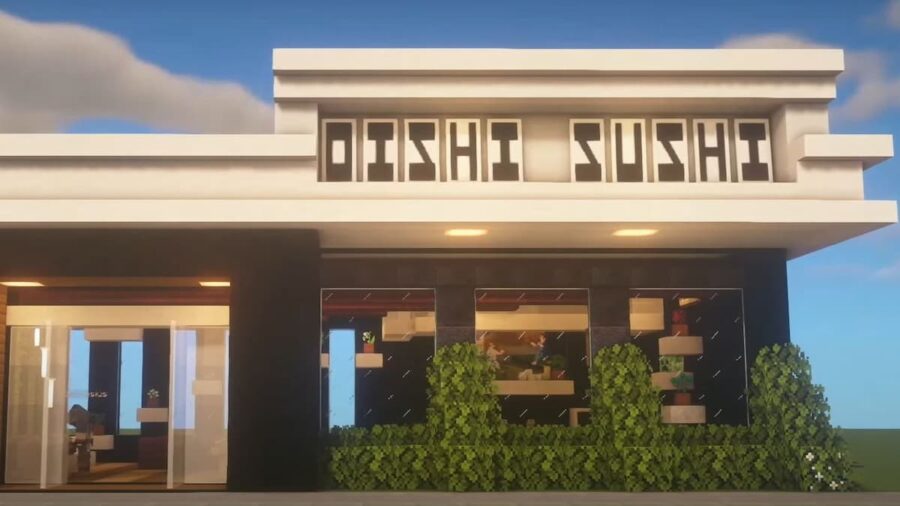 Players looking for a mix of modern and sleek should consider trying out this Sushi restaurant tutorial by Servasius. This food establishment could be mistaken for a home, thanks to its calming and welcoming atmosphere. The restaurant does require quite a few different materials, but it has the tradeoff that it sticks to a pretty easy rectangular layout.
Food Truck
Not looking for a traditional restaurant or do you want a place to eat with limited space? Consider building a food truck like this one. It features small outdoor seating, a large serving counter, and even a bit of real walking space within the truck. This is mostly for show, so don't expect to get a lot of practical use from the truck. The truck works very well as a semi-operative, but mostly decorative structure.
Best Minecraft Park Builds
Circular Botanical Gardens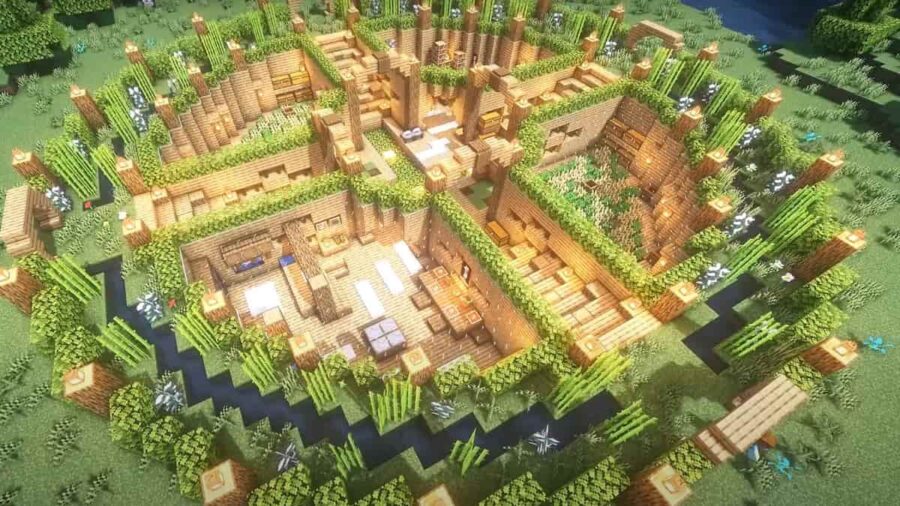 Builders who are hoping to find something aesthetically pleasing, and challenging, but also provide a sight both from the ground view and aerial view should consider a botanical garden. This circular botanical garden is half beautiful foliage and half an artistic maze. It requires quite a few materials, a little time, and is not a great build for beginners. As long as you're an intermediate builder, this garden should be on your to-do list.
Related: Best Minecraft Servers in 2022
Courtyard Park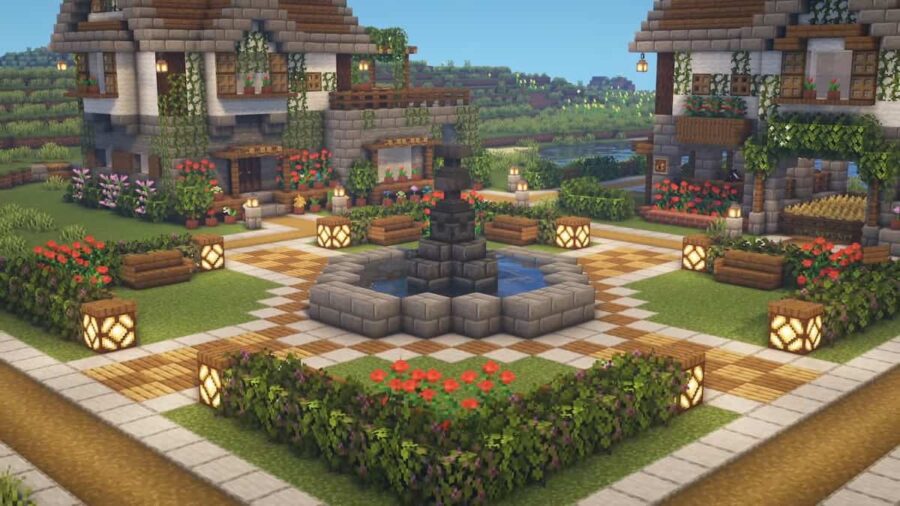 If you're looking for a park that is relatively quick to build and is not far from your home, consider making this courtyard garden park. This build is beginner-friendly, uses relatively easy-to-collect materials, and can be done within an hour. The lights throughout also mean that it can be suitable for survival mode, as it provides extra protection at night.
Small Waterpark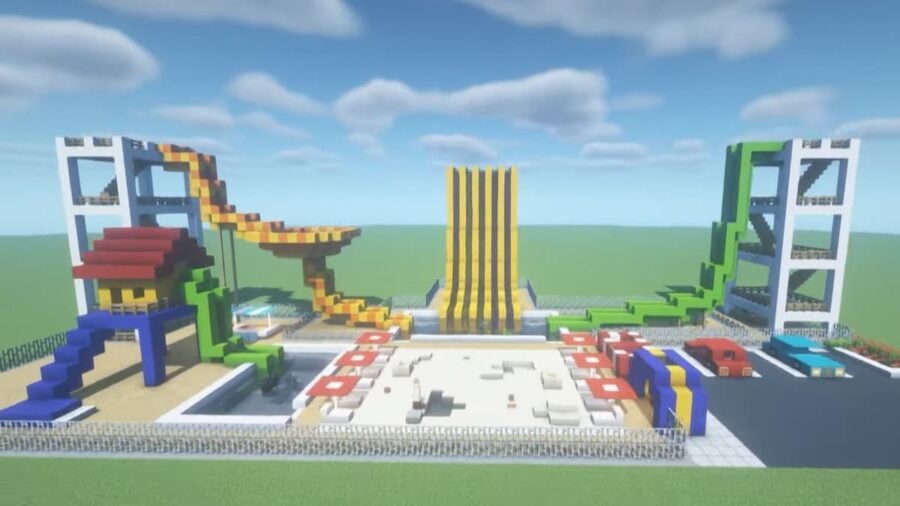 Need something less botanical and more amusement-themed? If so, consider making this small waterpark. It is very simple to build, so don't worry if you have not done a lot of builds prior to this. It features vibrant colors and several structures joined next to each other. This park is ideal for someone who wants a water park but doesn't have the time that a lot of other water park builds demand.
Best Minecraft Survival Builds
Ultimate Survival House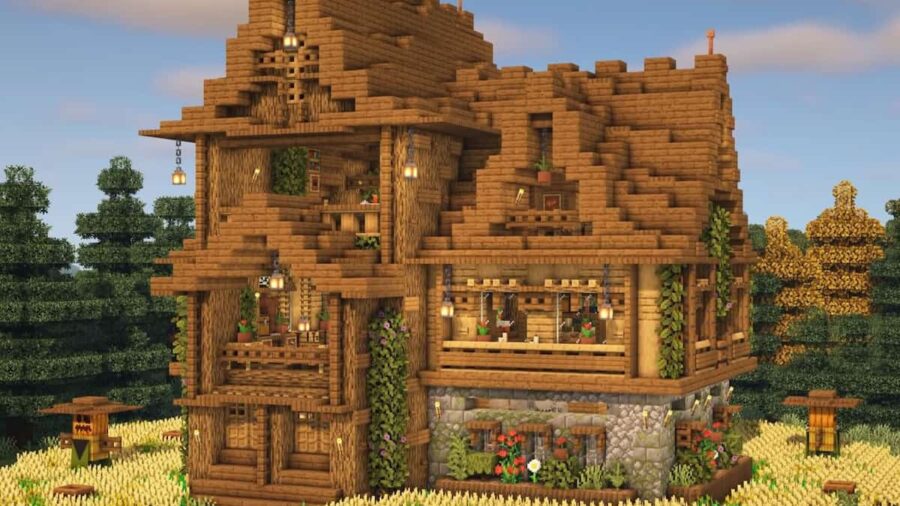 This Ultimate Survival House is one of the most challenging builds on this list, but it has good reason to be so hard. It gives players just about everything you need to get seriously started in survival mode. The large house has lights everywhere, limited ground entry, and even several areas that work as watch towers. You also get all of the essentials, like a place to sleep, eat, and farm. This survival house may require skill and quite a few materials, but you won't have to upgrade any time soon.
Large Capacity Greenhouse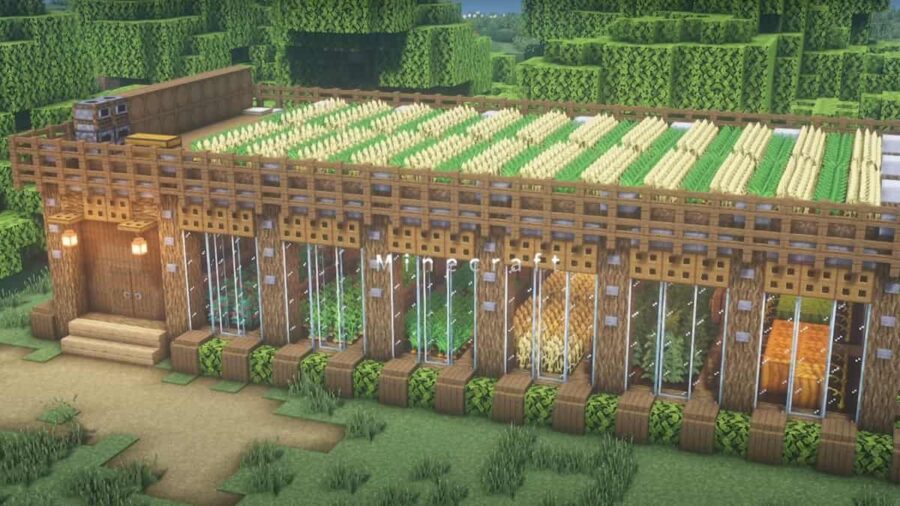 Need to get tons of crops growing quickly but you're also worried about the lack of protection from using large plots of land? Check out this large capacity greenhouse, since it gives you the protection of shelter while also having the space to grow tons of crops all at once. It doesn't waste any space, as you can see from the addition of the rooftop garden. This build is not too complicated for builders, especially since the shape is essentially a long rectangle.
Island Fortress
If you want to take the survival route of just being away from everyone and everything, consider attempting something similar to this island fortress. While not recommended for beginners, this build can be quite handy in protecting you from the various threats present in Minecraft. It doesn't hurt that it also has an awesome design to it. The build is large and a bit tricky to finish, there is the bonus that the materials needed are all mostly basic ones that are easily acquired.
Want to read more about Minecraft builds? If so, check out Cool Minecraft Houses – Ideas for your next Build! on Pro Game Guides.