We're taking a look at some cool Minecraft house ideas for your next build! If you find yourself wondering what to try next for your next abode, then we've got a large list of some easy and more complicated homes to try out in the game. While doing your own thing is fun, it can be helpful to see what others have done and use the ideas to make it your own!
While exploring and making your way around the world of Minecraft is exciting, one of the more fun experiences players have is creating their next dwelling. If you're like me, however, you might not be brimming with ideas on what your next build should be. I'm hoping to provide that answer to you, and at the very least give you some direction on what you might try. I don't recommend copying these builds block for block (you're welcome to do it though), but seeing what has been done and using that as a starting point to create your own unique creation.
Here's our big list of Cool Minecraft Houses:
Awesome Tree House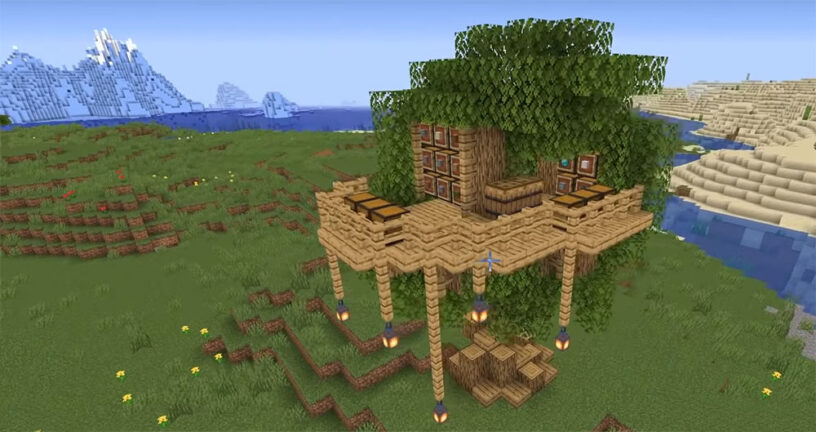 Credit to Mumbo Jumbo
Who doesn't love a good tree house? I certainly love the idea of one, and having never built one in real life myself, I could see doing one in Minecraft. One thing I find particularly nice about this creation is the lanterns hanging from the deck. It gives it a more folksy and natural feel to it. Mumbo also does a great job keeping a natural look to the tree, while giving it quite a bit of functionality. If you want to take this build further, he even features a pretty awesome hidden underground area where he gets to all sorts of redstone shenanigans!
Small Modern House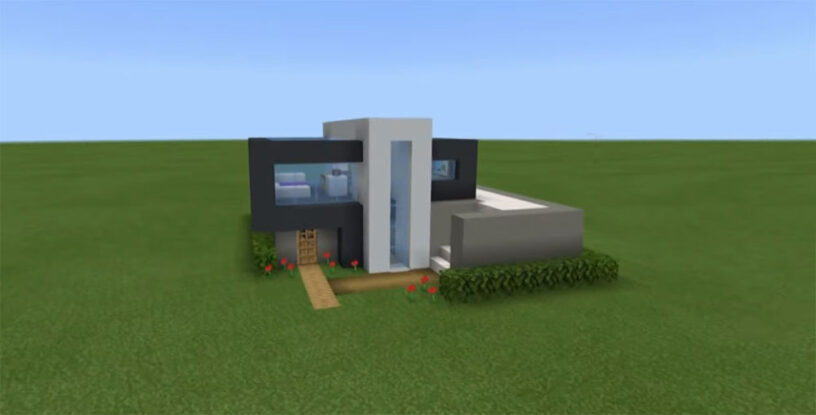 Credit to TSMC - Minecraft
If you want to go way away from the normal, then going the modern route has potential. This type of house is going to stick out like a sore thumb in your typical game of Minecraft, but if you're on a server that has more of a city based world then you would fit in nicely! I'm a big fan of the modern look, so this type of house is right down my alley. This design keeps clean lines and forsakes any type of roofing. It also uses the black and white colors to give it that standard clean modern vibe. The center vertical area is a great feature which gives you a split between rooms but also adds great visual flair. If you want to know how-to build this one, check out the video below!
Advanced Starter House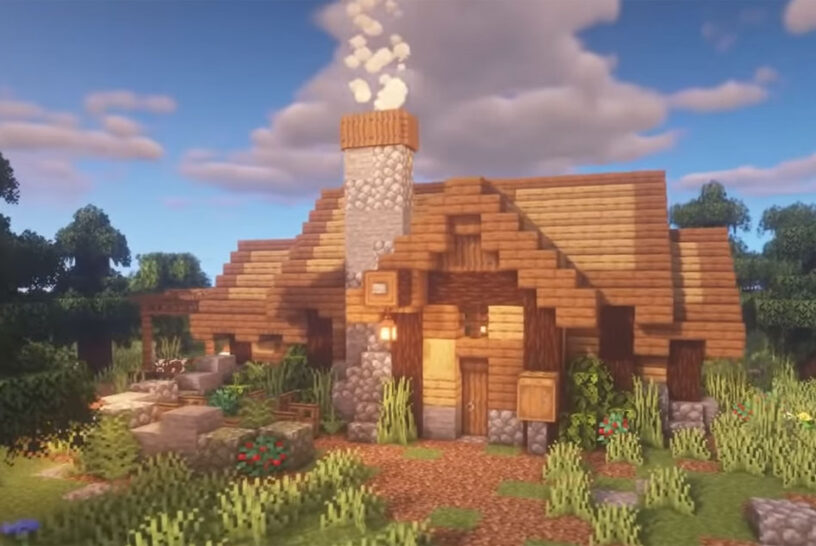 Credit to TheMythicalSausage
This is a beautiful little "starter" house if you want to make something that looks homey, but is a bit more advanced than your typical 5x5 cube that you might start out with. This is a great all encompassing build that features a place for farming and animals, as well as all of your other basic necessities when playing survival mode. If you want to build this house, the video below features a step-by-step tutorial!
If you are digging the look of the screenshot, check out our Minecraft Shaders post so you too can have beautiful lighting and cloud effects!
Beach House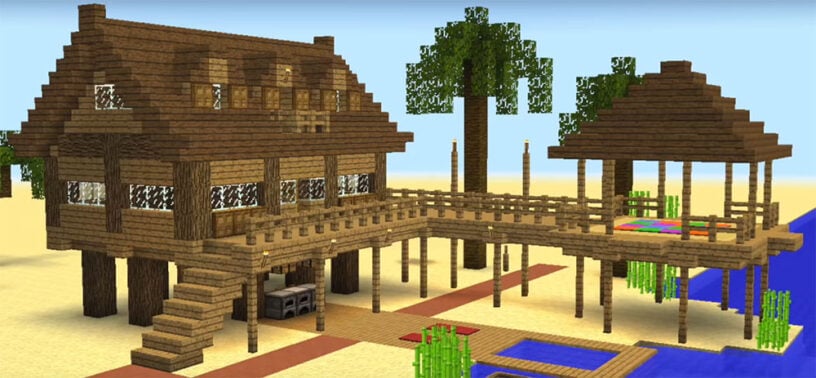 Credit to Shock Frost
One of my favorites to attempt to build is a beach house, and this is a great one that features a lovely gazebo that overlooks the ocean. Floating it a few blocks above the sand is a great idea to keep the fictional ocean waters from seeping into your home! The gazebo features a playful rug that brings a pop of color and beach feel to the overall aesthetic. If you like the look of this one, the video below features a full tutorial on how-to create it!
Brick House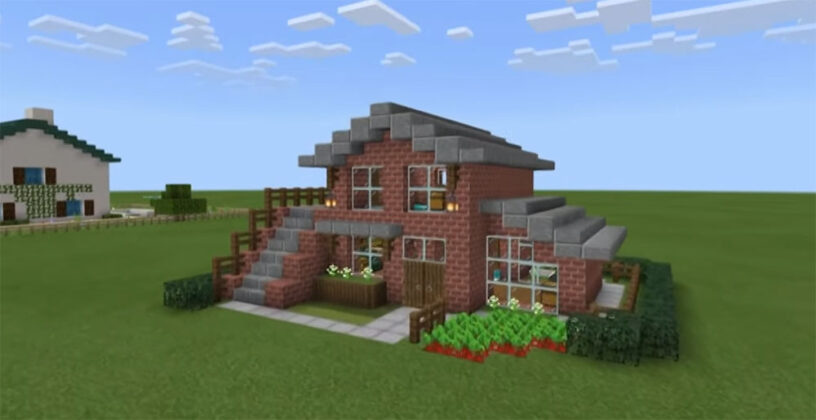 Credit to TSMC - Minecraft
If you want a more traditional vibe to your home and less of a cabin feel then going with brick is a great option. This 2-story house is a great option if you want to keep things simple by stylish. There's a lot of things you can play with in this design, and it leaves you with some creative options for your front yard. I really like the flower box they create in front which uses trap doors to create the effect. The stairs on the left side of this design is quite unique and is a nice functional feature.
Underwater Modern House
Credit to TSMC - Minecraft
Want to live like Spongebob? Well, this isn't exactly the same but you'll be under the sea nonetheless! This is a beautiful modern house that has been submerged underwater that removes the water from it so you can live under the sea but without it soaking your furniture! It has two stories and also features a glass ladder/elevator area that will allow you to get back to the surface without getting wet. If you don't want the hassle of building underwater, you can always build it up on land because it makes a great house regardless of if it is in the water or not!
Large Modern House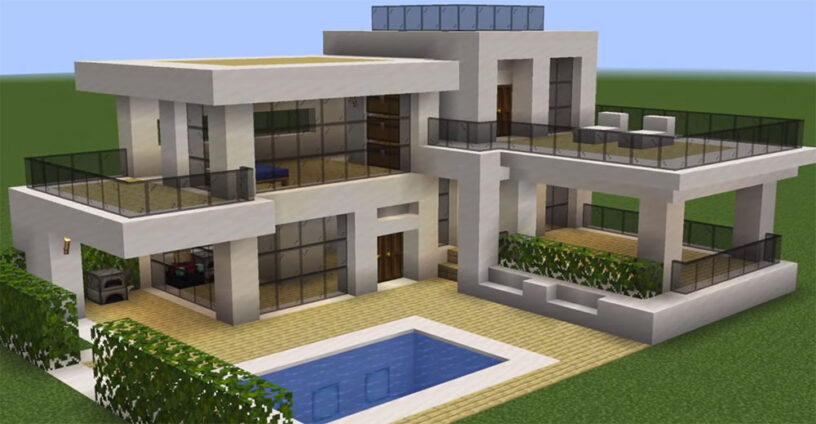 Credit to Shock Frost
If you really want to impress your friends with a modern house, then this is the one I'd go with! This place is huge, and features all the clean lines that you look for when designing a house like this. One of the signatures of modern houses is the many windows that let lots of natural light in, and this house is true to form in that regard. This design even features a nice pool, as well as a public and private outdoors area! This is a great overall house for anyone wanting to live a true modern lifestyle.
Small Japanese House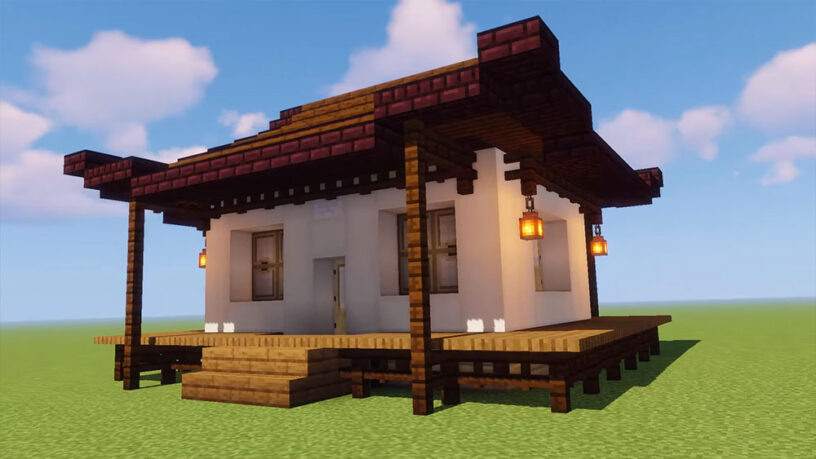 Credit to Cortezerino
I really love this design, and it's totally different from everything else on this list. If you want to really change up your style, then going with this small Japanese house design is a great way to do it. While this might only suit you for a small while on a survival game, you can use a lot of the ideas here to expand on the build. The deck looks wonderful, and the roofing has a lot of style to it. Utilize some of these design principals to expand on this and you'll find yourself making something really great!
That's all for now! Don't forget to consider throwing in some Minecraft Mods to change up the game and make some of the building a bit easier. Some of these houses will look best in different Minecraft Seeds, so try to match them up with what suits your environment!