Here we will go over the many ways in which you can install Minecraft mods on PC. This guide will also include ways to install mods for both versions of the game on PC, Minecraft Java, and Windows 10.
How to install Mods using Forge for Java Minecraft
The first method for installing mods for the Java version of Minecraft is downloading and installing Forge, a program you will need to install mods and integrate them into the game.
But before downloading Forge, you will need to make sure you have Java installed and updated. To download Java, go to the official website here and click download, and then wait for it to finish. After this, locate the downloaded installer in your downloads folder, double click on it, and click the install button. After Java is installed, you can then move on to downloading and installing Forge.
To download Forge, visit the official site here; you will need to make sure to download the correct version that matches the current release of Minecraft you are playing. If no version of Forge matches your current Minecraft build, download the closest one to it. Also, if you don't know what version of Minecraft Java you are playing, check the bottom left of the launcher for "latest releases."
When you find the correct version of Forge, click installer and wait for it to download. After the download finishes, navigate to your download folder and double click the installer.
This will open the mod installer that will show two options, client and server; you will need to select the client option and choose your install location. After this, click ok, and Forge will then install; wait for the process to finish and move on to the next step.
Once Forge is installed for your current Minecraft Java version, you can then start installing Minecraft mods, and the main way to do it is to visit the website CursedForge. Before you do, make sure to change your Minecraft launcher" profile to the build of Forge you just installed. After this, move on to the next step in this guide.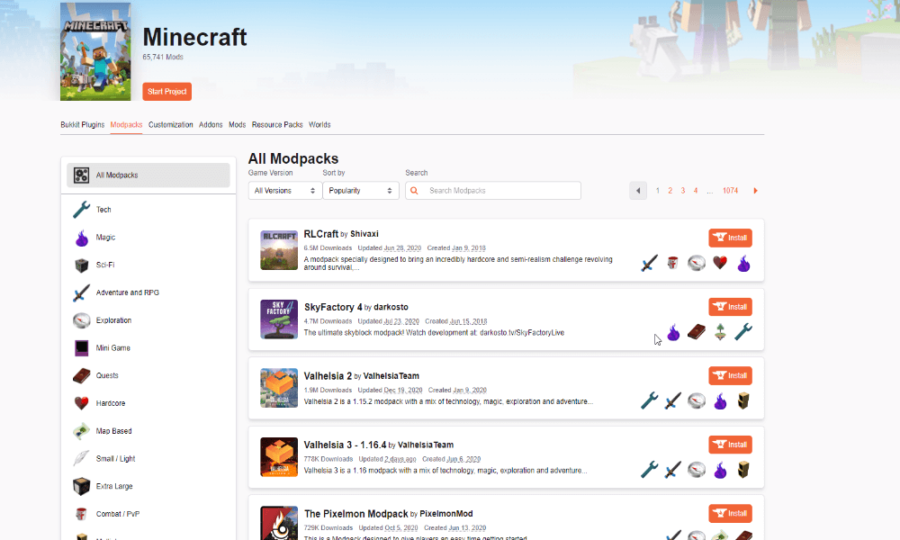 CursedForge is an excellent source of mods, and by using the search engine, as shown above, you can find whatever kind of mod you want to install. That said, take a few moments to browse the site for a couple of mods you want to install, but be sure they match the version of Minecraft you are playing with before downloading.
When you download your mods, you will need to move them to the Minecraft mods folder; you can generally find this folder at C:\Users\yourusername\AppData\Roaming\.minecraft on your PC.
If you don't have a folder labeled mods inside .minecraft, you can just create one now and label "mods," when the folder is created, move any mods you downloaded inside it. Once all of the mods are inside this folder, you will have installed all of the mods successfully, and all you will need to do next is launch the Minecraft launcher.
How to Install mods using Modpack Launchers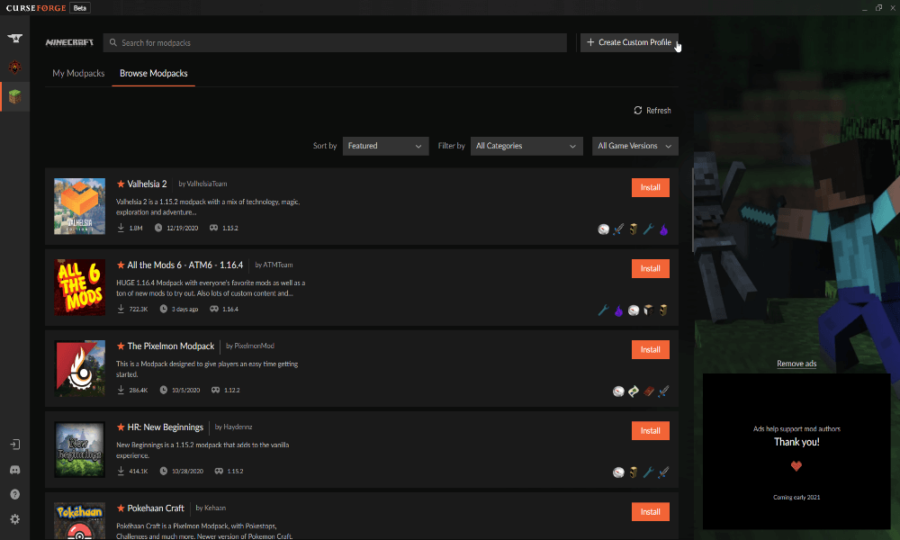 Another more straightforward way to install mods for Minecraft Java is to download a Modpack launcher. These launchers significantly cut down on the time and pain it takes to install mods, buy allowing with a click of a button to install large installations of several mods.
There are also several mod launchers out there on the web, but in this guide, we recommend using the Cruse Forge app, as it is the easiest to grasp out of the bunch. To start, head on over to Cruse Forge to download the latest version of their PC app, wait for it to download, and then double click the installer.
---
Related: How to Change your Minecraft Skin
---
The application will then ask you where you would like to install the program, pick a spot, and then let it install. Once installed, you will then be taken on a mini-tour of all the application's features; feel to skip this with the option to do so.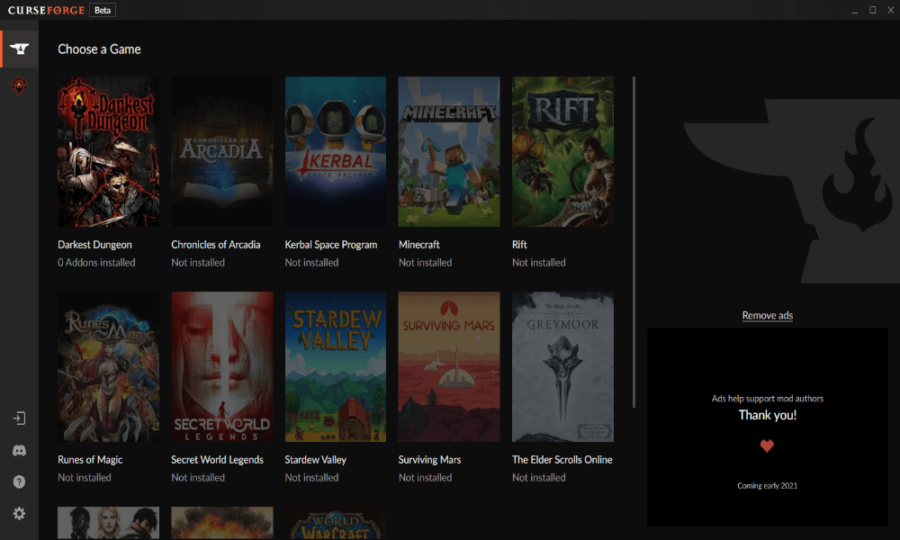 After the tour, you should see a list of games like the one above; click the one that says Minecraft to move on to the next step. Another tab will open up, and here the program will ask you where you would like to install the mod folder; select a location, and click continue.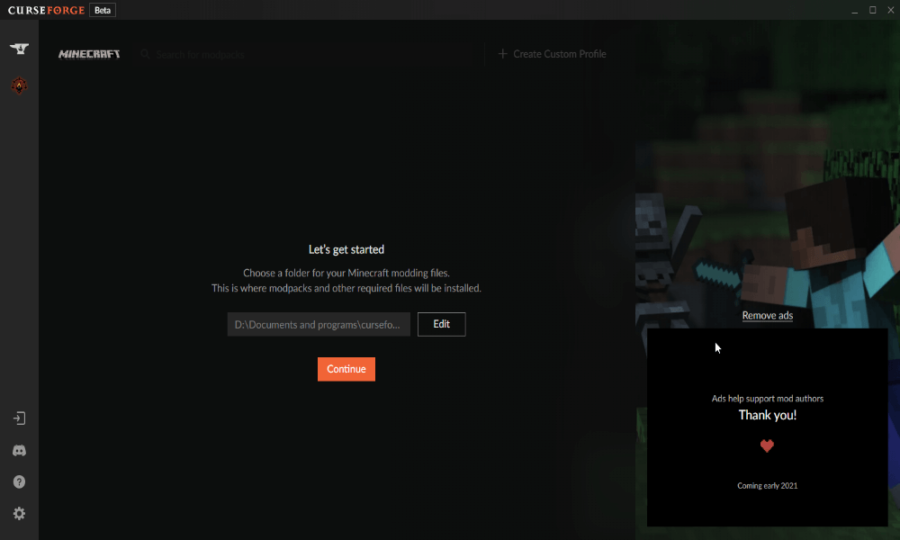 When the app finishes installing, you will be able to download any modpack you want by pressing the button that says, "browse mods." As a side note, be careful downloading some modpacks, as some require a pretty heavy-duty PC with a lot of ram to run them.
---
Related: Best Minecraft 1.16.3 Mods (January 2021)
---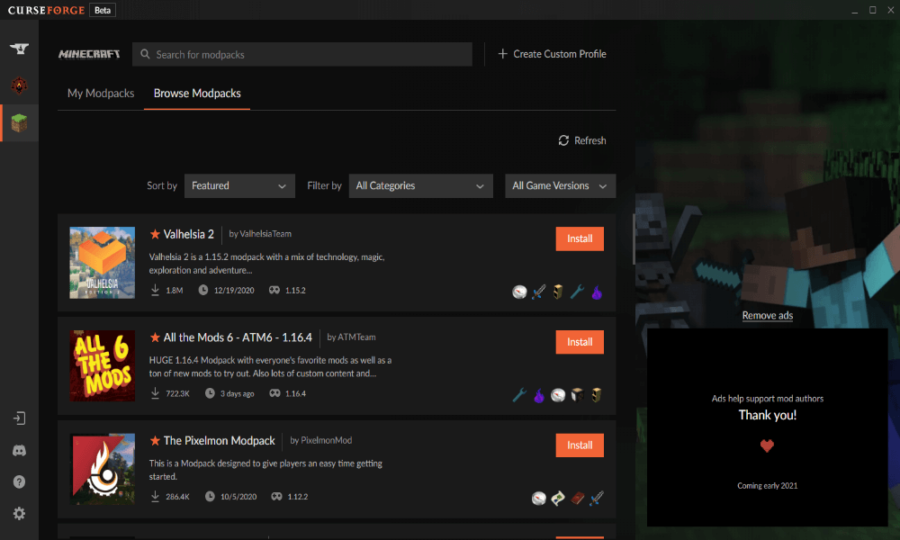 Because of that, we recommend making sure your PC can run the mod pack beforehand; some modpacks will have a recommended system specs section in the overview tab if you scroll down far enough.
You can also use the curse forge app to make your own modpacks, which essentially amounts to the program doing the first step we listed in the guide for you. To create a modpack, click the button towards the top right of your screen, shown in the image above.
Once clicked, it will open the following tab shown in the image below; here, you will be able to change your version of Minecraft Java, Forge version, and name the modpack. When you finish doing all of that, click create, and the application will create your modpack; after this, you can find your modpack under the tab "My Modpacks."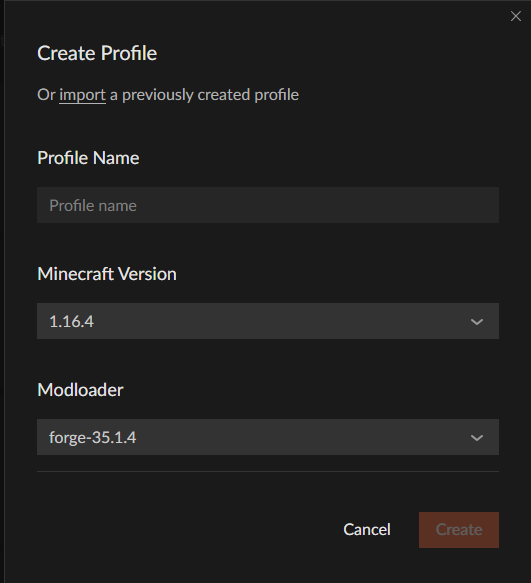 Click My Modpacks to view your new modpack; from there on, you will be able to add mods, resource packs, and even custom maps. You can also edit the pack with several options next to the play button. But before playing around with any of the settings and adding mods, you should note that the same rules apply as they would if you were manually installing mods.
Meaning, you need to make sure that any mod you add works with the version of Forge and Minecraft Java you have currently installed; you will also need to make sure any mods you add to your compatible with each other.
How to Install Mods for Windows 10 Minecraft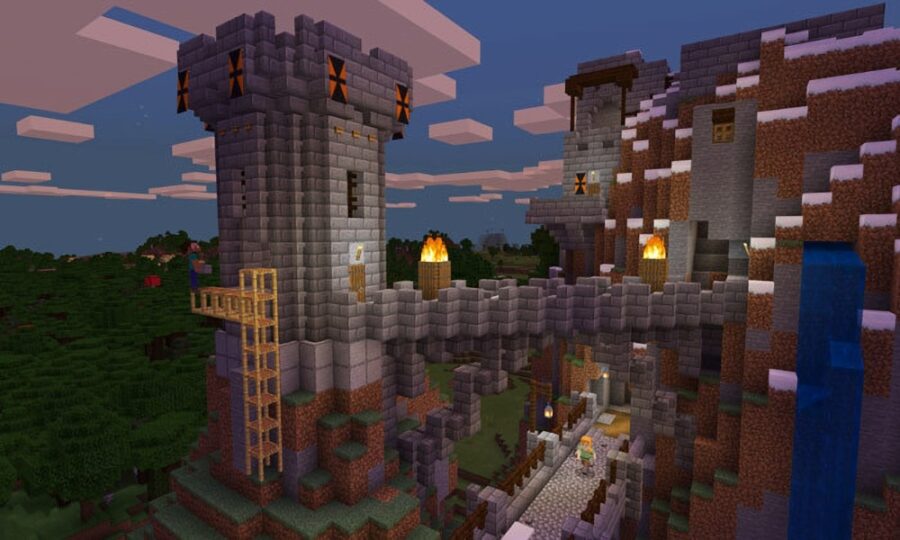 To download and install mods for Windows 10 Minecraft, you can either purchase and download addons from the Minecraft Marketplace or download mods online like with Java Minecraft mods.
First, let's explain how to download and install mods for Windows 10 Minecraft; before we begin, please note that you will have to find mods made for the Windows 10 version of Minecraft and not Java mods.
To start, visit the site mcpedl.com and find a mod that is for your version of Minecraft and download it. Once downloaded, extract the mod with a program like 7-zip; when it gets done extracting, click on the mod, and it will start Windows 10 Minecraft.
When the game starts, navigate to game settings, and turn on "use experimental gameplay." because some mods will require it turned on to work. After turning the option on, go and click both resource packs and behavior packs on the left side of your screen and enable the mod, and after that, you can start playing with your mod.
You can also get mods for Windows 10 Minecraft by buying or downloading them from the Minecraft marketplace. To do this, just go to the main menu, and click the marketplace option; another tab will pop up displaying all of the available addons on the marketplace. As a side note, you will need to either use real money or Minecoins to purchase anything on the Minecraft Marketplace.
For more on Minecraft, PGG has you covered. You can find both guides and news stories on nearly everything for the game on our game page for Minecraft.