Minecraft 1.18 Caves & Cliffs Part 2 finally delivers on the update's name, adding in biome enhancements and reworked cave systems. While the enhanced biomes are easy to find, all of the reworked cave systems will prove to be much more difficult. However, it may help to know where to look, as well as what you are looking for. Here is where to find all new cave types in Minecraft 1.18 Caves & Cliffs Part 2.
These cave types follow similar rules as the typical caves, meaning that they will only spawn underground. Unfortuantely, there is no set height at which these certain caves can spawn, though this does mean you potentially won't have to dig down far to find one. Still there are ways to increase your chances at locating these caves.
Locating Lush Caves
Lush Caves are caves that are covered in unique flora such as, moss and vines, as well as pools of water. These caves offer a colorful and beautiful environment when compared to the dull gray colors associated with typical cave exploration. Though these caves are slightly more rare than Dripstone caves, there is a way to locate these caves without even heading underground.
To locate a lush cave, all players need to do is find an Azalea tree on the surface. This tree will look similar to an oak tree, though it will have blooming azalea flowers on its leaves. Once a tree like this is found, players can dig under the tree to eventually find their way into a Lush cave.
Related: All changes to caves in Minecraft 1.18 Caves and Cliffs Part 2
Locating Dripstone Caves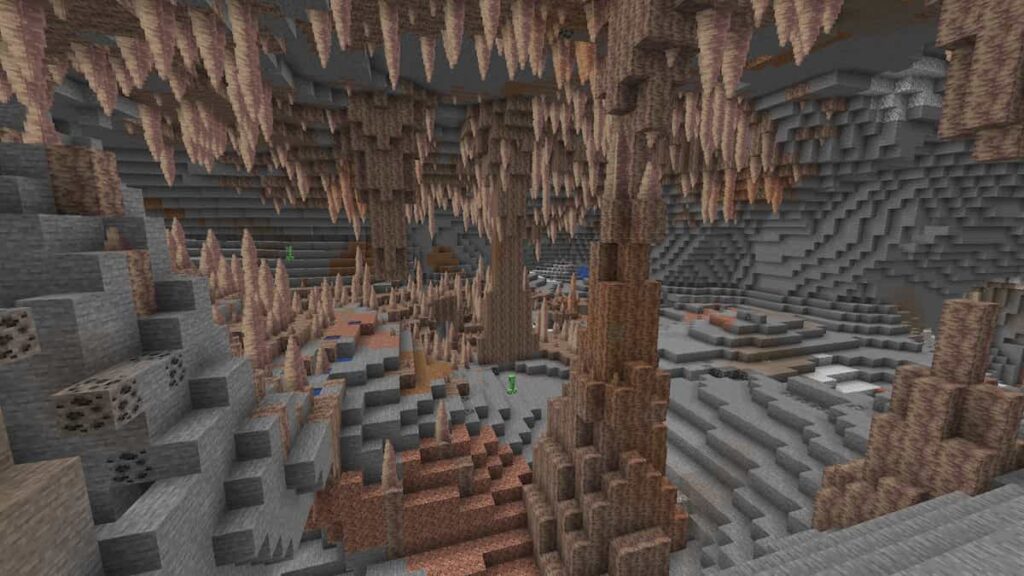 A Dripstone Cave is a cave that features a landscape filled with stalagmites and stalactites. These caves will also be covered in blocks of dripstone. This cave type is a great addition to the underground ecosystem and offers wide-open areas filled with pillars of stalagmite compared to tight winding passageways.
Unfortunately, there is no surefire way to locate a Dripstone cave in a similar manner to locate a Lush Cave. However, the Dripstone cave is the most common out of the other caves introduced in Minecraft 1.18, as well as having a high chance to spawn connected to a Lush Cave. You won't have to look too long to find one of these.
Locating Noise Caves (Cheese, Spaghetti, Noodle)
Noise caves are caves generated using a noise generator. By utilizing different noise frequencies, the game can generate a wide varity of interesting underground formations such as Cheese Caves, Spaghetti Caves, and Noodle Caves.
Chese Caves - Features giant pocket areas, with tunnels extedning out of them. Gives the cave a swiss cheese like appearence.
Spaghetti Caves - Extremly long narrow caves that wind their way underground. Often the connection caves between Cheese Caves.
Noodle Caves - Similar to Spaghetti Caves, though much squigglier and thinner. Typically only 1-5 blocks wide. Also seen connecting other cave types together.
The spawning of these cave systems is random, and there is no definite way to find them. However, locating one of these caves often leads you to the other. For example, a Cheese Cave will likely have Spaghetti and Noodle Caves connected to it.
So there you have it, that is where to find all new cave types in Minecraft 1.18 Caves & Cliffs Part 2. Remember that these caves will spawn in undiscovered chunks of existing worlds, as well as all throughout newly created worlds in Minecraft 1.18.
For more Minecraft guides, check out Best Level to find every ore in Minecraft – All Minecraft Ore Generation Levels right here on Pro Game Guides.