The Great Egg Hunt has arrived in MLB The Show 23, and players are tasked with tracking down nine eggs in total that will unlock special rewards that include packs and Diamond player items. Here's where to find the eggs.
How to collect all eggs in MLB The Show 23 - How to complete the Great Egg Hunt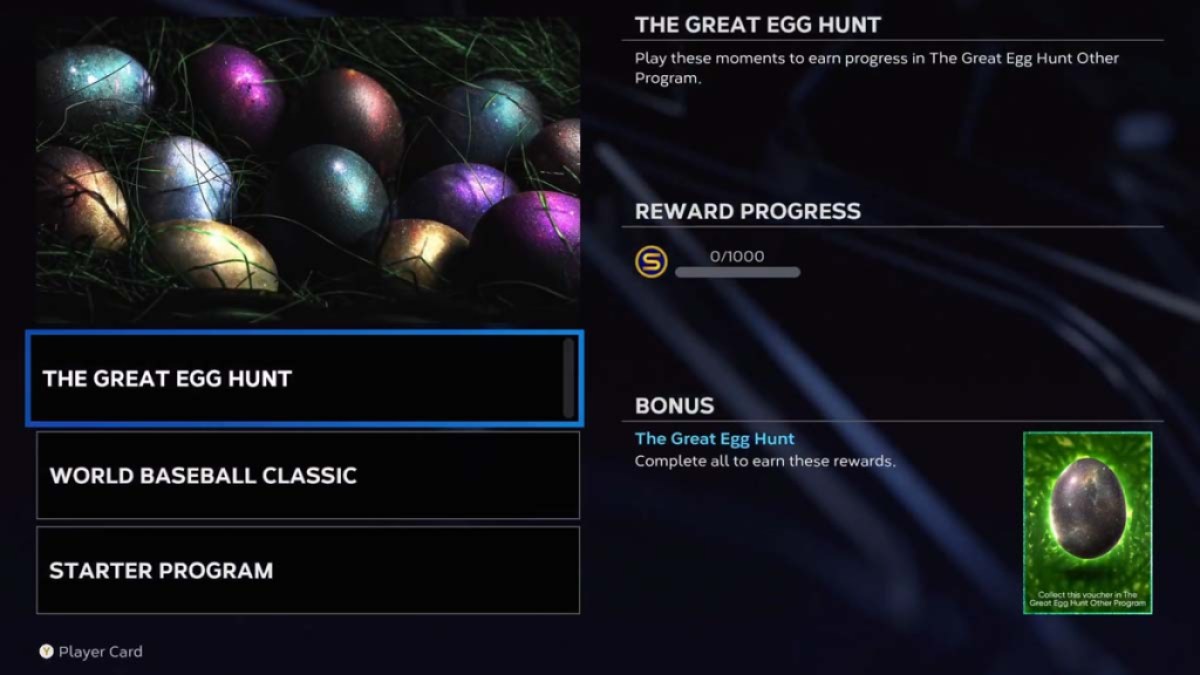 Players who are stuck can get some hints from the game about where to find the eggs, but even that can end up being too vague to complete. Here is where players can find each of the eggs so they can start unlocking their rewards.
Egg 1: There are nine hidden eggs at this very moment.
Go to the Moments menu and do The Great Egg Hunt moments.
Egg 2: What do you call an egg that travels around the world? An egg-splorer!
Win one game against four different teams from different continents. Many players use Mini Seasons for this.
Egg 3: This is your chance to become the Conqueror of Eggs!
Play a Conquest game in Diamond Dynasty.
Egg 4: The Golden Egg is flawless!
Hit a home run in a Battle Royale game.
Egg 5: Why did the egg refuse to fight? It didn't want to crack under pressure!
Egg 6: When going for a stroll, avoid walking on eggshells!
Walk five times in any game mode.
Egg 7: Is there a way to decorate cards like there is for eggs?
Earn 1,000 PXP with Egg Hunt Program Cards.
Egg 8: What came first? The bird or the egg?
Beat the Blue Jays, Cardinals, or Orioles in a Play vs CPU game. This can be on any difficulty, but it has to be nine innings. It could be worthwhile to tinker with hitting settings to make this a breeze.
Egg 9: Egg hunts are quite eventful!
Play an Events game. This could take a while to unlock, but it does work.
When does The Great Egg Hunt end in MLB The Show 23?
The Great Egg Hunt is an Easter-themed event in MLB The Show 23 that started on April 7, but Sony San Diego Studios didn't give a definitive end date for the festivities. What this does mean if players seemingly have plenty of time to track down these eggs and get their rewards.
Collecting all nine of the eggs will unlock the Golden Egg Icon. It shouldn't be too difficult to get after learning where all the eggs are, but it will be a time-consuming process at the very least.
For more MLB The Show 23 guides, take a look at MLB The Show 23 XP glitch, explained on Pro Game Guides.