Carbalite Ore is a High Rank crafting material in Monster Hunter Rise. It's a component in dozens of weapons and gear and is highly sought after. So, we've listed all the details on how to find Carbalite Ore in Monster Hunter Rise below.
Where to find Carbalite Ore in Monster Hunter Rise
Carbalite Ore is available in High Rank quests only. As an Ore+ Material type, you'll only find it in gathering locations in the High Rank versions of the Shrine Ruins, Flooded Forest, Frost Island, Sandy Plains, and Lava Caverns. As with most ores, Gathering Carbalite Ore is easiest in the Lava Caverns, as it has many mining outcrops.
Best Carbalite Ore Lava Caverns farming route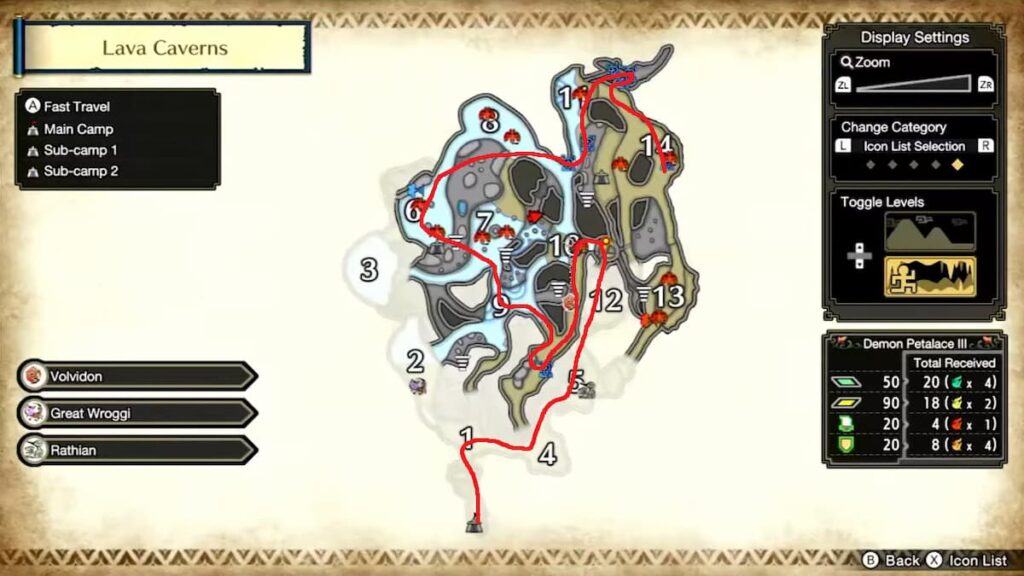 Because Carbalite is common and appears at both White and Blue gathering points, the best plan to gather it is to hit almost every mining outcrop. As a result, the best path means starting from the main camp and heading through Areas 1, 4, 5, and 12, hitting every point on the way. From there, head to Area 10, then down to the alcove leading between Area 9 and Area 4, doubling back on yourself into Area 9 after you've gathered from the spot. Next, head into Area 7 and 6 before moving to the top portion of the map in Areas 11 and 14. Once you've hit the final point in Area 14, head back to camp and start again.
Carbalite Ore gathering percentage
Carbalite Ore's gathering percentage is unknown, but it is very low. A more consistent and higher-percentage way to gather it is as a High Rank drop from Monsters or a result from quests. Here, the drop rate ranges between 10 to 20% on quest rewards, and 10 to 60% as Monster drop rewards.
Carbalite Ore quest rewards
The following quests have a chance to reward Carbalite Ore. They're listed with their drop percentage:
Bowled Over - 10%
Rotten Fruit - 10%
Grasp the Great Sword - 10%
Flooded Forest Fiasco - 13%
The Lava Caverns Sweep - 20%
Can't Kill It With Fire - 20%
Monsters that drop Carbalite Ore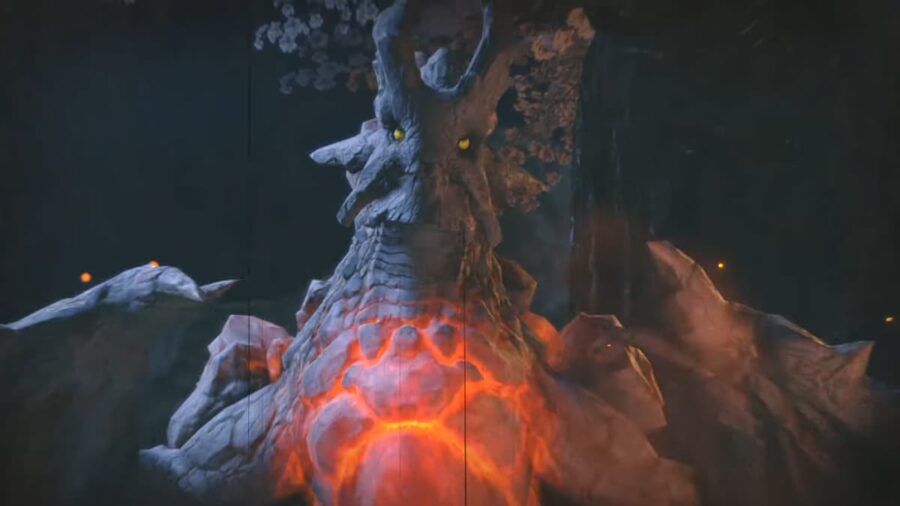 In addition to quest rewards, Basarios drops Carbalite Ore through a number of Methods. Again, we've listed the methods below, along with the drop percentage:
Rewards (Target) - 12%
Carves (Body) - 10%
Carves (Tail) - 10%
Carves (Mine Back) - 60%
Broken Part Rewards (Chest) - 25%
Broken Part Rewards (Back) - 40%
Dropped Materials (Flinch) - 31%
Dropped Materials (Wyvern Riding) - 39%
Items Obtained from Palico - 26%
Best Carbalite Ore weapons
Carbalite Ore is one of the most sought after materials because it's used in huge numbers of weapons and armors. But perhaps the best weapons come from the basic Kamura Great Sword tree. The final weapon of that tree, the Kamura Ninja Cleaver is a great non-elemental weapon. What's more, so many Great swords branch off from this tree that you'll almost always been using the Carbalite Ore when you're a Great Sword main.
Beyond this, weapons such as the Axenosom III Switch Axe, Tigrex Howl II Heavy Bowgun, and Frog Flute II Hunting Horn all need Carbalite ore to reach their upgrades. As a result, Carbalite Ore is essential to progressing in Monster Hunter Rise.
For more Monster Hunter Rise guides and info, check out How to find Malachite Ore in Monster Hunter Rise on Pro Game Guides.