If you'd like to get extra rewards while playing normally, then the Mastery Pass may be for you. There are two tiers in the Mastery Pass, a free tier with a few rewards, and a paid tier that's filled to the brim with exclusive rewards. Mastery Passes are essentially battle passes, allowing you to climb tiers by gaining XP. Each set focuses on a different theme, and this Mastery Pass centers around the haunting creatures known as Phyrexians. Here's our take on whether the Phyrexia: All Will Be One Mastery Pass is worth buying on MTG Arena.
Should you get the Phyrexia Mastery Pass on MTG Arena?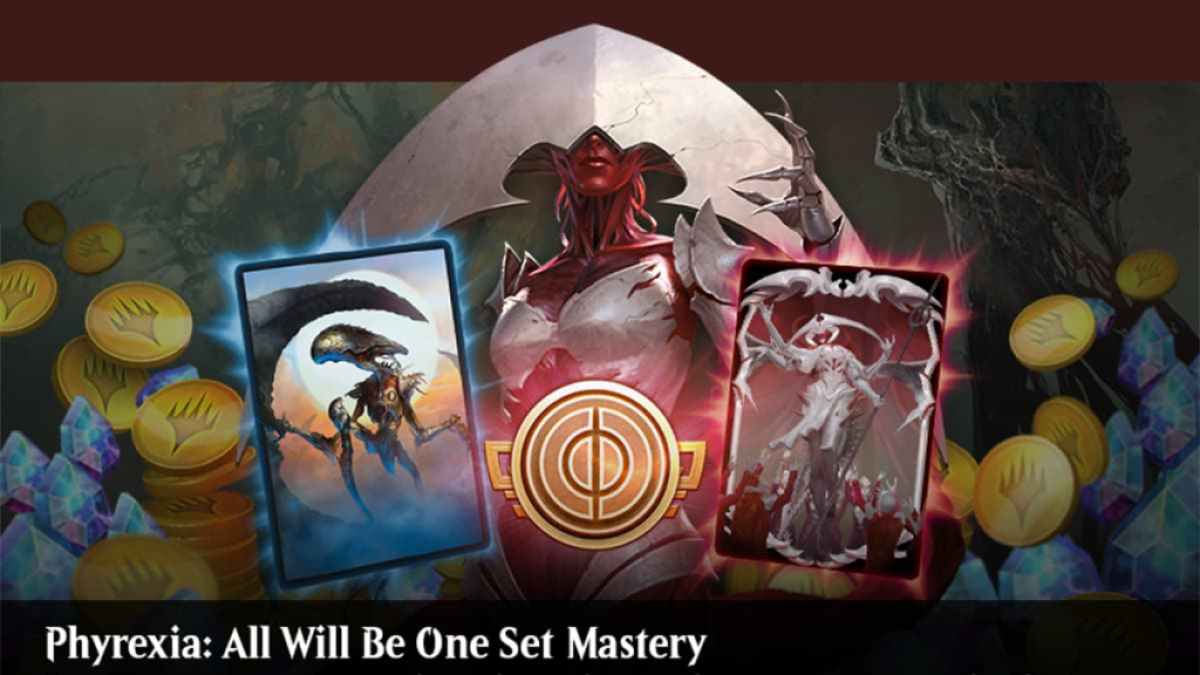 The Phyrexia: All Will Be One Mastery Pass is absolutely worth buying. While the Brothers' War Pass was valuable in its own right, the Phyrexia Pass takes things to a whole new level. Rather than awarding card sleeves on the Mastery Tree, you can instead earn avatars of the most menacing Phyrexians to date. By purchasing the Mastery Pass, you can obtain avatars of Koth, Elesh Norn, Jin-Gitaxias, Sheoldred, Urabrask, and Vorinclex.
Related: Best ways to earn gold in MTG Arena
The pets for this Mastery Pass are unique and terrifying. Through the Pass, you can earn the Furnace Mite, Progress Mite, and Porcelain Mite pets, which are inspired by the Phyrexian Mites of this set. These mites are unsettling and have too many sets of teeth, but they do a disco dance if you click on them during a match, so we're in love with them.
Along with cosmetics, you can earn 20 booster packs, a Player Draft Token, 1,200 Gems, 4,000 Gold, and more. The Player Draft Token alone is worth 10,000 Gold, making this an excellent value. In total, the Mastery Pass costs 3,400 Gems, which translates to $20. If you plan on consistently playing MTG Arena and completing your Daily Missions, this Pass is definitely worth purchasing.
For more MTG Arena guides, come check out How do you get more Wildcards in MTG Arena? here on Pro Game Guides.